5 Best Browsers for Android for Secure Browsing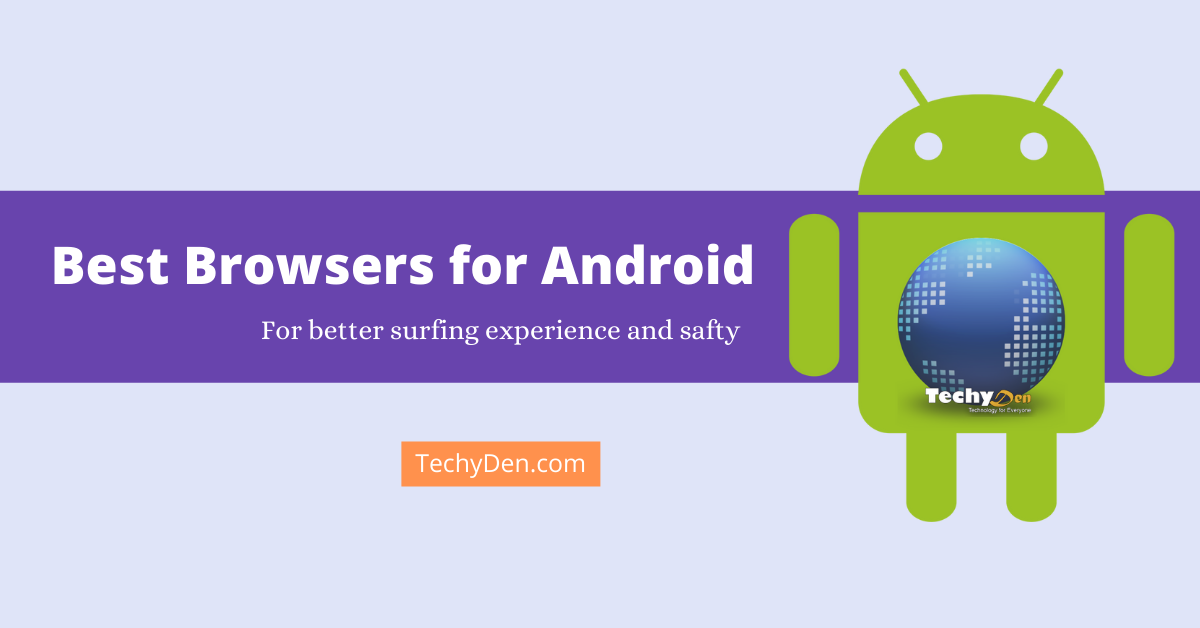 Are you looking for the best browsers for Android mobile that allow safe and secure browsing? Here is our list of the best smartphone browsers.
Smartphone browsers are as essential as the applications installed on your Android device, and many software applications are available to replace the browser on Android phones. There is a long list of different browsers for Android, and we must choose the best from among them.
Occasionally, it is not necessary to use a browser to access the internet. There is always a question on our minds – What is the best mobile web browser for Android? We have tried to present you with details about the best browsers for Android in this article.
Let's compare apps and browsers first. Installing an app to accomplish a particular task is not a bad idea. But the app will only perform one typical function. When you use a music app, you can only listen to music, which is what the app is assigned to.
The same apps' original website can also be opened in the browser and played from there. Thus, one browser can accomplish what ten apps cannot. Installing apps on a Smartphone takes up less space.
Most Android devices come with a pre-installed browser. However, it may not provide you with full functionality. It is always advisable to check out other best browsers for Android. You can find many third-party browsers with the best features such as adblocking.
The following are the best browsers for Android that you can install on your Android device for the best browsing experience. Let's examine these browsers in more detail.
List of the best browsers for Android
The below is the list of best browsers for Android that are tested ok to use on your Smartphones. Each of them has its purpose and its features. Check out those and use one of them whose features you like the most.
1. Chrome Browser
You might have already known what Google Chrome is. Yes, it is a Google product for browsing, and it is the most popular browser not only for Android but also for Windows, Mac, and Apple, etc. You can use this Google Chrome if your browsing is safe and secure.
Google Chrome gives you the best protection for your data and the best encryptions. Mainly It shall install Google Chrome freely on every Android device. So it is always better to keep it in.
Pros
Google Chrome is the fastest browser
Crashing with other Android apps
Data saving features free installed
Cons
For Android Google Chrome, you cannot add any extensions
No ad blockers allowed
Download Chrome Browser here: Chrome Browser
2. Firefox Browser
The Firefox browser will be the best alternative for your default browser on your device. At the time of the launching of Firefox, it is only available for Android users, and now it is also available for iOS and Apple users. Firefox is mainly known for its best add-ons. There are a bunch of add-ons included in the Firefox library that helps make your browsing much more accessible. In Firefox, private browsing is also available as in Chrome.
Pros
Best and fast Android and IOS browser
Best add-on features available in the library
Cons
A few bugs were detected, which were removed by the Firefox officials
Download FireFox here: Firefox
3. Opera Browser
The Opera Browser comes in four different products, Opera Browser, Opera Mini, opera coast, Opera Max. Each of them has its significance.
The Opera browser is suitable for Android devices if your device is fast enough. You can use the Opera Mini browser for devices with less speed. The Opera coast is designed for the iPhone, and it brings the best browsing experience to an iPhone.
And finally, if you need a data-free browsing experience, you can opt for Opera Max. It saves the data to the maximum extent by compressing videos and images while browsing.
Pros
Data saving expert
Excellent interface
Cons
Download Opera Browser Here: Opera Browser
4. UC Browser
UC browser is another best Smartphone browser available for Android, iOS, Windows phones, and even Microsoft Windows. It is much similar to the Opera Mini browser, and it has the best features like night mode, ad blocking, cloud sinking, Facebook mode, and many more.
Pros
Fast download speeds
Unlimited add-ons
You can view the only text on web pages to save data.
Cons
Integration with other apps in your browser is less.
Download UC Browser Here: UC Browser
5. CM Browser
Though not a popular application, the CM Browser has got good appreciation from its Limited audience. It was the well-rated android browsing app in Google Play Store. It is all because of its lightweight, i.e., and It consumes less space on your Android device.
You can download and save online videos, files, or anything in your cm browser. It also includes appealing features like ad blockers, bookmarks, Incognito mode, gesture control, etc. It is also included with a page translator in it.
Pros
Best download protection
Fast and lightweight
Cons
Download CM Browser Here: CM Browser
Frequently Asked Questions (FAQs)
Which browser works best on Android?

The best browser is Google Chrome, hands down. It is by far the fastest and most compatible of all browsers on the Android market. It syncs all of your data from your computer and allows you to open multiple tabs and windows, which is perfect for a phone with a smaller screen. Another option is to use the Dolphin HD browser, which is also very good but not quite as good as Chrome. The final option is the stock browser, which is on the first page of the market. Many people prefer the stock browser and say that it is better than the other browsers because it consumes less memory.

Which is the fastest Android browser?

Chrome, Opera, Dolphin, and Firefox are four of the fastest Android browsers. Although it shouldn't make a huge difference, sometimes browsing is faster on one browser over the other. But, I personally recommend Dolphin Browser as the best Android browser. It is fast and simple to use, and it supports Flash, unlike the other browsers. You can also set up Dolphin to launch your commonly-visited websites directly from the home screen.

Is Edge better than Chrome?

Edge is a new browser from Microsoft that looks promising, but it's still too early to tell which one will come out on top. Both the browsers are still unknown, so the verdict is still pending. Edge has a beautiful HTML5 engine but lacks extensions available in Chrome. Another thing to note is that Edge uses more RAM than Chrome, but it is not so noticeable unless you open many tabs.

Which browser is safest?

It should use a good security program like Norton or Kaspersky. There are still risks even when you use them. Also, basic security measures like not downloading anything from a site that looks suspicious, not clicking on links from unknown people, not copying files from unknown sources should be followed by everyone. Chrome is generally safer and quicker than other browsers and is a favorite among many users. But even though it is the favorite browser of many experts and users, it is still vulnerable to phishing and malware attacks.

Is opera owned by China?

Nope. The ownership of the opera is with the government of Guangdong Province in China. However, the opera performs many times in the year in different cities of China, and it also tours in other countries. In other words, the opera is owned by the Chinese government but is not limited to the cities and countries of China.
Conclusion
These are the best browsers for Android that you can download free from Google Play Store. There are also a bunch of best browsers that are best for their purposes.
Every browser has something new in it, and you can search for them in your regular play store and download them for free.
We hope you enjoyed our article about the best browsers for Android. We know that you can have a faster and more reliable browsing experience on your Android device with this knowledge.
So what are you waiting for? Download one of these browsers today.