What is the Importance of the best royalty free image websites? The visual content on your website is liable to be ignored by the readers. But a beautiful and unique image attracts visitors. It is the first thing they watch and what they will remember better. A common stock photo, however, will be less tempting.

So you keep on scrolling endlessly on the same website, hopelessly looking for that one photo that will blow everyone away. We have the best websites for high quality royalty free images. Most of the photosites are released under the creative commons.
Where can you find free-to-use images and stock photos for your website or social media? And what can you use and what not? Finding a suitable photo can a difficult task and if you have found something, there are often copyrights attached to it.
Most of the images are having creative commons CCO licensed royalty-free images. You can use these free stock photos royally without paying anything.
Fortunately, there are also enough free photos, if you only know where to find free stock photos. Below is a list of the 10 best royalty free image websites where you can search for suitable free high-resolution photographs to add to your blog or post to make your blog or post more trendy and attractive.
Best Royalty Free Image Websites
The list of the 10 best royalty stock photos websites is listed. You can download free images for commercial purposes. 90% of the photos royalty free images. All images come under commons attribution 3.0 licensed images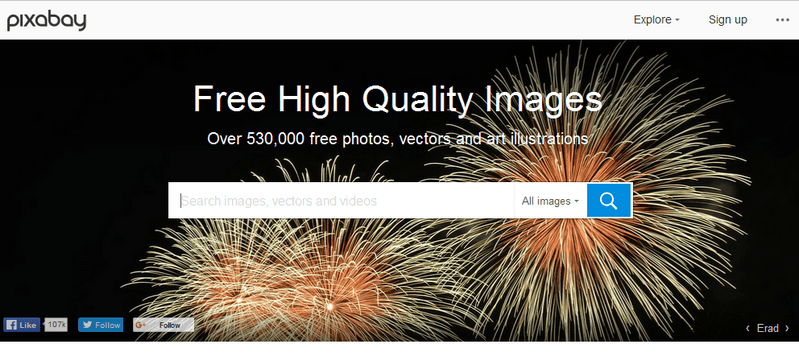 The Pixabay has a large collection of images that have been compiled by all kinds of personal up-loaders. It is very easy to navigate and search through the photos and images in Pixabay. Pixabay is one of the best royalty free images websites.

Besides the free photo database, you can also give yourself less choice. UnSplash is updated every 10 days and there will be 10 new high-resolution photos added in UnSplash.
If you like that, they even appear in your mail inbox. This is the biggest photographers community.
They are providing thousands of high-resolution photographs as commercial and non-commercial.
Over 1 million free high-resolution images brought to you by the world's most generous community of photographers.
They are beautiful images and definitely worthy. You will get the royalty high resolution, high quality free and popular photos are available in a different category. Here the attribution is not mandatory
The Compfight is more a search engine that allows you to search through photos of "Flickr's Creative Commons". Easy to use and you automatically get the HTML code of the photo. Just you need to remember that not all photos are license-free!
On Free Nature Stock you will find free nature stock images, which you can use in the way you want. Commercial usage is also permitted by this website. The photos have a licensed under creative commons images added. So no permission or mentioning the source is required.
On the FreeRange homepage, you can read it: "Great photos, totally free." You can do almost anything with the images that free-range offers, commercial or not. You cannot buy the images alone or offer them as part of printed products. They will always appreciate it if you want to give credits to the maker, but it does not have to. FreeRange is one of the best royalty-free images of websites.

Th picjumbo is from the designer Viktor Hanacek and there appear new and beautiful pictures every day. They are of high quality and sorted by category so that it is not endless search. If you want more work from Hanacek, it is possible to take a subscription.
Free images have a very large database with only free photos that you can use for any purpose you want. You can easily search on this website, but it can take time because you cannot sort specifically.

On the Gratisography, there are very nice high-resolution images and every week a number of new ones are added. The website is run by Ryan McGuire from Bells Design. Of course, all these photos are also free of copyright. Gratisography is one of the best royalty free images websites.
On Life of pix, an advertising agency from Montreal makes the images of its extensive network of photographers available for free use. Weekly new images with a high resolution are added.
Do you need a moving image? Here is the sister site of this popular image sources are the life of vids.

All photos on Pexels fall under the CCO license. You can freely use, edit and distribute the photos. A source indication is not necessary.
But a donation is always worth appreciating.
The only thing you have to take into account is that one should not put the depicted people in a bad light or presented in an insulting manner. This has to do with portrait rights.
Reverse search: where does it come from?
Have you found a picture on a website other than royalty free websites that you should and will use because you cannot find better and more relevant, but don't know who made it?
Then you can find the photographer through the website that is often used by photographers to search for their own photos: Tineye
If you know who made the photo, you can contact him or her. Usually, they are willing to take their photo available with a name and link to their personal website or digital portfolio. In addition, taking permission to use their photo is really a small effort.
Conclusion
Suppose you have written an article about the environment, climate, and nature and how we can and should make a strong effort; currently, but also soon a hot issue.
A beautiful nature photo will certainly contribute; preferably one that can also be related to the environmental issue and one that is unique or attracts attention.
So you can find free images from the above sources. There are thousands of beautiful free images are ready to use commercially.
You can search in the list of royalty free image websites and search for the perfect picture for your article.