Email is an essential communication tool for personal and professional use. While services like Gmail and Yahoo Mail dominate the market, they aren't necessarily the best or only options. Many alternatives provide unique features, better privacy, and less cluttered interfaces than the major players. This article explores the top Yahoo and Gmail alternatives.
Gmail and Yahoo mail
Gmail and Yahoo Mail represent two of the most widely used free webmail services, commanding a significant user base despite competition from alternative email platforms. As mainstream options, Gmail and Yahoo both offer a set of standard features expected from a capable webmail provider. However, each service has its own strengths and differences that appeal to certain demographics and use cases. This article examines the core offerings of both Gmail and Yahoo Mail as longstanding webmail substitutes.
Gmail Features and Capabilities
As Google's email service is tied to their ecosystem, Gmail provides integration with other Google products and robust organization features. The service supplies users with 15GB of free storage for emails and attachments. Storage needs can be expanded through Google One paid plans for additional capacity. Gmail's spam and phishing detection helps keep unwanted emails out of the inbox.
Some key features that have popularized Gmail include:
Search: Powerful search operators to quickly find emails.
Filters: Automatic filtering to designate emails into categories.
Conversation View: Groups emails in the same thread for easy access.
Custom Themes: Tailor the interface with different themes.
Offline Access: Read emails and respond offline on the browser.
Email Scheduling: Set emails to send at a later specified date and time.
Yahoo Mail Features and Offerings
Yahoo Mail attracts users looking for a classic webmail experience without complexity. The service offers 1TB of storage for free, dwarfing Gmail's base storage. Yahoo Mail provides built-in access to Yahoo Messenger for chatting. As a mainstream alternative email platform, key features include:
Photo Sharing: Share photos from within the inbox.
Travel Notifications: Get flight status and travel alerts.
Ad-Free: No display ads within the email interface.
Smart Features: AI to automatically sort mail categories.
Themes: Change interface themes and colors.
Add Accounts: View multiple email accounts together.
Mail Forwarding: Forward Yahoo emails to another address.
Both Gmail and Yahoo aim to provide essential inboxes coupled with beneficial enhancements suiting personal and professional needs as long standing email substitutes. Factors like storage limits, customization, and productivity integration differentiate the two services. But both deliver on core email management for the mainstream user.
Factors to Consider in an Email Service
When choosing an email provider, key factors to evaluate include:
Privacy: Does the provider scan emails for data profiling and ads? Does it sell user data?
Storage: How much inbox and attachment storage comes free with the account?
Features: What tools are offered like calendars, contacts, email aliases?
User Interface: Is the interface clutter-free and easy to navigate?
Customer Support: What are the options available for technical support?
Price: Does it offer premium features for a fee? What limits apply to free accounts?
The Best Yahoo and Gmail alternatives
Based on the criteria above, here are the top alternative email services to consider over the mainstream options:
1. Microsoft Outlook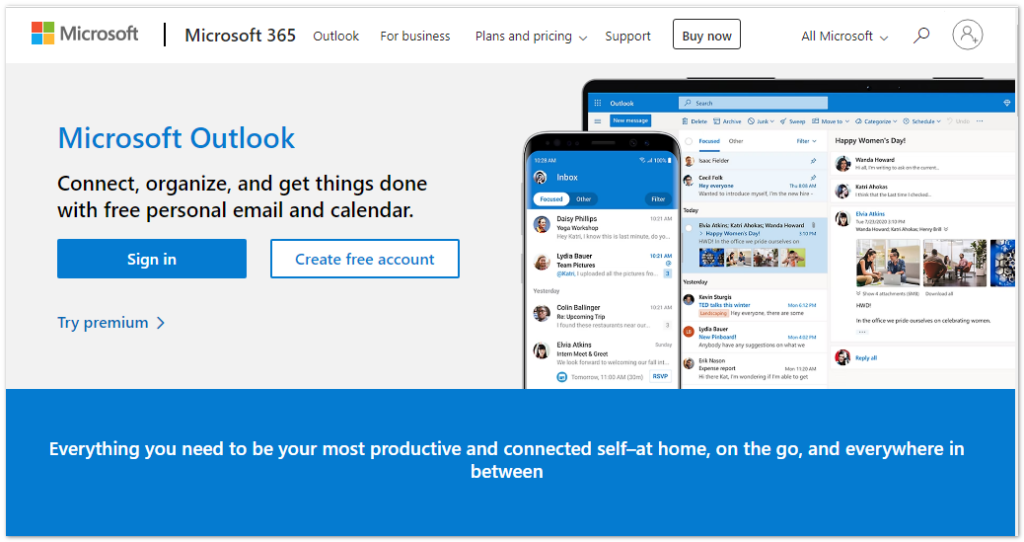 Microsoft Outlook is the email and productivity software within the Microsoft 365 suite, integrating email, calendar, contacts, tasks, and more into one platform. Outlook brings together robust tools for communication and collaboration in a single interface tied closely to other Microsoft applications like Word and Excel.
The deep integration makes Outlook a natural choice for those living within the Microsoft ecosystem, offering tight connections across apps for efficiency. With strong customization options, Outlook allows users to tailor the experience to their needs across devices for a unified productivity hub.
Features of Microsoft Outlook
Here are some key features Microsoft Outlook offers compared to Gmail and Yahoo Mail:
Integrated calendar, contacts, tasks: Outlook brings email together with other productivity tools in one place, while Gmail and Yahoo have separate apps for calendar, contacts, etc.
Office integration: Outlook seamlessly integrates with Microsoft Office apps like Word, Excel, PowerPoint for collaboration.
Offline usage: Outlook allows accessing email and files offline and syncs when back online. Gmail and Yahoo are primarily web-based.
Customization: Outlook offers more customization of the interface with different pane views, customizable ribbons. Gmail and Yahoo offer less flexibility.
Email scheduling: Outlook makes it easy to schedule emails to send at specific times or dates. This isn't built into Gmail and Yahoo.
Travel planning tools: Outlook has dedicated tools to easily plan, track, and share travel itineraries. Gmail and Yahoo lack these focused tools.
Data protection: Outlook uses Microsoft's security, encryption, backup to protect email data. Gmail and Yahoo have less transparency and controls.
File sharing: Outlook integrates Microsoft OneDrive for secure cloud document sharing and collaboration. File sharing isn't native in Gmail and Yahoo.
Offline storage: Outlook offers robust offline storage for emails, files, and data. Gmail and Yahoo have small offline caches but are largely web-based.
Mailbox storage: 15 GB of storage and 5 GB of Onedrive Storage
Outlook provides tighter integration, customization, and productivity features compared to Gmail and Yahoo's more basic webmail experiences.
2. GMX Mail
GMX is a veteran email provider based in Germany that prides itself on providing a free, private, and ad-free email experience. Operating since the 1990s, GMX offers users 15GB of free storage along with advanced security and encryption safeguards to protect privacy.
GMX stores data exclusively in encrypted German data centers adhering to strict European privacy laws. The service boasts an ad-free inbox that avoids the clutter of banner ads found on many other free providers.
GMX prioritizes user control, allowing importing emails from other providers and exporting data if desired.
Features of GMX Mail
Compared to Gmail and Yahoo, key features of GMX include:
They provide 65 GB worth storage that equals to 500,000 emails free storage
Ad-free email inbox experience
You can send attachments up to 50 MB in size
You can create up to 10 alias addresses.
Encrypted German data centers with strong privacy laws
MailCheck browser extension for your browser helps you to notify when you receive mail
Import tool to easily switch from other providers
Unified inbox to manage multiple email addresses
Data export capability to download email content
Secure email certification and digital signature options
Advanced settings for customization and controls
3. iCloud Mail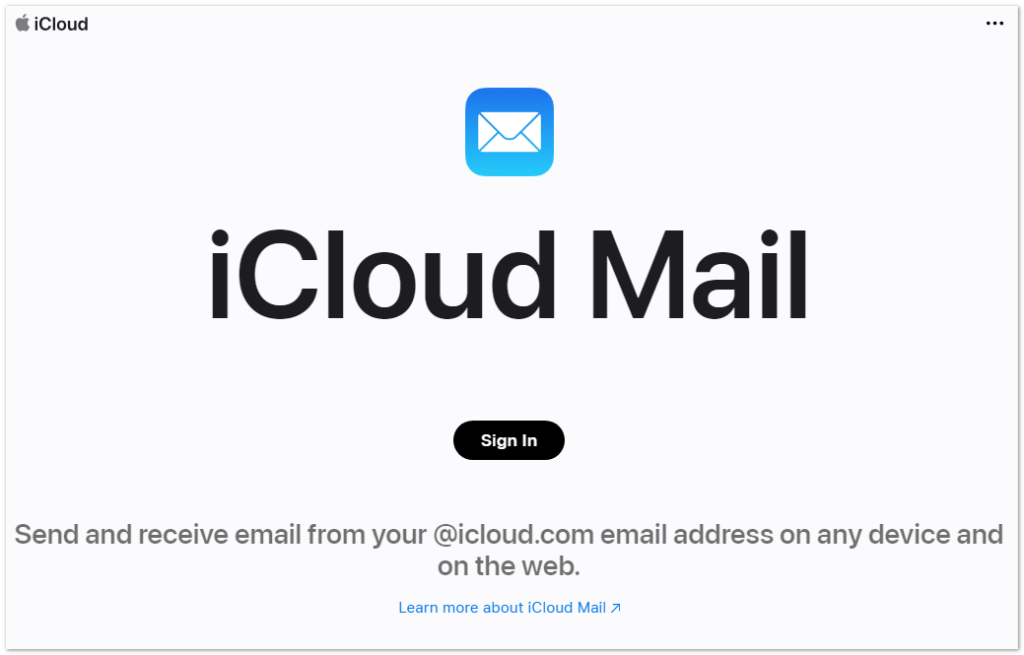 iCloud Mail is the integrated email service within Apple's iCloud ecosystem, providing users with an @icloud.com email address tied closely to iCloud drive and iOS apps. The contemporary web interface features a clean design consistent with Apple's aesthetic across products.
iCloud Mail aims to provide seamless syncing across Apple devices like iPhone, iPad, and Mac for a unified experience. Users can conveniently access iCloud Mail using their existing Apple ID credentials. The service includes 5GB of starting storage space that can grow by purchasing additional iCloud storage.
Features of iCloud Mail
Compared to Gmail and Yahoo, key features of iCloud Mail include:
When you set up they provide 5 GB of free storage. If you need more storage you need to upgrade to iCloud+.
Tight integration with Apple devices and iOS apps
Photo sharing capabilities to easily send images from Photos app
Syncing with Contacts, Calendar, Notes, Reminders apps
Clean, contemporary web interface design
Integration with iCloud Drive for cloud document access
Virus scanning and spam detection capabilities
Option to send read receipts and encrypted emails
Ability to recover deleted emails from past 30 days
No ads cluttering the email experience
4. AOL Mail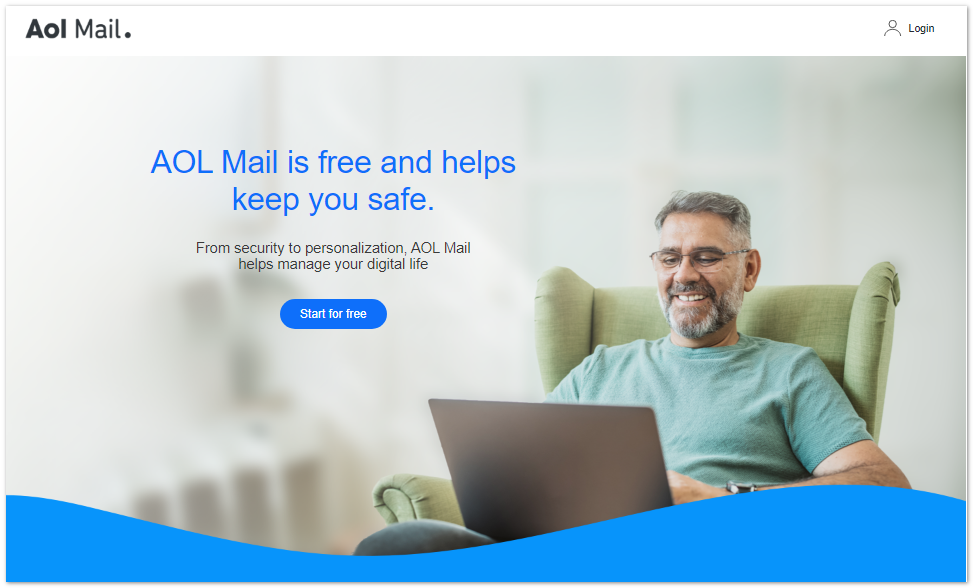 AOL Mail is a free webmail service provided by AOL (America Online) since the 1990s, making it one of the early pioneers of free consumer email on the internet. The service offers a classic inbox experience focused on simplicity and ease of use.
AOL Mail provides 15GB of free storage for each account, automatic filtering for spam/phishing emails, and built-in ad-blocking. It also enables easy account sign-up using an AOL member name rather than email address. AOL Mail allows quick access to AOL instant messaging for seamless chat integration.
Features of AOL Mail
Compared to Gmail and Yahoo Mail, key features of AOL Mail include:
Simplified inbox-focused interface
15GB of free storage space
Automatic spam and fraud detection
Parental controls for screening content
Integrated instant messaging with AOL chat rooms
Customizable folders for organizing email
Automatic image resizing when attaching photos
Automatic data backup capabilities
Vacation responder and email forwarding options
No advertisements within the email experience
5. Mail.com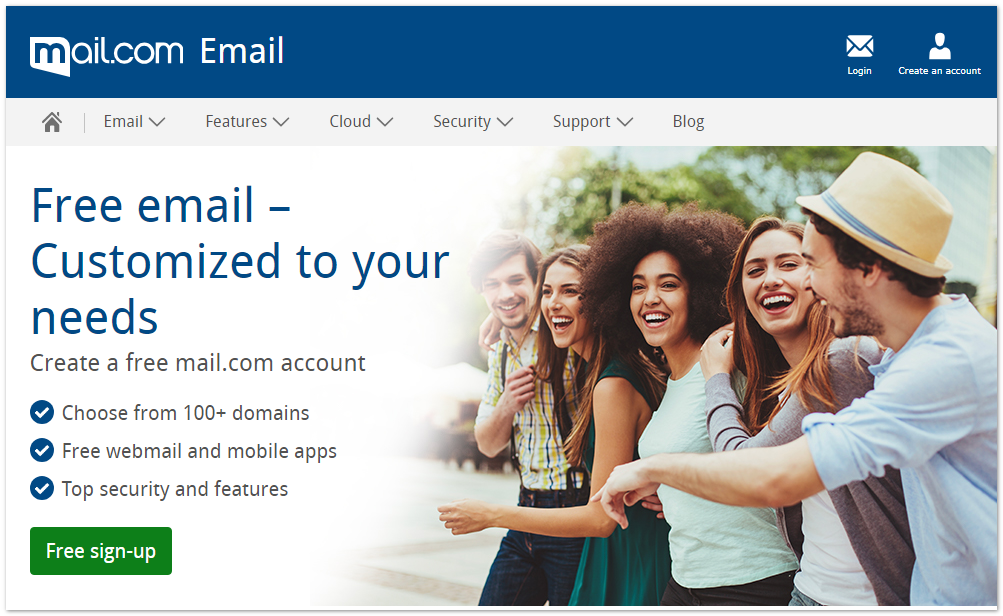 Mail.com is a free webmail platform that offers users 65 GB of storage for email accounts. A key feature is the ability to use custom domains for free accounts, creating a professional branded email address. Mail.com aims to provide a full-featured email experience with integrated cloud storage, messaging, and productivity apps.
The service follows a freemium model with paid subscriptions offering more storage, custom domains, and an ad-free interface. Parent company Mail.com Media focuses on safeguarding user data privacy.
Download for Android | No app for Apple users
Features of Mail.com
Compared to Gmail and Yahoo Mail, key features of Mail.com include:
65 GB of free storage
Ability to use custom domains on free accounts
Integrated cloud storage for files and photos
Business team email accounts available
Ad-free inbox through paid subscriptions
MailGuard technology for blocking threats
SMS and instant messaging integration
Android and iOS apps for mailbox access
Automatic sorting into various inbox categories
24/7 customer support options
6. ProtonMail
ProtonMail is an encrypted email service developed in Switzerland that places a strong emphasis on user privacy and security. As an open source platform, ProtonMail uses end-to-end encryption to protect email content and user data so that even ProtonMail itself cannot access or decrypt messages.
The service offers a basic free plan with 500MB storage as well as paid packages with more features and storage. ProtonMail does not display ads or depend on selling user data to make money. The strict privacy preservation makes ProtonMail an appealing alternative for those wanting enhanced security.
Features of Proton Mail
Compared to Gmail and Yahoo Mail, key features of ProtonMail include:
End-to-end encryption for emails and attachments
Open source codebase that is transparent and auditable
Zero access encryption key model for security
Based in Switzerland under strong privacy laws
No ads or user tracking within the service
Paid plans to upgrade with more features
Self-destructing encrypted emails and messages
Address Verification to confirm sender identity
Account recovery system without compromising security
GNU GPL v3 license protecting user freedoms
7. FastMail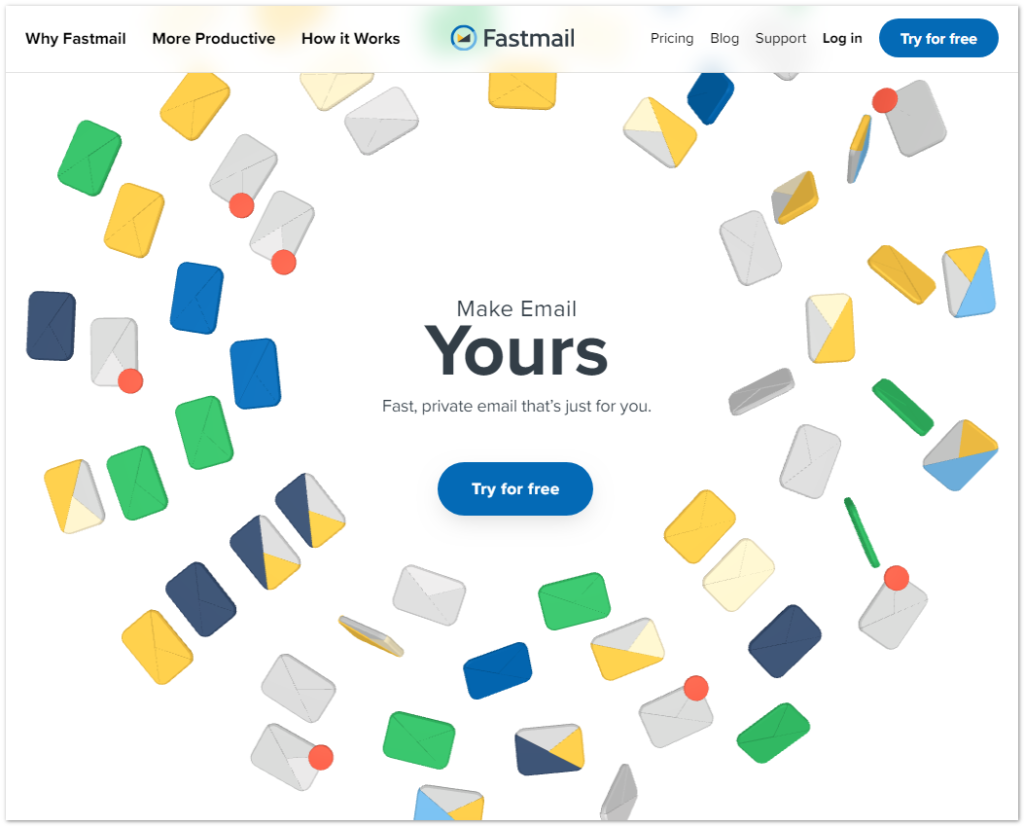 FastMail is an ad-free email service known for its speed, search capabilities, and automation features. Based in Australia, FastMail positions itself as a productivity-focused email solution for consumers and businesses. It provides extensive tools for customizing workflows around email, calendars, and contacts.
FastMail offers 30GB of storage for free accounts and unlimited storage for its premium plans. The service prides itself on fast search, organization, and integrated communication tools. FastMail allows using a custom domain or alias with all plan levels.
Features of FastMail
Compared to Gmail and Yahoo Mail, key features of FastMail include:
30 days free trial with 2 GB email storage
The premium version starts from$3 per month
Powerful search operators and filters
Rules for automating inbox management
Integrated calendar with availability sharing
Advanced IMAP/POP email support
Aliases to manage multiple addresses
Add-on options like enhanced security and archiving
Real-time push email on mobile apps
Team email with shared domains and admin tools
99.9% uptime with redundancy across global data centers
8. Zoho Mail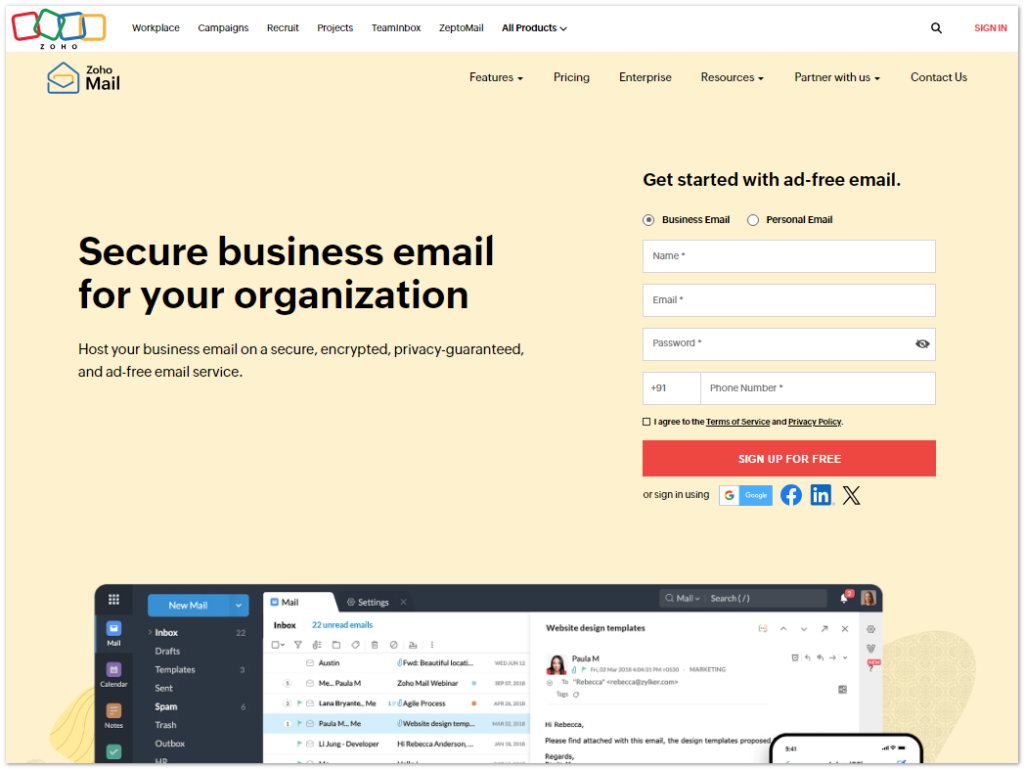 Zoho Mail is the free email service provided by software company Zoho as part of their broader productivity suite. It offers users 25GB of storage along with integrated calendar, notes, contacts, and file sharing capabilities. Zoho Mail provides a tabbed inbox to manage multiple accounts, real-time collaboration features, and administrative controls for teams. The service aims to be an ad-free, unified hub for business and personal email needs with robust organization tools.
Features of Zoho Mail
Compared to Gmail and Yahoo Mail, key features of Zoho Mail include:
It starts from 5GB of storage for emails and 1 TB of cloud storage
Integrated calendar and scheduling
Provides professional email integration
Collaborative team inbox options
Notes and tasks management
Built-in cloud storage and file sharing
Advanced email filters and rules
Customizable tags for organization
SSL/TLS encryption for security
Team administration and audit tools
Mobile apps for iOS and Android
Import data from other email providers
Productivity integration with Zoho apps
9. MailFence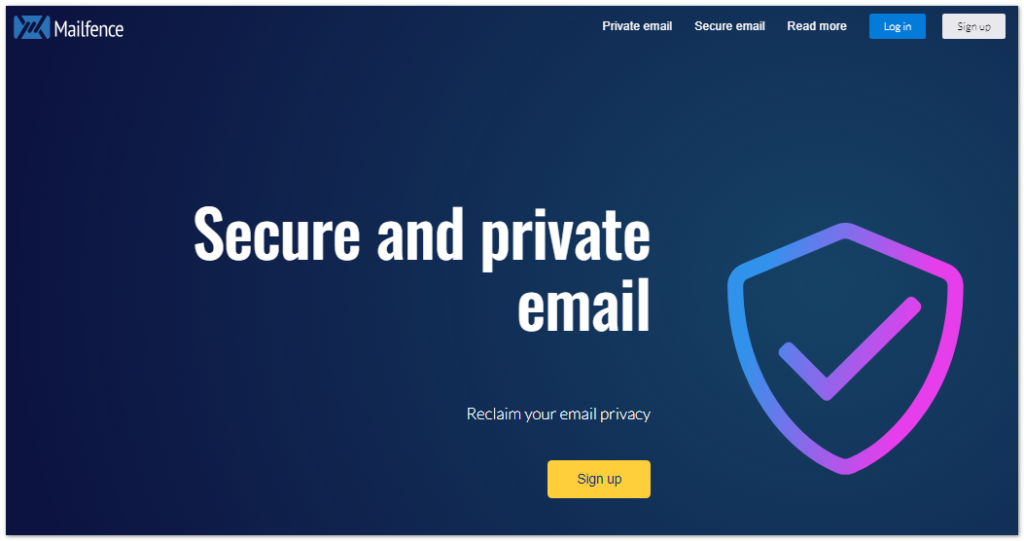 Mailfence is a private, encrypted email service based in Belgium that provides 500MB of free storage per user. Mailfence differentiates itself by offering end-to-end encryption of emails to protect privacy while still retaining email functionality.
All data stored by Mailfence uses industry-standard encryption, two-factor authentication, and other tools to secure accounts. Users maintain control over their private data. Mailfence also features calendars, contacts, email aliases, and custom domain support in their secure environment.
Visit: Mailfence
Download: No apps for Android and Apple users
Features of MailFence
Compared to Gmail and Yahoo Mail, key features of Mailfence include:
End-to-end encryption of email contents
500MB of free secure storage
Contacts management and sharing
Custom domains to maintain addresses
Two-factor authentication for account security
Self-destructing encrypted emails
Email aliases to manage senders
5GB total storage through referrals
Full data export capability
OpenPGP integrated encryption
IMAP/SMTP compatibility
10. Tutanota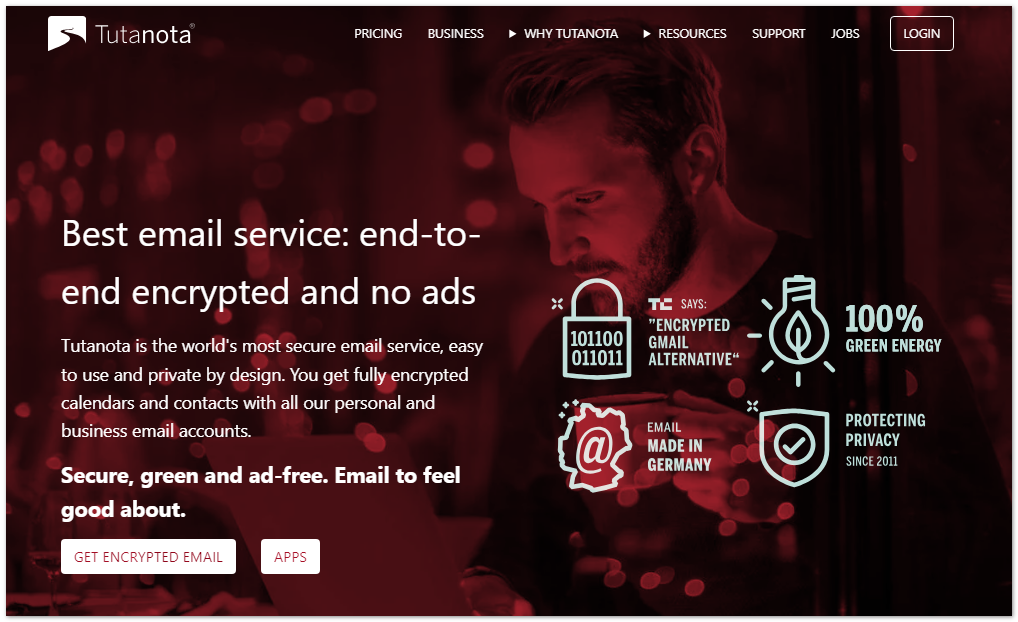 Tutanota is an open source, encrypted email service based in Germany with a focus on privacy and security. Encryption protocols secure emails between Tutanota users as well as external recipients. Tutanota provides 1GB of free storage and premium paid plans with more features.
A core capability is the ability to send encrypted emails to non-Tutanota users through generated password links. This allows easy encrypted communication beyond Tutanota's network. The service is funded through premium subscriptions rather than monetizing user data.
Features of TutaNota
Compared to Gmail and Yahoo Mail, key features of Tutanota include:
Default end-to-end encryption for all emails
1GB of free encrypted email storage
Ability to encrypt emails to external users
Open source code that is transparent
No advertisements or user tracking
Import contacts from other providers
Send large encrypted files up to 10GB
Two-factor authentication for logins
Customizable alias addresses
Premium family plans with more features
11. Postbox: The Best Email App for Mac and PC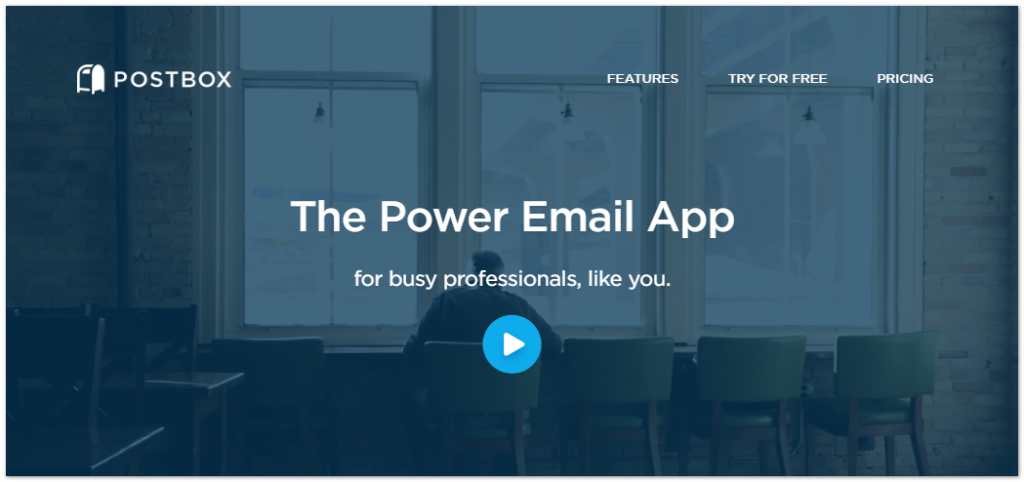 Postbox is an email application developed by Postbox Inc. that brings together different email accounts, calendars, and contacts into one unified interface. Postbox is designed for integration, allowing users to connect various email services like Gmail, Yahoo, iCloud, Outlook, and more under one roof.
Key features include intelligent search, customizable themes, collaboration tools, and synchronization across devices. Postbox aims to provide an ad-free email experience with productivity enhancements and integration with services people already use.
Visit: Postbox
Download: No apps for android and apple users
Features of PostBox
Compared to Gmail and Yahoo Mail, key features of Postbox include:
Unified inbox for multiple accounts
Intelligent search with filters
Integrated calendar and scheduling
Social media and news integration
Email delegation and sharing tools
Customizable themes and interface
Apps for Windows, Mac, iOS, Android
Snooze and send later email options
Automatic categorization of mail types
Enhanced conversation view of emails
Note taking and tasks management
12. Yandex Mail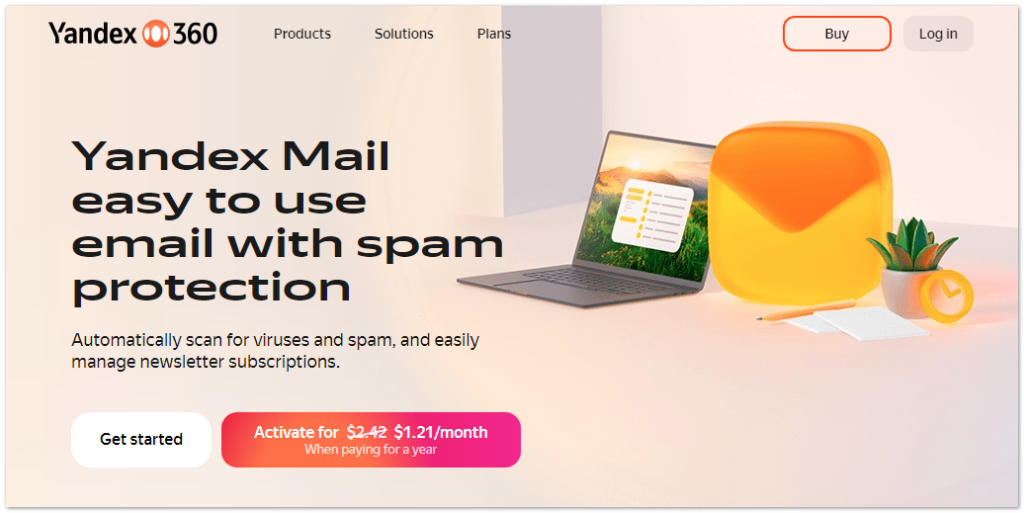 Yandex Mail is a free email service created by Russian tech company Yandex that offers users 10GB of storage. The webmail interface is available in over 20 languages making it accessible across Europe and Asia. Yandex Mail provides spam filtering, anti-virus protection, email recovery, and mobile app access.
The service aims to offer a clutter-free inbox and seamless experience across devices. Yandex does not use emails or accounts for promotional or advertising purposes.
Features of Yandex Mail
Compared to Gmail and Yahoo Mail, key features of Yandex Mail include:
10GB of free email storage
Interface translated in over 20 languages
Effective anti-spam and anti-virus protection
Email recovery and backup capabilities
Customizable inbox views and layouts
Integrated cloud storage option
No advertisements within the email experience
Extra storage can be earned through referrals
Mail forwarding to consolidate accounts
Apps for iOS, Android, Windows Phone
IMAP/SMTP support for third-party clients
Making the Switch from Gmail or Yahoo
With growing issues around privacy, storage limits, and seeking new features, many look to switch from entrenched email providers like Gmail and Yahoo. Transitioning between email services appears daunting but can be achieved with forethought and gradual steps. Follow this guide when ready to make the change from Gmail or Yahoo to a new email provider.
1. Research Alternative Providers
First, research and compare alternative email providers that seem appealing. Study their features, plans, and key differences from your current service. Look for factors like:
Storage amounts offered
Privacy and encryption levels
Customization options
Productivity features
Pricing of premium plans
Customer support and ease of use
Take notes on services that would work best for your needs and priorities. Narrow down a favorite alternative email platform.
2. Setup the New Account
Sign up for a trial account with the new email provider you selected. Choose account settings, preferences, interface themes, etc. that suit your workflow. Add any premium services or expanded storage if needed.
Take time to customize your new account before migrating data. Get familiar with the layout, settings, and how to use core features. This makes transition simpler.
3. Migrate Contacts, Data, Settings
Import contacts from your old account if possible. Transfer over email folders/labels that organize messages. Follow prompts within new account settings to migrate data.
Alternatively, export contacts from the prior service then import that list into the new platform. Manually recreate labels/folders in the new account.
4. Forward Emails and Update Senders
Temporarily forward emails from the old account to the new email address. Update your email on profiles, commercial accounts, subscriptions, etc.
Let senders know you have a new email via auto-replies and notifications. Archive important older emails from the legacy platform if desired.
5. Phase Out the Old Account
Keep forwarding active as you check both accounts during a transition period. Slowly phase out use of the old email while ramping up time spent in the new service.
Once comfortable, download final data from the old platform and deactivate the account. Ensure all contacts now have the new email address moving forward.
Switching email services takes diligence and patience. But carefully following key steps will enable a smooth transition to a new provider aligned with your needs and priorities. Take time to set up the new account fully before migrating data and phasing out the old inbox.
FAQs about Gmail and Yahoo Alternatives
Here are answers to frequently asked questions about choosing a new email provider:
Is it hard to switch email providers?
Switching providers is straightforward by setting up the new account first, then importing contacts, forwarding emails, and updating profiles. Give yourself several weeks to switch completely.
What about my old emails and contacts?
When making the switch, export contacts and download old emails to your device if you want to retain them. Then you can import contacts to the new provider.
Can I keep my current email address?
Some providers allow you to use your existing email address. Others provide custom domains and email aliases so you can create a new address that still uses your name.
Are alternative email providers as reliable as Gmail?
Leading alternative providers like FastMail and ProtonMail have excellent uptime and reliability. Less mainstream options may have occasional outages but compete well overall.
Do I have to pay to get good features?
Some great email providers offer robust free plans. But premium features like large storage, custom domains, and advanced tools often require a paid package. Evaluate your needs.
Switching from Gmail or Yahoo provides opportunities to enhance privacy, features, and user experience. Take time to determine your preferences and research alternative providers. With attention to details, the transition can go smoothly. The options give powerful choices beyond the obvious picks.
Final words on the best alternatives to gmail and yahoo mail
While Gmail and Yahoo Mail have long dominated the consumer email landscape as mainstream choices, viable alternatives exist that may better suit differing needs. Evaluating factors like privacy, features, and customization allows matching an email platform to your priorities as a user searching for a substitute.
Leading services like FastMail, ProtonMail, and Zoho Mail present options focused on enhanced productivity, security, and ecosystem integration respectively. Additionally, longtime staples like Outlook and AOL continue evolving their offerings in the competitive space with unique capabilities as email replacements.
Taking time to weigh the pros and cons of each alternative to your current solution can pay dividends if change provides an upgraded user experience. Don't simply default to the obvious picks when quality competitors are accessible as email substitutions ready to try.
With an understanding of core differentiators, transitioning between providers poses a conquerable challenge for those seeking a new webmail or client better aligned with their work and lifestyle.