Choosing the right web browsers for your Windows 11 device is an important decision that can significantly impact your browsing experience. With the wide range of options available today, selecting the best browser for your needs and preferences can be challenging.
This comprehensive guide will discuss the 10 most popular browsers for Windows 11 and provide an in-depth comparison to help you find the perfect match. We'll cover all the key factors like performance, security, privacy, customizability, and compatibility to ensure you make the right choice for your needs.
Overview of Windows 11
Before diving into the browsers, let's briefly recap some of the notable changes in Windows 11:
Streamlined and refreshed UI with rounded corners
Centered Start menu and taskbar
Enhanced multitasking with snap layouts and groups
Better support for multiple monitors
Improved gaming features like Auto HDR and DirectStorage
Security upgrades like enhanced UEFI and TPM requirements
Understanding the new features and environment of Windows 11 is useful context for evaluating which browser pairs best with the operating system. Factors like visual design, performance optimization, and taskbar integration are more important than ever.
10 Best Web Browsers for Windows 11
There are numerous web browser options available across different platforms. The best web browsers for Windows 11 are those that are optimized for the new operating system and offer a good balance of speed, security, privacy, and features.
Some of the best web browsers for Windows 11 include Chrome, Edge, Firefox, and vivaldi browser.
But for Windows 11 devices specifically, these 10 browsers stand out as the most widely used and recommended. Here are listed best windows 11 web browsers.
1. Microsoft Edge: Best chromium-based browser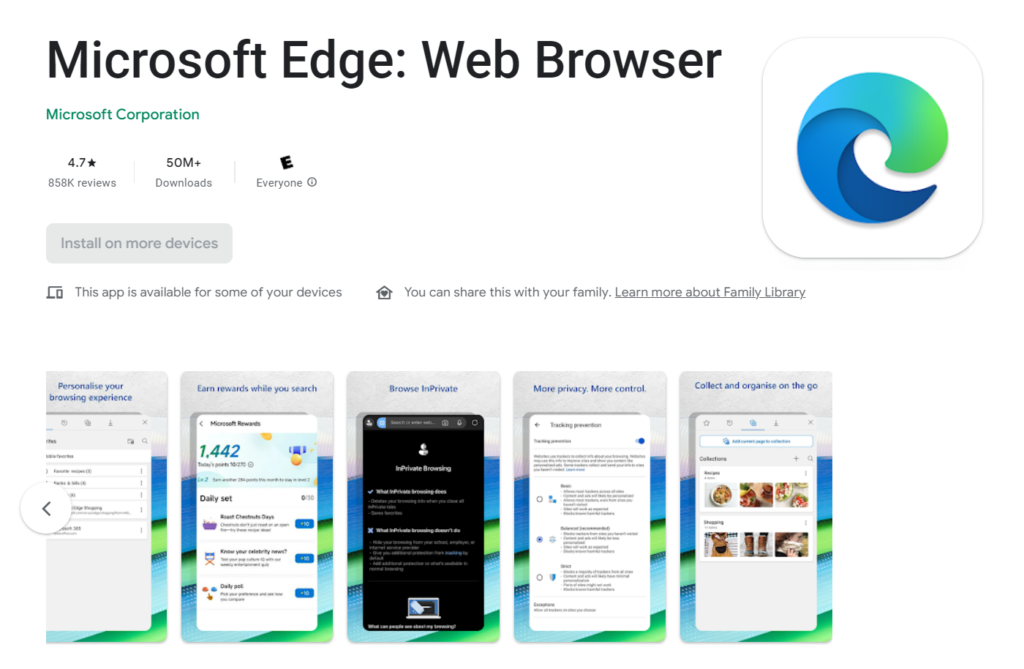 As Microsoft's default web browser built into Windows 11, Edge offers tight integration with Windows and great performance. Edge uses the same Chromium engine as Google Chrome, offering top compatibility with web pages and speed. Internet Explorer was once the most popular web browser, but it has been surpassed by Chrome and Edge.
As Microsoft's own Chromium-based browser built natively for Windows, Edge offers unrivaled integration with Windows 11.
Edge is the default web browser for Windows 10 and Windows 11. Edge is a Chromium-based browser, which means that it shares the same underlying code as Chrome.
Key features of Microsoft Edge:
Fast page loading and smooth scrolling
Hub for access to Office and OneDrive
Collections for organizing tabs
Immersive reader mode for distraction-free reading
Built-in tracking prevention
Edge provides the most seamless browsing experience on Windows and deep compatibility with other Microsoft apps and services. It is a default windows 11 browser in the world.
Overall, Edge is a top choice if you want a browser optimized for Windows 11 and Microsoft services like Office and OneDrive. It balances speed, compatibility, and useful built-in features.
2. Opera: Feature-Rich Browser for Windows 11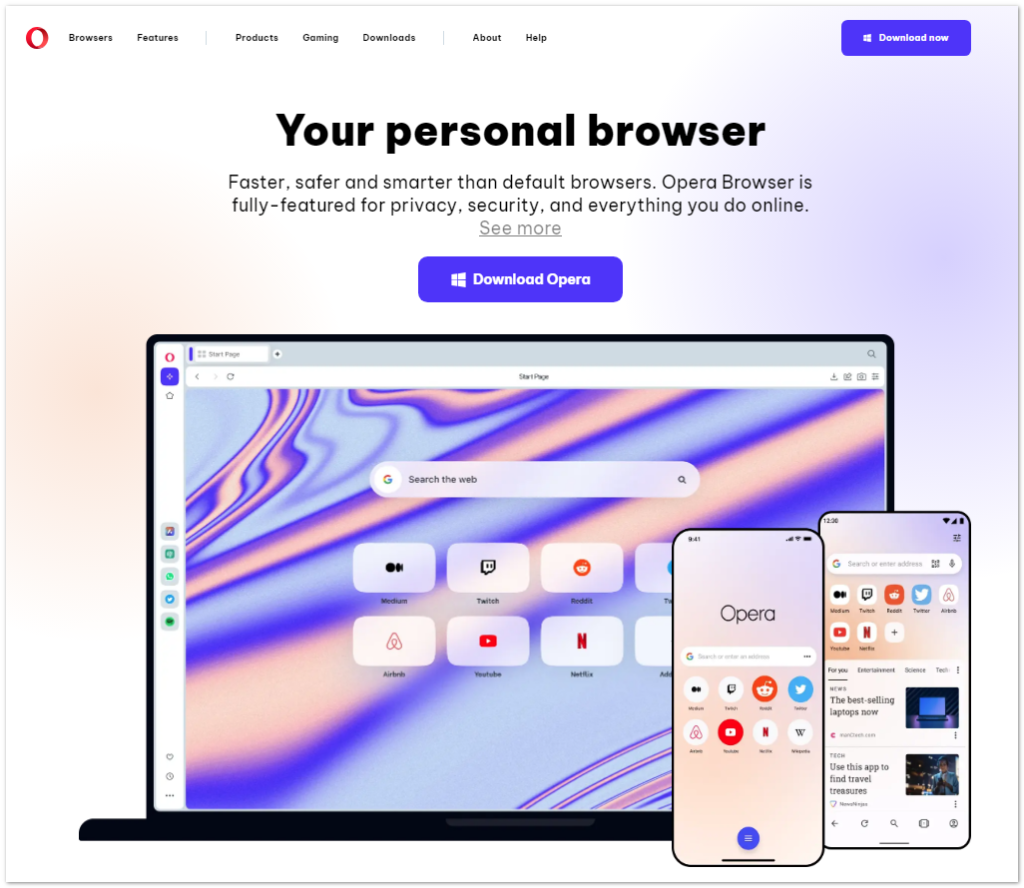 Bringing something different, Opera is a browsers with some unique features like Workspaces, Flow, and built-in messaging. Opera uses the Chromium engine as well. Opera is worth considering if you want a browser that goes beyond basic browsing to offer helpful productivity and communication features.
Opera is a Chromium-based web browser with a number of unique features, such as a built-in ad blocker and a VPN.
Opera is a good option for users who want a more secure and private web browsing experience.
Opera is a full-featured browser with unique benefits like:
Built-in ad blocker and VPN
Battery saver mode for laptops
Sidebar with messaging apps and music player
Opera Flow for sharing links across devices
Supports Chrome extensions
Opera is flexible and caters to power users who want customization and additional tools built into their browser.
3. Brave Browser: Best Browser for Privacy

Brave browser is one of the fastest browser for windows 11 pc. For optimal online privacy and security, Brave reigns supreme. This is one of the lightest browser for windows 11. It comes with best browser option for windows 11.
Key privacy features include:
Blocks trackers and ads by default
HTTPS Everywhere encryption
Fingerprinting prevention
Private tabs with Tor for anonymous browsing
Brave also rewards users who consent to viewing privacy-respecting ads, redeemable for vouchers and gift cards.
4. Google Chrome: Best browser for windows 11
With its vast ecosystem of extensions, themes, and sync features across devices, Google Chrome is beloved by many. On Windows 11, Chrome provides a fast, familiar browsing experience. As the world's most popular browser, Chrome needs little introduction. This is one of the open-source browser.
The best browser for Windows 11 is the one that is optimized for the new operating system.
Reasons for its widespread use include:
Huge library of extensions and themes
Syncs bookmarks and settings across devices
Built-in protections against dangerous sites
Simple UI with robust customization options
Vast device and OS support
For those heavily invested in the Google ecosystem, Chrome is hard to beat.
Chrome is ideal for those already using it on other devices or who want deep Google account integration. The extensive catalogue of extensions is also a major plus.
5. Vivaldi: Lightweight Browser for Windows 11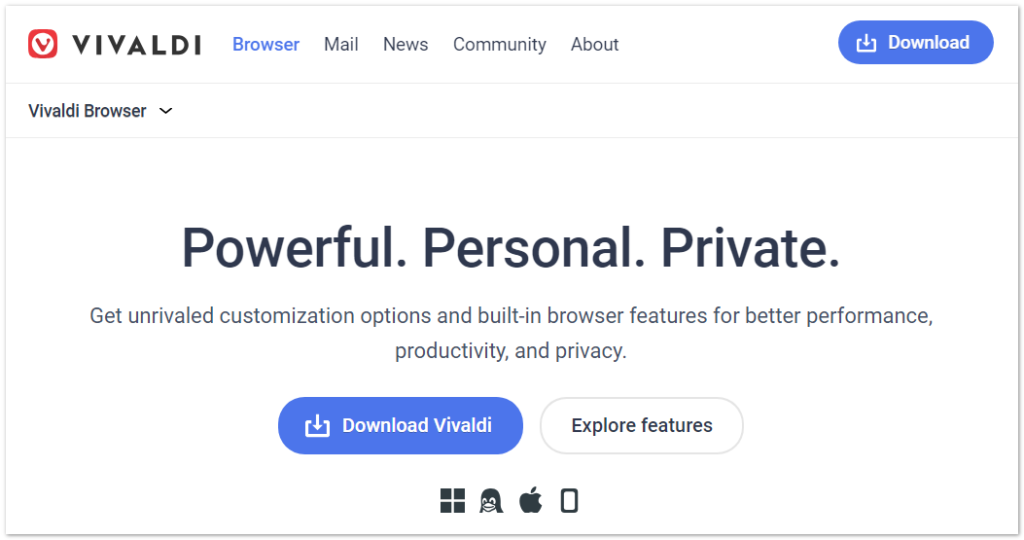 Developed by some of the same people behind Opera, Vivaldi is aimed at power users who want extensive customization options. It's based on Chromium.
Vivaldi is a Chromium-based web browser with a number of unique features, such as the ability to stack tabs vertically and take notes directly on web pages.
Vivaldi is a good option for users who want a more customizable and feature-rich web browser experience.
Vivaldi stands out with deep levels of customizability and unique features:
Fully customizable interface with built-in themes
Notebook for taking notes alongside browsing
Tab stacks to organize projects
Speed dials, mouse gestures, and more
Vivaldi gives advanced users granular control over their preferences. This browser gives you the most flexibility to tweak and personalize your browsing experience. It's great for tab power users.
6. Mozilla Firefox: Browser With Frequent Updates

Firefox is a great pick for prioritizing privacy and ad/tracker blocking when browsing. It also offers more UI flexibility than most other browsers. Known for its flexibility and focus on privacy, Firefox offers user customization and tracking/ad blocking tools. Firefox also has a robust extension ecosystem.
Some key highlights of Firefox include:
Leading support for privacy features
Containers isolate sites from each other
Extensive library of add-ons
Picture-in-picture video support
Enhanced tracking protection
Firefox competes head-to-head with Chrome and Edge on functionality while prioritizing user privacy.
7. Avast Secure Browser: Safest browser for Windows 11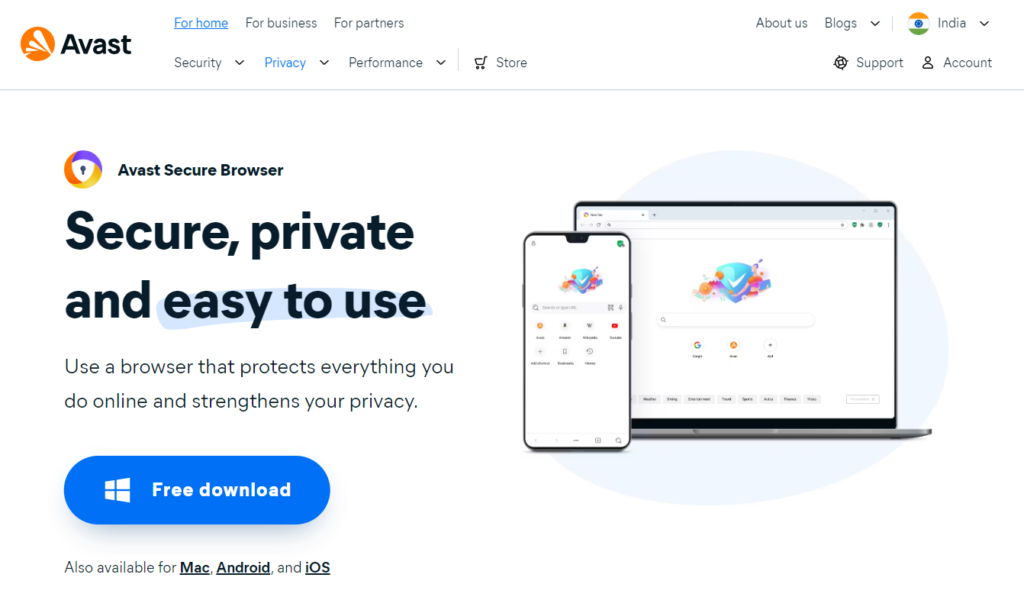 For those whose top priority is bulletproof security, Avast Secure Browser is an excellent option to consider. Developed by the trusted antivirus company Avast, this browser comes packed with privacy and security protections. Some key features include:
Bank Mode – This ultra secure mode uses advanced isolation to protect sensitive transactions like online banking and shopping.
Ransomware Shield – Proactive protection against ransomware attacks helps keep your files safe.
Webcam Guard – The webcam is automatically disabled on dangerous or suspicious sites to prevent snooping.
Anti-Phishing and Anti-Malware – Advanced protections block phishing scams and malware from compromising your system.
Ad Blocker – Removes intrusive ads for faster loading and greater privacy while browsing.
Browser Cleanup – Scans and removes tracking cookies after each browsing session.
Stealth Mode – Browse without leaving a trace in your history, cache or computer logs.
Avast draws on decades of security expertise to create their secure browser. The combination of banking-grade security, protective shields, and stealth browsing make this a great choice for the privacy-minded Windows user. When security is your top concern, Avast Secure Browser has you covered.
8. Tor Browser: Powerful traffic encryption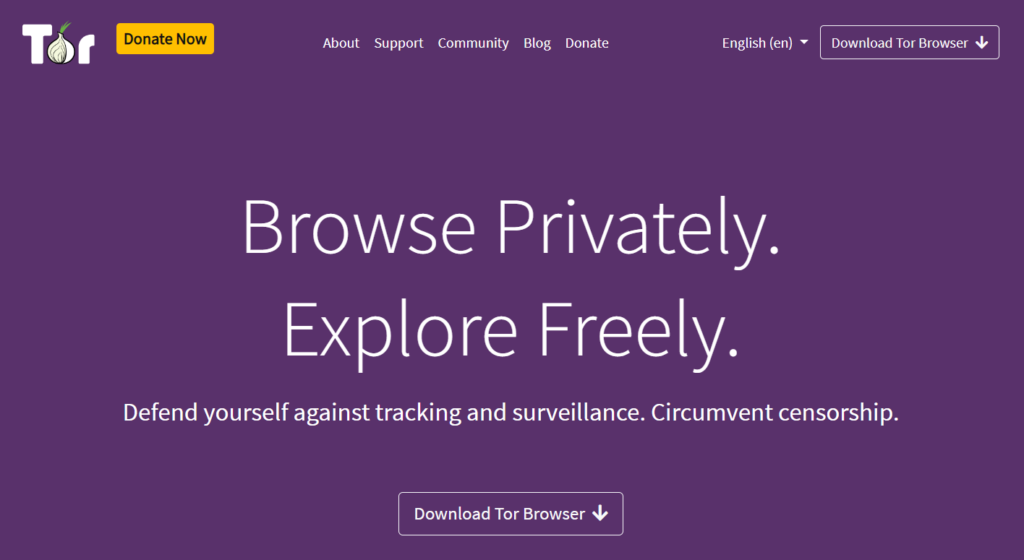 Another niche browser option worth mentioning is Tor Browser. Tor Browser provides the highest level of privacy and anonymity while browsing the web. It is built for users who prioritize privacy over everything else.
Tor Browser routes your traffic through an encrypted network run by volunteers all around the world. This makes it extremely difficult for anyone to monitor or track your online activity.
Features of Tor browser
For the strongest anonymity online, Tor Browser is built for privacy:
Encrypted traffic routing through Tor network
No tracking, recording, or surveillance
Access to .onion sites on the dark web
New identity assigned on each browsing session
For users who want maximum anonymity and privacy when browsing, Tor Browser is specifically designed for that purpose. It route your traffic in a way that provides the highest degree of privacy possible today. Tor makes it extremely difficult for anyone to monitor your browsing activity.
9. UR Browser: ecure browsing experience with customizable privacy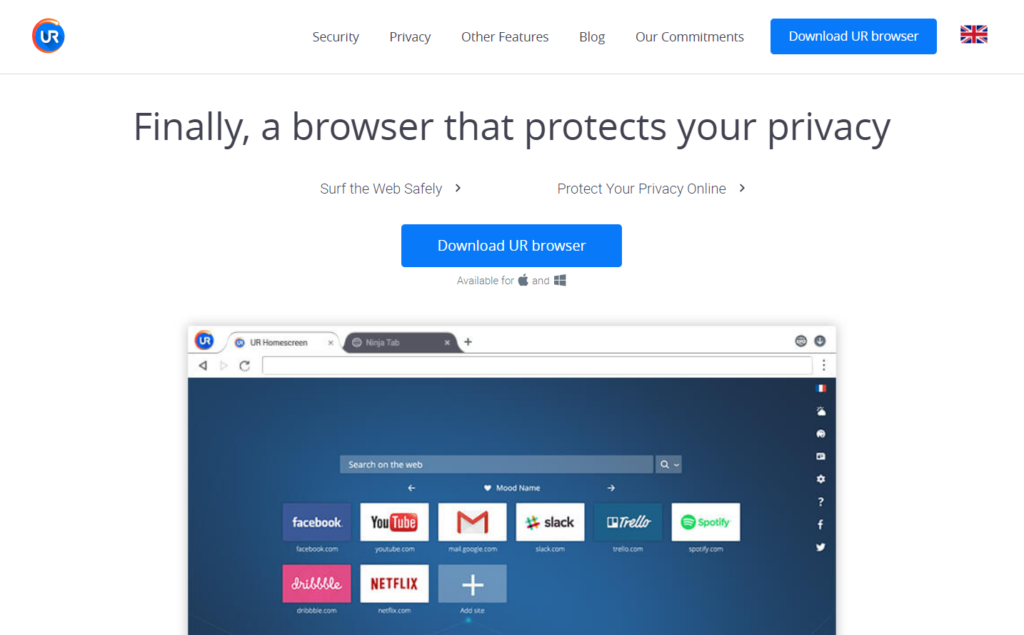 UR Browser is a lesser-known web browser that has gained some popularity in recent years, especially in India. Developed by URcrawler Information Technology, UR Browser aims to be a fast, secure, and customizable web browsing option.
While not as widely used as options like Chrome or Firefox, UR Browser brings some unique features and capabilities to the table. It offers tools to improve browsing speed, conserve data usage, and enhance user privacy.
UR Browser by URGroup prioritizes both speed and security:
Data Compression – To save on mobile data usage, UR Browser can compress web pages and media files using its own algorithms before downloading. This allows pages to load faster while consuming less data.
Ad Blocking – Built-in ad blocking prevents ads from being displayed while browsing sites. This improves page load speeds and protects from malicious ads.
Privacy Protection – Features like Incognito Browsing, Do Not Track, and Secure DNS help enhance user privacy and security.
Speed Optimizations – The Chrome-based browser has optimizations like caching and compression to accelerate page loading.
Media Downloading – Users can download videos, music, docs, and more directly from within the browser.
Customizable Interface – Adjustable themes, startup pages, and menus allow customizing the look and feel.
Overall, UR Browser brings a solid set of features focused on faster, more data-efficient private browsing. For users looking to conserve mobile data or enhance speed and privacy, it's an intriguing option.
For heavy ad-blocking and encryption to protect privacy, UR Browser excels.
10. Opera GX: Great browser for gamers with privacy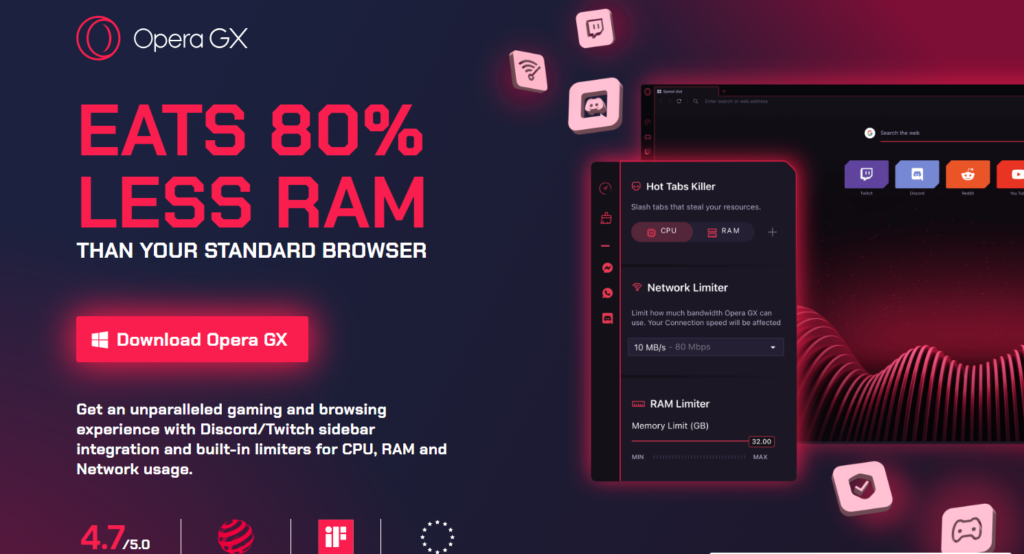 For gamers and video streaming enthusiasts, Opera GX is a compelling specialty browser option. Opera GX is designed specifically to complement gaming and streaming activities on Windows PCs.
Opera's gaming edition browser caters to gamers' needs:
CPU, RAM and Network limiter
Twitch sidebar integration
Customizable themes and colors
Ad blocker included
Performance optimization
Overall, Opera GX provides a browser tailored specifically for the needs of gamers who want to customize the browsing experience around their gaming activities. With Twitch and Discord integration alongside performance optimizations, it's a solid choice for Windows gaming setups.
This covers the most common and recommended options, but other niche browsers for Windows 11 are also available based on specific interests or requirements.
Factors to Consider When Choosing a Browser
Now that you have a sense of the top browsers available, it's important to reflect on your personal priorities and needs. Key factors to consider include:
1. Performance and Speed
How quickly pages and web apps load can make a dramatic difference in browsing enjoyment. Factors like javascript processing power, caching, tabs management impact performance.
Try benchmarks like Speedometer 2.0 to compare browser speeds objectively. Lower resource usage also contributes to snappier performance.
2. Security and Privacy
With data breaches on the rise, security features like automatic HTTPS connections, isolated processes per tab, malware blocking, and fingerprinting protection are critical for safeguarding your data.
Look for browsers that offer robust protection against threats. Privacy tools like ad/tracker blocking and incognito modes are also beneficial.
3. Customization and Extensions
Most people tailor their browser's interface, shortcuts, bookmarks, and settings to suit their preferences. The ability to customize both aesthetics and functionality via extensions and add-ons is a key consideration.
Assess the available extension ecosystem and settings flexibility before choosing a browser.
4. Compatibility
Support for modern web standards like HTML5, CSS Grid, and JavaScript ES6 ensures seamless rendering of sites and web apps built with the latest technology. Limited compatibility causes performance issues.
Based on the sites and apps you frequently use, check that your browser choice offers strong compatibility and consistent behavior.
5. User Interface and Design
A clean, intuitive interface that adheres to your OS' design language can make daily browsing more pleasant. Similar menus, shortcuts, and notifications across apps provide a cohesive experience.
Consider the UI layout, menu styles, settings organization, and visual aesthetics when evaluating browsers. OS integration is also beneficial.
By weighing these key factors against your own needs, you can zero in on the right web browser for your purposes. Don't settle for the default option without some consideration.
In-Depth Browser Comparisons
To make the decision easier, here is an in-depth feature comparison between the top five browsers for Windows 11:
| Browser | Speed | Security/Privacy | Customization | Compatibility | UI/Design |
| --- | --- | --- | --- | --- | --- |
| Microsoft Edge | Fastest on Windows | Very Good | Moderate | Full | Windows Integration |
| Opera | Very Fast | Very Good | High | Full | Sidebar Focused |
| Brave | Very Fast | Excellent | Moderate | Full | Minimalist |
| Vivaldi | Fast | Good | Extremely High | Full | Fully Customizable |
| Firefox | Fast | Excellent | Very High | Full | Tab Focused |
Speed: Edge has the speed advantage on Windows with efficient use of system resources. But all 5 browsers are optimized for great performance.
Security/Privacy: Brave and Firefox invest heavily in tracking protection and encryption. Opera and Edge offer secure defaults as well. Vivaldi lags somewhat here.
Customization: Vivaldi is by far the most flexible, while Firefox and Opera also enable deep personalization via add-ons. Edge and Brave offer less modification capability out of the box.
Compatibility: No major issues with any of these top options supporting modern web standards.
UI/Design: Edge has tight Windows integration with Fluent Design. Vivaldi can be customized significantly. Firefox and Opera for tab focus. Brave is more minimalist.
For most Windows 11 users, Microsoft Edge hits the sweet spot combining speed, security, compatibility, and native OS integration. But the other browsers have merits depending on your priorities. Opera is great for power users who want lots of features and flexibility. Brave prioritizes online privacy above all else. Vivaldi appeals to those wanting extreme customizability, while Firefox balances privacy with functionality.
The right browser for you will depend on your individual needs and preferences.
Some factors to consider when choosing a web browser include speed, security, privacy, and features.
There are pluses and minuses to every option, so review your needs and these comparisons to inform your decision.
Specialized Browser Options
The browsers discussed so far serve most general browsing purposes well. But users with specific interests or requirements may benefit from more niche browser choices. Some options to consider:
Tor Browser – Offering multilayered encryption and traffic routing through the Tor network, Tor Browser provides the highest degree of anonymity possible. Best for those prioritizing extreme privacy.
Maxthon – With social media integration and split-screen multi-window modes, Maxthon caters to heavy social media users. It's based on the Chromium engine.
Waterfox – Designed for customizability like Vivaldi, Waterfox is ideal for power users wanting granular control over browser behavior.
Slimjet – Slimjet focuses on speed optimization using a twin turbo feature to preload pages and accelerated downloads. It's built on Chromium.
Gaming Browsers – Brands like Opera, Vivaldi, and Epic offer gaming editions of their browsers with Twitch or Discord integration, RAM/CPU limiters, and performance tweaks.
Depending on your needs, don't limit yourself to just the most mainstream options. Consider specialty browsers like these as well.
Tips for Browser Migration
When switching from your existing browser to a new one, make the transition smooth by:
Transferring bookmarks – Export bookmarks from old browser, import into new one. Or use sync account.
Moving stored passwords – Password manager apps like 1Password facilitate password migration. Or use sync account.
Installing extensions – Reinstall useful extensions/add-ons for new browser from prior one.
Adjusting default settings – Reconfigure new browser's settings to match previous preferences.
Getting familiar with the interface – Give yourself time to adapt to differences in layout or shortcuts.
Running both browsers side-by-side initially – Don't delete old browser until comfortable with new one.
To make the browser your default browser, open the browser and go to Settings.
Under Default browser, click Make default.
Following this advice will prevent losing important data and make it easier to embrace your new browsing environment.
Frequently Asked Questions
What is the most secure web browser for Windows 11?
Microsoft Edge and Google Chrome are generally considered among the most secure major browsers, thanks to robust built-in protections against online tracking, phishing attacks, and malware. Firefox also offers very strong privacy features.
Is Microsoft Edge faster than Chrome on Windows 11?
In most benchmarks, Edge and Chrome have very similar speed on Windows 11. Both are based on the Chromium engine. So you are unlikely to notice a significant speed difference in everyday browsing.
Does Microsoft Edge use more memory than Chrome on Windows 11?
No, Edge and Chrome have comparable memory footprints when running on Windows 11. Though Edge may use slightly less memory with certain types of webpages.
What's the main difference between Microsoft Edge and Google Chrome?
The key differences are that Edge is more integrated into Windows itself and offers some Microsoft-specific features. While Chrome has deeper integration with Google services, more extensions, and synchronization across devices.
Does Windows 11 support Google Chrome extensions?
Yes, Windows 11 supports installing extensions from the Chrome Web Store in Microsoft Edge. This allows Edge users to access Chrome's large catalog of extensions.
Conclusion
Selecting the right web browser for your Windows 11 setup comes down to aligning features and functionality with your specific requirements and preferences:
Assess factors like speed, privacy, customization, compatibility, and design
Compare offerings from Edge, Opera, Brave, Firefox, Vivaldi, and others
Consider specialized niche browsers if appropriate
Look for security, productivity, and creativity features you value
Weigh the pros and cons relative to your needs
Taking the time to properly evaluate the leading browsers will pay dividends with a smoother, safer, and more enjoyable daily browsing experience. Don't just settle for the default option without doing some research first.
Hopefully this guide has given you a comprehensive overview of all the best web browsers available for Windows 11 today. Let us know if you have any other questions as you evaluate options and make your decision!