8 Best Writing Apps for Serious Content Creators
Are you looking for the best writing apps for serious content creators that allow you to create quality content with ease? In today's post, I will share with you some of the best tools for writers out there.
Content creators spend hours creating content for their blogs, websites, or social media accounts. Unfortunately, they often waste time due to bad habits and a lack of tools, which means that they sometimes don't produce anything worthwhile. The good news is that many awesome writing apps can help you overcome these problems.
If you're looking to get better at writing, you should start using some of the best writing apps. Some include Grammarly, GV Dictionary, Grammarly Chrome Extension, and Scrivener. These apps will help you write more effectively and focus less on grammar and spelling errors.
What Are the Benefits of a Dedicated Writing App?
Can you write without distractions? What if you had to write at home or school? Can you concentrate enough to produce excellent writing? If you answered "yes" to these questions, you should consider using a dedicated writing application. And now there are plenty of them.
The word 'writing' has two meanings: composition and editing. As a writer, you'll want to practice the skills required to publish. In this case, I mean composing and drafting because those are usually the steps you'd take offline. Countless apps claim to provide the perfect combination of features and benefits, but which ones truly deliver?
Whether it's fiction or nonfiction, there's no substitute for pen and paper when it comes to writing. But if you're ready to give up the computer for good and prefer to focus on your craft, you don't necessarily have to sacrifice functionality or convenience. Try out some top writing applications available today.
Best Writing Apps for Serious Content Creators
How often have you written something, only to realize later that it was terrible? The good news is that some apps are out there that can help you write better.
Writing is an art form that requires practice and patience. If you want to become a professional writer, you should start practicing now. It means writing every day, even if you don't feel like it.
Whether you are a student or working full time, you can always benefit from having access to quality writing tools. These apps allow you to create and edit documents, blog posts, articles, etc. They also provide you with helpful feedback and suggestions.
Let us see the best writing apps for serious content creators list 2022.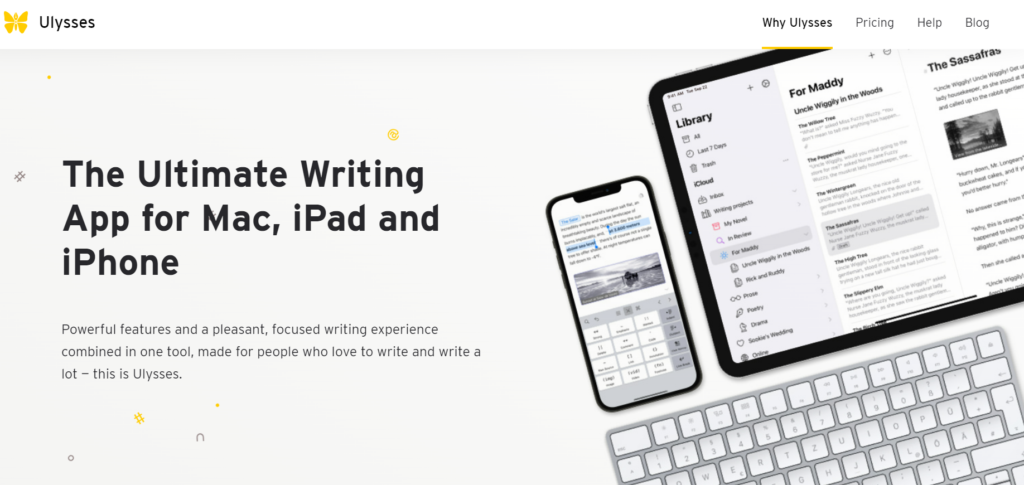 Ulysses has been designed from the ground up to be a focused writing environment, where everything revolves around your content rather than distracting visual elements. Ulysses is a revolutionary new way to write.
Its unique combination of powerful outlining tools, intelligent search, lightning-fast navigation, and an elegant, modern interface lets you control your work firmly. And since every keystroke is recorded, you can go back over any passage to make sure you didn't miss anything.
You can even share your notes via email or save them to the cloud for later reference—the perfect companion to your screenwriting toolbox.
Features:
Create an outline or script
Intelligent search allows you to find exactly what you're looking for instantly
Lightning-fast navigation means you're always just a click away
Powerful outlining tools mean you'll never lose track of what you've written
Add notes as you type, or search for keywords across thousands of articles
Highlight passages in your text using different colors.
Share notes directly to email or export as PDF.
Save your entire project to the cloud for safekeeping.
Save time by using built-in keyboard shortcuts to focus on what matters most.
A clean, clutter-free interface makes it easier to focus on your writing than ever.
The powerful search function helps you find exactly what you're looking for when researching topics.
Use tags to organize your ideas and research intuitively.
Take care of your formatting automatically—no more copying and pasting!
Focus on your content and forget about distractions.
Enjoy a fully responsive experience across desktops, tablets, laptops, and smartphones.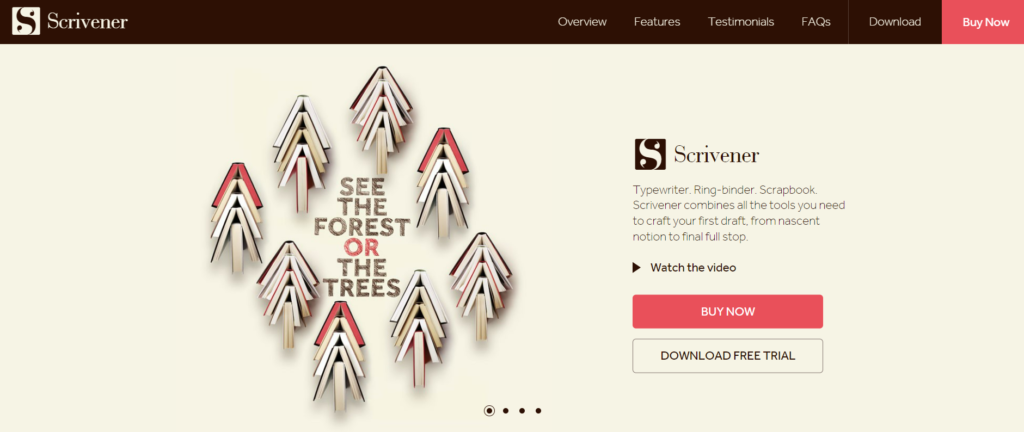 Scrivener is a powerful content-generation tool for writers that allows you to concentrate on composing and structuring long and complex documents. Outlining and research tools help you prepare your work, while advanced formatting options will enable you to create professional-looking documents.
Scrivener also integrates with Word, allowing you to export directly to .docx files. It's the perfect tool for novelists, journalists, academics, and anyone who needs to write long documents.
Scrivener is an app developed by Literature and Latte that allows users to write, organize, collaborate, and publish their work quickly. The program includes multiple tools like word count, font size selection, text notes, outlining, research management, etc.
Features:
It comes with multiple tools, including word count, font, and outline.
Allow authors to save their work as drafts or complete books.
A collaboration tool for teams.
A research management system stores your sources and accesses them whenever you need them.
Publish directly to the iTunes and Google Play stores.
Use Scrivener to organize your ideas into projects, gather notes and reference materials, and write, edit, annotate and collaborate.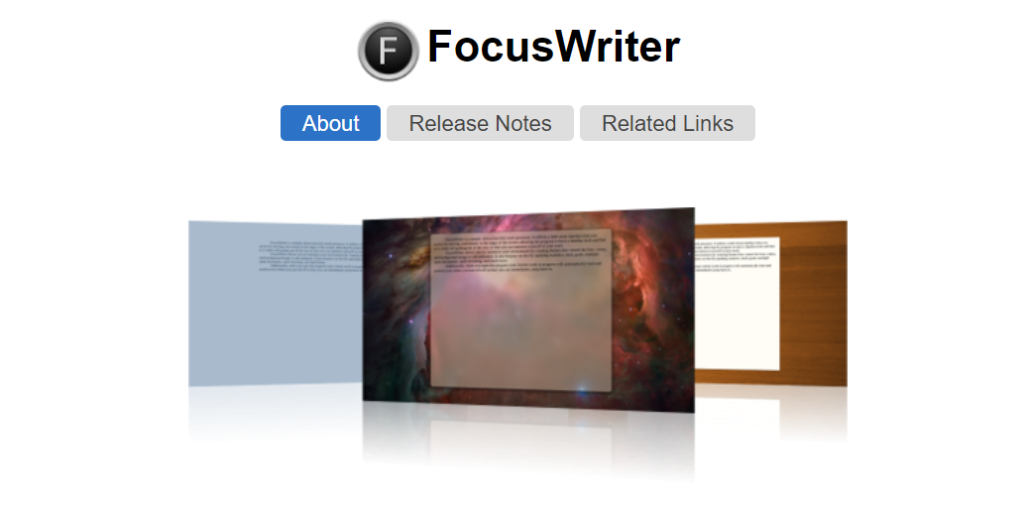 FocusWriter lets you focus on what matters most: writing. You can write anywhere, anytime, anyplace, and it's always there when you require it. Just open your file, and start typing. There were no distractions – no emails, no chat apps, no phone notifications. The only thing that should be interrupting your flow is you.
FocusWriter is an award-winning, distraction-free word-processing app that puts your creativity first. No more distractions or interruptions while you are writing! Create documents, write emails with ease, and never miss out on any essential details again. It brings you peace of mind by saving every keystroke, so you can easily find anything you have written later.
Features:
Write wherever you want
Use your keyboard shortcuts
Save time & energy by switching between multiple documents
Never lose your place – Keep track of where you left off right away
Quick access and exchange of various documents and drafts
It automatically updates when you save changes
Sync across devices using Dropbox or iCloud
Backup files automatically every 24 hours.
supports.rtf file types.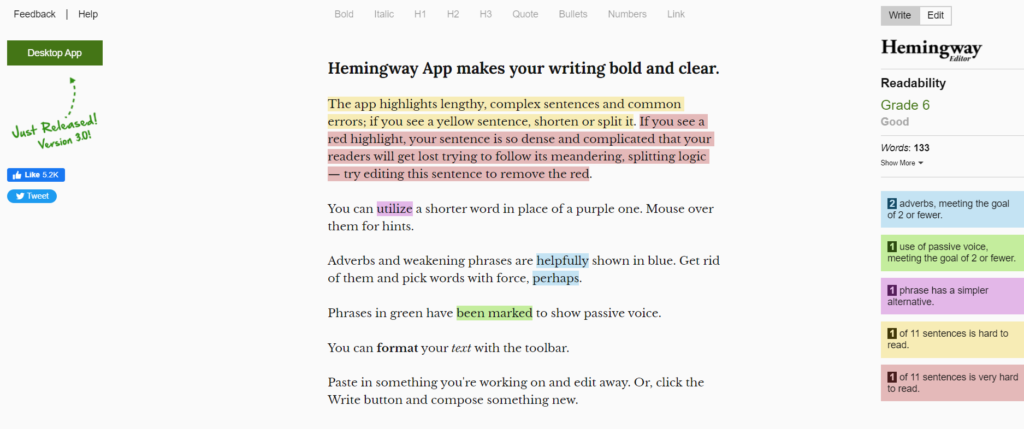 Hemingway Editor is an award-winning app developed by Writer's Digest to make your work more powerful and impactful. Designed especially for writers, it's simple, intuitive, and fast – perfect for quickly editing your text or blog posts.
It helps you edit your writing with just a few taps. There are over 10,000 words and 100+ tools to get you started. You can easily organize your thoughts, learn how to write better, and create beautiful documents.
Features include:
The fastest way to edit text and find errors
Advanced grammar tools, including word counters, find/replace, synonyms, and much more
Create stunning text layouts and presentations with themes and templates.
Support for multiple languages
supports Markdown syntax in both HTML and plain text formats.
Quickly create lists, tables, and charts using built-in templates.
Edit entire paragraphs or highlight specific sections.
Instant search for words within any document instantly.
Find the correct spelling for any word.
Work offline in the background while you're doing things around the house.
Create custom dictionaries to find new words.
WriteMonkey is an easy way to get your ideas out there. You can write short articles or longer stories, add photos, videos, maps, and more, and share them anywhere. WriteMonkey includes built-in editing tools for crafting your content, including text formatting, links, tables, and bullet lists. Use your fonts, colors, and styles to create unique looks. Even pre-made templates are available, like the classic "Book" style. If you prefer to start from scratch, click the "Create New Page" button to start fresh.
Features:
Create new pages or edit existing ones.
Add media, like photos and videos, directly into the page editor.
Choose between two different types of layouts–text only or a mix of text and media.
Easily insert multimedia files into the page editor.
Use your keyboard shortcuts to format your reader quickly.
Preview your work before publishing it as HTML or PDF.
Easily upload your finished documents to social networks, email services, and cloud services.
Share your creations via email or printouts.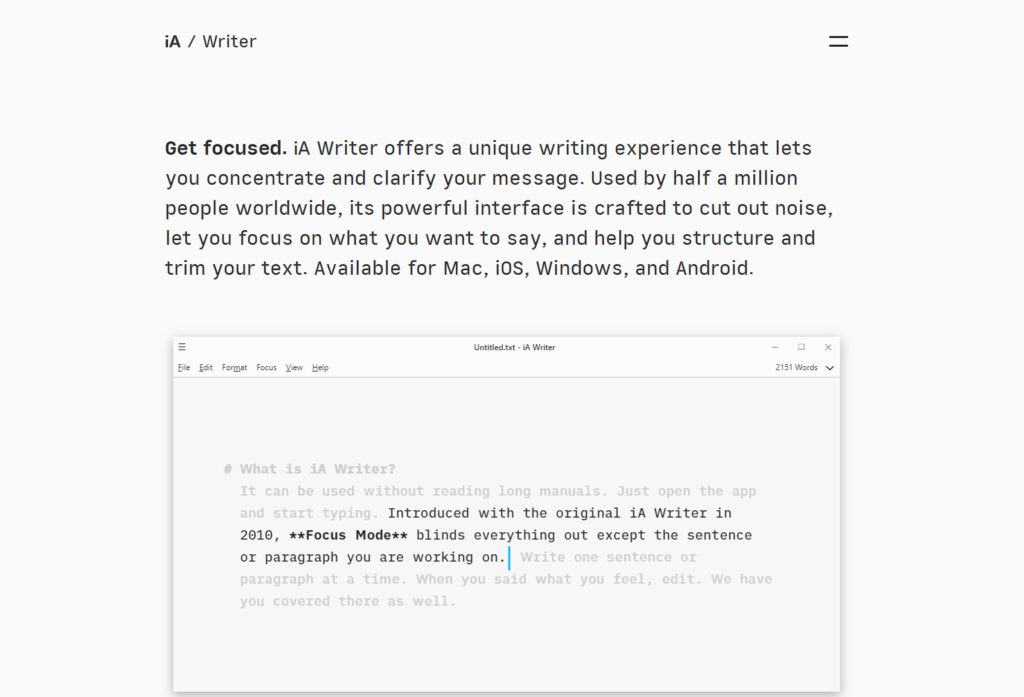 iA Writer provides a unique writing experience through innovative design and intuitive tools.
iA Writer has been designed with input from some of the world's best writers. We've taken their feedback and built an app that makes it easy to write on any device—fast and intuitive. You can take notes as you read, add links and photos, and then share those files directly with friends or save them for later.
Features:
Easy touch typing using the virtual keyboard.
Trim your text with the built-in editor.
Create beautiful quotes and lists.
Elements are available in English only.
Easily share your creations via email.
Save your thoughts as you read. Add links, photos, videos, and more.
Open.MD files directly from Dropbox, Google Drive, and OneDrive. Sync your changes across all devices.
Edit. MD files in real-time using Markdown syntax. Use bold, italic headers, lists, subheadings, and much more.
Preview.MD before saving. Highlight text while editing.
Export.MD to PDF, Google Docs, Evernote, OneNote, etc.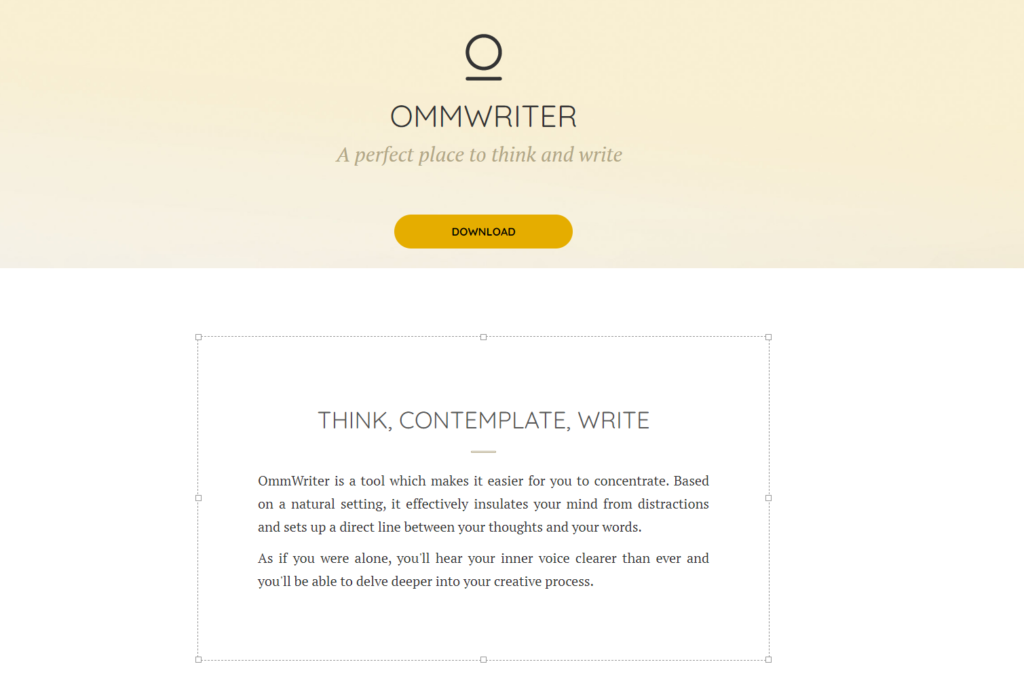 The Ommwriter provides a unique writing experience through its innovative design concept and high-quality materials. Using advanced software lets users achieve their writing goals faster than other apps available on the market today.
You can create new documents, manage your tasks, browse files, sync and share them across your devices, and organize your thoughts easily.
Features:
It has a convenient and easy-to-use interface.
It has an intuitive and straightforward layout.
Fast and powerful search function.
It supports multiple languages.
designed for writers.
Multiple themes.
highly customizable.
Perfect for brainstorming or note-taking.
Easily share your work.
It keeps track of your progress.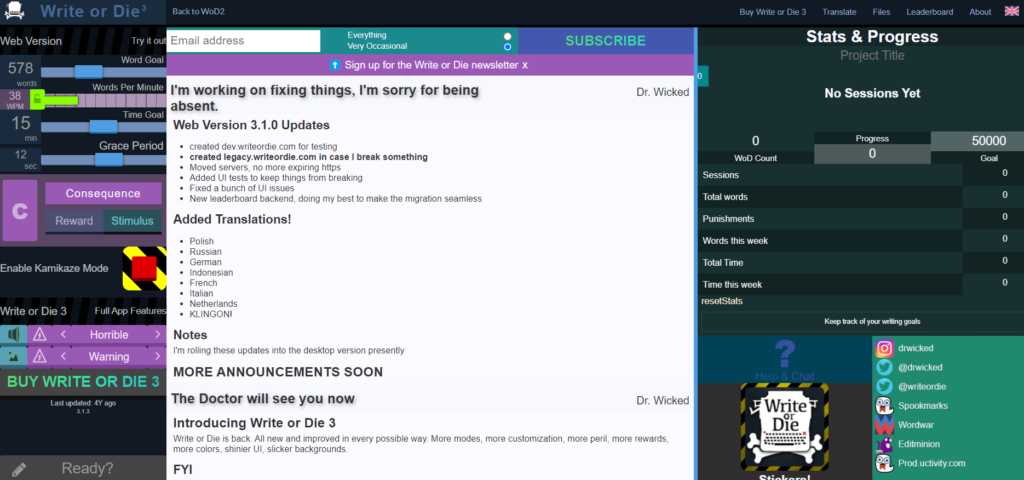 Write or Die 3 is an app for writers based on the same principles as the popular site The Writer's Digest. It's free and available now on Google Play. Write or die is an app that allows writers who are stuck on getting out their creativity to get back into the flow. You can create your storyboard, draw inspiration from photos or videos, or write down keywords to generate ideas.
Features:
Quick access to writing inspiration.
Select your genre and get a personalized list of resources in your area.
A word count tool to track progress.
Tools for editing and formatting
Connecting services like Facebook and Twitter
Share what you write on social media.
Final words
There are plenty of reasons why writing apps often come and go. But one thing never changes: good writing software will always be essential because you can't produce quality content without it. So, here's our list of the best writing apps available today.
If you are a writer or a content creator and want to create content that will help you stand out from the crowd, you would like to make sure that you can write your content quickly and without distractions. The best thing to do is to use an app specifically designed to help you focus your mind and create excellent content.
We have researched the available apps, and the best one we found is the Ulysses app. And it even has a free version that you can try. Give it a try and let us know what you think.
Many apps and tools help people write more efficiently. By gathering your thoughts and working through them in a distraction-less environment, you can make it easier to transition from an idea to a finished article. We hope that you found this article helpful and that it helps you to be able to sit down and write more quickly in the future.