Do you have any idea how to make money with AdSense? Not? Do not you even know what that is? So you're missing out on an excellent chance to make big money on the Internet by running Google ads.
Many digital entrepreneurs nowadays want to know how to make money from AdSense. It is one of the ways to build a wildly profitable Internet business with low initial investment and working from home. Is it or is not it tempting?
These features are raising the curiosity of online entrepreneurs and entrepreneurs on how to make money with Google AdSense. Many people have realized that it is possible to create a profitable business with a minimal investment beyond their work through Google's affiliate program.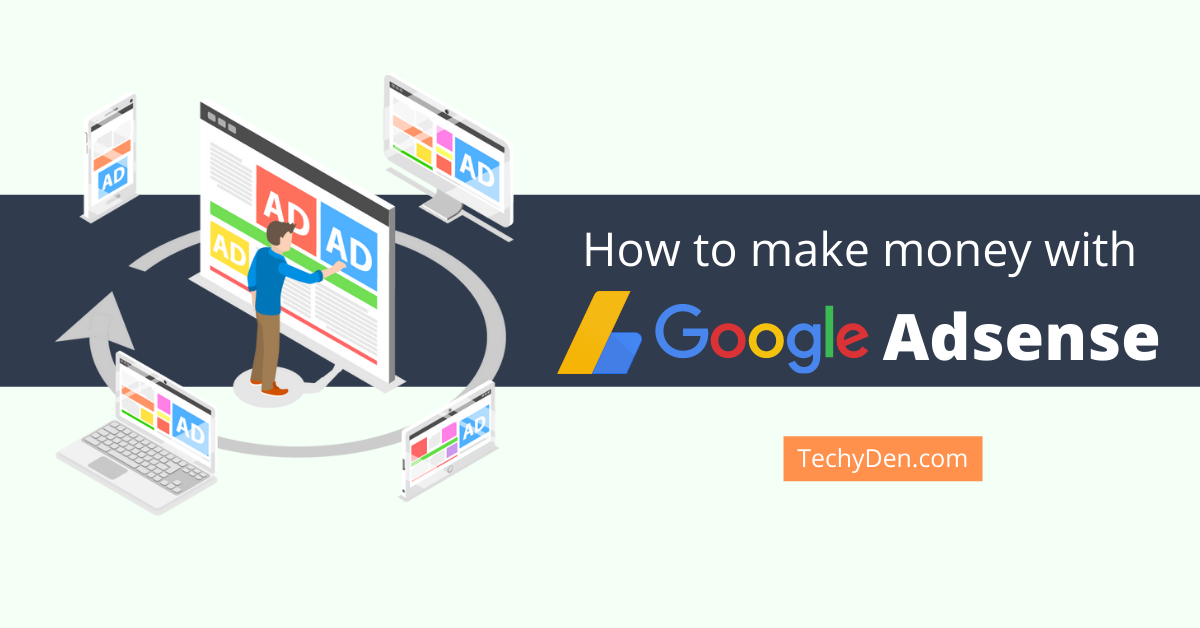 What is AdSense, and how does it work?
Google AdSense originated from an evolution of the Google AdWords tool, the Google ad platform. When Google launched this sponsored link tool, AdWords, It only displayed the ads on the response pages of searches conducted on Google or partner sites.
To give your sponsored links programme more power, Google launched the Google AdSense affiliate network, which boosted the display options of advertising in what you've dubbed the AdWords Display Network through a system of partnerships for space on blogs and websites and huge portals.
We call Google AdSense nothing more than Google's affiliate program for distributing ads contracted through Google AdWords. With it, you can make money from a blog or website by assigning advertising space for the ads to be inserted.
When an advertiser hires an image ad in AdWords, Google checks with your affiliate list to see which sites would be more interesting to serve that ad.
Once the ad has been published, with each click visitors give on this ad, the person who hired him pays a certain amount to Google, which passes a percentage of around 60% to the site that displayed it.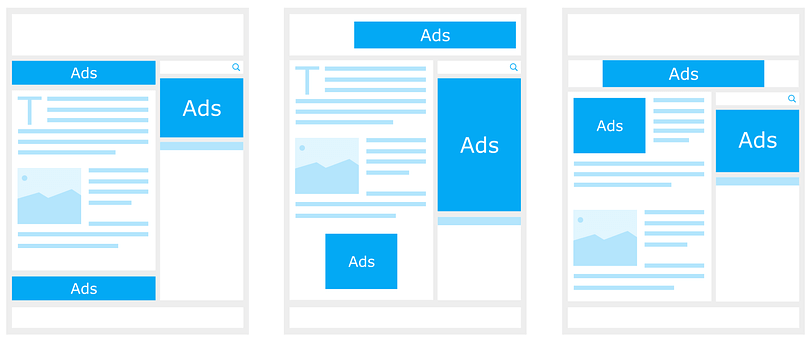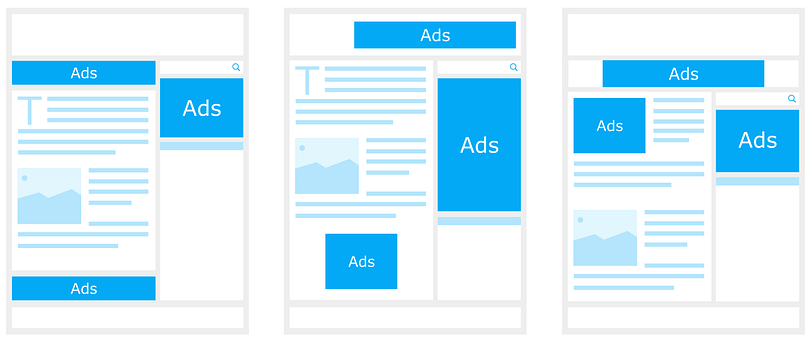 A common mistake among online entrepreneurs looking to learn how to make money from AdSense is staying focused on the money issue itself, forgetting that to make real money, you must first understand the concept behind the tool.
Types of AdSense Ads
Google offers a variety of ad types to run on your website, including:

Text: Text advertising occurs in various sizes and employs words such as an Ad Unit (one offer) or a Link Unit (a list of recommendations). The colour of the box, the text, and the link may all be changed.
Images: Graphics advertising is image adverts. They are available in various sizes. You can select an ad feed that includes both text and graphic adverts.
Rich Media: HTML, video, and flash are examples of interactive ad formats.
Video
Animated Image
AdSense for Search: You may now add a Google search bar to your website or blog. When a user searches for a term, a search results page with AdSense advertising appears. You may customize the color pattern of the search results page to match the colour scheme of your website.
How much can you earn with AdSense?
There is no minimum or maximum value. Only you can determine how much you will earn with AdSense, and it all depends on the volume of traffic you can generate for your site and the effectiveness of your advertising.
When you develop a lovely blog or website with original, well-crafted content, the sky's the limit of how much you can earn with AdSense.
It is good to clarify that we are not talking about any miraculous method in which you will earn rivers of money doing little or almost nothing, as many "golden pot sellers" say on the Internet. Of course, there are some AdSense secrets, but nothing that is not technical and hard work.
To make money with AdSense, you will need to work hard and be persistent, as it takes some time for the real money to start appearing. The life of "AdSense" is hard, but the return is more than satisfactory.
How do you make money from AdSense?
Given these technical issues, let's get to what matters to all; how to make money from AdSense. You can make money from AdSense on your blog or website, and the best known is from inserting ads in certain parts of your blog, especially those with more exposure, such as before the first-page fold.
When a visitor to your blog clicks on one of these ads, as explained above, you'll receive a percentage of the amount paid by the advertiser to Google. At first, this may seem very simple and easy, but do not be fooled. You need to apply many techniques to make it work and make a profit.
One of the secrets of AdSense is getting ads embedded into content by creating a reading environment where advertising is contextualized without directly interfering with the progress of reading.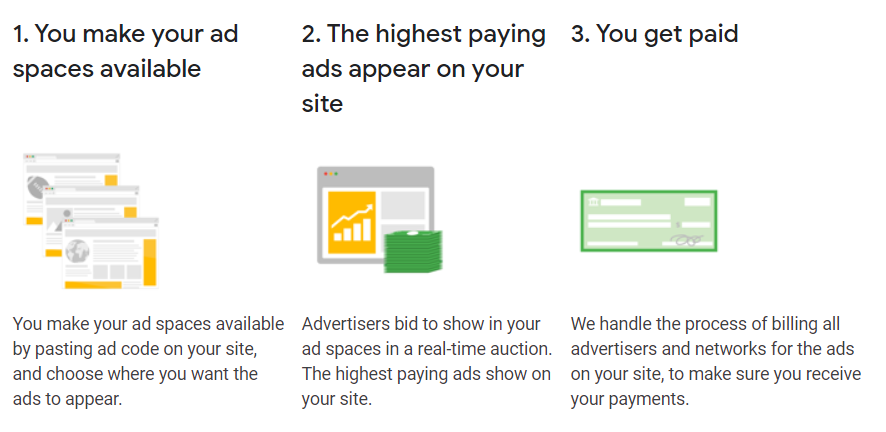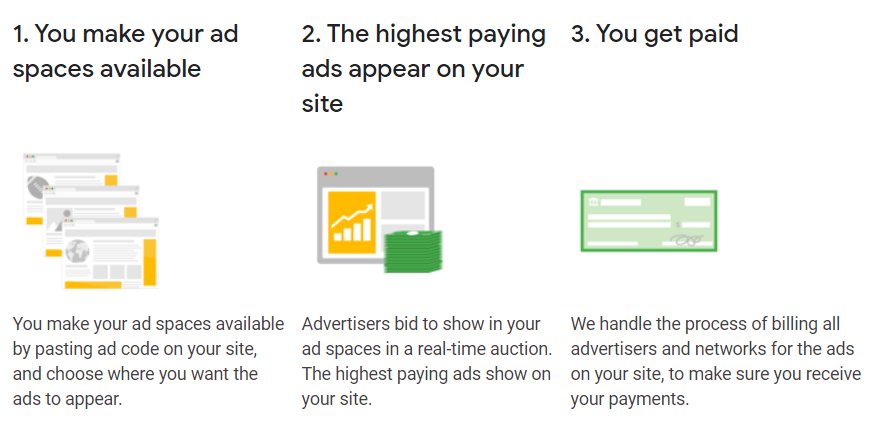 Using the Google search associated with the search field on their site is another alternative for anyone who wants to learn how to generate money from AdSense on their blog. Whenever someone does an internal search on your site, you'll be sent to a custom response page with ads. Again, each clicked ad is money coming in.
In addition to these two options, an increasingly popular way to make money with AdSense is through videos on YouTube. If you have a video channel on YouTube, through the YouTube Partner Program, you can monetize your videos with the insertion of ads, and in the same way, as in the previous options, every time they are clicked, you get an invoice. If you want to know how to make money with AdSense, you have another way to generate revenue online.
Now that you already know how to make money with Google AdSense, it is a matter of choice.
How Much Adsense Pays the Blogger?
Another common question among those who want to know how to make money from Google AdSense is how much the program pays.
This value depends directly on the keyword value that the advertiser has selected.
Because AdWords works on an auction system, the amount paid for each ad depends on the competition for each word.
Google AdSense passes on a percentage of the amount paid by the advertiser to the website owner where the ads appear. This percentage is around 60% of the amount paid. If the advertiser pays $1.00 for a given the word, the site owner will receive something around $0.60.
If you're working with AdSense for Search, another way to make money with AdSense, the on-the-spot amount is around 50% of the amount paid by the advertiser.
Pros and cons of Google Adsense
Pros:
Google AdSense has the following pros:
Joining is completely free.
Even if your website or blog is brand new, you can easily monetize it because the eligibility requirements are simple.
Many of the ad types available can be customized to match the appearance and feel of your website.
Advertisements can be displayed on mobile devices and RSS feeds.
AdSense accounts can be used to run advertisements on multiple websites.
AdSense can easily be integrated into your Blogger and YouTube accounts, but to run it on your YouTube videos, you'll need at least 1,000 subscribers and 4,000 hours of view time.
Cons:
Using AdSense does have some disadvantages, however.
Google has the power to suspend or delete your account at any time, and it isn't particularly merciful if you disobey the rules.
To generate money online, you need traffic, just like any other kind of internet revenue.
When consumers click on an AdSense ad, you get money, but they also leave your site, preventing you from earning money from higher-paying affiliate items or your own products and services.
It isn't always more expensive than other similar ad schemes.
Using Google AdSense to monetize your site is a great idea, but it doesn't promise you to become rich overnight. Furthermore, some writers appear to overlook Google's regulations while reading the terms of service.
As a result, several website owners have discovered the hard way that they had broken a Google regulation and had their accounts suspended indefinitely.
Frequently Asked Questions (FAQs)
What is Google AdSense now called?

Google AdSense is now called Google Ad Manager. Google AdSense is a service that allows web admins to display relevant ads on their websites to generate revenue. Initially called Google AdSense, it has since been renamed Google Ad Manager.

Is Google AdSense free?

Google AdSense is free to join, and you can start earning money as soon as you sign up. You do not need a website or blog to sign up for Google AdSense, and you only need to have a Google account and an email address. All payments are made through your bank account, so you will need to provide your banking information during the registration process.

Who created AdSense?

Google AdSense is an advertising service that generates revenue for the company. It was created by Google engineers led by Sheryl Sandberg and David Fischer in 2003. The Google AdSense system is a platform that allows advertisers to place ads on Google's content sites, such as YouTube and Blogger, to target specific audiences. The ads can be text-based or show video clips. When the user clicks on an ad, the advertiser pays Google some money, and the user gets sent to the advertiser's website.

Is Google Ads the same as AdSense?

Google Ads is a Google service that allows advertisers to create and display ads on Google.com, its search engine, and across the web.
Adsense is a Google service that allows publishers to display text and image ads in their webpages. Google Ads (formerly known as AdWords) is a paid advertising system by which advertisers pay to show their ads on Google's search engine results pages or websites. AdSense is a program for content providers who want to make money with their website or blog by placing text or image ads on it while they do not have any control over what ad will show up on their site.

Does Google AdSense worth it?

Google AdSense is an advertising service that allows publishers to display ads on their sites. Google AdSense is a great way for publishers to generate revenue from their content and for advertisers to increase the visibility of their ads. Google AdSense provides a reliable, scalable, and easy-to-integrate solution for creating and monetizing online content. It has been around since 2002, so it has proven its worth over time. The only downside is that the revenue generated by Google AdSense is not as high as other advertising platforms, but in the end it's up to you if you want to use this advertising service or not.

Are AdMob and AdSense the same?

AdMob is a mobile advertising company that develops software and services for advertisers and app developers. AdSense is a Google service that allows website owners to display targeted ads on their sites. The two companies are not the same because AdMob focuses on the mobile advertising industry and AdSense is focused on desktop ads. However, both companies offer programs for publishers to generate revenue from their websites. In order to make money from your website, you can choose from different programs offered by both AdMob and AdSense.

How much does AdSense pay per 1000 views?

AdSense is a Google service that enables the monetization of websites. It's a simple, effective way to generate revenue from your site without dealing with advertisers or ad networks. The amount of money you make will depend on the number of visitors to your site and the type of ads displayed on it. The more visitors you have, the more money you'll make. For every 1000 views, you can expect to earn about $1 for banners and $0.10 for text ads.

Is AdSense still profitable in 2022?

Google AdSense is an advertising program that consists of ads on the Google network and third-party websites. The ads are text-based and appear on the page as text, images, or video. The Google AdSense program was launched in 2003 and since then it has grown to become one of the most popular programs for publishers. This program is still profitable in 2022 because it's still generating a lot of revenue for its users.

Does having a YouTube Channel pay?

A YouTube channel can be a great way to earn money. However, it is important to note that the more subscribers you have, the more money you will make. If you are just starting out, it may be difficult to get a lot of subscribers and views on your videos. But don't worry! With time and effort, your YouTube channel will grow and so will your earnings!

How much money does AdSense pay?

Google AdSense is a Google service that offers internet advertising on web pages. Publishers will place a code on their webpages and Google will automatically generate ads based on the content of the page. Publishers receive a share of the revenue generated from the ads.
AdSense is one of the most popular ways for publishers to monetize their site, with over 1 million publishers participating worldwide and generating over $10 billion in revenue annually. The total amount you can earn through AdSense depends on how often your ad units are clicked, how much traffic your website receives, and what type of ad units you use.

How much does AdSense pay for 1 click?

AdSense is a Google service that pays publishers for the number of clicks on their advertisements. It's used by small businesses and bloggers alike to generate income from their websites. The amount that AdSense pays for a single click varies depending on the content being viewed and the region where it is being viewed.

How can I make money with AdSense fast?

This is a question that many people ask themselves. There are many ways to make money with AdSense but the most popular one is by using Google AdSense for blogs or websites. Google Adsense is a program that allows website owners to display ads on their site and earn money when someone clicks on the advertisement. It's an easy way to generate revenue from your website or blog and can be used in any niche.
Final words
Google offers a free program called Google AdSense that allows you to place ads on your blog. You can earn advertising fees when visitors click on an ad. There are different types of ads, such as banner ads, text ads, and skyscraper ads.
Banner ads are displayed throughout a web page, text ads appear at the bottom of each page, and skyscraper ads are shown above a fold or on the side of the screen. "