Are you searching for the best PayPal alternatives? If yes, this is the perfect place to know and pick the perfect one for your business growth.
Over the years, PayPal has become one of the most popular online payment platforms in the world. It is easy to use and very secure most of the time. Similarly, it is possible to receive money, make payments, and make bank transfers in a very practical way. It is the best payment gateway solution.

The service can still be synchronized and managed across multiple platforms, which is also extremely useful for its users. But it's important to note that PayPal is far from perfect, either for the fees it imposes on certain transactions or the restrictions it has in some countries, to name a few.
What is Paypal?
PayPal is the most famous electronic online payment system. It is an electronic alternative to traditional payments by checks and bank transfers. Its users can be individuals, traders, large companies, and corporations. It is owned by eBay Inc., with more than 90% of eBay payments made through PayPal. PayPal payments are more secure.
With PayPal, anyone with a valid email can transfer money to another person via email. The initiator of the transfer must first open a PayPal account and secure it with funds. The PayPal account can be secured by credit, debit card, or bank account.
To receive the money, the recipient can request a check from PayPal, open a PayPal account, or specify your bank account to transfer the amount. In this sense, PayPal is an intermediary that facilitates e-commerce around the world without disclosing financial information in transactions. PayPal business account is most popular for
Why Is PayPal Alternatives So Famous?
Paypal is very good to make online payments safely. Here are a few reasons to choose alternatives to PayPal for international payments.
PayPal does not provide any protections for sellers who are making digital services and product selling.
Most of the PayPal alternatives charge very less than PayPal.
PayPal has the right to make the payments freeze up to six months without warning.
The automatic money transfer system is very late. It takes more than 3 business days.
Do You Know How Many People Show Up At Paypal Alternatives? Because of the above reasons, most of the merchants and sellers are searching for the best PayPal alternatives. So I started to research and made this list for you. It helps you to decide which one is best for you to improve business for better revenue.
List of Best PayPal alternatives in 2021
Here is the list of the best alternative websites just like PayPal
1. Google Pay
Google Pay is the best and popular PayPal alternative. It has the same features as PayPal today and is highly recommended for anyone who likes to use Google services in an integrated way. You can use the service to store credit and debit card information for online shopping, as well as to receive and make payments.
Google Pay service can be used around the globe. So you can use it to make international payments for purchases if you prefer. In 2020, online payments are very easy who accept google pay.
It is giving very good special mobile offers and providing gift cards to customers. Payment solutions are completely free for customers and businesses.
You can pay and receive money by using their Android app or iOS app.
2. Skrill
Skrill offers almost the same features we have with PayPal, making it one of the best international alternatives to PayPal today. To send and receive online money, as well as be able to connect your debit and credit cards.
The platform is one of the favourite paypal alternatives for personal use, you could find and still charges relatively low fees for certain transactions, something that cannot be said for PayPal in many cases.
Because of these distinctive features, it is a worthy PayPal alternative. You can send and receive the money within few minutes and another part is, you can link your card for faster payment.
Basically this system was developed with crypto-currencies in mind and using for gambling setup and online gaming with this fund transfer system.
It is another strict fraud prevention tool like PayPal if they notice misuse, it freezes the user's account.
3. Payoneer
Payoneer is one of the other payment gateway solutions. Another platform that offers support worldwide is Payoneer , which is widely used by freelancers who receive money from other countries. By the way, the service is ultimately widely used by companies as the main method of international payment.
With the money received, it is possible to transfer to your bank or even to other users of the platform. The Payoneer is providing their personal debit card system with its brand name. You can use those cards in any ATM to withdraw your funds.
But credit card transaction fees are a little bit high and you have to pay some fee if you transfer funds to your bank account.
4. 2Checkout
2Checkout is another awesome PayPal alternative for international transactions.
2Checkout is now a little different from the services we've seen so far, as it doesn't allow money to be transferred between users. This platform is most often used among sellers who are looking for a more efficient way to make deals with their sales.
2Checkout supports several brands of credit and debit cards and is compatible with PayPal itself. It supports 8 payment types, 87 currency options in 30 languages, and more than 200 countries. Simply it accepts 45 different methods.
It checks more than 300 fraud checks for every transaction you made.
5. Selz
Selz which is one of the top alternatives to PayPal works very similarly to 2Checkout and is also one of the preferred alternatives to PayPal for business. This is a very safe and practical way to actually receive money from clients and is also a great option for freelancers.
The platform operates worldwide and supports approximately 190 different types of currency, which is great for those who work with many foreigners. The pricing are very similar to those of PayPal, but it is still a good alternative.
6. Stripe
Stripe is another online payment processing system for internet businesses. It is one of the most suitable PayPal alternatives. It works in many countries and is one of the simplest options for receiving and sending payments over the Internet. In addition, the platform offers the ability to credit and debit card transactions of most of the most used brands in the world.
Fees for certain transactions are not very high and your money can be managed directly on your mobile device if you want to download the official Stripe app.
7. Shopify Payments
Shopify payments are using on the Shopify platform and which is perfect for eCommerce businesses. It accepts credit and debit cards on the Shopify store without using a third party.
This payment system is useful if you are having any Shopify store. No doubt this is the worthy PayPal replacement, which makes payments easy for sellers.
The shopify paymants works with Facebook messengers, FB shops, Pinterest, Amazon, eBay and Buyable pins.
Shopify POS system (Point of Sale) is more popular and helpful features if you decide to sell in person via card payment services.
Frequently Asked Questions (FAQs)
What is PayPal's biggest competitor?

There are a number of PayPal alternatives on the web. In that, the most popular alternative is Google Pay, Payoneer, and Skrill are very good choices. These three are the biggest competitors of PayPal.

Which is better Skrill or PayPal?

Most of the online marketers are using PayPal for smaller transactions to buy goods from eBay. This is not suitable for bigger transactions. If it comes to bigger transactions like online gambling, Forex trading, here Skrill is a very good choice than Paypal.

What is the safest online payment method?

There are plenty of third party services are available to complete the safest online payments. That Paypal is the most popular one. But now Google pay is more than enough instead of PayPal for smaller transactions and it is providing a valuable extra layer of safety.

Is eBay stopping PayPal?

In 2018, eBay announced about stopping the PayPal payment system as a back-end payment service in 2020. They are moving to connect with a new partner this year. Here are a few examples of the best PayPal alternatives for eBay.
Did you like these best alternatives to Paypal?
Paypal has its own advantages and disadvantages. But there are great alternatives out there to consider for your online transactions. Most of these have lower fees than PayPal.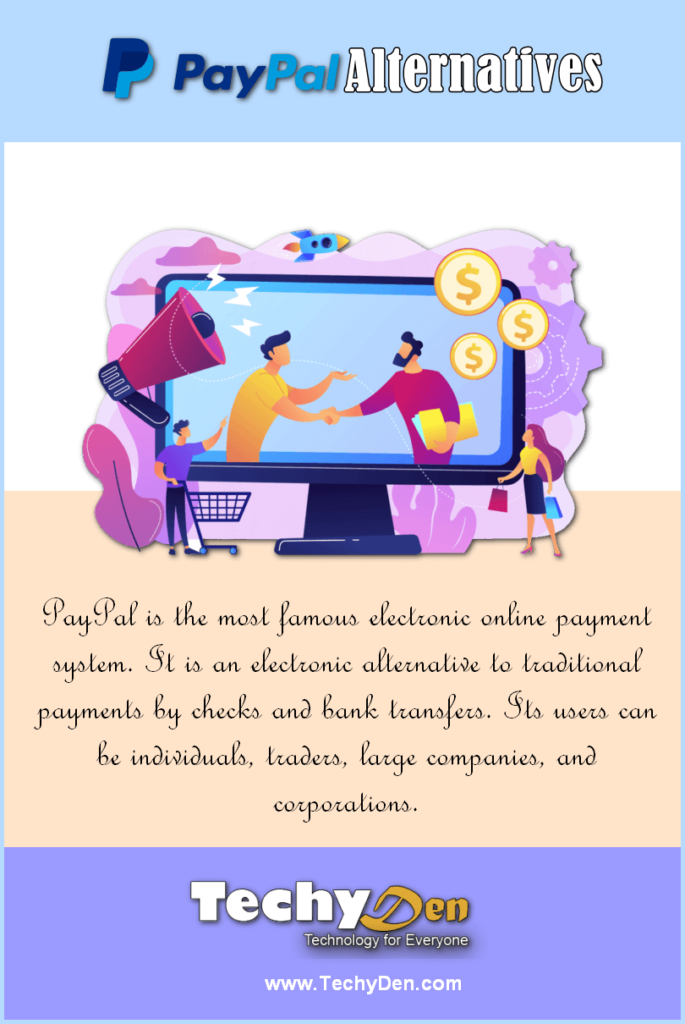 Did you like our recommendations for the best PayPal alternatives? So don't forget to leave a comment by telling us which of these services you would use (or already use) to make your payments online.