SBI Virtual Credit Card: How to Create SBI Virtual Card from Online SBI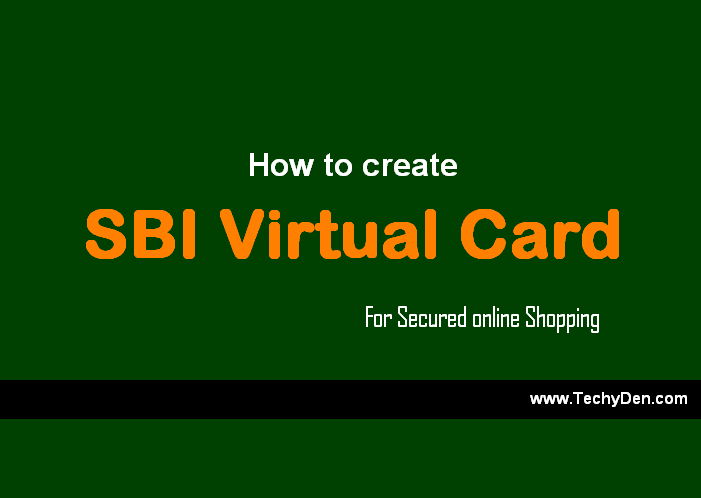 SBI Virtual Card is the greatest added feature for SBI internet banking users who are not using Credit cards. This is a great alternative for SBI customers who are not using or having credit cards.
The major advantage of this Virtual credit card feature is it gives better security measures that are making payments for their online purchases from online shopping sites.
This VC helps you keep all the credit cards and bank details confidentially while you are making online purchases.
A virtual credit card is not in plastic form but you can use this card for Indian websites that accept Visa Card without any problem.

Basically, the SBI VCard is a temporary tangible credit card. It's having a 24 to 48 hours span. This is the temporary credit card for online purchases.
To get this feature, first, you need to apply internet banking service in your SBI branch.
After receiving the internet banking login credentials, log in into the account and apply for a virtual credit card free of cost.
Virtual cards are one of the many benefits you will benefit from if you have a digital wallet. These applications, although still with little penetration of the Indian market, are rapidly gaining popularity. What attracts people is the convenience, speed, and security of payments provided by the innovative service.
In this article, we will learn about what exactly is a digital wallet, what to look out for when shopping online, and how virtual cards give us maximum security.
Contrary to popular belief, the digital wallet is not a substitute or alternative to online and mobile banking.
However, some portfolios also offer similar services, such as issuing an IBAN, debit card, payment of utility bills, etc.
The iCard digital wallet, for example, provides the ability to make international transfers, pay your utility bills through the app, and shop and withdraw money with a contactless debit card.
What the digital wallet really aims for is to displace your physical wallet – full of debit and credit cards, discount cards, gift cards and whatnot. All this can now enter your phone and be securely protected with your fingerprint.
What are the benefits of Online Shopping?
It is interesting to first mention that according to a recent representative consumer survey conducted by iCard, 49% of people who regularly use the Internet and smart mobile devices actually consider shopping on the Internet with a debit or credit card to be completely safe.
When paying online, instead of entering the real number on your card, you can use a temporary virtual number with a deadline and payment limit set by you.
We recommend that you set a limit slightly higher than the amount you want to pay online for each virtual number. After each successful payment, you can delete the used virtual number.
When creating a virtual number, the amounts from your card are not transferred or blocked. When deleting or expiring the virtual number, it is not necessary to transfer any amounts back to the card.
How to create a SBI Virtual Card?
If you are having SBI account with online banking, you can create within 5 minutes. To make a virtual credit card just follow the simple steps and easy to implement. To create SBI Virtual card for online payment here are the steps:
Step 1: Login into Internet Banking
First login to Online SBI banking account.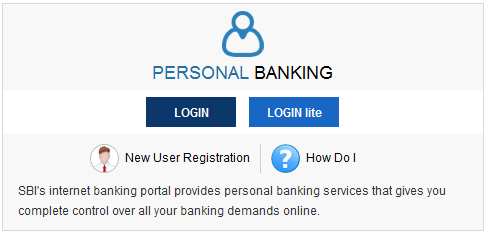 Go to Personal banking > Login.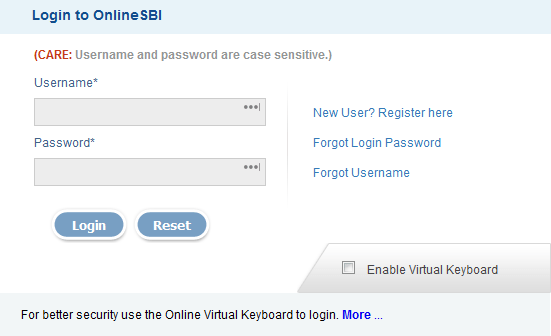 Click on the e-Card option on the right side.
Step 2: Choose the eCards section
In the e-Card, option-click on Generate Virtual Card option then enter the Virtual Card Limit.
Put the tick mark by accepting terms and conditions. Then click on Generate
Remember: the limitation of the card should be between Rs.100 to Rs.50000. This card cannot exceed the limitation of more than Rs.50, 000.
Step 3: Generate Virtual card
You will be asked for a confirmation by SBI, so click on Generate button.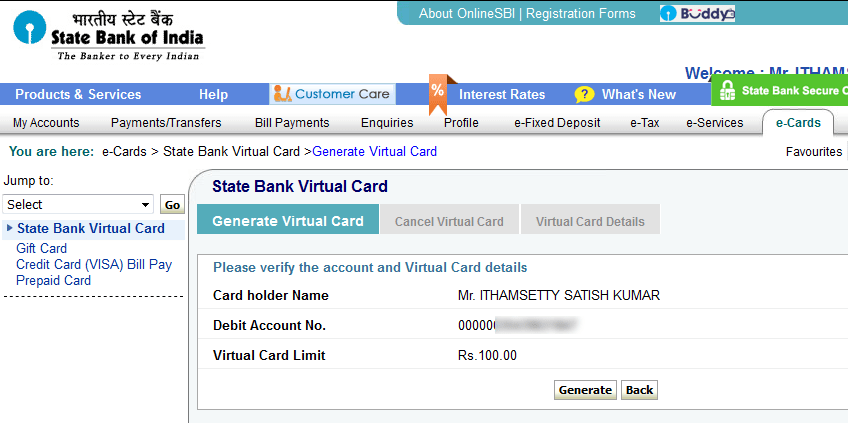 Step 4: Confirm it
You will receive the One Time Password (OTP) to your registered mobile number from SBI net banking server. Just enter the OTP in the mentioned boxes.
After a few seconds your SBI Virtual Card is ready, get an instant credit card number (a 16 digit visa card number), the name of the cardholder, CVV number, and expiry date of the card.
The SBI Virtual card would look like this.
Step 5: SBI Virtual Credit card is Ready
After receiving the SBI VC, no need to store Virtual card details. If you want the details you can retrieve from the Virtual card details tab.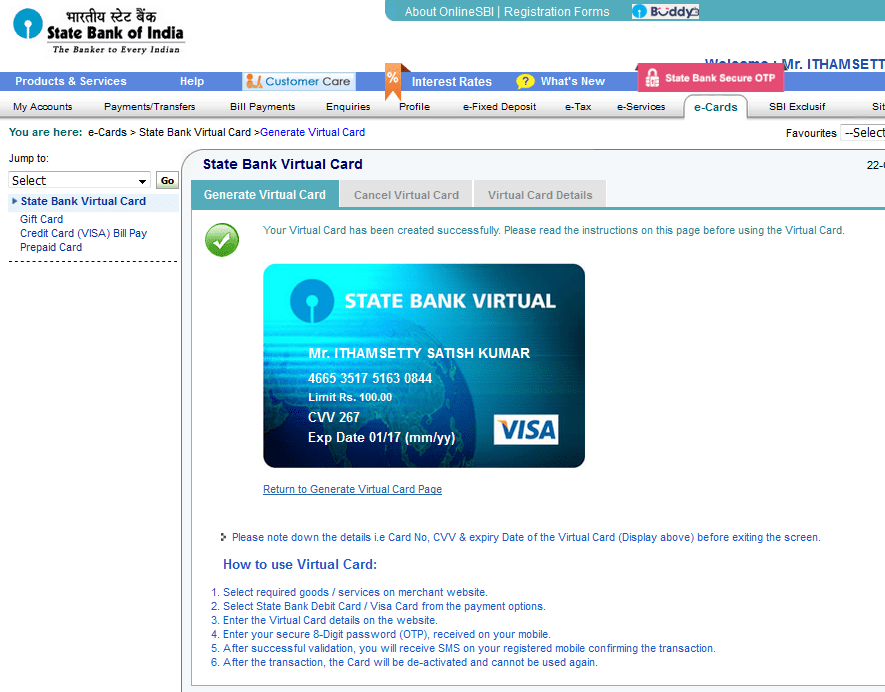 In this tab, they give the information about the card status, whether it is used, canceled and unused.
Where to use this SBI Virtual Card?
The Virtual card is very good for Online shopping, movie ticket booking, and Railway ticket bookings.
This is the temporary credit card for online purchases.
This card validity is 24 to 48 hours or sometimes until the completion of the transaction.
When you complete an online transaction, the payment will be debited from your bank accounts.
The bank does not charge for the Virtual card creation and cancellation.
You can generate a number of Cards at a time.
This currency card is in Rupees. You can use these cards in India, Bhutan, and Nepal.
This is the more secure system to pay money online.
It has a disadvantage too. The coverage is limited as it can be used only in India, Nepal, and Bhutan. The validity of this card is too short a period. It makes use of OTP.
What are the Advantages of Virtual credit card?
The card does not have a magnetic stripe and a PIN code, as it is not intended for use at an ATM or POS terminal. With it, you can make payments on websites around the world like a credit card. However, it is not a credit product, so you do not need to prove income to get it, or think about interest or installments.
No card issuance fee
Free of charge for transactions on the Internet or by telephone
No fee for locking (unlocking) and unlocking (unlocking)
Easily transfer amounts to and from the Virtual Card
ou have the opportunity to receive up-to-date information and manage the funds on the prepaid card and on all your other accounts anywhere and anytime;
Periodic payments – through this service, you can subscribe for automatic payments from and on the Virtual Card, according to parameters set by you in advance – amount, the interval between payments, date of first payment.
Conclusion
A virtual credit card is a very good option to make an online transaction for online shopping lovers.
But for international shopping purposes, SBI Virtual card is so useful.
So instead of this, you can choose other options like Entropay, ICICI virtual card, and HDFC NetSafe cards.
I wrote a detailed article on Virtual Credit cards and their providing Banks and Non-Banking sources.
The SBI Virtual card is a good option for Indian users to make online purchases from home securely.