Do you want to know how to download YouTube videos to your phone or computer? Here is the simple procedure to get YouTube videos legally.
YouTube has evolved into a lot more than just a place to find entertaining videos. People who take their careers seriously know that you need to use storytelling techniques if you want to get your message across in the best way. Moreover, YouTube also has some of the most advanced video editing features that anyone can use to make their video content more engaging.
Two years ago, YouTube released YouTube Premium, the newly revamped ad-free version of YouTube. Though many people are skeptical about this service, I think it's one of the best internet innovations to happen in recent times. I'm a massive fan of the service, and I've been using it religiously since its launch. I'm here to tell you why YouTube Premium is the best thing to come out of Google.
There are plenty of good reasons why you might want to save a video from YouTube to watch it whenever you want. You may want to take some time to watch it later, or you may want to watch it on your mobile device. Whatever your reasons are for saving a video from YouTube, this blog will show you an easy way to do it. It's easy to do if you use YouTube Premium!
Prerequisites Before You Download YouTube Videos
Before you download YouTube videos, there are a few things you need to do.
First, you need to make sure you have a stable internet connection. YouTube's videos can be large files and require a lot of bandwidth to download. If your internet connection is not stable, you may experience issues while downloading videos.
Second, you need to choose a video downloader. There are many downloaders available, so do some research to find one that suits your needs. Once you've found a downloader, follow the instructions to download and install it.
Third, you have to find the Video you want to download. YouTube makes it easy to find videos by searching for keywords or browsing through categories. Click the download button when you've found the video you would like to download. Once you've completed these steps, you're ready to download YouTube videos.
Don't forget that you'll need a stable internet connection and a good video downloader to make sure everything goes smoothly.
But downloading YouTube videos is not legal, and video downloading by using third-party apps is against the law and YouTube's terms of service.
To protect its users from intellectual property theft and other forms of privacy invasion, YouTube offers a pseudo-downloading feature that helps you watch videos offline. It is a legal way to download YouTube videos.
You can watch those videos from the download section of the native YouTube app, but not from the inbuilt device storage. 
But there are limitations and restrictions to downloading the video content from the specified regions. You can download the rest of the content with the YouTube free app.
Finally, downloading YouTube videos depends on the creator's permission.
How to Download YouTube Videos for Offline Viewing on Mobile?
Anyway, leave the additional thoughts about downloading YouTube videos to watch offline. Here are the steps to start downloading the YouTube videos:
To Get started:
First, launch the YouTube app or YouTube premium app, and then go to the search bar located on the top side of the screen.
Add the search term or name of the video, then open the video by tapping on the video screen area.
Now hit the download button in the menu tab available under the video.
Then choose the quality of the video to download and hit "Download" to start. If the internet connection is lost while downloading the video, it resumes automatically. When the net reconnects, the download will start from the resume point.
It would be best to remember my settings box for the first time. Once you review the settings, it won't show up the next time you download.
Once you finish the download, you will see the video downloaded pop-up at the bottom of the YouTube videos.
In addition, go to Library > Downloads. Here you will find all your downloaded videos from YouTube. That means you can watch those videos without an internet connection.
Once you open the YouTube app without an internet connection, it will directly display the downloaded videos on the homepage for you to enjoy the offline video watching experience.
But remember, before starting this, you need to reconnect your mobile at least once every 48 hours to ensure the video library is up-to-date with its online version.
If the creator makes changes, it will update automatically once you connect online. If they take down the video, the downloaded video will no longer be available.
How to download YouTube videos without any software on a PC?
One of the Google services, YouTube, is the biggest video-sharing site. Thousands of new videos are uploaded daily, and a limited number of videos are played online regularly.
This blog will show you how to download YouTube videos without any software. The process is straightforward and takes a few minutes, and the methods are ideal when you would like to access videos offline. You will also learn how to save a YouTube video, a collaborative effort.
Due to reasons like using a low configuration PC or insufficient space on major drives, installing excessive bloated software, or crashing of existing YouTube downloading tools, we can not download YouTube videos to your PC.
I am fed up with the YTD (YouTube Downloader) and IDM (Internet Download Manager) software. So I started searching for methods to download YouTube videos without installing any new software or tools on my PC. I found a few technical tips online.
So, this tutorial explains how to download YouTube videos without any software or any plugin.
It is the simplest and easiest way to download videos online without software. Just follow the steps carefully.
Step 1: Open YouTube and select the video
Step 2: Make a note of the video URL. The URL will look like this.


Step 3: add "ss" between 'www.' And 'YouTube.com'.


Step 4: Press Enter. It will redirect the YouTube video page to the web application site "savefrom.net" site.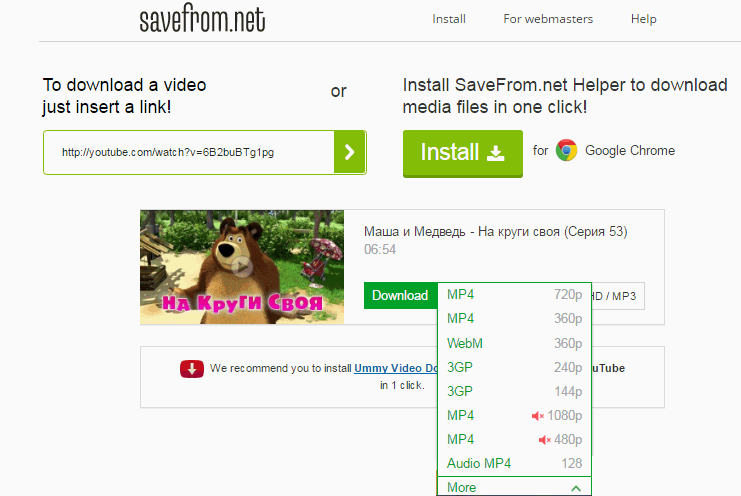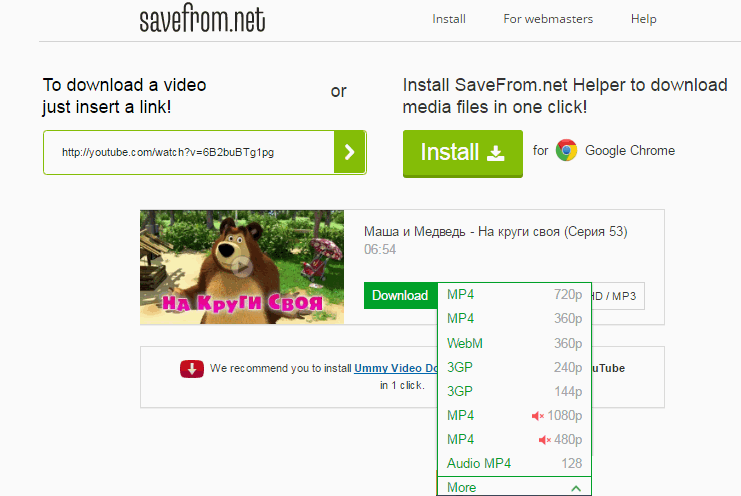 Step 5: Now, choose the video resolution available with the video by just clicking on the right side of the web page. The Download will be started automatically, and within a few seconds to minutes, the video is available on your PC hard disk.

It is a simple tutorial on how to download YouTube videos online without software. Some software developers are developing desktop applications to download these videos in to computer hard disks.
What should be considered when downloading videos from YouTube?
Many people use YouTube as a video database, with millions of videos available to be watched by anyone. However, accessing YouTube videos can be a bit of a hassle occasionally.
YouTube caters to desktop users. It also has a mobile version of its website, with the desktop version being just one of the many things the site has to offer.
There are a few things to consider when downloading videos from YouTube.
1. Stable internet connection
If you intend to watch YouTube videos, it's essential to make sure you have a stable internet connection. YouTube's videos can be large files, and you don't want your download to interrupt in the middle of a video.
A stable internet connection will ensure that you can watch your videos without interruption. YouTube's videos can be large files, and you don't want your download to interrupt.
2. Video Format
YouTube offers both standard and high-definition formats, so you'll need to decide which one to use. You'll also need to pick a file format that works with your computer and the editing software you're using. Luckily, YouTube has a list of recommended formats that you can use.
So take some time to consider the format of your video before you hit the upload button. A suitable format can make a big difference in your video's success.
3. Obey Copyright law
There is a lot of content on YouTube protected by copyright law. If you download and distribute it without permission, you could be breaking the law.
Before you download any YouTube videos, make sure you have the copyright holder's permission. Otherwise, you could end up in hot water.
Copyright law is complex, so if you're not sure whether a video is protected, it's best to err on the side of caution. If you're not sure if you can download and share a certain video, you should talk to a lawyer.
YouTube videos are subject to copyright, and you could be breaking the law if you download and distribute them without permission.
4. Video Size
Before you download a YouTube video, consider the file size. YouTube videos can be large files, so make sure you have enough space to store the video. If you don't have enough space, the video might not download correctly.
Additionally, a large video file might take longer to download than a smaller one. So, if you're on a slow internet connection, you might want to choose a smaller video file. YouTube's videos can be large files, so make sure you have enough space to store them.
Final words
Watching favorite videos offline from a YouTube site must be a great feeling. Here, we have seen a detailed explanation of how to download YouTube videos on mobiles and computers. You can easily download the videos on mobile devices and computers.
There are many methods and processes that you can use to download the videos. You will download the video based on your preferences and requirements.
If you want to know more about downloading the video from YouTube, you can contact us anytime.