How to Configure Outlook Emails IMAP in Thunderbird Email Client?
This article gives the basic idea and explains How to Configure Outlook Emails IMAP in Thunderbird Email Client on your Windows PC.
The IMAP protocol is commonly called the Internet Message Access Protocol. This protocol is developed by Mark Crispin (He is the father of IMAP) in 1986 at Stanford University. The IMAP is an alternative to POP (Post Office Protocol).
Simply IMAP is a protocol for email retrieval. Gmail, Microsoft's Outlook (old name is Hotmail) enabled this feature in 2012. So the feature helps to access emails from the best email clients such as Mozilla Thunderbird.

There are several benefits to access the mailbox via the IMAP protocol than POP3.
By using this IMAP you can access all the folders which are available in your Email account from your desktop.
It saves the "read / unread" state for all your messages, even if you are using multiple device connections also.
There are three simple and best free email client tools available and using most of the PC users to access their emails from the desktop without using the browser and no need to frequent login.
Some of the email clients are Windows Live Mail, Mozilla Thunderbird email client, and Microsoft Outlook Express.
Among the above three Mozilla Thunderbird is the most popular freeware email client, which has a simply accessible interface. The Thunderbird email client is available for Mac, Windows, and Linux.
I am using this application for a long time; I love this app very much.
What about Mozilla Thunderbird?
Mozilla Thunderbird is an independent and best free email client developed by the Mozilla foundation. Launched in 2004, he had won over many users disappointed customer flagship of the time Outlook Express (Product of Microsoft Office), since it is replaced by Windows Live Mail.
Mozilla Thunderbird is a lightweight, functional and fast.
My Client, it is able to easily connect to POP3 and IMAP accounts and provides an accessible interface with a preview pane and tab (thereby facilitating the reading of his letters).
Highly configurable, Thunderbird has the pace of development and, as a rule, General, innovations browser Mozilla Firefox.
The user can easily customize the Thunderbird toolbar easily. By using simple extensions and themes enhanced the email client functionality according to the user taste.
While with version 13 Thunderbird could see with greater "freedom" on sending an attachment via the service YouSendIt is now Ubuntu One, the storage service in the cloud of the founding Ubuntu that enriches functionality.
It will be possible to send large files online, then simply include a download link in the mail. It should be noted again, with the arrival of version 15, Thunderbird innovates and sees integrate instant messaging features.
The user can indeed connect accounts Twitter, Facebook Chat, Google Talk, connect to IRC networks as well as moved by the protocol XMPP.
How to Configure Outlook Emails IMAP in Thunderbird Email Client

?

Step by Step guides on How to configure IMAP in the Thunderbird email Application

Before following these steps, you must download and install the Thunderbird email client on your computer.

After installation,

Double click on the shortcut of Mozilla Thunderbird or by accessing from desktop or Start > All programs > Mozilla Thunderbird

Now click on the menu button on the right side of Thunderbird's main window and go to "Options > Account settings" or "Tools > Account Settings"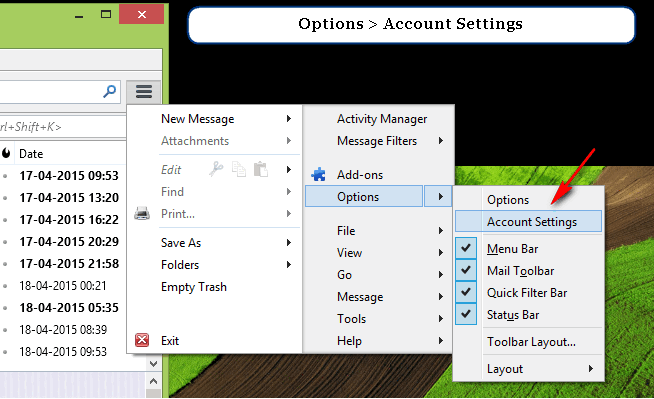 Then click on the bottom left side "Account Actions > Add Mail Account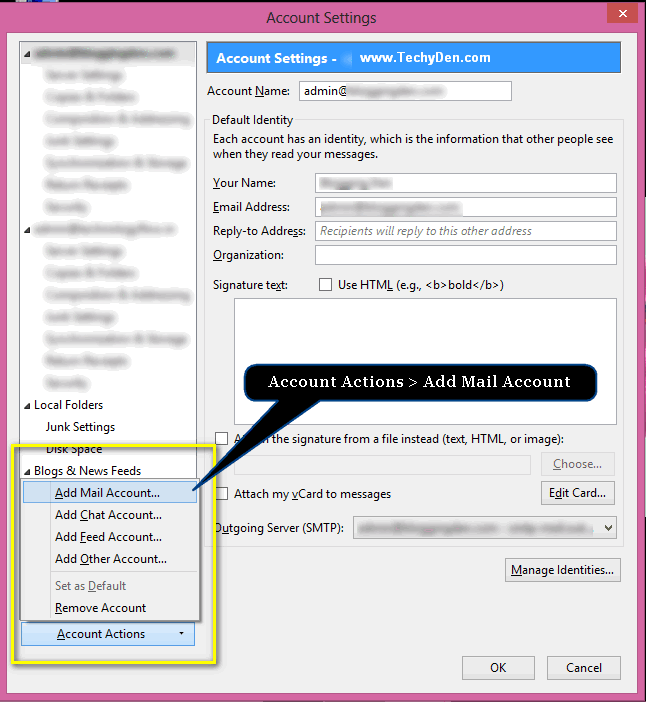 In the next screen, your Mail Account Setup box will be displayed. Now it's time to configure your email here
Your Name: Write the Email Name here
Email address: Enter your Email address
Password: Enter your password
Put the tick mark in "Show Password" then click "Continue" button.
In the next dialog, click the "Manual Config" button. 
Now fill in the details as shown in the following image and click "Re-test" and Finally clicks on Done.
---
Mozilla Thunderbird Interface
This is the final interface of Mozilla Thunderbird Email Client. The image gives the basic idea to work with the email client.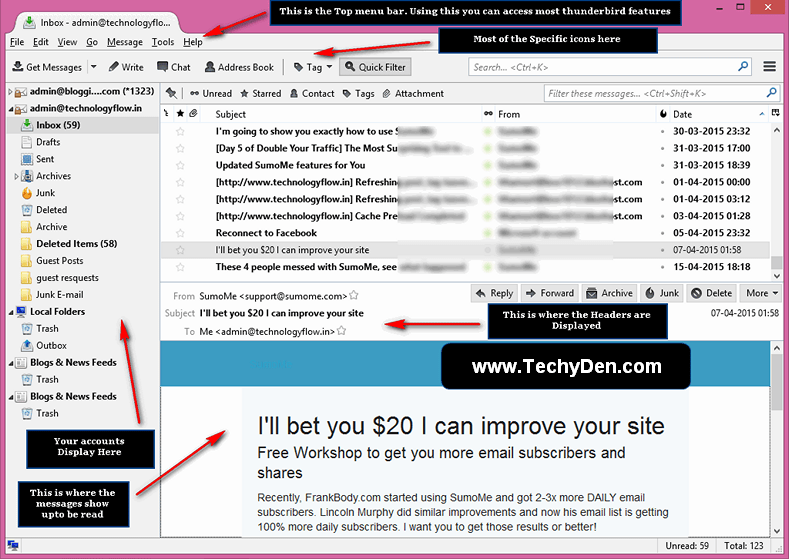 Review settings to follow
Incoming IMAP
Server: imap-mail.outlook.com
Server port: 993
Encryption: SSL
Outgoing SMTP
Server: smtp-mail.outlook.com
Server port: 587
Encryption: TLS
By using the above settings for the thunderbird email client, you can access your Outlook.com email account via IMAP in any email client that supports IMAP, like Windows Live Mail, Outlook Express and so on. Almost all email clients support IMAP today.
Is Thunderbird Compatible with Windows 10? Yes, it is compatible with the Windows 10 operating system.
This is the Thunderbird Email Client Reviews and how-to guide the configuration process.
Hits: 22