Are you looking for the best copyright and Royalty Free image websites? If yes, this is the best place to get the list of the most famous images.
The readers can ignore the visual content on your website. But a beautiful and unique image attracts visitors, and it is the first thing they watch and what they will remember best. A standard stock photo, however, will be less tempting.
So you keep scrolling endlessly on the same website, hopelessly looking for that one photo that will blow everyone away. We have the best websites for high-quality Royalty Free images, and most of the photo sites are released under the Creative Commons.
Where can you find free-to-use images and stock photos for your website or social media? And what can you use and what not? Finding a suitable photo can be a difficult task, and if you have found something, there are often copyrights attached to it.

Most of the images are creative commons CCO licensed Royalty Free photos. You can use these free stock photos royally without paying anything.
Fortunately, there are enough free photos if you only know where to find free stock photos. Below is a list of the ten best sites of copyright and Royalty Free images where you can search for suitable free high-resolution photographs to add to your blog or post to make your blog or post more trendy and attractive.
How Do Copyright Free Images Work?
Copyright-free images are everywhere in our lives. From posters hanging on walls to pictures on social media or even on the backgrounds of websites, copyright-free images have become a part of daily life.
Does anyone care who owns them anymore because they are often shared without permission anyway?
As the popularity of sharing photos has increased over the years, so has the demand for new images. It is where copyright-free images come into play, allowing people to share these images freely without worrying about ownership legally.
It is especially great for businesses as they can save big bucks by using these images instead of paying licensing fees.
"This article provides a quick introduction to copyright-free images. I'll also show you various ways to access these Royalty Free images."
Where to use these free royalty images?
You can use these images for a wide variety of uses, including:
Commercial projects: You may be able to use copyright-free images in your commercial projects. Be sure to check with the creator of the image for permission first. If the image is licensed for commercial use, you may be required to credit the source somehow. Some terms and conditions need to be met with this permission.
Creative projects: You may use copyright-free images to create your creative project, but it is strongly advised that you seek permission from the creator before using them on commercial platforms (i.e., blogs).
Educational projects: You may use these images in educational projects (provided you cite the source).
Typeface License (free/pro): Featured image copyright-cleared by the designer's name. Source file(s)
To use an image for your work, you need to be the copyright holder, which means that you created the image and have copyrighted it.
Best Websites of Copyright and Royalty Free images
The list of the ten best Royalty Free stock photo websites is listed. You can download free images for commercial purposes. 90% of the photos are royalty Free images. All images come under commons attribution 3.0 licensed images.
1. Pixabay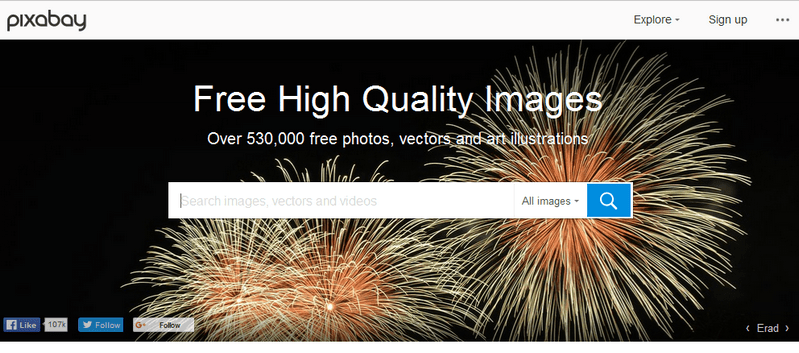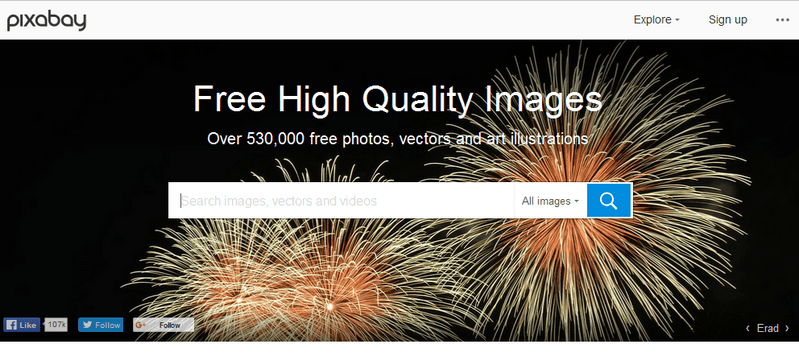 Pixabay is an amazing resource for high-quality digital photos and videos that you can use anywhere. We have handpicked over 2.5 million high quality stock images to make sure you will find what you're looking for!
Pixabay has an extensive collection of images that all kinds of individual uploaders have compiled. It is straightforward to navigate and search through the photos and pictures on Pixabay. It is one of the best Royalty Free image websites.
Free for commercial use, no attribution required.
High-quality images.
No copyright restrictions.
Download any image for free.
All images are royalty-free.
License type: Creative Commons 0 License.


Besides the free photo database, you can also give yourself less choice. Unsplash is updated every ten days, and it will add ten new high-resolution photos to Unsplash.
If you like that, they even appear in your mail inbox. It is the most prominent photographer's community.
They are providing thousands of high-resolution photographs in commercial and non-commercial categories.
Over 1 million free high-resolution images are brought to you by the world's most generous community of photographers.
They are beautiful images and worthy. You will get high-resolution, Royalty Free, high-quality, and popular photos available in different categories. Here the attribution is not mandatory.
3. FreeRange Stock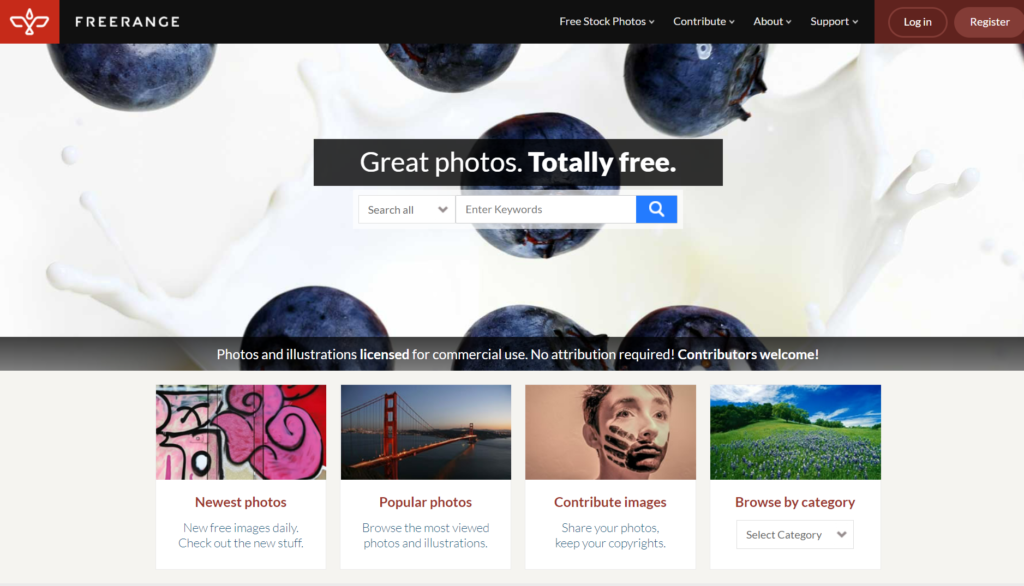 Freerange Stock has been providing free stock photos since 1999. We have over 1 million stock photos and are growing! Our collection includes royalty-free and copyright-free images, and you will find everything from natural scenes and architecture to people and products. The photos are available as graphics or JPEGs.
They can be used commercially and are suitable for web design, print media, eBooks, presentations, infographics, software applications, blogs, etc. Some of our stock photos are Creative Commons licensed, which means you may use them for non-commercial purposes.
You cannot buy the images alone or offer them as part of printed products. They will always appreciate it if you want to give credit to the maker, but it does not have to. FreeRange is one of the best Royalty-Free image websites.
Over 1 million high-quality images.
High-resolution JPG files.
Royalty-free images.
Copyright-free images.


PicJumbo provides a stunning collection of high-resolution free stock photography images that you can download. No attribution or royalty is required when using these images. We have over 200 categories of beautiful stock photos that you can browse through.
Picjumbo is from the designer Viktor Hanacek, and there are new and beautiful pictures every day. They are of high quality and sorted by category so that it is not an endless search. If you want more work from Hanacek, it is possible to get a subscription.
Stunning, high-quality free stock images.
High-resolution images are available in different file formats such as jpg, png, and Tiff.
No attribution or royalty is required when used for commercial purposes.
Over 200 categories of beautiful images.


Gratisography is a new way to create professional-quality photos for your website, blog, or social media pages. You can choose from over 10 million stock photo options or upload your image with our easy-to-use tool. We'll make sure it looks good on any device when we publish it on your site.
On Gratisography, there are charming high-resolution images, and several new ones are added every week. Ryan McGuire runs the website for Bells Design. Of course, all these photos are also free of copyright, and Gratisography is one of the best royalty-free image websites.
Easy to use. Choose from over 10 million stock photos or upload your image.
No copyright restrictions. All photos are free for non-profit use.
It creates stunning websites and blogs. Add your text and background color to make it truly unique.
Professional results. High-resolution graphics are guaranteed.
No watermarks. You will publish your photos without a logo.
Fast and easy web integration. Paste a link to your photo gallery on your website or blog.

Free High-Resolution Photography allows you to take free high-resolution photos with easy-to-use tools and access over 12 million free photos online. Download your photo instantly and share it with friends. You can search for pictures by color or format.
On Life of Pix, an advertising agency from Montreal, makes the images of its extensive network of photographers available for free use. Weekly, new images with a high resolution are added.
Do you need a moving image? Here is the sister site of this famous image source: the Life of vids.
Take unlimited high-quality photos and videos using your smartphone camera.
Instant download of up to 400 megapixels.
No restrictions on device storage space.
7. Pexels


All photos on Pexels fall under the CCO license. You can freely use, edit and distribute the images. A source indication is not necessary.
But a donation is always worth appreciating.
The only thing you have to consider is that one should not put the people depicted in a bad light or present them insultingly. It has to do with portrait rights.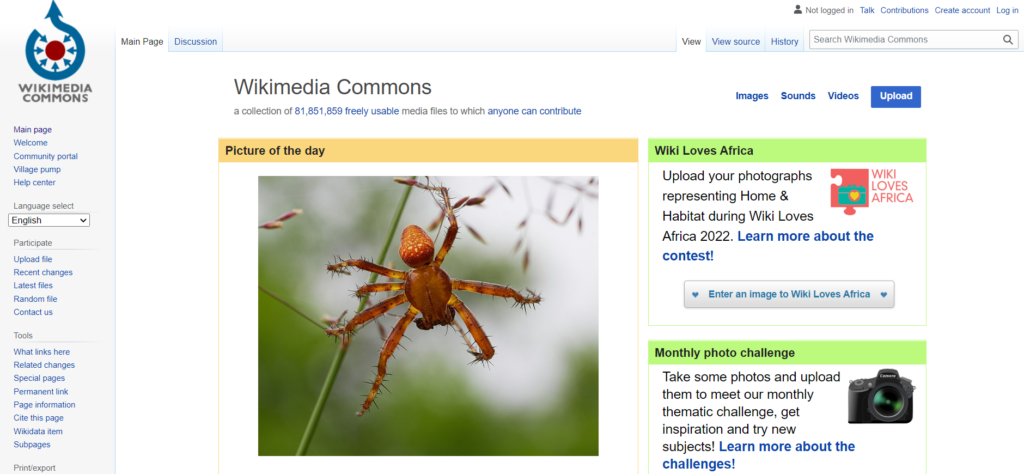 Wikimedia Commons has an incredible image library that includes gorgeous landscapes and historical events.
Wikimedia is a must-have for graphic designers, photographers, and artists searching for free, high-quality photos, with over 34 million freely usable media pieces, including movies and audio. Wikimedia is also a part of a much broader organization devoted to the free distribution of pictures, education, and information.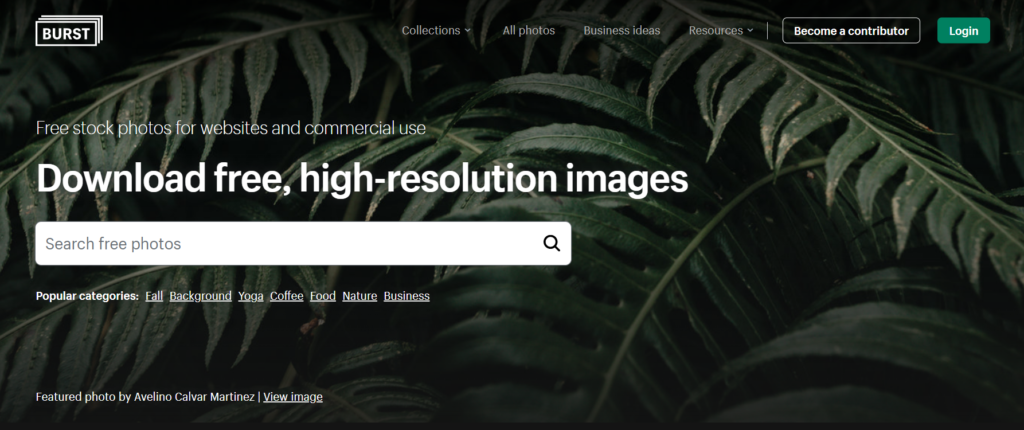 It's been said that something works well when you don't notice it at all, and Burst is just that. Burst, like Unsplash, offers not only a clean layout to browse but also an extensive collection of photographs and categories to choose from.
Better still, whether you're posting photographs to a website or utilizing images for graphic design, it delivers both low- and high-quality images without copyright.
Burst is a massive online resource of free high-quality photos that you should bookmark right now.
10. KaboomPics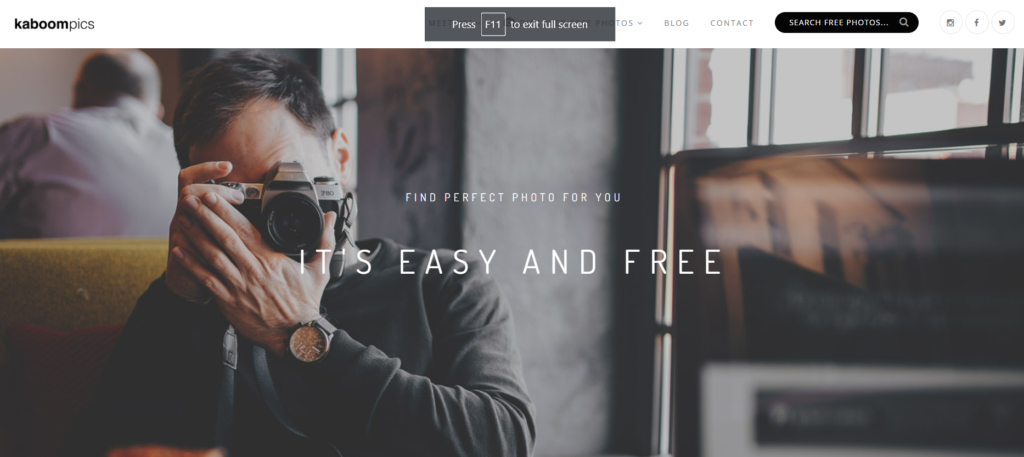 KaboomPics has been an impressive undertaking. You will be able to find images you don't even require by using the right tools.
KaboomPix's selection would already be top-notch if it were just about Royalty Free images. It also includes a color picker search tool and color palettes for image searches.
That's just scratching a small portion of what KaboomPix has to offer. It's one of the most popular free stock image sites, but it's also one of the most impressive ones. You'll find many images here, from high-resolution photos to beautiful illustrations. All of these images are free to use for any purpose, though you may not be able to use them commercially without permission.
11. Vintage Stock Photos
Vintage Stock Photos is another free site run by the Freerange team specializing in vintage photographs. Previously, you had to pay for the content, but now you can get hundreds of dollars worth of high-quality historical images.
Vintage Stock Photos is another site where you may get lost in the collection and lose track of time. The collection of copyright-free photographs spans decades and offers a fascinating glimpse into living throughout history.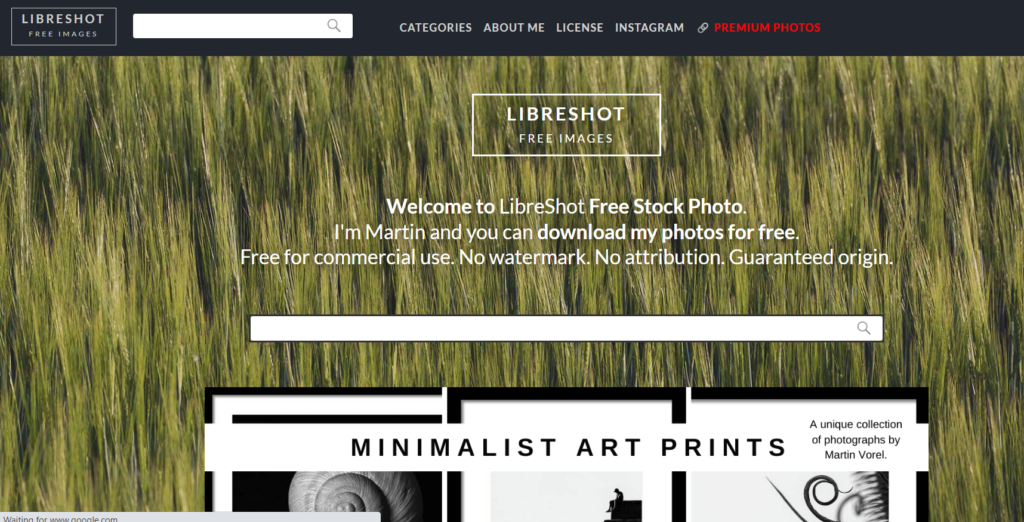 Libreshot is another valuable resource for free stock photos that are slightly different. Martin Vorel, the site's proprietor, took every photo.
Vorel shares his incredible photography from around the world on Libreshot, where you may download it for free. If you use one of his images, he requests that you include a link to his website.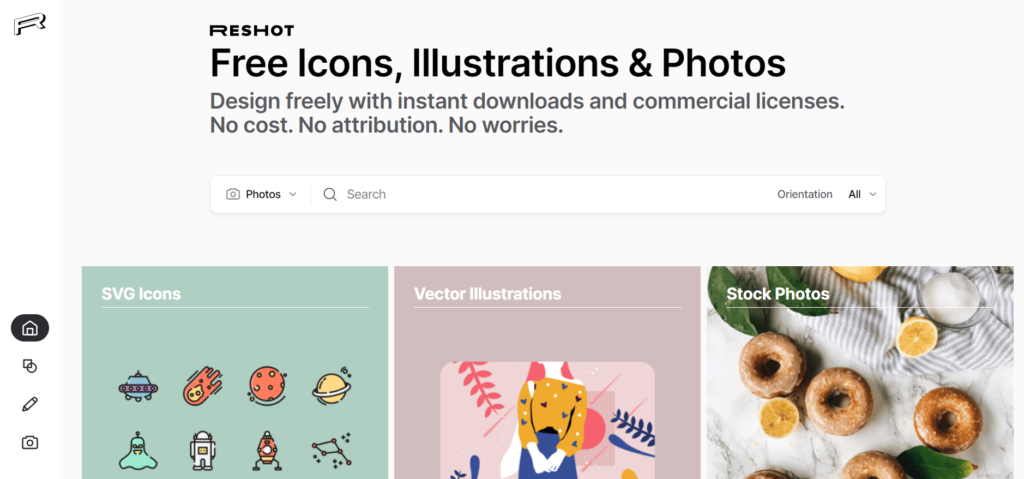 The amazing Reshot is your best option for Royalty Free stock images. Reshot is one of the best selections if you want unique stock photos.
Each copyright-free photo published to the site is vetted by the development and creative teams, ensuring that only the finest of the best is available to you. That means the quality of photography on display at Reshot is outstanding, and it will also show in your work.

Negative Space is a site that features free stock photography from the UK. Photographer and designer Nick Brown shot the images on the site.
The pictures are of excellent quality, but you will need to download them first (before using them) so that they integrate neatly with your work.
With over 30,000 images in its library, Negative Space is a great place to go if you're looking for free photos that are high-quality and interesting.
The site features tons of eye-catching pictures that use unusual, bizarre, and unconventional angles.
The images tend to focus on commonplace things or settings that look unusual because of how they've played out in reality, rather than any specific elements in one portion of the picture. The Light sources or background colors (something you would find at many other free stock photo sites).
Frequently Asked Questions (FAQs)
What is Royalty Free? 

Royalty Free means that the creator of the music or image does not receive any financial compensation for the use of their work. It is a common term used in the music and image industries, as it allows for more freedom and creativity when using copyrighted materials. Many musicians and graphic designers use Royalty Free music to create new works, enabling them to be more creative without worrying about copyright infringement. Royalty Free images are also standard, often used in commercial and non-commercial environments. It includes websites, advertisements, and even product packaging. By using Royalty Free images, you are saving money on licensing fees, but you are also supporting the creator of the image. Many graphic designers also use Royalty Free images to create templates or source material for their projects.

What are Royalty Free images? 

Royalty Free images are images that are not subject to any copyright restrictions. It means that you can use them without needing to pay any fees or royalties, and it can include using them on your website, blog, or email marketing campaigns. There are a few things to keep in mind when using Royalty Free images. First, make sure that the image is high quality so that it looks good on your website and looks good when it is printed. Additionally, be sure to include a link to the source so that your readers can find more information about the image and the photographer. And lastly, be sure to attribute the image correctly—this will help credit the photographer and help promote their work.

Which images are copyright-free? 

A few general rules apply to images, but the specifics vary depending on the type of image. For example, images used for personal or non-commercial purposes are usually copyright-free, while images used for commercial purposes must be licensed through a copyright holder.
There is no definitive answer to this question, as each situation is different. It is essential to do your research and consult with an attorney if you have any questions or concerns about using copyrighted images.

Can I use copyrighted images on my free website? 

Yes, you can use copyrighted images on your free website if you use them for non-commercial purposes and have the copyright holder's permission. If you are using images for commercial purposes, you will need to obtain a license from the copyright holder.

How do I find free images on Google to modify and post?

One of the best ways to find free images to modify and post on your website or blog is to use Google Images. Enter the word you are looking for in the search bar at the top of the page, and Google will display a list of relevant images. You can select any image that you wish to use and modify it as you please. Once you are finished, click on the "Share" button to post it on your website or blog. Google also offers a "Download" button which will allow you to save the image on your computer for future use. You can also use Google Images to find images similar to the one you are looking for, and it can help you choose the right image for your post. Google Images is an excellent resource for finding free images that you can use in your content marketing efforts.

Where can I get Royalty Free images for free?

Many people are looking for Royalty Free images that they can use in blog posts, social media posts, and other projects. Luckily, there are many resources available to find free images.
Final words
Images are an essential part of any website and can make a big difference in the user experience. To make the best use of them, check out copyright and Royalty Free image websites. We've compiled a list of the most famous images that you can use without worrying about any legal complications.
So, whether you're looking for an image for your blog post or want to add a little extra oomph to your website, have a look at these websites. Using these images can ensure that your website will look more attractive and appeal to a broader audience.
So be sure to check out this list and find the perfect image for your next project!