How to Get Stock Photos Without Watermark From the Image sites?
It is essential to know how to remove watermarks from pictures and get stock photos without watermarks. It is mainly because watermarks represent the ownership of the images on the Web.
To get a watermark-free stock photo, you'll need to find a site that offers the option to remove it. If you buy the license and use the photo as the terms say, there will be no watermark on it.
Using photos with logos as watermarks on your blog, website, or personal profile pages may lead you to serious copyright issues. It is always necessary that the images you use on your blogs and websites be copyright-free, meaning that you must be the rightful owner of the photos.
Shutterstock is a popular stock image website that offers a vast collection of high-quality images, illustrations, and videos for purchase. However, the website adds a watermark to its images to ensure that their copyright is protected and to prevent illegal use of the images.
While purchasing images from Shutterstock is the recommended way to use them legally, it can be expensive for small businesses, bloggers, and individuals. Fortunately, there are ways to obtain Shutterstock images for free without the watermark.

You can find most royalty-free images on many websites that provide them. You can refer to the article I wrote previously, Best Royalty Free Image Websites for royalty-free images. These websites will provide you with the most ideas without any copyright issues. You can use them directly on your blog, website, or other public profile pages.
In some cases, like writing a review of any software or app, you may need to use images used by software and app providers. In such cases, you will need to use the same pictures. And most of the photographs will contain watermarks and logos. So, here are the best methods to get stock photos without a watermark.
This article will explore various methods and tools to get Shutterstock images for free without a watermark while adhering to copyright laws and ethical practices.
How to Get Stock Photos Without Watermark?
What is Shutterstock?
Shutterstock is a popular stock photography website that offers millions of high-quality images, videos, illustrations, and music tracks to users. It is a go-to platform for businesses, marketers, designers, and creative agencies to find the perfect visual content for their projects.
Why do Shutterstock images have a watermark?
Shutterstock images have a watermark to protect the copyright of photographers and artists. The watermark is a transparent image of the Shutterstock logo that is superimposed on top of the original image. Using the image without purchasing a license makes it easier, as the watermark obscures a significant part of the image.
The legalities of using Shutterstock images without paying
Understanding copyright laws
Using Shutterstock images without permission violates copyright laws. The copyright law grants exclusive rights to the work's creator, including photographs and images. Using someone else's work without permission is considered copyright infringement and is illegal.
What are the penalties for using Shutterstock images without permission?
Using Shutterstock images without purchasing a license can result in legal action, including hefty fines, lawsuits, and takedown requests. It's always best to obtain permission or pay for licenses to use Shutterstock images.
Shutterstock images
In Shutterstock images, you can find all kinds of photos, portraits, and logos. These photos are watermarked with the Shutterstock logo, as Shutterstock directly buys these photos from the owners concerned. So, you can instantly download those pictures you want from Shutterstock.
Many photos are free, but there will be some that you need to buy. If you download the pictures for free or purchase the images that are not free, you can get the pictures without the watermarks of Shutterstock. You have to download and get stock photos without a watermark from this website.
Discovering and utilizing free Shutterstock image resources
Shutterstock's free trial period
Shutterstock offers a free trial for new users that allows them to download up to 10 images daily for a limited time. It is a great way to explore the platform and download high-quality images without paying.
Free image resources available on Shutterstock
Shutterstock also offers a collection of over 10,000 free images that do not require a license. The images are diverse and high quality, making them an excellent resource for designers looking for inspiration.
Tips for finding high-quality Shutterstock images for free
Utilizing advanced search options on Shutterstock
Shutterstock's advanced search feature allows users to filter images by color, orientation, and even the number of people in the image. This feature can help you find the perfect image for your project quickly.
Looking for "editorial use only" images
Shutterstock has a collection of editorial use images that do not require a license for use. These images are often related to news, events, or popular culture and are perfect for use in blogs and articles. Be sure to check the license requirements for every image to ensure it's suitable for your use.
It is one method where you can find the highest quality photos without watermarks, and if you still need to remove watermarks from your photos, you can follow the following methods.
How to remove Shutterstock watermark from images using editing tools
If you want to remove the infamous Shutterstock watermark from an image, a few editing tools can help you do so. However, it's important to note that removing watermarks from images without permission is illegal and unethical.
Identifying the best editing tools for removing the watermark
Various editing tools are available that claim to remove watermarks from images, but not all of them are created equal. Some popular tools include Inpaint, Photo Stamp Remover, and Easy Watermark Remover. It's important to note that while these tools may effectively remove the watermark, they may also compromise the quality of the image.
Method 1: Remove Watermarks using Inpaint Application
The Inpaint app is available for both Mac and Windows. By using this application, you can directly erase any watermark from photos. Whatever you need to do is download the application and install it on your Windows or Mac and follow the instructions below.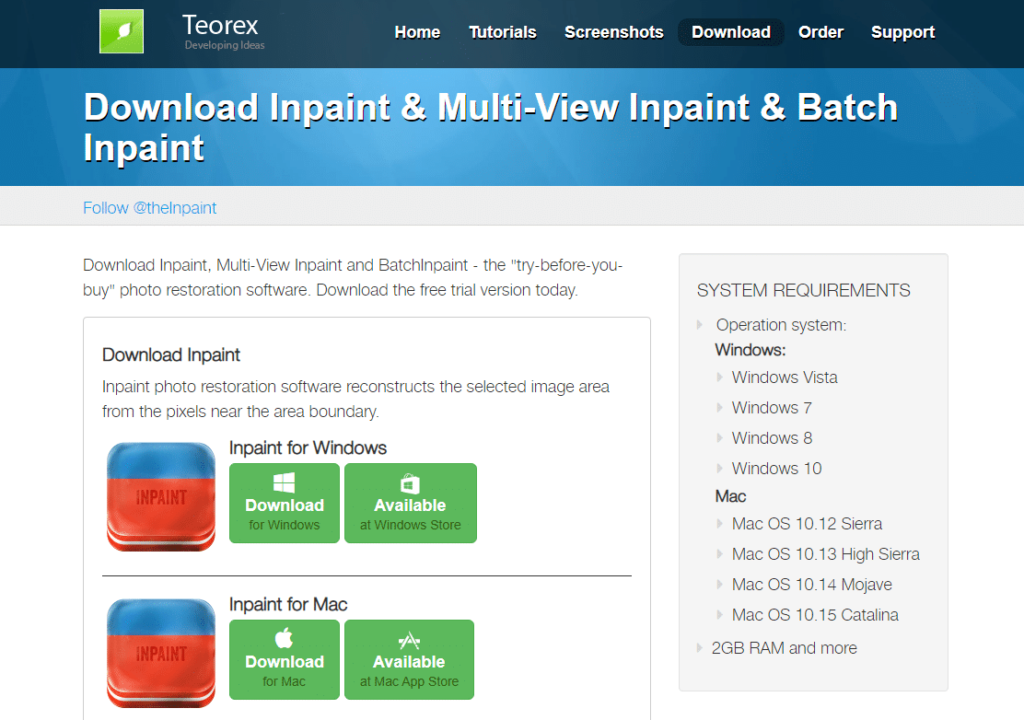 You can download the application form here. InPaint Tool
After installing the Inpaint application, you can remove watermarks from the photos.
Step 1: Import the image.
Firstly, open the application and import the picture from which you want to remove the watermark.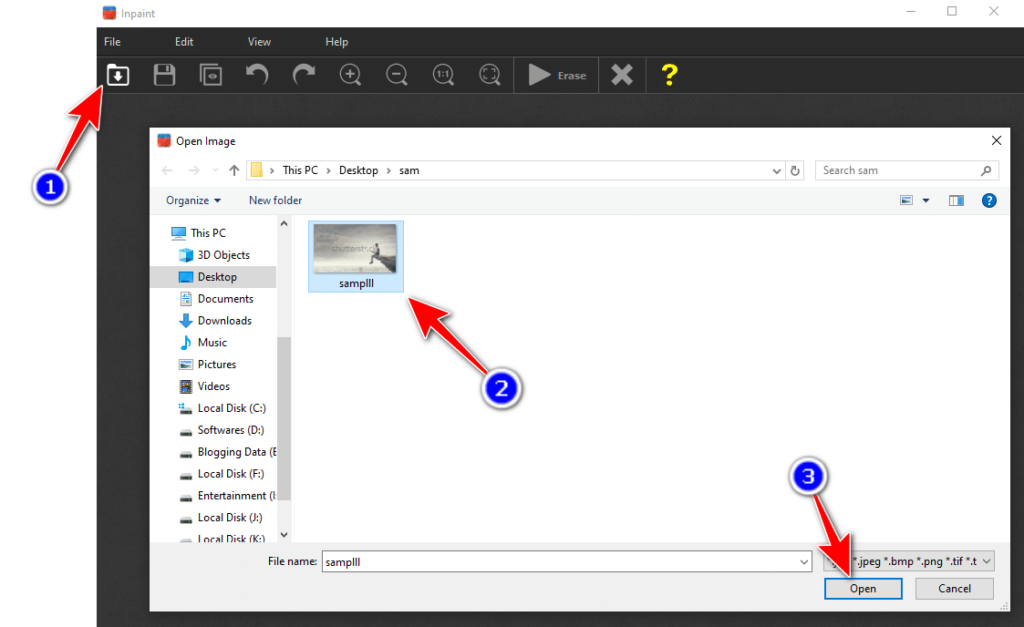 Step 2: Select watermark
Secondly, select the marker tool to choose a watermark from your photo. It chooses the watermark area automatically, or you can use the marker tool to choose the watermark yourself.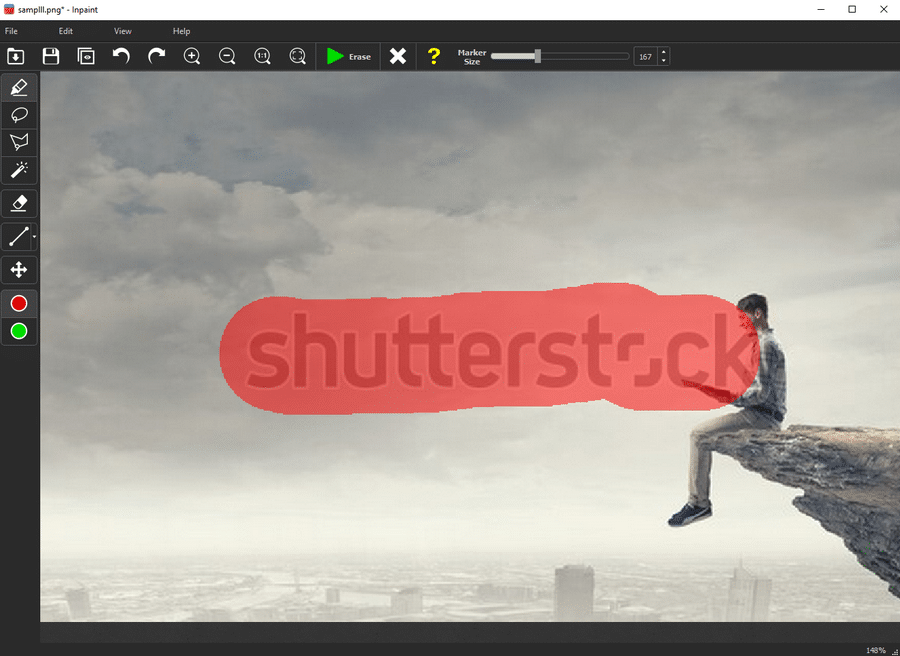 Step 3: Start Restoration
Finally, run the Restoration process, and the inPrint application will remove the watermark from your photo.
Method 2: Remove watermark from a photo using the Webinpaint website
It is not likely that you will always need to remove watermarks from your photos. Therefore, installing an app on your personal computer and making it sit alone without doing any work is not much good. You can use this online tool to remove watermarks from photos in such conditions.
The Webinpaint program is the same as the In Paint application. You can follow the following steps to remove watermarks from your watermarked photos using the Webinpaint website.
Step 1: Upload the Copywrite image.
First, upload your photo, and then you'll need to remove the watermark.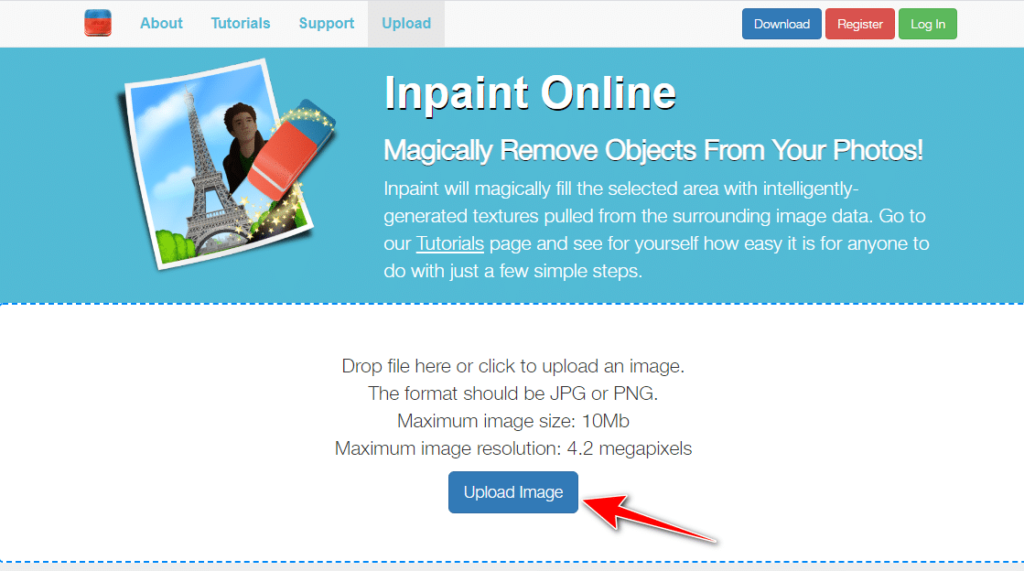 Step 2: Highlight the Watermark
Second, like in the Inpaint application, select the market tool and highlight the watermark area.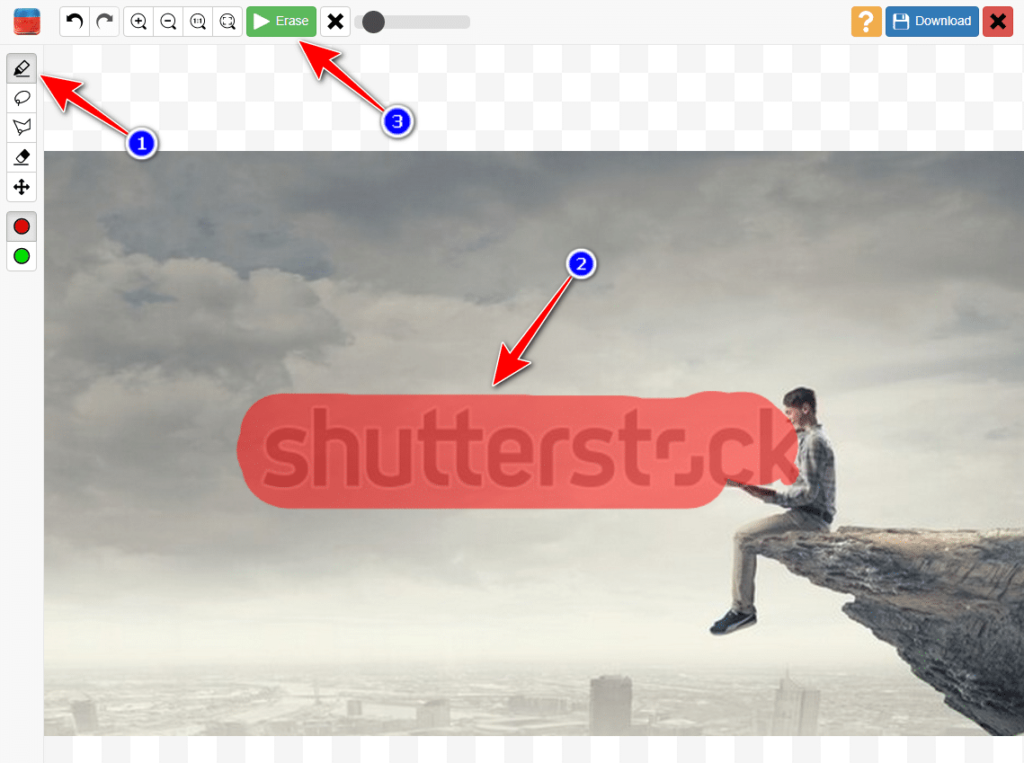 Step 3: Remove Watermark
Finally, click on the "Run" button, and this webpage will do the remaining work for you, and you will get the photo you need without a watermark.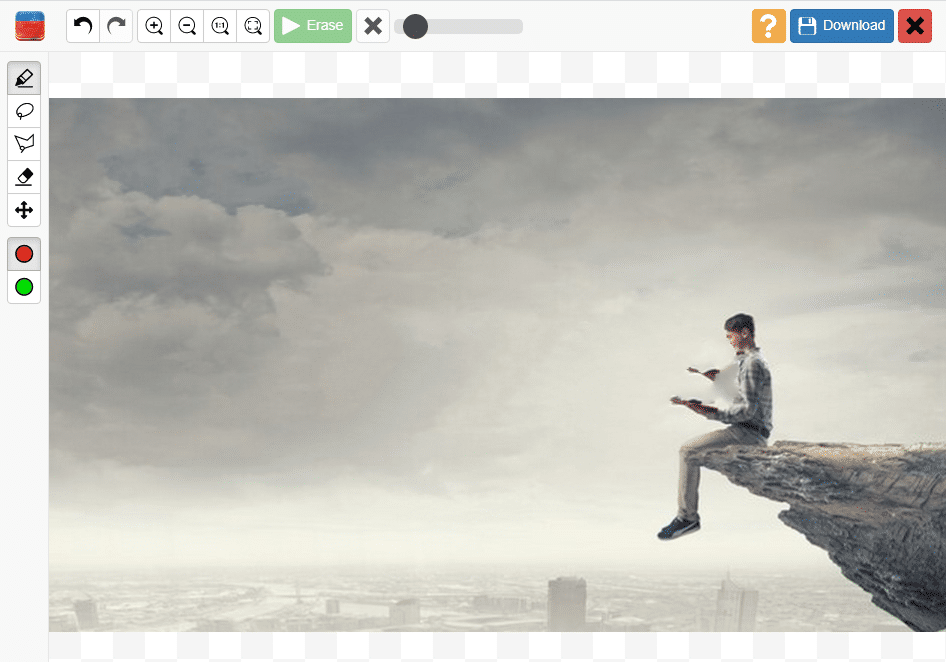 In this way, you can get photos without a watermark. You can also do this manually using Photoshop. In Photoshop, you can select the Blur application to make the watermark disappear, and Photoshop helps you get photos without a watermark. If you do not have Photoshop, you can use any of the Photoshop alternatives.
Alternatives to Shutterstock for obtaining free high-quality images
If you're not able to use Shutterstock or prefer to use alternative sources for obtaining free high-quality images, there are a few options available:
Other free stock image websites
Several other websites offer free stock images for personal and commercial use. Some popular options include Pexels, Pixabay, and Unsplash. It's essential to read the terms and conditions carefully to ensure the images are genuinely free.
Creating your images
Another option is to create your images using a camera or smartphone. It allows you to customize the image to your specific needs and ensures you have full ownership and copyright.
Conclusion and summary of key takeaways
Recap of legal and ethical considerations
When obtaining Shutterstock images without a watermark, you must ensure that you have the necessary permission to use the image and be aware of the legal and ethical considerations surrounding watermark removal.
Frequently Asked Questions (FAQs)
Why is the watermark important?

Watermarking is a technique used to identify an image's copyright owner. It is also a way of protecting the image from being copied and used without permission. A watermark can be a company's logo, name, or slogan. It can also be an individual's name or initials. The watermark may also include the date of creation and the location where it was created.

What is the easiest way to get a stock photo without a watermark?

There are many ways to get stock photos without a watermark. One of the easiest ways is to use Google Image search. You can also use Unsplash, a website offering free high-resolution photos for commercial use. There are also sites like Pexels and Pixabay where you can find free stock photos. There are many options available on the internet to get stock photos without watermarks, but they all have pros and cons.

How do you remove watermarks from images?

It is important to know how to remove watermarks from images. The watermark will be removed from the image, but the original content of the image will still be visible.
The best way to remove a watermark from an image is to use a photo editing program. There are many free online photo editing programs that you can use in order to get rid of a watermark. You can also purchase software that will allow you to remove the watermark for your personal use.

How do I protect my stock photos?

Stock photos are a key component to the success of any online business. The ability to find high-quality photos that are not expensive can be difficult and time-consuming. There are many ways to protect your stock photos and ensure they don't get stolen. One way is by crediting the photographer properly and linking back to their website when possible. Another way is by adding watermarks or identifying marks in the photo that can't be removed.

Why are watermarks added to stock images?

Watermarks have been a common tool for designers for years. They are often used in a design to identify who made the artwork or photo, but they can also be used to protect intellectual property from theft. A watermark is typically embedded in the design of an image, usually in a non-obtrusive location on the image itself, so that it cannot be cropped out without being noticeable and detracting.
Conclusion
Before uploading any photos to your web pages or blogs, make sure that they are fully copyright-free and, if necessary, take the required permissions or give credit to their rightful owners on your web pages.
It is also advised to use copyright-free images from copyright-free websites. There will be thousands of stock photos on those websites that do not bear a watermark, and you can also use these images as you like.
Even though removing watermarks may help prevent you from having copyright issues, make sure there will be no traces left behind.
Hits: 41