Do you want to edit photos or create graphics without spending a fortune on Photoshop? If so, then you have come to the right place. This article will show you some free alternatives to Photoshop that will allow you to edit your images without much effort. You can pick any one of the free Photoshop alternatives from the list.
Photoshop is one of the most powerful tools for editing images, but it's also expensive. Luckily, there are plenty of free photo editors out there, and some are better than Photoshop and even come with some advanced features. Which ones should you try?
Photoshop has become the de-facto standard tool for image manipulation, providing beginners and professionals with unparalleled power. Its interface makes it quick and intuitive to create beautiful designs. However, its hefty price tag means it remains inaccessible for many. Fortunately, some alternatives provide similar functionality without a high cost.
Getting Free Photoshop Alternatives like this from the Internet is one of the great things about being alive in this age.

We had to pay a lot of money for graphic design software and software to build a website, but now we can get free screen capture software, 3D modeling, animation software, and movie editing software.
It is brilliant what we can now do on our computers. These are some of the top-rated free image editing programs.
Top-Rated Free Photoshop alternatives
Photoshop is undoubtedly the most famous photo editing software out there. Whether you want to edit pictures, design logos, or create posters, it has become the standard tool for every designer. You may be surprised to hear that you don't need Photoshop to get professional results, and there are plenty of other tools that will give you similar results at no cost.
We have listed the top 10 free Photoshop alternatives in this post. You should try them out and see which one works best for you.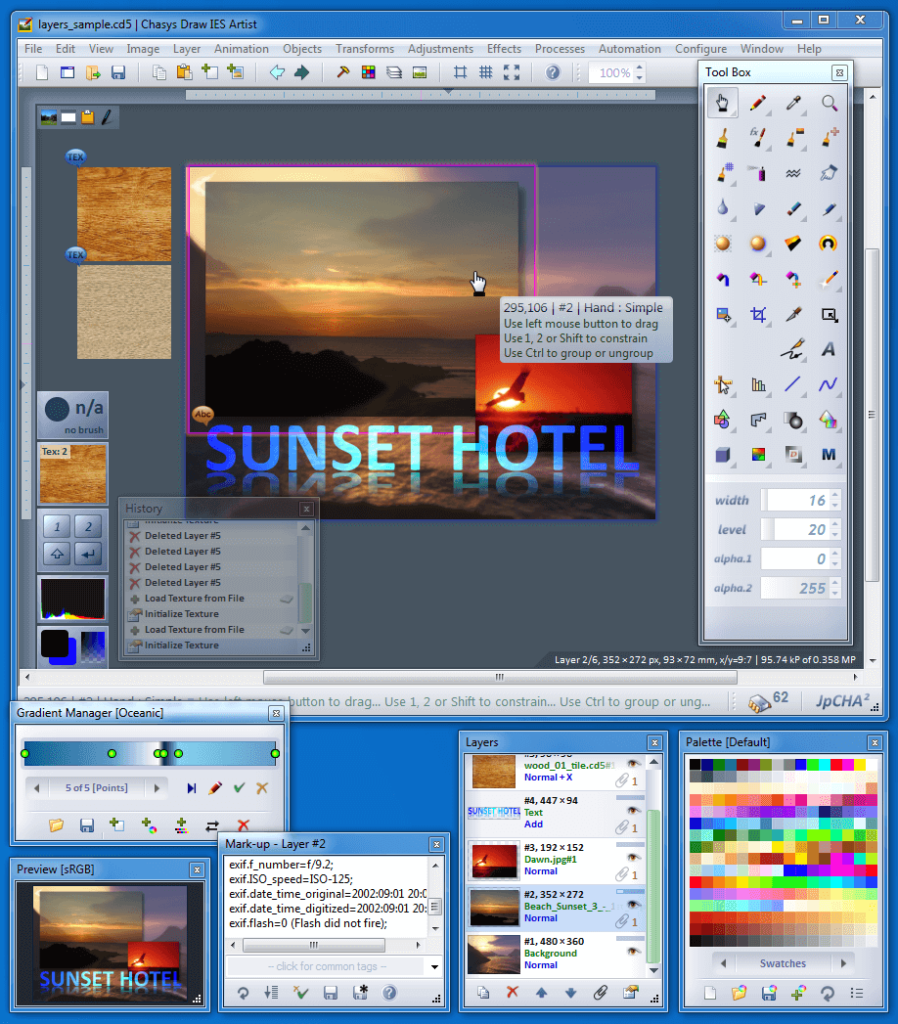 Chasys Draw is an image editing software used to make photos appear more natural. To modify the colors of your image, the program uses three separate modes: Selective Color, Adjust Color and Enhance Tone. You can choose between two brushes to alter your image: ordinary and airbrushes. Finally, you can apply effects like blur and emboss.
It is a free image editing software with many features to create artistic designs with nothing more than a blank canvas.
How you use this software is up to you; suffice it to say, it has many functions you can play with, including special effects and some excellent lighting adjustments. You may use it to capture videos too.
There are also Photoshop plugins you can use too.
Features of Chasys Draw IES
Choose from two types of brushes: regular or airbrushes.
Use these tools to soften skin tones and reduce imperfections.
Create unique effects like blur, emboss, and vignette.
Save your work in PNG format.
Note: Chasys Draw may not be compatible with specific operating systems and web browsers.


PhotoFiltre Studio brings together advanced colour science and artistic skills to create your very own unique artistic style. With an intuitive interface, it's easy to understand what each tool can do and how they work together to achieve the results you want.
This program has a lot of colour correction tools and filters that you can use. It is effortless to use, and you can apply lots of different artistic effects, including altering contours, transparency, styles, etc.
There are lots of editing features you can play with too. It is also one of the free image editing software programs.
Features of PhotoFiltre
Use different filters and effects to make any photo more beautiful or artistic.
You can save up to 9 customized versions of your photos with just one click.
Save time by using automatic tools that apply complex adjustments quickly.
You blended perfectly two pictures into one.
Add text and shapes to any image.
Choose from hundreds of fonts, styles, and colors.
Share your artwork online or print it out.
Create collages using thousands of photos.
Create professional-quality prints with ease.
Multiple layers are supported.
Import RAW files directly from cameras.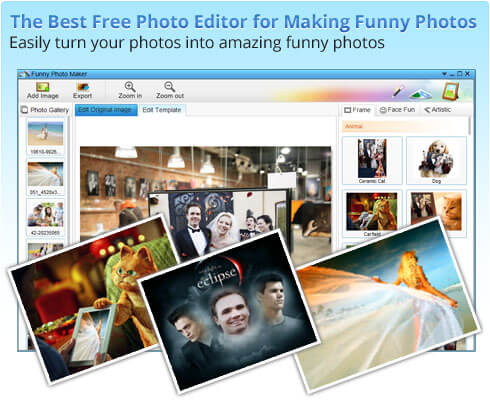 A Funny Photo Maker is an easy way to make funny photos and share them online. You can transform your ordinary photos into funny ones perfect for sharing on Facebook or Twitter, and your friends will enjoy these fun pictures.
It allows you to add in backgrounds to set up funny pictures, and you can turn images into animations.
The tools are essential, and you cannot draw on your images, but you can add countless effects that are easy to add.
There are many creative things you can do, but at the same time, you are mostly restricted by the options they give you.
Features of Funny Photo Maker
The following options are available when using Photoshop Express:
Add text/animated text to any picture
Change background-color
Apply for custom effects
Rotate an object
Cropping
Create collages
Share pictures on social networks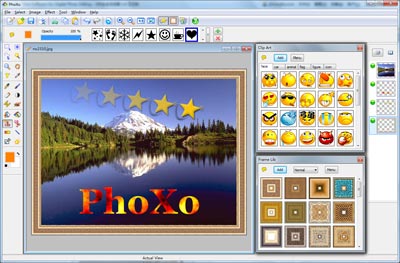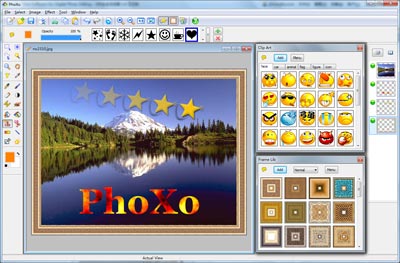 PhoXo is an easy-to-use online image editing software that makes it simple to touch up photos quickly and easily. You can add text, shapes, frames, and more to your pictures without any special skills or knowledge. Download now and start enjoying the benefits of professional quality images!
It is an editor that is so easy to use that kids can use it. The program has many practical functions and uses, and there are cartoons and clip art that you may enter into the image.
You can add a watermark and fix problems with your images at a basic level. It retouches your photos, allowing you to fix any problems.
Features of Phoxo
Add text effects to your photos—choose from over 50 fonts and styles.
Enhance colors using the Hue/Saturation palette.
Make your picture stand out, blur away objects, change shadows to highlights, etc.
Share your creations on Facebook, Twitter, and Pinterest.
Use your custom backgrounds and filters.
Create collages
Print your pictures.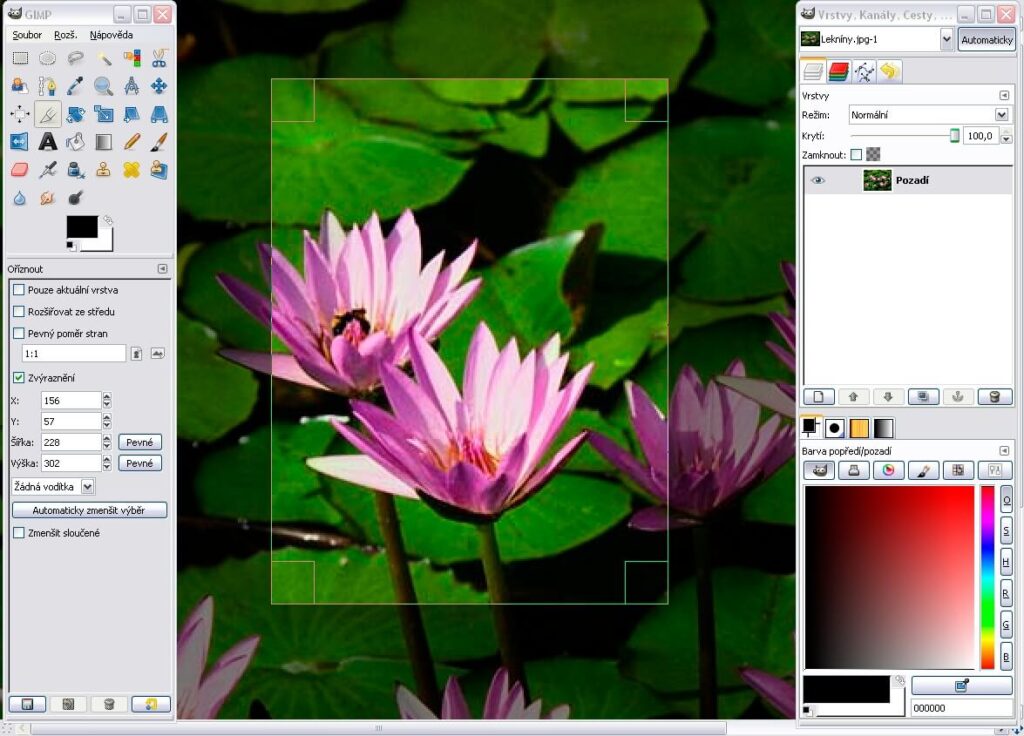 GIMP is an open-source graphics editor that may be used to modify pictures, drawings, and illustrations. It can be used as a stand-alone program or as part of a process. It allows you to edit photos and make animations, collages, web graphics, and icons, among other things. Also, you can run it directly from your USB stick.
It may be the most well-known entry in this article. It is called the GNU Image Manipulation Program, and it is powerful and free image editing software that you can use to manipulate your images.
You may use it to correct colors and perform many more essential functions than you would expect with photo editing software.
You can create animations too and use special effects to turn images into pieces of art.
Features of GIMP:
You can download the GIMP for free.
An excellent tool for graphic designers, photographers, and students in the multimedia industry,
It supports many file formats, including RAW files.
It allows you to save your changes as JPEG, PNG, GIF, TIFF, and BMP files.
You can easily resize, crop, rotate, flip, sharpen, and improve the quality of your pictures.
It comes with powerful features like layers, masks, paths, alpha channels, management, intelligent objects, etc.
Support for HDR, tone mapping, layer styles, filters, brushes, patterns, etc.
can work online without registration using the built-in browser. * No Java required.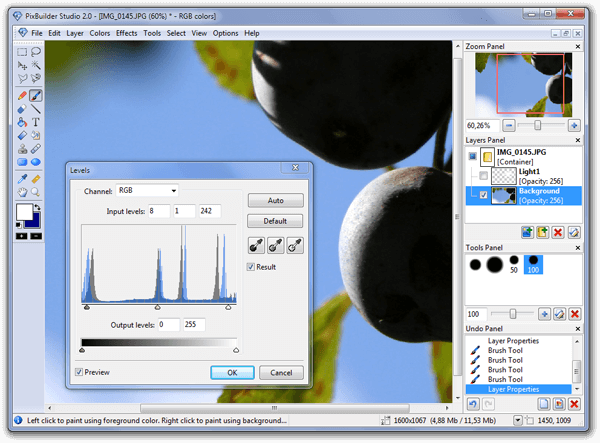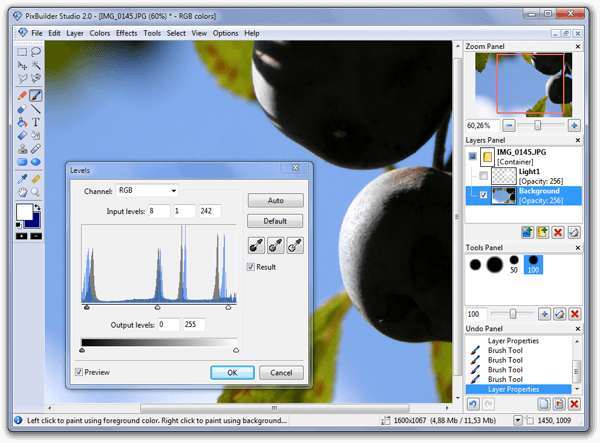 Pixbuilder Studio is a powerful yet easy-to-use, affordable, open-source application that lets you edit your photos like a professional. A completely free version of Paint Shop Pro, Pixbuilder includes many advanced tools, such as the popular crop tool and filters. There are no limits to how much or what edits you can make to your images, and you can easily adjust brightness, contrast, saturation, exposure, hue, etc.
You can upgrade this image builder a little if you wish, or use its mid-range image editing software on its own.
It has all the basic features and some fancy filters and print tools. You can also add cartoon images and clipart.
Features of PixBuilder Studio:
Free for personal use.
Supported file formats: JPEG, PNG, TIFF, GIF, BMP, PSD.
It helps Windows 2000/XP/Vista/7/8.
Edit large files quickly.
You can save edits.
Crop an object into any size.
Adjust color, saturation, contrast, brightness, and more.
Import photos from the camera's memory card.
Create a new document
Apply effects such as blur, sharpen, emboss, shadow, glow, etc.
You can apply effects to individual objects within an image.
Save changes to the original image.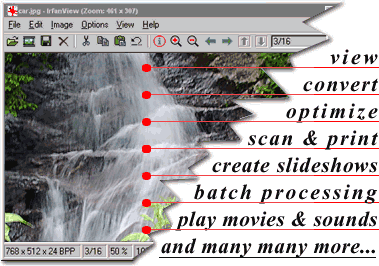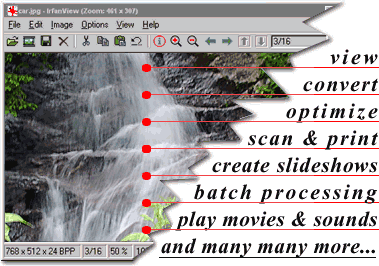 IRFANVIEW Graphic Viewer is an alternative to Adobe Photoshop software. It provides easy access to the tools you need to create amazing graphics using your computer. Its new interface and powerful features will make your work much more manageable.
You can do many essential editing functions, such as changing the colours, hue, and brightness, and you may add special effects.
It is a basic program that is an alternative to what you have on your Windows desktop computers.
Features of Irfanview:
Create, edit, save, print, and share photos directly.
Edit all RAW files, including JPG, PNG, TIFF, BMP, PSD, etc.
Over 100+ innovative editing functions.
Use more than 50 special effects.
Adjust brightness, contrast, saturation, and hue.
Select different color palettes.
Easily change colors, curves, levels, shadows, highlights, vignettes, etc.
Save changes as JPEG or PDF files.
Print photo albums, greeting cards, posters, business cards, calendars, banners, brochures, web pages, etc.
Add text, drop shadow, gradient fill, bevel, emboss, texture, pattern, reflection, line art, frames, shapes, stickers, etc.
Rotate, crop, flip, mirror, resize, rotate, add a watermark, apply filters, etc.
Import/export photos from popular social media services like Instagram, Facebook, Flickr, Picasa, etc.
It automatically detects and corrects red-eye, white balance, exposure, distortion, noise, blur, spot removal, etc.
It comes with Easy drag n' drop image selection.
The powerful batch processing function enables you to process multiple images at once quickly.
Quickly find photo information such as location, date taken, duration, image size, EXIF data, comments, rating, camera type, etc.
Set custom keyboard shortcuts for faster workflow.
It supports almost all Windows operating systems.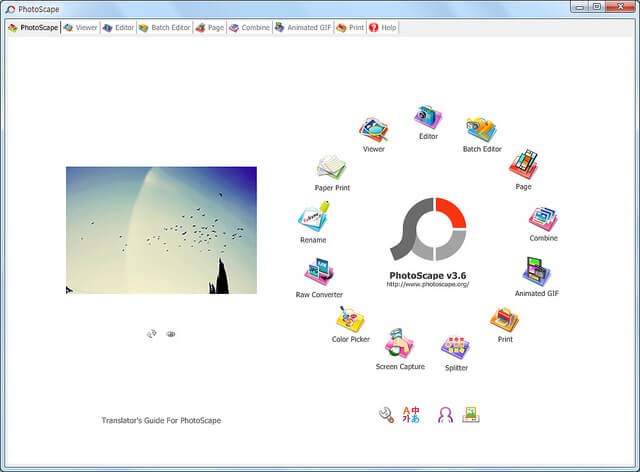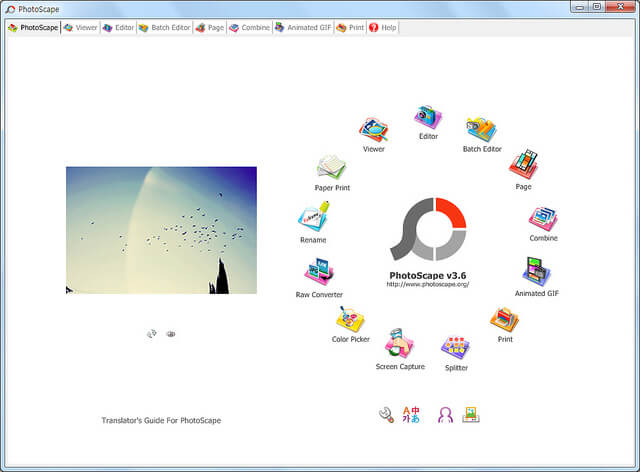 PhotoScape is an open-source photo editor for Windows 7. It allows users to create professional-quality photos with ease.
It includes more than 100 filters, effects, and tools. There are many ways in which users can edit their photos using it. The best thing about PhotoScape is that it has been completely re-written from scratch for ease of use, and it means that it is much faster than most other programs out there.
It allows the user to have some fun with making and changing images and has lots of clipart images you can add. You can manipulate special effects and add speech bubbles to your work.
You can configure a lot of what they see and then customize it further as you add new elements to your work. Furthermore, you can use eleven artistic styles to create and alter your images.
Features of PhotoScape:
Supports PNG, BMP, JPG, and GIF formats!
Adjust brightness, contrast, saturation, hue, and vignette, and apply 12 different presets.
Includes 60+ additional filters to enhance your image.
Apply 6 different levels of blur, plus various special effects such as embossing.
Rotate, crop, flip and mirror your photos.
Save your images as JPEGs or BMP files.
Import photos from Facebook and Flickr.
Support for RAW photography mode.
Photopea is an easy-to-use photo editor and web gallery creator. You can transform your photos into beautiful works of art, share them with friends, or create stunning galleries for your website. Photopea includes many useful tools such as retouching, cropping, colour adjustment, text overlay, artistic filters, etc. It is perfect for both beginners and experienced users.
Features of PhotoPea:
It's easy to use with an intuitive interface.
100+ powerful effects and presets.
Unlimited undo/redo.
Multiple file formats are supported.
Online service is available.
Krita is a free and open-source digital painting program that runs on Windows, Linux, and Mac OS X. Most formats are supported, including Photoshop layers, AI, PSD, and SVG. It offers an easy-to-use UI and many valuable tools. This fully-featured application has been built entirely from scratch using Qt5 and Gtk3.
You can use it to create art and edit photos, videos or documents. The goal of Krita is to become the best free software solution for creating visual masterpieces and bringing your ideas to life.
Features of Krita:
Free & Open-Source Software
Layers support
Import/Export of PSDs
Export as EPS
Layer Styles
Blend Modes
Brush editor
Stylize Brushes
CustomizableCustomizable UI
Support for multiple windows
Support for most major image formats is available.
Frequently Asked Questions (FAQs)
What is Adobe Photoshop software?

Adobe Photoshop software is a bitmap graphics editor for digital images, and it can use to edit and manipulate both still and moving images. You can cut up a shot, paste it into another embodiment, create 3D effects, change its colors or add other unique products.

Is there a free online version of Photoshop?

Photoshop is costly, but many free software programs offer similar features. You can use programs like GIMP and Krita to do many of the same things Photoshop can be used for, such as photo editing, creating logos and web design.

What is better, Photopea or Photoshop?

Photopea is a free and simple alternative to Photoshop. The interface is very similar, and the program has many of the same features as Photoshop. There are also some features that Photopea offers that Photoshop does not, such as the ability to edit images in their raw format, edit EXIF data and create layers.

Is GIMP suitable for beginners?

The GIMP is a free tool with powerful features that are good for beginners and professionals. It has a wide range of tools, filters, and effects to help you edit images. You can also use it to create your graphics, logos, website layouts and more.

Which is better, Inkscape or GIMP?

Inkscape is a free and open-source vector graphics editor. You can use it to create raster and vector graphics such as logos, illustrations, diagrams, artwork, and 3D models. GIMP stands for GNU Image Manipulation Program, and it is one of the most popular photo manipulation programs on the market today.

Does Google have a Photoshop equivalent?

Google has been a pioneer in Artificial Intelligence and Machine Learning. It has not only continued to push the limits of what AI can do, but it has also made innovative strides in other fields, such as the creation of a "Photoshop" equivalent.

Is there a free online version of Photoshop?

Photoshop is an expensive program, but there are many free alternatives. An online photo editor like Pixlr has many of the same features as Photoshop without the hefty price tag. You can access this software from any device with an internet connection, so it's great for editing on the go.
Final words
Photoshop is probably the most popular graphic design tool today. But many designers don't necessarily want to pay thousands of dollars for software that seems to be built solely to make money for Adobe.
Photoshop is software used by professional and amateur artists and designers to edit images. Photoshop CC 2018 is an updated version of Photoshop CS6. Many features have been added, such as new tools, brushes, filters, etc. However, some older versions are still supported by Adobe.
Photoshop Elements 13 is an upgrade to Photoshop Express and Photo Downloader.
Other free options include GIMP, PaintShop Pro, and the open-source alternative, Affinity Designer. So, why not try out some free Photoshop alternatives?