Are you looking for the free screen recorder with audio to record and edit your content from the PC?
In the post-COVID era, working from home is becoming more and more popular, and we are spending a lot of time at home. That makes it even more important that you have the proper equipment because it means that most people are spending a lot more time on their computers and gaming consoles.
Whether you want to record a staff meeting or showcase a fresh gaming strategy, we researched the market to bring you the best screen recording software. There are hundreds of screen recorders on the market.
In addition to paid and free screen recorders for Windows, there's a variety of screen capture software for Mac, as well as web-based tools.
Many of the top screen recorders have access to premium features and effects, but if you're a creator on a tight budget, you don't have to worry. In many cases, free screen recording software is just as powerful as the paid alternatives, but there are no annoying restrictions.

What is screen recording software?
Screen recording software can record the whole screen of a computer or mobile device, or just a part of it. Everything you do on the device can be recorded, from tapping out instructions to moving the cursor to typing a URL into the browser. Annotation and voiceover narration are both features that can be found in the same software.
It's important to note that there isn't a universal screen recording solution. In some cases, you won't be able to directly export your recorded footage from the screen recording tool to a service like YouTube or save it in a format that other programs can read. Some may be capable of doing everything mentioned, but they lack certain features.
A high definition screen recorder is one feature that is not standard on all screen capture programs. So, you should carefully think about the software's features before you download or install it on your device.
Consider your own recording requirements. It's possible that full HD recording is unnecessary. If you've recently invested in video hosting and don't need the ability to export videos to YouTube, that's fine. The best screen recorder is one that works for you.
You can even record your screen on your phone if you've got a built-in recorder or a screen recording app like Riverside.
Consider the following criteria when deciding on the best free screen recorder:
Make sure the video recording software is easy to install and use, and doesn't impede your productivity.
The best free screen recorder software has high-definition video output and a high resolution recording.
Not all screen recorders use the same file format. It's possible, for instance, that free game recording software won't be the best choice for Zoom conferences.
Output: Even free screen recorders should provide multiple file formats, such as MP4, MOV, and even GIFs.
To find the best free screen recorders for Windows 10 and Mac, we looked at a wide range of free, low-cost, and paid options, taking into account things like how easy they are to use, what platforms they work on, and how well they record. 
Benefits of Screen Recording Software
Screen recording software offers a wide range of benefits that make it a valuable asset in many situations.
It allows you to visually demonstrate complex processes or concepts by recording your screen activities, making it an ideal tool for educational purposes.
Students, teachers, and trainers can create engaging tutorials or online courses with ease.
Moreover, businesses can utilize screen recording software for software training and support, ensuring effective knowledge transfer to employees and customers.
Desktop screen recorder vs. online screen recorder
The main difference between the two types is that one can be used while offline. Desktop screen recorders can work without an active connection, but online screen recorders need a stable internet connection.
Because of this, an online screen recorder isn't the best way to record gameplay. On the other hand, if you just want to create a tutorial, you shouldn't have any problems.
Best Free Screen Recording Software for Windows 10 and MacOS
These are the top screen recorder tools available right now, in our opinion. Because it supports so many different platforms, including Android, iOS, Mac, Linux, and Windows, you can be confident that you'll be able to find the ideal screen recorder for your computer. You can choose any one of the best screen recording app and start record your screen.
Note quickly: There are both paid and free options on the list, so think about what you need before you download anything.
Let's review some of the best free and paid screen recording tools!
1. Camtasia: best screen recording software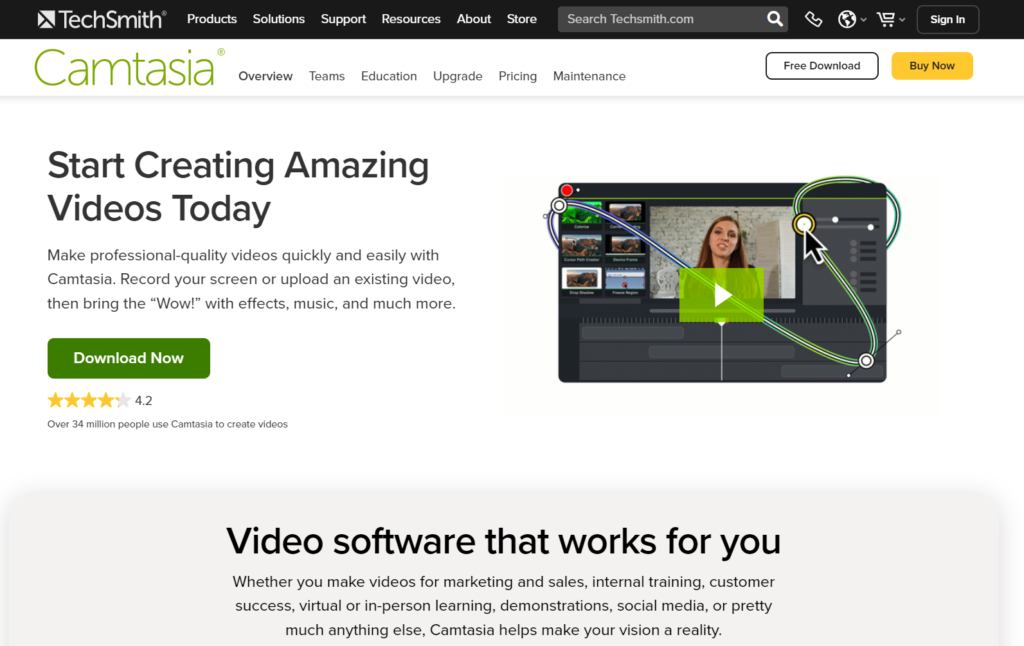 Camtasia is easy-to-use screen recording software that comes with a wide range of video editing tools. With a drag-and-drop editor, it works with a variety of formats, including Windows, Mac, Linux, and Android, for recording video calls on websites and software.
There are royalty-free assets available to add a special touch to your video. When you're done, your video can be easily uploaded to YouTube, which offers more compatibility to make your life easier.
Beginners will find it simple to use, and there are video tutorials to assist you in creating how-to videos and customer conversion demos. To get you started, templates are offered, and you can also choose to add special effects to your recording.
The provided themes and libraries, along with shortcuts and favorites for all of the tools and settings that you use the most, make this program incredibly simple to use. This is one of the paid screen recorders.
2. Icecream: Best screen recorder for PC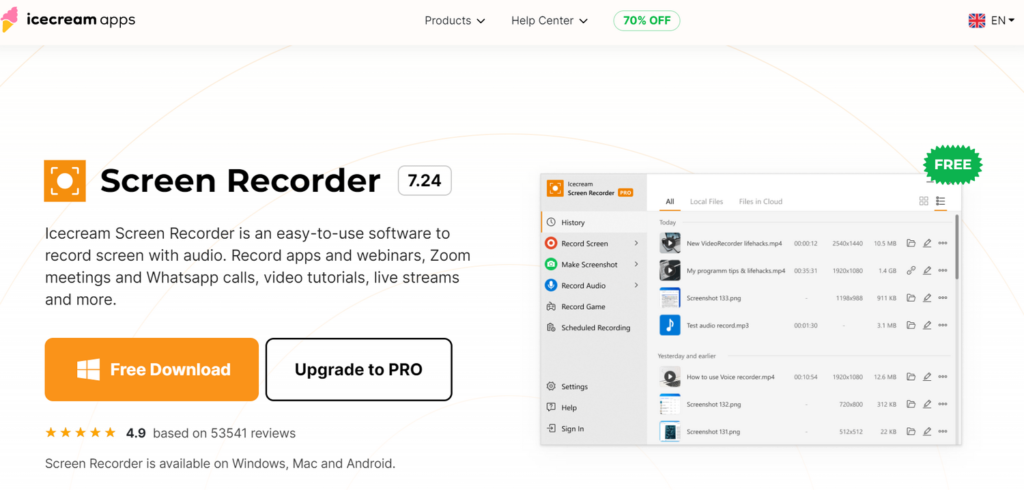 Icecream Screen Recorder is a powerful and easy-to-use tool for recording your computer screen. It captures any area of your desktop, including the entire display, or just a specific region that you select.
It also supports capturing audio from both your microphone and speakers at the same time, making it an ideal choice for creating video tutorials and presentations.
The software offers an intuitive interface that allows you to quickly get started with recording. You can adjust settings such as capturing resolution, frame rate, audio source, and more.
The custom mode allows you to use an adjustable boundary box to record specific portions of the screen while leaving out the rest. It is an easy-to-use online screen recorder.
You can record your entire screen or a portion of your screen. Icecream Screen Recorder lets you trim recordings or change the playback speed. The software has advanced recording settings so users can hide their cursor and desktop icons or disable their screen saver.
The program supports several recording modes, such as full-screen and region, so you can record what you want. It also has basic editing features to trim and cut your recordings, add text and shapes, blur out sensitive information and more. In the free version, the tool adds watermark on their output video.
3. MovAvi Screen Recorder: Easy to use Screen Recording Software for Mac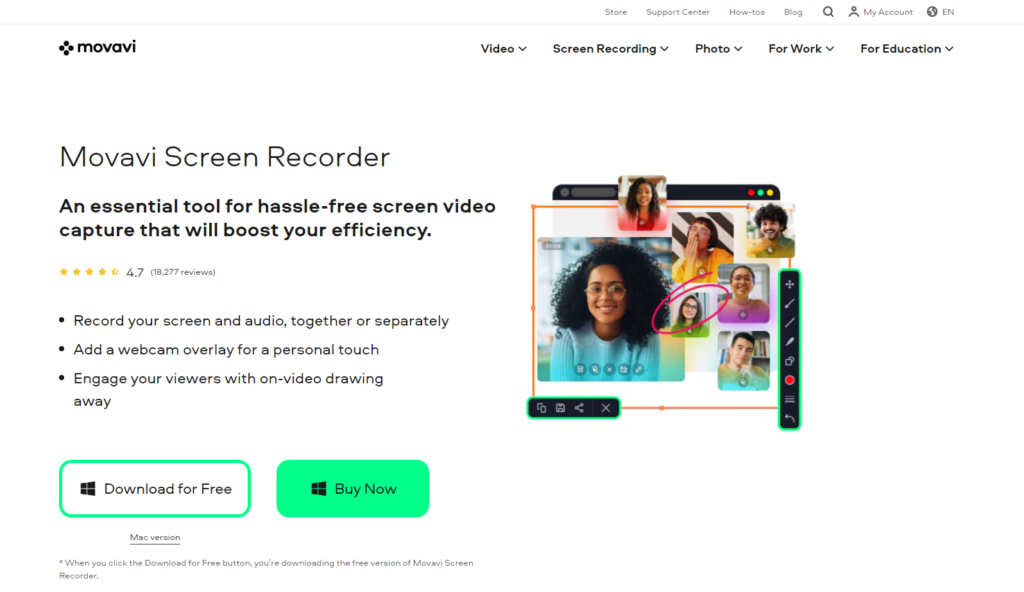 Movavi is a screen recording program that has a lot more features than most video editing software. It can edit movies and music, add special effects, titles, and even make slideshows.
It also has a screen capture tool to record video from your computer screen. It is compatible with Windows and Mac operating systems.
With this tool, you can easily create tutorials and presentations, record Skype calls, and more. The program also offers a library of royalty-free images, audio clips, and video clips that help to make creating videos easier.
However, it still manages to be approachable and simple enough for even new users to enjoy. It has a simple, easy-to-understand interface that doesn't take away from the powerful editing tools you need to make different types of media.
The photo-editing program Movavi consists of several components: The price of Movavi: $89.95 with a 7-day trial.
4. OBS Studio: Best open broadcaster software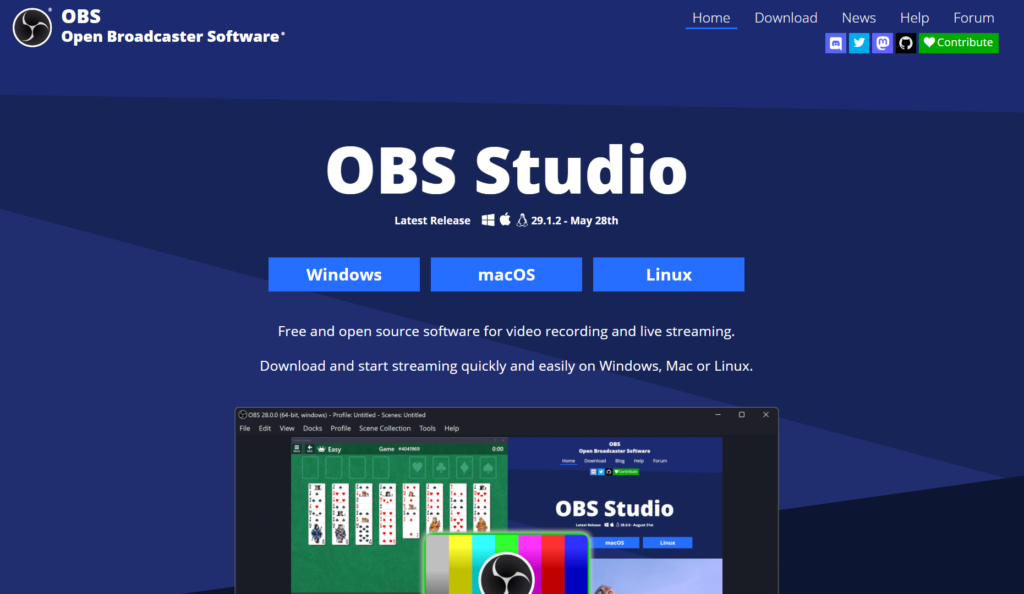 OBS or Open Broadcaster Software is a free screen video recorder that offers both recording and streaming in high definition, with no limits on the length of your videos.
This is a flexible screen recording tool that supports a number of file formats and is free to use. OBS means "open broadcast software." It is an open-source software that allows users to record and share video and audio with others.
This lets you put together different kinds of media, like screenshots, pictures, text, Internet windows, and webcams. Before you start putting the scenes together, you can preview them in studio mode.
The sound quality is great, thanks to an easy-to-use audio mixer with extras like noise suppression and VST plugin support. Polish your video with the streamlined settings tool to make it look its best. The software is easy to use.
Features of OBS Studio:
Use the output from OBS Studio as your webcam's primary video source.
It can be extended with add-ons, plugins, and extensions.
The OBS supports dark mode for comfortable usage in low-light conditions.
You can use pre-loaded or custom animated transitions to make a smooth change between two scenes or pages in OBS Studio.
Through the Real Time Messaging Protocol, OBS Studio can connect an encoder to a server.
OBS Studio lets you edit your video input in real time to apply new image values or add filters.
You can live stream to multiple channels at the same time.
You can use OBS Studio to share your screen with your colleagues or friends.
OBS Studio allows you to add custom images or videos on top of your composition.
OBS Studio price: It is a free version  
5. Nvidia ShadowPlay: Perfect Screen Recording Software for Gaming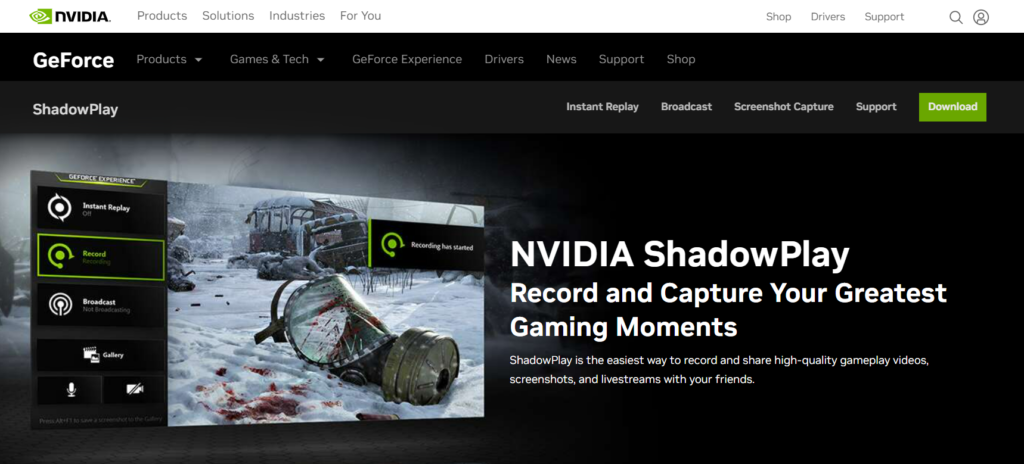 Nvidia ShadowPlay is only available for Windows users, but it is a powerful tool if you know how to use it. It is one of a kind because it was made just for gaming and can automatically save your best game moments, even those last-second kills.
ShadowPlay lets you record gameplay in either 8K HDR at 30 frames per second or up to 4K HDR at 60 frames per second. Because the program is hardware accelerated, it will not interfere with gameplay even if you leave it running.
You can easily create your own GIF from any ShadowPlay video and upload it to Google, Facebook, or Weibo. Take a screenshot with up to 8K resolution and share it on Facebook, Google, or Imgur. If you want to be social, go live with a broadcast on Facebook Live, YouTube Live, or Twitch.
6. Filmora screen recorder: Best screen recording tool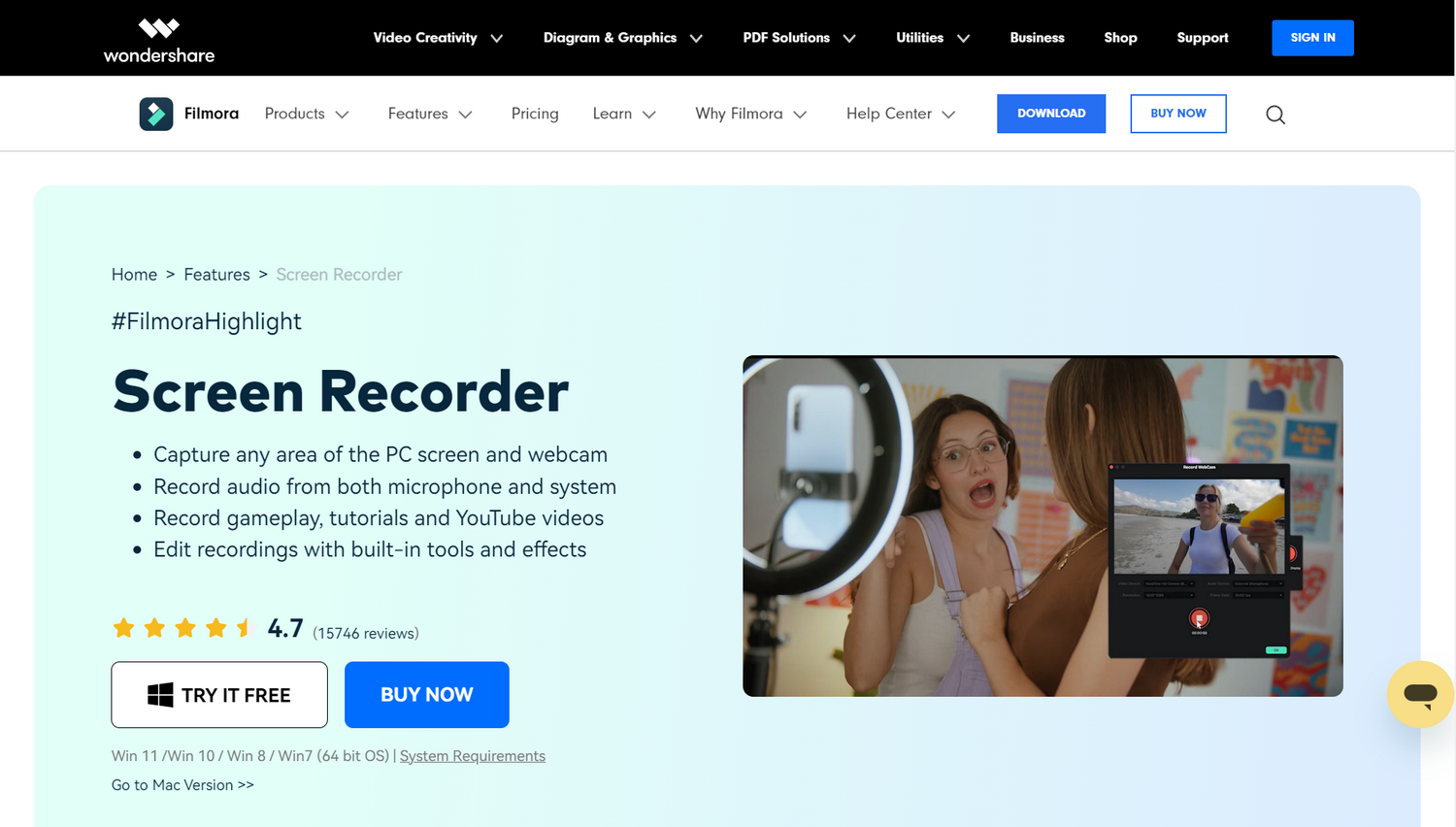 Filmora Screen Recorder's highlight feature lets users customize the recording area with one of three capture modes. In full-screen mode, everything on the screen will be captured exactly as it appears. The target window mode, on the other hand, will only record the window that you choose from any program that is running.
In the custom recording mode, you can select the area of the screen you want to record and set a boundary box to exclude the rest. Using the different cursor effects, you can easily draw attention to what you want to record when you're using Filmora.
The software also lets you add annotations like text to improve the viewing experience for your audience.
Filmora is a Windows program that lets you record video and also record sound from your computer's speakers or an external microphone. In addition, it lets you set a recording timer that will end the recording session when it's up.
The Filmora software package comes with a screen recorder and several tools for editing videos. So, you can do things like motion tracking, keyframing, audio beat sync, and green screening all in the same program, saving time and effort.
---
 7. Screencastify: Best screen recorders for windows PC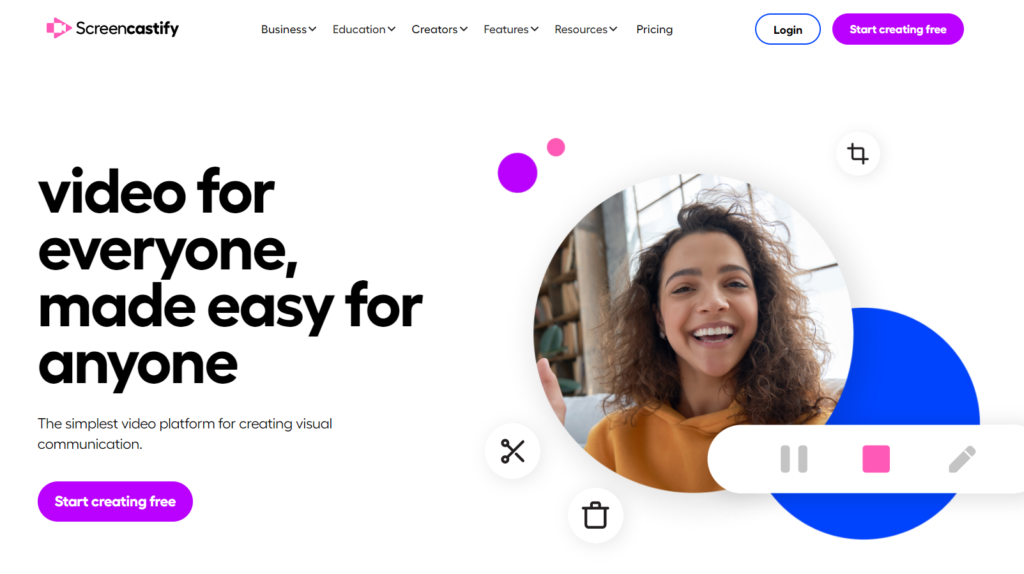 Screencastify is a powerful screen recording tool for Chrome that allows users to capture their screens and create professional-looking videos. It lets you record anything on your computer, such as browser tabs, webcam footage, and programs.
The recordings can be edited with annotations and drawings, then saved as MP4 or GIF files for easy sharing. With Screencastify, you can record tutorials, presentations, webinars, lectures, meetings, interviews, and more. It's also perfect for creating training videos or capturing bug reports.
Plus, with its cloud storage feature you can access your recordings anywhere in the world. With its simple drag-and-drop interface and intuitive controls anyone can quickly master how to use Screencastify to produce high-quality videos in no time.
8. BandiCam: free online screen recorder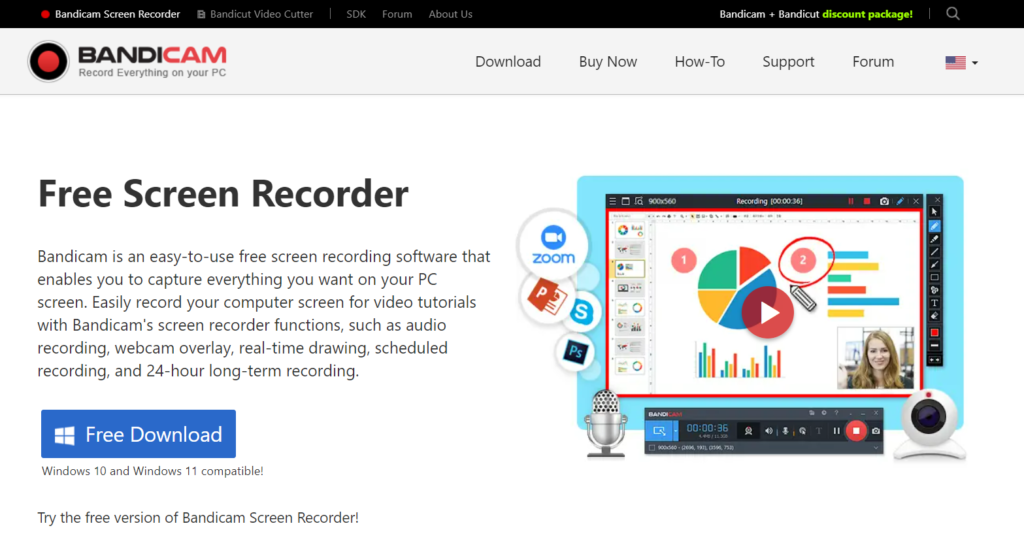 Bandicam is a small and lightweight screen recorder that can capture high-quality video and audio of what you do on your screen. It has been developed by Bandisoft, a Korean software company, and is now available for Windows, Mac, iOS, and Android devices.
Bandicam is a powerful screen recorder for capturing highly-compressed videos while preserving the original quality.
With Bandicam, users can record their desktop or game activities in full HD resolution at up to 120 frames per second. It also lets you record from more than one monitor at once, which makes it great for recording tutorials or livestreaming games.
Furthermore, Bandicam features various recording tools, such as zoom in/out and drawing tools that let you annotate the footage while recording. The intuitive user interface makes it easy to configure the settings so that you can create great recordings quickly and easily. You can try this free screen recording program.
Bandicam also has a wide range of editing tools that let you change the way your videos look before you share them with friends or put them online. All in all, Bandicam is an excellent choice for anyone looking for a powerful yet lightweight screen recorder.
How to Choose the Right Screen Recording Software?
When selecting screen recording software, it is essential to consider your specific requirements and preferences. Here are some factors to keep in mind:
Considerations for Individuals:
Ease of use and user-friendly interface
Editing capabilities and options
Compatibility with different operating systems
Output formats and sharing options
Pricing and affordability
Considerations for Businesses:
Advanced editing and annotation features
Team collaboration and sharing capabilities
Security and privacy features
Integration with other software or platforms
Customer support and training resources
Tips for Using Screen Recording Software Effectively
To make the most out of your screen recording software, consider the following tips:
a. Preparing Your Workspace
Before recording, ensure that your workspace is clean and organized. Close unnecessary applications or windows that might cause distractions. Additionally, make sure your desktop or screen background is clutter-free and visually appealing.
b. Setting Up Recording Preferences
Configure your recording preferences according to your needs. Adjust settings such as screen resolution, audio source, and frame rate to achieve the desired output. Familiarize yourself with the software's options for capturing specific areas of the screen or recording multiple displays.
c. Recording and Editing Options
During the recording process, take advantage of any available features, such as adding annotations, highlighting cursor movements, or including webcam footage. These options can enhance the viewer's understanding and engagement. Once the recording is complete, use the editing tools to trim, cut, or merge video segments for a polished final product.
d. Sharing and Exporting Recordings
Consider the different sharing and exporting options provided by the screen recording software. Depending on your needs, you may want to upload the video directly to video-sharing platforms, embed it in a website, or export it in a specific format for offline use.
Use Cases for Screen Recording Software
Screen recording software finds application in various fields and industries. Some notable use cases include:
a. Educational Purposes
Screen recording software has revolutionized the education sector by enabling teachers and students to create interactive and engaging learning materials. Educators can record their screen while explaining complex topics, making it easier for students to grasp concepts.
b. Software Training and Support
Many businesses utilize screen recording software to train their employees on specific software applications or workflows. It allows for effective visual demonstrations and step-by-step tutorials, enhancing the learning process and reducing the need for in-person training sessions.
c. Content Creation and Marketing
Content creators, marketers, and influencers often use screen recording software to produce high-quality videos for their audience. Whether it's creating software reviews, walkthroughs, or explainer videos, screen recording software provides the necessary tools for professional-looking content.
d. Remote Collaboration
In remote work environments, screen recording software facilitates collaboration among team members. It allows individuals to record and share presentations, demos, or brainstorming sessions, ensuring effective communication and knowledge sharing regardless of geographical barriers.
Screen Recording Software vs. Screen Capture Tools
It is important to note the distinction between screen recording software and screen capture tools. While screen recording software captures the entire screen or specific areas as videos, screen capture tools capture screenshots or static images. Screen recording software offers a more comprehensive solution for capturing dynamic content, whereas screen capture tools are useful for capturing still images.
| | Screen Recording Software | Screen Capture Tools |
| --- | --- | --- |
| Functionality | Captures screen as videos | Captures screenshots or static images |
| Content Type | Records dynamic content | Captures still images |
| Recording Options | Full screen, specific areas, multiple displays | Specific areas or entire screen |
| Editing Capabilities | Advanced editing tools, annotations, transitions | Basic editing options (cropping, resizing) |
| Audio Capture | Captures system audio and microphone input | Does not capture audio |
| Use Cases | Education, software training, content creation, remote collaboration | Quick image capture, bug reporting |
| Platform Compatibility | Windows, macOS, Linux, etc. | Windows, macOS, Linux, etc. |
| Sharing and Exporting | Various output formats, direct upload to video platforms | Saved as image files (JPEG, PNG) |
| Live Streaming | Some software offer live streaming capabilities | Not applicable |
Frequently Asked Questions (FAQs)
Is screen recording software compatible with all operating systems?
Screen recording software is usually designed to be compatible with popular operating systems such as Windows, macOS, and Linux. However, it is advisable to check the software's system requirements before installation.
What is Screen recording?
Screen recording, also known as screen capture, refers to recording anything that's happening on your screen.
What is the best screen recording software?
The best screen recording software combines usability and simplicity of use. Cost must also be taken into consideration to make sure the tool is accessible and affordable. Your search can start with our ranking of the top screen recording programs for 2022.
Which is the right screen recording software for you?
Camtasia is my favorite screen-recording software. It is easy to use and offers a wide range of features. If you find yourself overwhelmed in your search for 2022's best screen recorder, these are our expert recommendations to help you find the right one for you.
Is screen recording software suitable for recording gameplay?
Absolutely! Screen recording software is widely used by gamers to capture and share their gameplay experiences. With the ability to record high-quality videos and add annotations, it's a valuable tool for content creators in the gaming community.
Is screen recording software secure?
Screen recording software itself is generally secure to use. However, it's important to be cautious about the content you record and share. Avoid recording sensitive information or personal data unless necessary, and always follow best practices for online security and privacy.
Final Words:
There are numerous screen recording programs available in this digital age. But only a few of them are totally free and offer full functionality. I recommend using two suitable screen recording programs after using the list of the best free. They are Camatesia (Paid) and Icecream screen recorder (Free). Everyone has different needs when it comes to screen recording, so we can choose the best screen recorder based on our own needs.
Other Useful posts
Our picks for the best paid screen recording software all produce professional-level audio and video, but their features and pricing vary. You can find the best screen recorder to capture video on your computer from the above list of the best free software.