What are the best Android apps for writers to help them enhance their writing skills? There are many different types of writers, including bloggers, tech writers, screenwriters, magazine writers, novelists, authors, and researchers.
Most instructors are looking for online content writing opportunities as a result of the COVID-19 pandemic. I've put up a list of some of the top writing applications to help you get more done.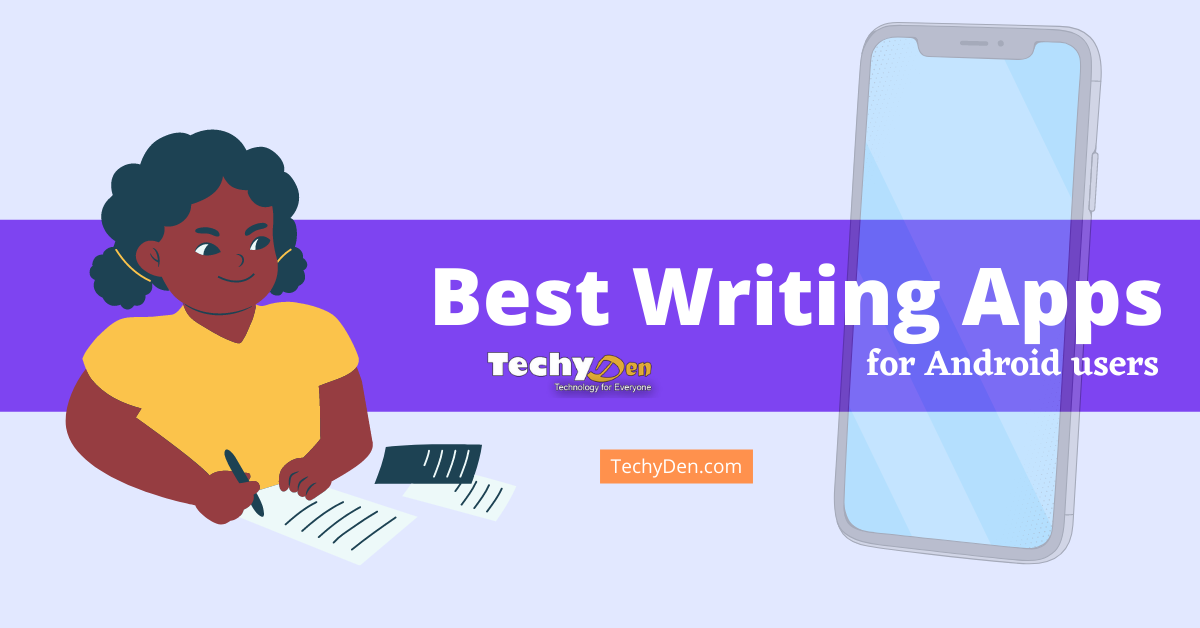 Google Docs is an excellent option for this. It's free and works on a variety of devices. As a result, you can find an Android writing app that meets your needs as a writer. Note but I only covered Android apps and left out Apple and iOS apps.
10 best Writing apps for Android users
1. Living Writer
The Live Writer is a smart writing program that was recently released. It enables most writers to write material or books online using Android devices. It has a unique plot as well as pre-designed board designs. Its outline templates assist you in creating sequential story structures.
The best writing software for novelists and authors. You may start your book, lay it out, write it, arrange it, and export it all from one place.
Get Started
Features:
Your chapters, subchapters, and other elements are easy to organize
The cloud-based platform stores your format and text for future use. Using the Amazon AWS cloud, your work is safe and secure.
Easily updated using the time-tested outlined method.
You can organize your chapters using drag and drop rather than copy and paste.
Smart text and auto-suggest features are helpful.
Pricing of Living Writer:
The Living Writer is available as a free and premium version. You can try the free version for 14 days without adding your credit card information. The premium version starts at $8 a month for annual subscribers. To avoid monthly renewals, you have to pay $96 per year.
2. Grammarly Keyboard
Grammarly is a great tool for every kind of writer. They offer Android keyboards as well. Writing with a virtual keyboard isn't the best way, but Grammarly makes it possible.
Grammatically, Grammarly can catch errors such as typos and grammatical mistakes. The app is even available for Android phones.
Sometimes you can't see what is there when you're writing because you see what you wanted to write. The grammar checker corrects your mistakes as you identify them. Grammarly may not be necessary for you to use the virtual keyboard, but it is still a useful app for fixing errors on the fly.
If you need to send an urgent email or message to linked-in or write a Facebook post, the Grammarly keyword will help you create error-free content through your Android device.
Get Started
Features:
For mistake-free writing like grammar correction, spelling checking, punctuation correct, on and more
You can use this app anywhere
It improves your skills by correcting your writing mistakes with h suitable explanation
Better auto-correcting feature
3. Google Docs
One of Google's best free writing apps is Google Docs. It is an online office suite with many powerful features. It has a clean interface for writers to enjoy writing.
You can use this app on any Android smartphone, tablet, or desktop computer without any difficulty. A cloud storage system including Google Drive is used to sync word processing files.
It is another excellent writing app. This tool requires the internet to function, meaning it works online. Chrome users can edit documents in offline mode.
Get Started
Features:
Clean and simple interface
Plenty of add-ons help you to improve writing productivity
Similar to Microsoft Word.
Fast and easy to use
4. Microsoft Word
One of the most popular word processing programs from Microsoft is Word. It is available for smartphones, tablets, and desktop computers. One Drive is comparable to Google Drive, and the app syncs with it.
You need a Microsoft 365 subscription if you want to work with Microsoft Word on a desktop. Trial versions are available for 30 days.
Get Started
Features:
An easy-to-use interface
There are keyboard shortcuts available for most options. It makes it easier to perform certain tasks.
OneDrive syncs data with the account so you can access the files from anywhere.
5. Novelist – Write your note.
The Novelist is another best piece of writing that helps you write your novel, and it is free to use. There is no registration fee, zero advertising, or in-app purchases.
You are not required to comply with a framework or methodology. It is the best tool for plotting, outlining, organizing, and scheduling your stories.
Get Started
Features:
Easy-to-use word processors make it possible for you to easily create the book in various formats based on the writers' needs.
A rich text editor included in this program includes text editing, formatting, comments, autosaving, revision history, counters, and autosaving.
You can save the data in your choice e of the storage provider, such as internal, external, or the company's cloud storage.
Using Novelist's chapter-by-chapter progress tracking, you can set your preferred word count or due date.
You can use any browser to write on the Web.
Create new books using templates
With Google Drive, you can back up and restore (automatically)
Combination of EPUB, ODT, and HTML books
An application for viewing and interacting with books
This text editor has an autosave feature, format, counters, etc.
Add and review comments to texts.
You can view and restore old versions s of the text.
Providing a comfortable nighttime experience
6. Pure Writer
Purer Writer is minimalistic, allowing you to write whenever and wherever you want without worrying about losing your work ever again.
Using Pure Writer's line and paragraph spacing feature, you can cater to a more readable and clear text. This app also has smooth scrolling, drop-down keyboards, and many others.
Complexity is hidden in simplicity. The app allows you to encrypt your work with your fingerprint, start and stop writing whenever you want, and share content quickly with other apps.
Get Started
If you don't delete your work, you will never lose anything. No matter what happened, deleting it accidentally or shutting it down doesn't mean you can't retrieve it from your History.
7. Writer Plus – Write on the Go
Writer Plus is an app that lets creative writers jot down notes quickly.
The Writer Plus application is a full-featured writing application that eliminates the hassle and distractions of traditional word processing. Using Writer Plus, notes, novels, lyrics, poetry, essays, and drafts can all be written on your phone or tablet.
Maintaining a simple philosophy is the key to Writer Plus. As basic as possible, Writer Plus gives you a place to write your thoughts while offering Markdown support.
Get Started
Features of Writer Plus
Open, edit, and save plain text files
Folder support
There are several keyboard shortcuts available
Markdown format
Word count and character count
The Undo/Redo feature
Efficacy, robustness, and stability
Battery friendly, limited system resource consumption
8. IA Writer
Write with iA Writer, an easy-to-use writing app for Android users. You can work on your creativity with this app, which removes all distractions. In Focus Mode, everything aside from the line on which you are working is dimmed.
Markdown is also supported, so you can quickly write HTML. In addition to the dark and light themes, iA writer syncs with Dropbox.
Get Started
Your app will help you identify weak verbs, repetitive words, and grammatical errors.
Additionally, iA Writer's desktop version also links to WordPress, so you can quickly and easily write blog posts and publish them to your website when you're done.
9. Evernote
Evernote isn't a dedicated writing app. If, however, an idea for your story or article comes to you while you're out, you can record it in Evernote. In addition to managing supplementary research, it's also helpful for managing documents and PDFs for writing projects.
There are free and premium versions of this app. For free users, some restrictions apply, such as cloud sync and a limited number of boards. You will have to pay $14.99 per month to manage the app with your team.
Get Started
Features
Web clipper: Your Evernote account lets you save web content directly. Creating notes is easier when you use templates.
Evernote Business Spaces enables you to connect people, projects, and ideas so that your team can be more productive.
Integrate your favourite apps like Google Drive, Outlook, Salesforce, and Slack.
Access your notes from anywhere using Evernote Premium across any platform.
Evernote lets you attach PDFs, office docs, and other files.
10. Google Keep
The Google Keep app is another simple yet handy writing tool and dedicated notepad. As part of the free Google Docs editor suite, it allows you to take notes. The app offers a variety of tools for taking notes, including text, lists, images, and audio. The app is available for both Android and iOS.
Get Started
Final words on the best Writing apps for android users
The apps mentioned above are the best writing apps for Android among the best available on Android for writers of all types.
While using a tablet or Android mobile device, you can use any of these writing tools to blog, write a book, create an article, or edit.
You can discover the best writing apps for android that best fits your needs with one of these Android apps.