The Internet is part of our daily life. When you are at home or at work, a fast and efficient internet connection is very important.
If it is slow, you need to increase your internet speed. Good internet speed completes our work quickly. Image-heavy and video-heavy websites are now available.
You must wait a long time for an image-rich site or blog to load if you do not have fast and reliable internet access.

Today I am discussing how to increase internet speed and accuracy with simple adjustments. Just follow these simple steps to get the maximum internet speed provided by the service provider. Before going to configure your Windows PC, check the Internet speed.
How to speed up your Internet?
---
Let's go over some of the most important ways to boost your internet speed.
Most of the internet service providers are advertising greater speed than other providers as a "potential." But in fact, you will never get that speed.
So it's better to ask your service providers to test your current speed and its DNS leaks. You should know the actual attainable speed in your area.
It helps you improve internet speed by slowing down your internet problems, and it saves more time.
Below are a few possibilities to speed up your internet.
1. Check with different router/modem
Choosing a good modem is the perfect choice to speed up your internet connection. I used more than four modems. But I'm not getting the advertised speed from my ISP. Recently, I changed to a NETGEAR N150 modem. It is fantastic and protects from frequent internet dropouts. The biggest advantage of this modem is that it is equipped for ADSL2+. Most of the old modems weren't equipped with these features. So pick the perfect and most suitable modem for your needs.
2. Check on-system interference
If you are using virus scanners and Internet protection suites, maybe they will interfere with your internet speed. This is a very bad experience for every internet user, including me. To resolve this issue, I disabled my system's virus scanners and protection suites and tested its speed. Surprise. I got great speed without using my already-installed virus scanner.
3. Scan it for Viruses
Regular scanning is very important to get better internet speed. Finally, I started my research to solve my issue. Now I am very happy with 360 Total Security, and it checked everything in my system/laptop and provided indications of possible ways to slow the internet. Finally, this security suite speeds up the internet without slowing down my system. I've had this security suite for four years.
4. Update firmware and software regularly
Your modem or router has its own software. You have to update frequently when the device provider releases an update. To update this, you need to follow the brand's official site for updated information.
5. Check the ISPs and router settings
When you login to the modem/router settings page, you will see a bunch of settings. Most of the devices are configured with default settings. This is not a good option. You can change the configuration based on the devices you use in your home or office. For these settings, you need to go to their official website for better settings.
6. Decrease the Distance
If you are using a wireless modem or router to connect to the internet through the laptop, you will find the connection dropping every second. Here's a quick way to avoid this connection drop: Just keep the router close to your PC or laptop. The router will overheat if it is not closer to your desk. After a few days, the modem's or router's life span will be decreased due to overheating.
7. Check the Internet cable settings
If all of the above are good, it is time to contact your internet service provider and modem company to test your line. The ISP provider will send a worker to investigate and check your cable lines. If they find any problems with the cables, they will rectify the problem. It can sometimes double your internet speed. They will check your WiFi speed test as well.
8. Minimize the number of devices
This is the best possible way to get better internet speed. Establish single-device usage by disconnecting other wifi-enabled devices like printers, smartphones, gaming devices, and additional PCs (if you are not using them). If you do this, it gives you the best internet results.
9. Use Wifi Range Extender
Wifi range extenders are the smallest device than a modem. It aids in the extension and amplification of the wifi signal. This is a cheaper solution than buying a new router.
Types of Internet Connections and Speed
There are so many internet connections available. A few are discussed below:
Dial-up Internet Access: It's providing speeds range from 2400 bps to 56 Kbps.
ISDN – Integrated Services Digital Network: Typical ISDN speeds range from 64 Kbps to 128 Kbps.
Wireless internet connections: The speed range is between 5Mbps to 20 Mbps.
DSL – Digital Subscriber Line: DSL connection speeds range from 128 Kbps to 9 Mbps.
Cable – Broadband Internet Connection: Cable speeds range from 512 Kbps to 20 Mbps
T-3 Lines – Dedicated Leased Line: Typical T-3 supports speeds ranging from 43 to 45 Mbps.
OC3 – Optical Carrier: Speeds are 155.52 Mbps.
How do I test my Internet speed?
This is the first question for every internet user. Here I am providing an online internet speed test service providers. Just check your internet speed by using these service providers.
The most popular Internet speed checker is SpeedTest from Ookla (the global standard in network testing).
How to increase Internet Speed in Windows 10?
To increase internet speed, try these simple hack settings. I used this method on my Windows 7, 8, and 10 computers. I am getting better internet speed than I expected.
Step 1: Open Run command from the Start menu or from Task Manager (File > New (Run) or Windows + R).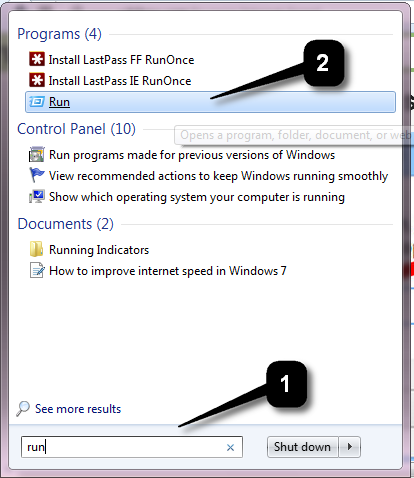 Step 2: Enter "gpedit.msc" in the Run box and click on OK.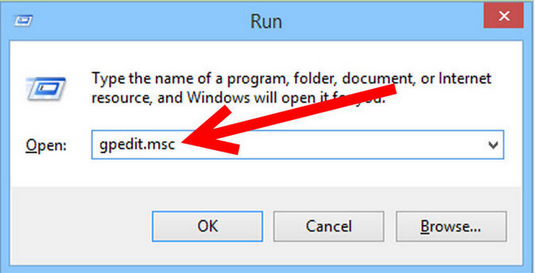 Step 3: A window will open that is called "Local Group Policy Editor." Now follow the route. Local Computer Policy > Computer Configuration > Administrative Templates > Network > QoS Packet Scheduler > Limit reservable bandwidth.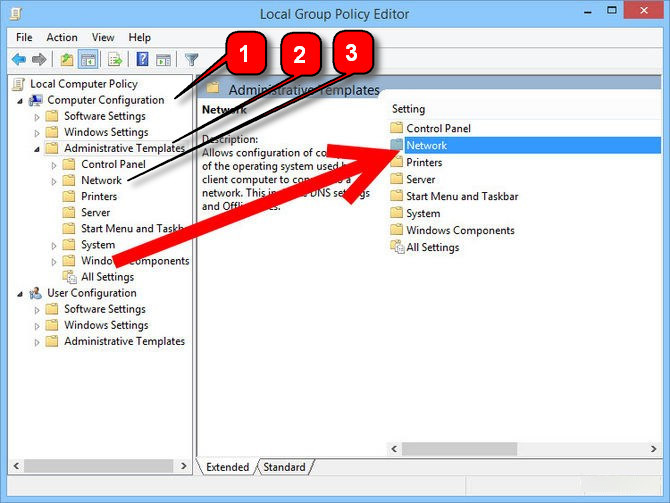 Step 4: After selecting Local Reservable Bandwidth, the final window will open. Windows 10's default setting is "Not Configured."
Step 5: Select the Enabled option, and then look for the bandwidth limit in the left-hand Options box. It shows 80%, it means Windows 10 is still reserving 20% of the current bandwidth available.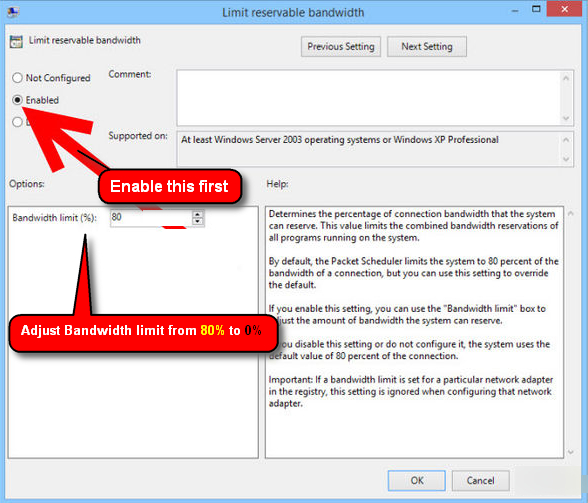 Step 6: Now set the bandwidth percentage from 80% to 0% (zero percentage). Then click Okay.
Step 7: Run Disk Cleanup and restart your browser. That's it.
Now your computer is utilizing 100% of the total bandwidth provided by your internet provider.
Please share this useful article with your friends through social media like Facebook, Twitter, and Linkedin by using below social sharing service. Do not forget to subscribe to our Youtube Channel.