How to improve or increase typing speed and Accuracy on the Keyboard?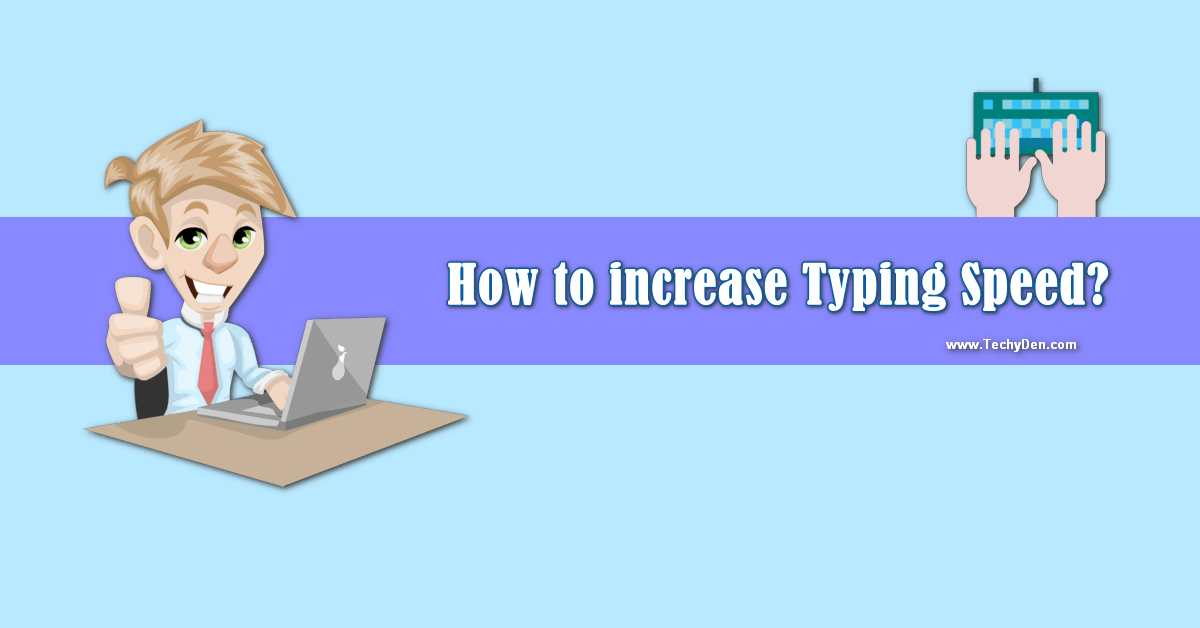 Are you searching for typing practice methods online? If yes, you landed the perfect place. In this article, we are discussing the basic methods on how to increase typing speed for beginners on a computer keyboard? That may be an email or a blog post or even a simple matter.

For starters, it will be weird to think about having a good typing speed. But it is an essential thing in any field you enter in. No matter the field which you have entered, there will be a computer and in which times comes for you to start to write something.
The only thing to increase typing speed is to have time efficiency. Many beginners on starting to increase your typing speed online do the only mistake. That is they ignore the mistakes. It should not be done.
Improving your typing speed is good but not by leaving out the accuracy. Accuracy in typing is as essential as speed.
The fastest typing range is not specified, but the average typing speed is 38 to 40 words per minute. If you are able to reach that speed it is more than enough. Repetitive practice of typing helps you the most in improving your typing speed.
The world record in typing is 216 words per minute struck by Stella Pajamas.
How to increase typing speed on a computer? (Things to know)
---
Best way to improve typing speed and accuracy, sitting before a computer is not sufficient. There are different things to be remembered while learning to improve typing speed on a computer.
1. Learn the basics of Keyboard
Before doing anything that is learning to improve typing speed, get a good keyboard that you will be comfortable with. Make sure that the keys are not so small or not so big.
Many of us select small size keyboards for their computers thinking of space efficiency. Remember that less the size of the keyboard harder it becomes the speed and accuracy.
2. Typing positioning of Your Hand
The other important to know about the style of hands while typing. The hand placement also impacts the most on the speed of typing.
Learning to type faster requires a number of things. First, you have to learn the proper and comfortable typing positions. It increases your overall typing speed.
Typing speed 10 fast fingers is on what your typing speed depends upon. Your fingers should be able to move very fast through all over the keyboard. Each finger should be rest on the specified keys on the computer keyboard.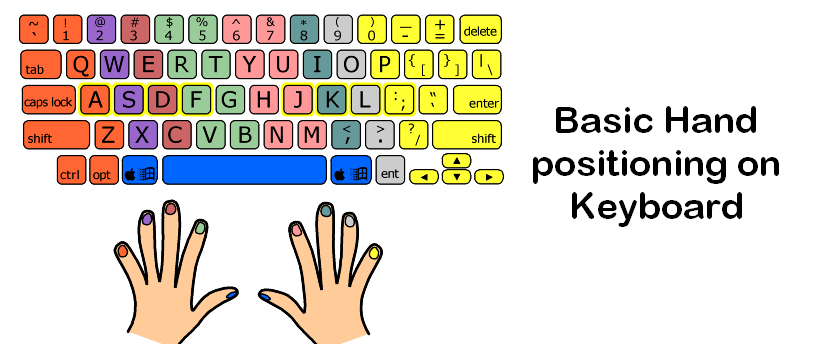 In typing rules, every key is specified for a finger of your hand, by which you will be able to type every letter of English.
On the English (US) keyboard, to indicate these finger keys there will be two identification marks on the keys F and K.
Even though the keyboards are of UK English, each may vary in the features. Be sure to know all those and try to familiarize yourself with it.
Read all the instructions of the keyboard for special keys in the keyboard that help you improve typing speed on the specified computer.
Get used to the home row i.e… "A" "S" "D" "F" is for left hand four fingers respectively and "J" "K" "L" ";" keys for the right hand. Keep "F" and "J" for index fingers.
Left Index finger: "F" "R" "T" "G" "V" "B" and numbers "5" "6"
Right index finger: "J" "U" "Y" "H" "N" "B" and numbers "7" "8"
Left middle finger: "D" "E" "C" and number "4"
Right middle finger: "K" "M" "I" and number "9"
Left ring finger: "S" "W" "X" and number "2"
Right ring finger: "L" "O" "." and number "0"
Left little finger: "A" "Q" "Z" and number "1"
Go for space bar with both the thumbs
3. Online Practice typing Services
To improve the typing skills you need to practice more and more. It is also good to practice the same thing regularly. Check out the sentence below.
"A QUICK BROWN FOX JUMPED OVER A LAZY DOG"
This sentence gives you the perfection to improve typing speed as this sentence consists of all the English alphabets. I am using these two services to increase my typing speed. To increase your speed, you have to follow these sites and practice the typing as per their instructions

There are many online and offline tools that help you in improving your typing speeds. One of the best tools to increase your typing speed is the typing master. In the typing master, you will be able to learn your typing course through lessons.
To improve typing speed games are also available in the typing master. In the typing master, the repetitive practice on the same keys with dedicated fingers makes you improve typing speed fast.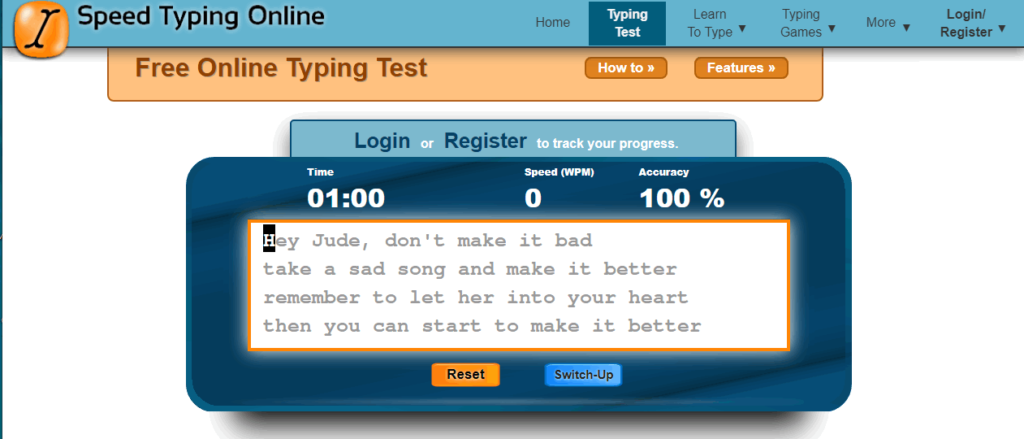 The speed typing online is another best tool to test your typing speeds. On this website, you can directly check your typing speed without even downloading any website. Anyone who is interested in improving typing speed but does not have a suitable Android app for that can go to this website.
In the Speed Typing test, you can even share your typing status on Facebook, Twitter or email. There are also some other websites that give you good typing features.
Conclusion
To improve typing speed practicing on keyboard daily is the essential thing. Many people think that typing is not a big deal. But it has much potential. Let us assume writing a post on social media. You should be faster than others. How it will be possible if you strike one key per minute. It will take a lot of time.
So it is so essential to boost up your typing speed. As said above there are many essential apps in app stores to improve your typing speeds.
While learning to improve typing speeds, you have to focus on finger strokes. You need to make an imaginary map in your mind. When you need to strike a letter "G", you should not look at the keyboard every time.
You should get an idea to move your left index finger. This will make you improve your typing speed rather than just acquiring accuracy.
You can also refer to some other games to improve your typing. Sometimes you get bored typing the same 26 letters again and again. In those cases, there will be special games to increase typing speed. In these games as you play games learning also is included in them.
For example, if you are playing a TypeRacer game you will be driving a car competing with others. The faster you type the faster your car moves. In this way, you can have your free time playing-learning.
Simply go through the above processes and you will be having a good typing speed. Remember, typing speed is not that important if your accuracy is bad.
I think this article on How to increase typing speed? is helpful. If you think it is helpful, do not forget to share this with your friends via Social media.