How to Setup Schedule Disk Defragmentation in Windows PC?
Every PC user should learn What is and how to defragment your computer. There is a number of third party software available on the web. But default disk defragmentation software is very good in windows 7 and 8. In this tutorial, I am discussing
In this tutorial, I am discussing How to configure Disk Defragmentation in Windows 7 and 8. Simply, disk defragmentation means reordering of your files within your hard disk, which speedups your file accessing in Windows PC.

One of the advantages is Windows 7, 8 and 10 have default setup for scheduled maintenance. If you want to change this schedule according to your needs just follow this tutorial.
Let us follow the setup now:
How to configure the Disk Defragmentation schedule in Windows 7?
Step 1: Open Defragmentation tool
Windows 7:
To open up the disk defragmentation utility, just type defrag into the Start menu search box and hit enter. Vista users will have to click through a UAC prompt, but you should see this screen in windows 7:
Windows 8:
In the case of Windows 8, move the cursor at the bottom right side, then click on the Search button on the Charm bar. Now search with the keyword "Defragment" in Settings then click on "Defragment and optimize your drives".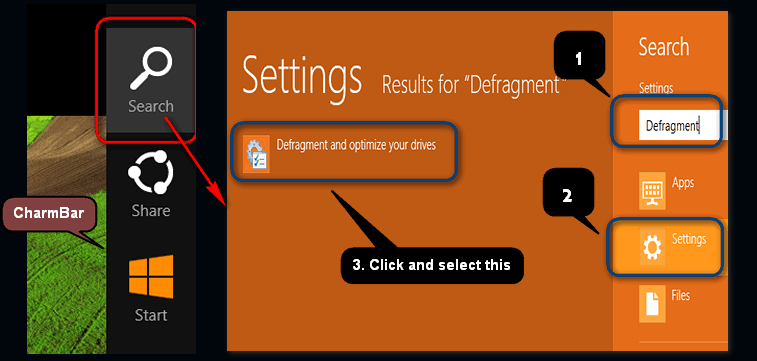 Step 2: Choose Configure Schedule
Windows 7 users will see a very similar dialog, and will need to click the "Configure Schedule button"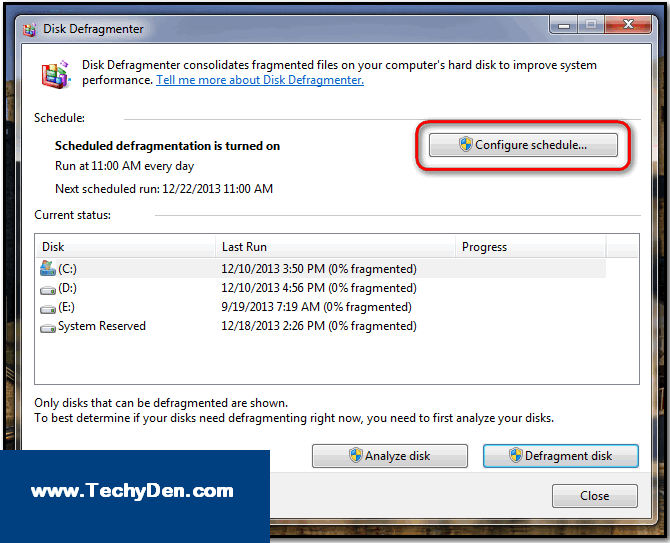 Step 3: Modify the Schedule
From this screen, you can disable automatic defrag by unchecking the box. You can also modify the schedule by clicking the Modify schedule button (no surprise there)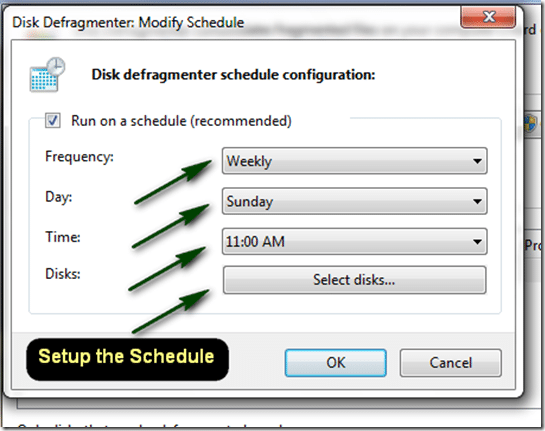 Step 4: Select Disks to schedule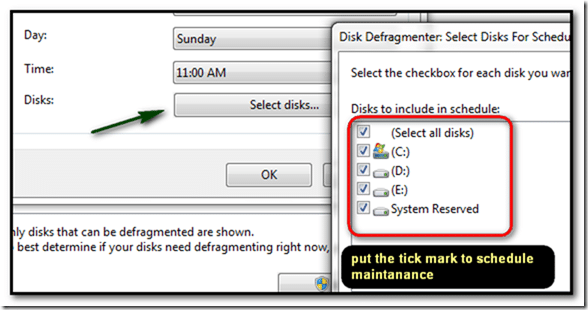 Now set up the schedule by selecting specific drives by the checkmark. Then click on OK. Now your schedule time is ready to run at a specified time. Really it speeds up your PC.
I have three drive on my computer, but you would see the list of all the drives here.
Before clicking on the Configure schedule button, you can click on the Analyze disk button to determine whether a specific disk really needs to be defragmented or not.
If the disk that was last run disk defragmentation on shows 10% or more under the Last Run column, then it should be defragmented again.
Similarly check for other drives also.
If anyone of them shows more than the required amount under the same column, then it needs to be defragmented.
Conclusion:
So no need to call your system admin or Computer repairing shops to speed up your Internet and PC. that's it.
If you are on Vista and using at least Service Pack 1, you can also select which volumes will be automatically defragmented during this scheduled disk defragmentation (Windows 7 users can select the volumes from the start screen).
The default Microsoft Disk Defragmenter Windows 10 is also available. use the above steps to schedule the defragmentation.
Hits: 0