Are you ready to know the basic process of Google Chrome web browser installation? This article explains how to install Google Chrome on the Windows 11 operating system.
Google Chrome is a fast web browser available at no charge. It is fast, user-friendly, and has many features that make it a great option for online browsing. If you're new to using Google Chrome, or want to learn how to install it, this guide will walk you through the process.
If you're looking for the fast, user-friendly, and secure browser? Then you'll want to download and try Google Chrome. This browser is known for its quick loading times and high-security standards, making it a great choice for online users. This is the best web browser which makes browsing fast.
The Google chrome fast web browser available for types of all devices and platforms.
Chrome is available on a wide range of devices, so you're sure to find a version that works well with your computer. This article will show you how to install Chrome on your computer.
How to download and install Google Chrome browser?
Google Chrome is one of the most popular web browsers in the world. It is a great tool for surfing the internet and making web-based applications.
It has a sleek design, fast loading speeds, and secure browsing features that make it an excellent choice for users of all levels.
It offers various extensions, such as ad blockers, password managers, and other tools to help you customize your experience.
The Chrome is highly compatible with various OS and devices, making it easy to access your favorite websites from any device.
Its user-friendly interface makes it easy for even those who are new to computers to quickly understand how to use it effectively.
Above all, Google Chrome is a powerful platform that allows users to access the latest information quickly and securely – making it an indispensable tool in today's digital age.
let us discuss about how to downloads and install chrome on windows 11.
How did I download Google Chrome on Windows 11?
Edge is already installed on Windows 11. Because Edge is based on the same code as Chrome, it functions and feels practically identical. If you prefer, you can download Chrome to your computer using Edge. Before you download, you can check if chrome supports your computer operating system and you have all the other system requirements.
This article tells you how to install Chrome on Windows 11, including how to make google Chrome your default web browser. If you want to install chrome browser and steps to get google chrome and methods for installing browser from google.
On Windows computer, here's the process of how to download Google Chrome:
1. To get chrome, first Right-click and open the Edge browser from your taskbar.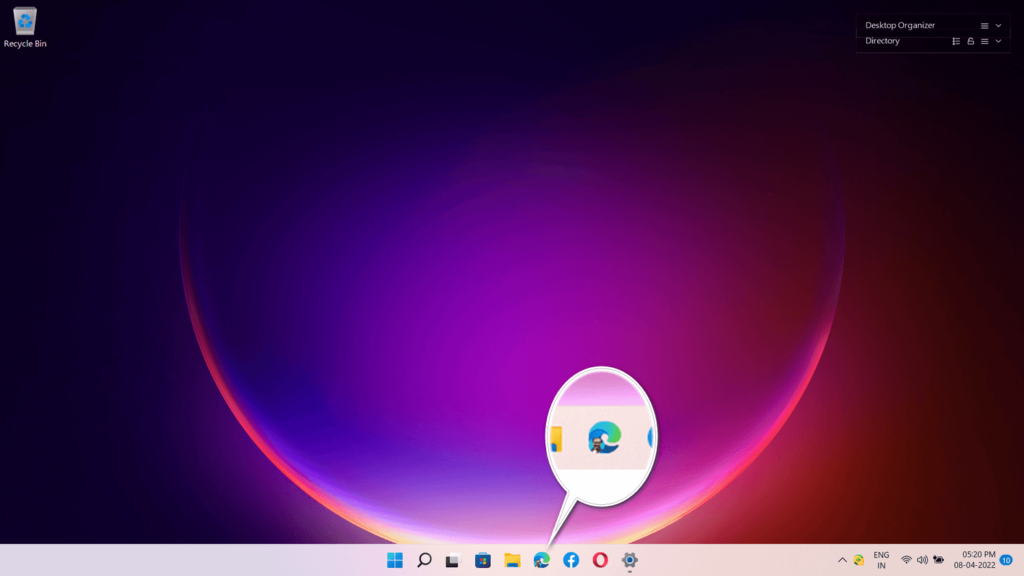 2. If the edge icon is not there on the taskbar by default, you can find it by searching the term in the search icon. Then go to Google Chrome official page.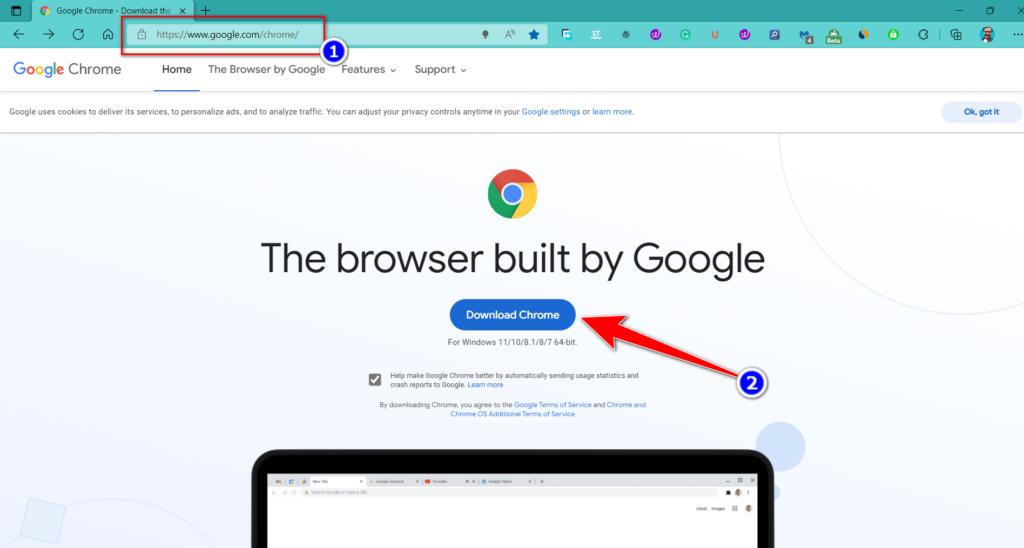 3. Now click on the Download Chrome button. Finally, save the file on the desktop by choosing SAVE AS.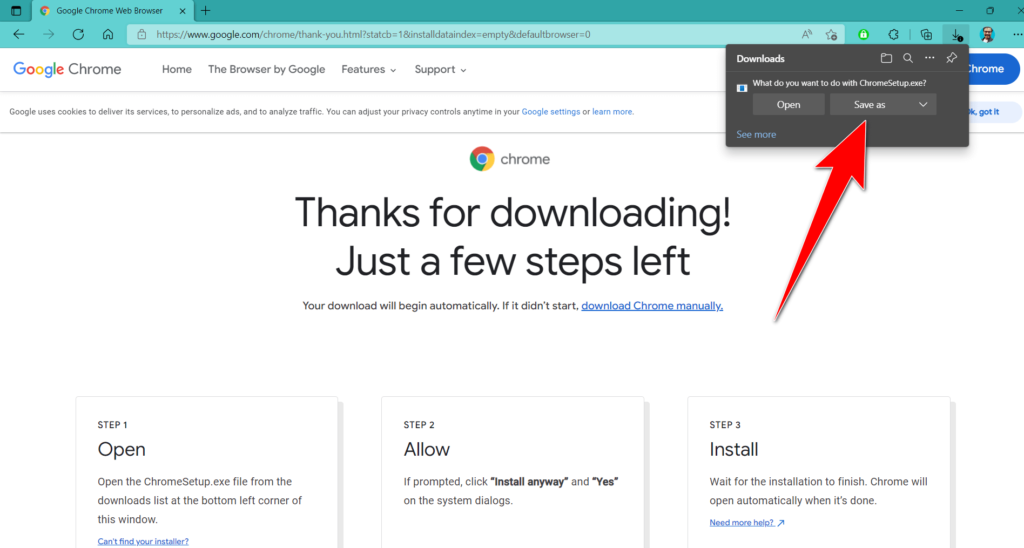 4. Once you finish the download, click "open the file" if you want to start the installation process.
How Do I Install Google Chrome on Windows 11?
After you've downloaded Google Chrome, simply clicking the Open File button in Edge or using File Explorer to navigate to the location where you downloaded it will start the installation process.
On Windows 11, here's how to install Google Chrome:
1. If the Downloads popup is no longer available, tap the three dots icon in Edge's upper right corner and choose Downloads. Instead, you may select Open file if you just downloaded Chrome via Windows 11.
A white circle with a black border surrounding a chevron pointing up. It indicates 'click here to go back to the top of the page.'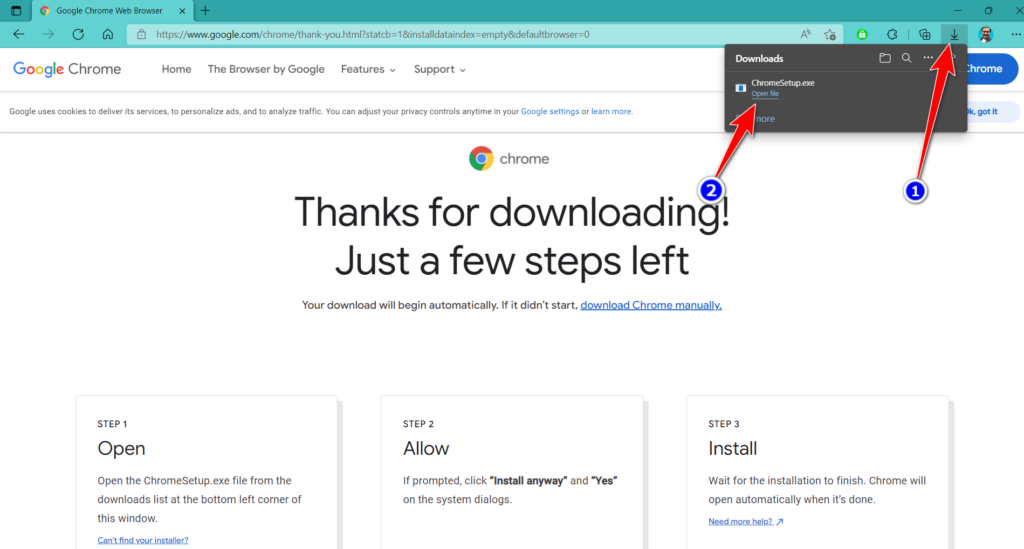 2. Open File Explorer, go to where you downloaded Chrome, and double-click the ChromeSetup icon if you don't have Edge open anymore.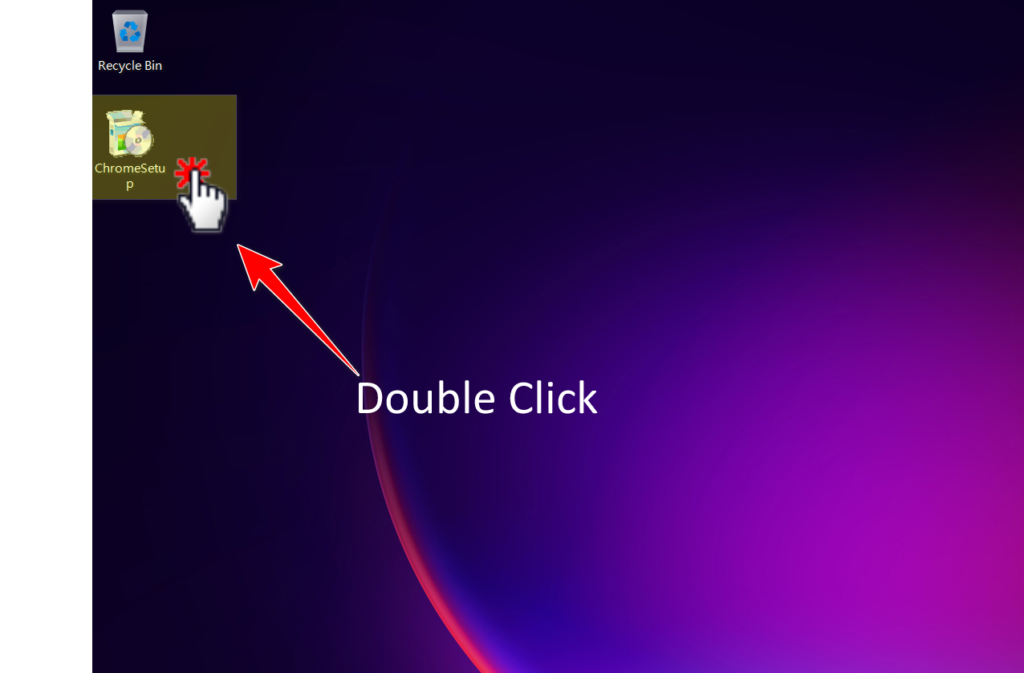 3. Tap "Install" to download and install Chrome, then tap "Accept." Chrome will install. The online installation will be start, and it launches automatically.
The installer will start and you will have Google Chrome installed when it has finished. Depending on your browser settings, you may need to allow the program to run.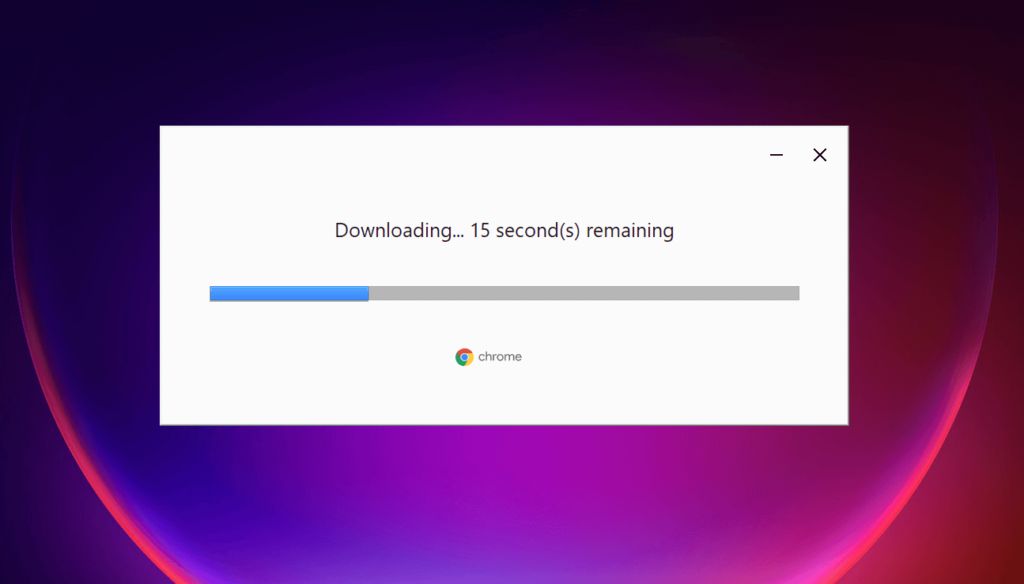 4. If you're new to Chrome, click Get Started to set up the browser with your preferences, or else Sign In if you've previously used it.
After installing, a Chrome window will open showing first-time use information.Typing a website address into the URL bar will get you started.
How to Make Chrome your Default Browser on Windows operating system?
In older versions of Windows, you could choose a different default browser, but it was easier to do so. You can't just alter a single option, nor may you set Chrome as the default application for every file type that a browser may handle.
For basic usage, Chrome must be set as the default app for.htm and.html files. You'll need to customize over a dozen file types for more serious use.
Here's how to set Google Chrome as your default browser:
1. It is a way to get to the required menu quickly. In the taskbar, right-click the Windows icon. Right-click on Windows icon > Settings > Apps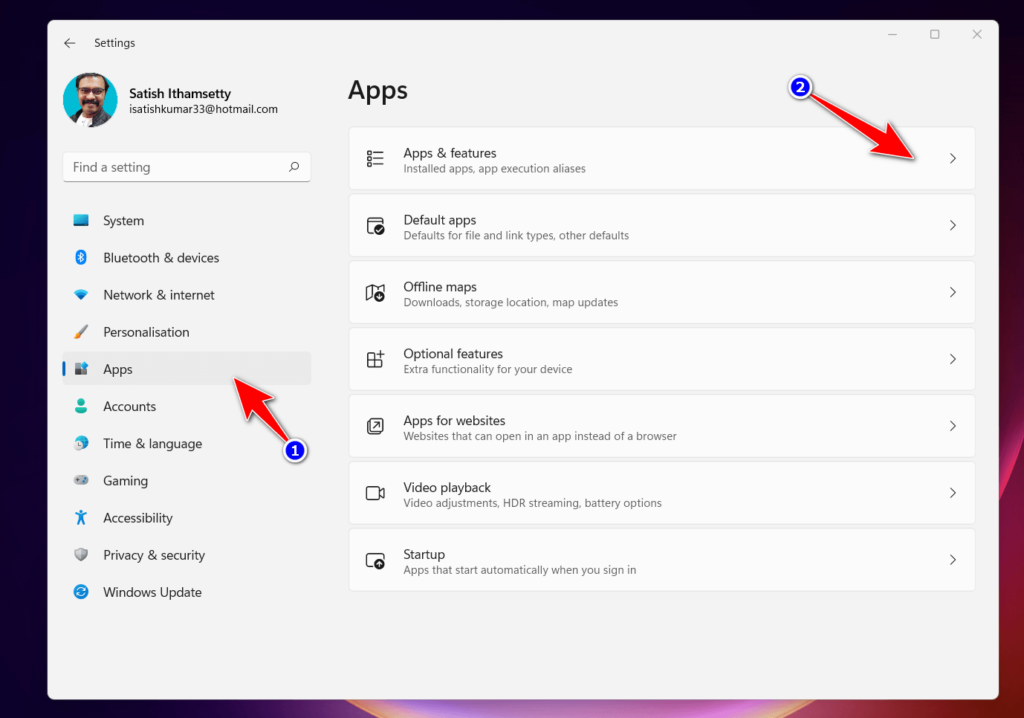 2. Then Go for Default apps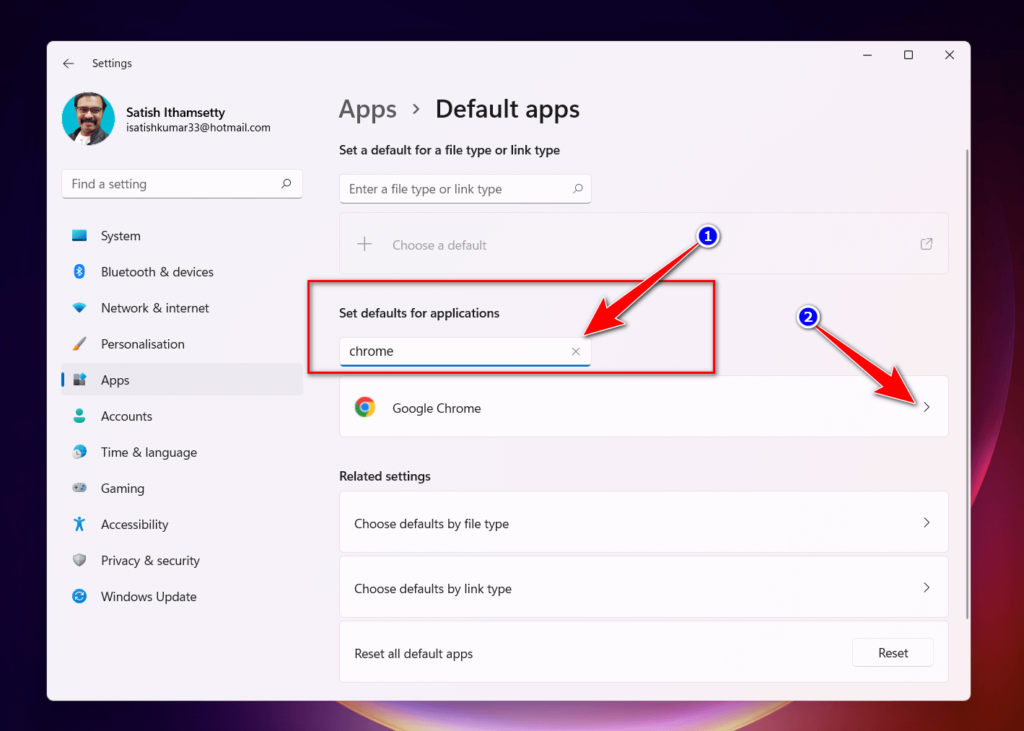 3. Then type Chrome into the "Set defaults for applications" search field, and now choose Google Chrome from the results. Now click the box under .html.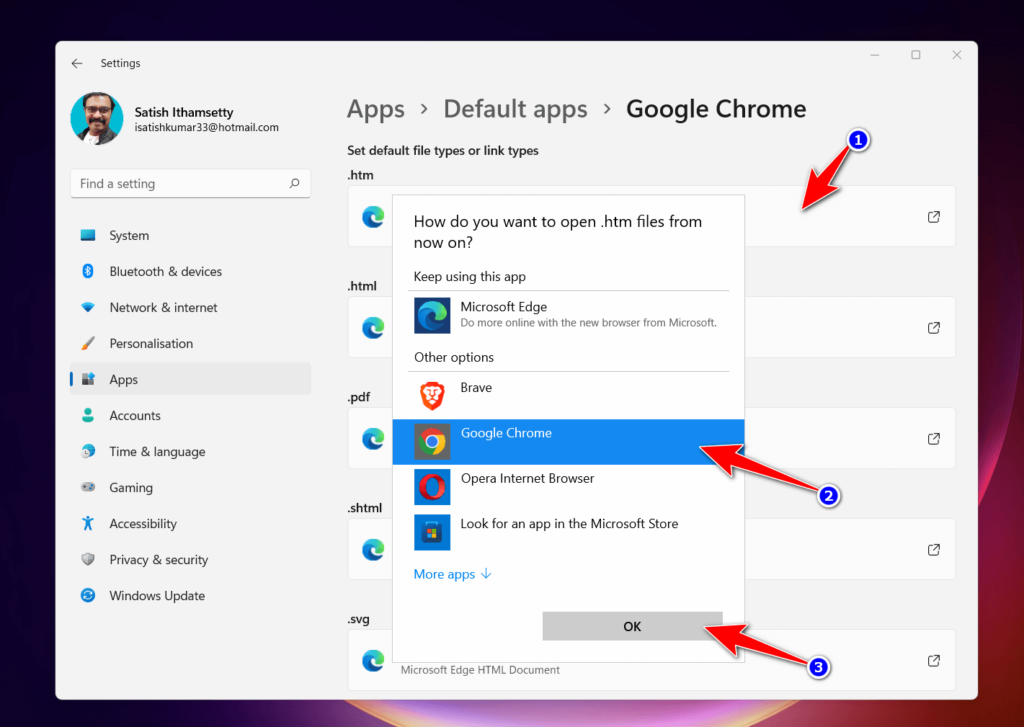 4. Finally, select Google Chrome and hit OK.
Chrome is now the default browser for.htm and.html files.
If you don't know the admin password, drag Chrome to a place on your computer where you can make edits, like your desktop.
After the Chrome browser is installed on your computer, you can add the Chrome icon to the Taskbar for easy access to the browser.
Frequently Asked Questions (FAQs)
What is Google Chrome?

Google Chrome is a fast web browser available on web and developed by Google. It was first released in 2008 as a beta version, and it reached general availability in early 2009. According to NetMarketShare, as of October 2021, Chrome had a market share of 69.28 percent.

Is Google Chrome free to download?

Yes, Google Chrome is free to download. Google Chrome is a free web browser available on both desktop and mobile devices. It offers features not found in other browsers, including a built-in ad blocker, enhanced security, and a fast web browsing experience. Additionally, Chrome is fully open-source so that you can customize it to your liking.

How do I install Google Chrome on Windows 10?

There is no definitive way to install Google Chrome on Windows 10, as different users have different preferences and needs for software installation. It is possible to install Google Chrome using the Microsoft Store or by downloading and installing an installer from the Chrome Web Store.

How can I install Google Chrome on Linux?

There is no one-size-fits-all answer to this question, as the installation process for Google Chrome varies depending on your Linux distribution and version. However, some general tips that may help include searching for tutorials or forum posts specific to your chosen Linux distribution or version of Chrome and following instructions provided by those sources. Additionally, many Linux distributions provide their package management tools, making installing software packages like Google Chrome much easier.

Can I install Google Chrome on my smart TV?

Google Chrome is one of the most popular web browsers today. It has a sleek and user-friendly interface, and it offers many features not available in other browsers. Chrome can be installed on smart TVs so you can access your online content without using a separate application.

How do I install Google Chrome on a Mac?

First, open the App Store and type "Google Chrome" into the search bar. Once it appears as an app, click on the "Get" button. Click on the "Download" button next to the blue platform icon (if you're on a PC) or the "Install" button next to the yellow-and-blue arrow icon (if you're on a Mac). After downloading Chrome, open up your Applications folder, and drag the "Google Chrome" icon there. If you have a checkmark next to an app, you must click on it before an OS update for that particular app or application.

How do I install Google Chrome on Ubuntu?

First, you need to install the app or Google Chrome package from Ubuntu software center. You can do this by entering the following command in a terminal: sudo apt-get install google-chrome-stable

After the installation is complete, you need to open Chrome window and sign in with your Google account. Next, you must go to the "Extensions" tab and click on the "Add extension" button. You will be able to select the ".crx" file that you downloaded earlier and click on the "Open" button. Chrome will then prompt you to allow the extension to access your browsing history. Click on the "Yes, allow this extension" button, and Chrome will be ready to use!
Final words
Installing Google Chrome is an easy task, and with this guide, you'll be on your way in no time! By following the steps outlined, you'll be able to install it on your computer, laptop, or mobile phone in no time at all.
You can find the related articles for easy reference
We hope you found this article useful and that it will help you get more out of your browsing experience on the web. Stay tuned for more helpful guides like this in the future!