Parents have some concerns about controlling their children from misusing the internet and technology in this digital era. Parents always teach good principles to children, and it has been very difficult to keep the children away from the negative influence of technology.
Technology gives life to people, but it can also kill people. Parental controls play a crucial role in keeping an eye on technology usage.

Parental controls help to limit the activities that children do with electronic devices. It is a fact that parental controls may not always be trustworthy, and children with some technical advancement may find a way out of the parental controls.
Much of the online content is not child-friendly. There are violent video games, sexual and abusive content, and untold forms of musical lyrics.
Technology is updating, so are the people. Once upon a time, having a landline phone in a house was very exciting news. If a person does not maintain a smartphone, it will look surprising.
As we are addicted to mobile phones, we also make our children learn how to use smartphones and tablets.
When I was a child, it was barely a miracle that I got a mobile phone to play games on. Letting our children use smartphones and learn about new technology is not the wrong thing. But we should always keep an eye on our children when they use smartphones.
There will be many applications on present-day smartphones that may unnecessarily give unwanted information without our knowledge.
As adults, we understand what the smartphone shows us. But children cannot differentiate between the good and bad content provided by smartphones, so they learn whatever they see.
So it is always important to control whatever our kids watch and do on their smartphones.
Best Parental Controls to monitor child activity on the Internet
1. Smartphone Without Internet
It is always advisable to hand your smartphones to your kids only after removing access to the internet or Wi-Fi. If you want your kids to do unnecessary activities on the internet, download essential apps like games, children's videos, and study apps onto your smartphone and give them the mobile. This way, you can keep your kids within the boundaries.
Also, make sure that important applications like messaging and calling are protected with a password so that your kids do not make unnecessary calls and messages.
2. Android Inbuilt Parental Controls
Almost every Android mobile phone has an Android version of 4.2 or above; built-in parental controls are included beforehand. What you need to know is how to use them. The first thing in Android's inbuilt parental controls is to create multiple users when you open your mobile. Add a user account for kids. You can set a password to log out of that user's account, and you can also keep a password to change the user's settings. To add a user to your Android mobile, follow the below steps.
Click on the Settings option on your Android mobile.
Now scroll down to the option "call users" and select it.
Then, click on the "Add User" button and click on "Set Up."
Now. You will be logged out of your smartphone. Login to the necessary account and make the required changes to block the apps you don't want your kids to open.
3. Parental Control in Google Play Store
Today, kids know how to download new apps and games onto their Android mobiles and use them. So, there is a chance that your kids may download inappropriate apps for their age.
You can avoid this by entering parental control restrictions in the Play Store. It will prevent your child from accessing unwanted apps in the Play Store. You can also set limits on the download of applications. When it comes to apps that you should pay for, you can also set a password that you need to enter every time you purchase a product in the Play Store.
To restrict Google Play Store features, follow the process discussed below to change the parental control settings.
Go into the Play Store and select the three-line button on the top left corner.
Options like games, movies, music, and much more will appear.
Select the 'Settings' option, and it will open the list of settings for the Play Store.
Finally, you will see 'parental controls" 'under the user controls option.
Click on it and slide it to the ON position.
You can set restrictions on apps, games, and music in the panel. Select the option and create a pin that the option will prompt you to use.
The restricted mode will be on whenever the play store is open. So, if your kid is using the mobile, he doesn't know how to switch it off.
4. Inappropriate Content from the Internet
Today, kids are accustomed to apps and games alone on Android mobiles. But in some cases, your kids may also be searching for something in Chrome or any other browser. You can not control what the internet shows your kids in such situations.
So, to avoid this, you can switch to a safe search in your browser. To do that, you can follow the below process.
Open the browser and click on the menu, which will show you a list of options.
In the menu, select the 'Settings' option from below.
Under the 'Advanced Settings' in Settings, click "Privacy Option."
Now a list of options will appear in which you will find an option named 'Safe Browsing."
Switch it to the ON position.
It will restrict unwanted content on the internet from being displayed to your kids.
5. Websites Specified For Children
Some website is designed to enable children to enjoy the web content. Let us have a look.
1. Zoodles
Zoodles is a service that supplies free games, books, videos, and other child-friendly content. It is available for free with premium features.
2. Kiddle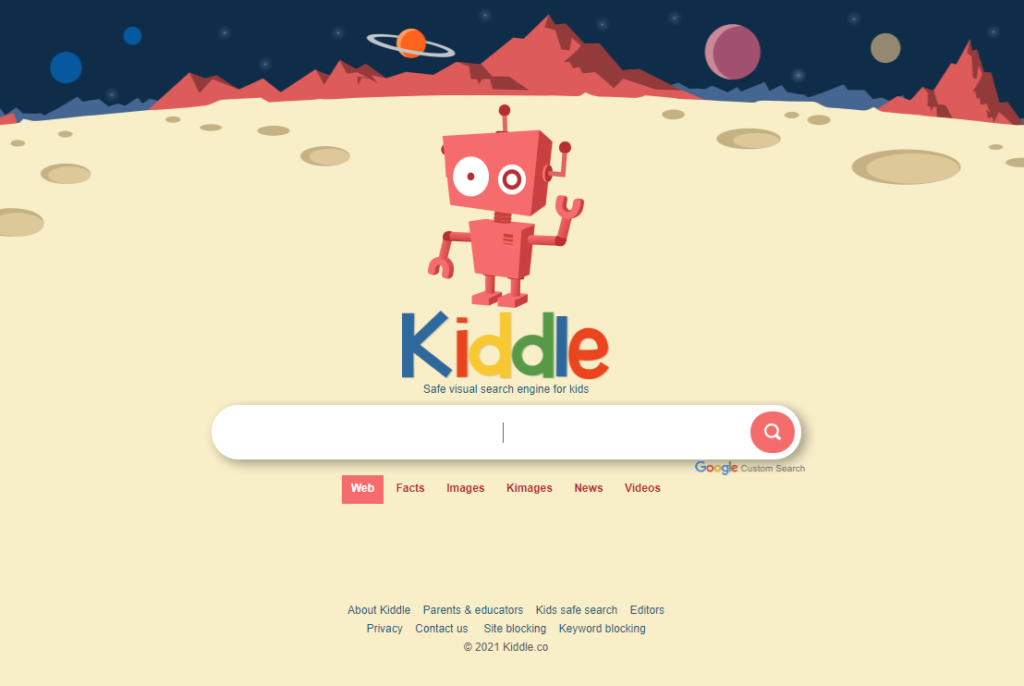 Kiddle is a search engine like Google, but it is not affiliated with Google. As far as child-friendly web content is concerned, Kiddle caters to child-friendly web content. It is safe for children, and the search engine restricts the harm to the children.
6. Have a Talk with Your Children
Sometimes, parental control may not help parents limit their children's activities online. It is better to speak to the children directly, and parents should speak to the children to understand the advantages and disadvantages of the internet.
Parent should teach their children about cyber laws. They are supposed to tell their children to keep themselves away from the negative things available on the internet. Explain Mind mapping techniques.
What are some different types of parental control?
Several different types of parental control can be used to monitor and regulate children's internet usage. The two most popular types are content filters and time restrictions.
Content filters: Content filters work by blocking content from reaching your child's device unless it has been pre-approved. You can install content filters on computers, tablets, and smartphones. Some content filters will block all content from reaching your child's device, while others may allow specific sites to be accessed with a password or PIN code.
Time restrictions: Time restrictions limit the amount of time your child can use their device each day. These limits can range anywhere from one hour per day to 12 hours per day or more, depending on the restriction you choose.
Frequently Asked Questions (FAQs)
What is parental control?

Parental control is a set of software and hardware designed to limit a child's time on their digital devices. Parental control is a set of software and hardware designed to limit a child's time on their digital devices. Many different parental controls are available, including filters, blocking tools, and content blockers.

What are the benefits of parental control?

Parental control is a way to monitor and restrict the use of the Internet by children. It is a form of parental supervision that helps parents protect their children from content that they may find objectionable.
The benefits of parental control are:
-Helps parents to monitor what their children do online
-Helps parents to make sure that their child does not see inappropriate content
-Helps parents to educate their children about the dangers of the Internet.

What are the drawbacks or limitations of parental control?

Parental control is a great way to keep children safe online. However, it has its limitations. For example, You can't use it to block out specific websites or content types, and it also can't be used in the same way that parents would like to monitor their children's activity on the Internet, which can lead to severe problems.

How does parental control affect children's development?

Parental control is a tool that parents can monitor their children's behaviour and limit their access to the Internet. It is done by using software such as parental control apps or web filters.
Parental control tools are used not only to monitor children's online activity but also to limit their access to certain content. For example, parents can block inappropriate websites or specific categories of websites such as social media, games, or shopping.
There are many ways that parental control affects children's development, but the most important thing is that it helps them stay away from online dangers and inappropriate content.

How can parental control help parents?

There are many ways that parental control can help parents. It allows them to set a boundary for their children, and the borders are mainly up to the parents. They can also choose to monitor their children's online activities, which they may not have been able to do before with other tools. The most significant benefit of parental control is that it helps parents feel more in control of their child's life. It is something that every parent wants and needs.

What are the pros and cons of parental control?

Parental control is a set of tools that You can use to limit and monitor a child's use of technology. The pros of parental control are that it can provide parents with peace of mind and comfort in knowing what their kids are doing online. The cons are that it may lead to the children feeling like they're being watched, and they may feel like they cannot freely explore the Internet.

Is it possible to block all content on the Internet with parental controls?

Parental controls are used to block content on the Internet, and it is not possible to stop all content on the Internet with parental controls. Parental controls are not an effective tool for blocking all content online, and they only work for a specific type of content and can be overridden by other users.

What are the best parental control tools available in the market?

There are many parental control tools available in the market. Some are free, and some that have a monthly subscription fee. Some of the best ones include FamilyTime, Norton Family Premier, Circle with Disney, and Qustodio. FamilyTime is a parental control app that offers location tracking, time management, and screen time management. It also has a family-friendly social networking platform to share family moments with other parents who use the app. You can use it for free for up to 5 devices with limited features or $4.99 per month for unlimited devices and components. Norton Family Premier is an app that allows you to monitor your child's phone usage remotely from your device or computer. It also provides reports on what they have been.

What is a Virtual Private Network (VPN)?

A Virtual Private Network (VPN) is software that allows you to connect to a private network over the Internet. It helps you access content usually restricted in your country, like websites and TV channels.

What are the advantages of using a VPN?

VPNs help you access content that is usually restricted in your country. But they can also offer other benefits depending on the type of VPN service you use. For example, some VPNs will keep your connection secure and encrypted so that no one can intercept it and see what you are doing online. Others may allow you to get around government censorship blocks or geo-restrictions set by streaming sites like Netflix or BBC iPlayer.

Do I need technical knowledge to use a parental control tool?

No, parental control tools are designed to be easy to use. Whether you're a parent, you don't need any technical knowledge to use these tools.
Conclusion
As parents, you use parental controls to keep your children away from the misuse of technology. Technology is there to make people happier, safer, smarter, and more comfortable. But if it is misused, negative results will emerge.
Parents should maintain the emotional bond with their children and prepare them mentally not to use technology or electronic devices incorrectly.