As we talk about PowerPoint presentation the very important that is to be regarded in PowerPoint is the templates. The good the template, the good will be the presentation. To do that, we should opt for professional PowerPoint templates. By using these professional PowerPoint templates our presentation will be much decent and professional.
These PowerPoint presentations can be done on many platforms. Some of the important platforms of PowerPoint presentations are like Microsoft Office, Open office.
Along with the Microsoft Office PowerPoint, these PowerPoint presentations can be even done on these platforms.
Even though it is the best PowerPoint creator with many professional PowerPoint templates the main drawback in MS Office is that it is a premium version. All the new Templates should be bought in the MS Office.
There are free professional PowerPoint templates that are provided by many Template providers these days.
How to make professional PowerPoint templates in MS Office?
---
If you have purchased a premium MS Office suite there will be a set of templates previously installed into it. You can just simply make use of these templates.
Since the MS Office will be a premium one you will have professional PowerPoint templates in it. Here is a step by step procedure to set up a professional PowerPoint template for your presentation.
Step 1: First of all, open the PowerPoint by the Microsoft Office installed in your PC. If you do not have a Microsoft Office you can buy and download it from the Microsoft official sites.
Step 2: After installing the MS Office, open Powerpoint and select the layout. You can choose your layout from the Home option in the taskbar.
Click on the Home button
Click on layout button
Select your template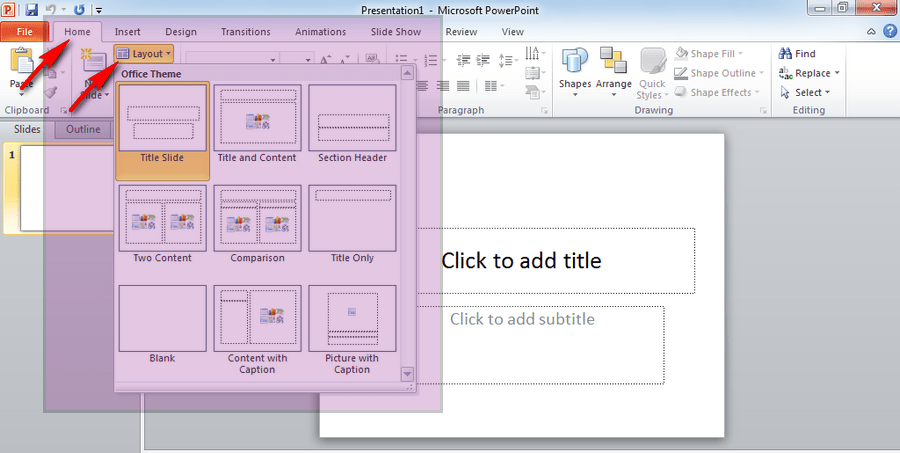 Step 3: After selecting the layout, you can add any one of your best professional PowerPoint templates to the layout. These templates are available in the Design tab on the taskbar.
Click on the Design tab
Select the template from the right boxes
Here in the MS Office, there will be limited templates. But you can also download many from various sources on the internet. There are free professional PowerPoint templates available for MS Office also.
Step 4: Create your own design by using these templates. You can use various symbols and shapes in the PowerPoint presentation to make your presentation more professional. You will also be able to use photos in the background and even crop your photos into definite shapes.
How to make professional PowerPoint templates in Open Office?
---
Unlike in MS Office, you can directly choose your background, templates, and design even before entering the Open Office.
The Open Office is for free and you can find many free professional PowerPoint templates in the Open Office itself.
You can start your presentation with professional PowerPoint templates by following these simple steps.
Step 1: First, you need to open the Open Office. After that, a pop up appears asking you to select your design and template. On the site, you will see some options like a text document, spreadsheet, presentation, drawing and some more.
Step 2: Click on the presentation tab that is shown in the pop-up. You can also opt for other options like text documents and much more if you wanted to. From the same pop-up, you can also open your old presentations or files or much more.
Step 3: After that, you have to select the type of presentation you want to present, whether it is a blank presentation or of a template or even you can open an old presentation. In that, click on the 'From Template' option. By choosing this you can have a verity of templates for your presentation.
Step 4: Now you can select the presentation background. In the box below different template, the name will be shown. You can choose an appropriate one among them. You can have a preview of the selected template. Now select one of the best PowerPoint templates from them for your presentation. Now click on create option.
Then you can start creating your presentation. Even though there are many free templates in the Open Office you can get many free Professional PowerPoint templates online.
The importance of Professional PowerPoint templates
---
You may think that a PowerPoint presentation may be so simple and you can use any template for it.
But every part of your PowerPoint presentation will create a somewhat impact on your listener. So it is not good to continue with any of the templates given in the software for free.
All the mood of the listener depends on the type of background used in the templates. If you use the best Professional PowerPoint templates your presentation will be pleased by the listener and he listens to you.
To choose these professional PowerPoint templates there are many online. You can find a lot there.
Sources of professional PowerPoint templates
---
These days the internet has become a wonderful source for any digital media products, you can buy these digital media products or even many are available free for download.
The Open Office is one such provider. In the Open Office, there are many beautiful PowerPoint templates that suit your presentations. The variations are so awesome.
In the open office, you can directly synchronize your templates with the existing templates in the software. The best thing in Open Office is that everything is for free.
All you have to do is just log in to the site. Everything else is done by itself. You get numerous templates for your presentation.
Along with these, there are also many other sources to download templates for your presentation like the creative market, etc.
Conclusion
You may not be aware of the importance of professional PowerPoint templates. These templates are useful for everyone who wishes to give a beautiful presentation.
These templates are even useful for college students to present their projects and seminars.
Stop including the same old templates that came with your Office. Download the above mentioned professional PowerPoint templates and make your PowerPoint presentations more beautiful than ever.