Recuva means Recover, which is file recovery freeware windows utility, that restores accidentally deleted files like pictures, music, documents, videos, emails or any other file types you have lost. Basically Recuva Free Download tool. This recovery includes the recycle bin also. The Recuva tool helps to recover images from digital camera memory cards, MP3 Players and iPod.

There are many data recovery software on the market, most payment, but there are also free programs like Recuva. This is a free data recovery software that can recover deleted data (documents, video, photos, music, etc.) from hard drives, memory cards, flash drive or any removable media.
Special Features of Recuva
Simple to use interface – just click 'Scan' and choose the files you want to recover
Easy to use a filter for results based on file name/type
Simple Windows like interface with List and Tree view
Can be run from a USB thumb drive
Restores all types of files, office documents, images, video, music, email, anything.
Supports FAT12, FAT16, FAT32, exFAT, NTFS, NTFS5 , NTFS + EFS file systems
Restores files from removable media (SmartMedia, Secure Digital, Memory Stick, Digital cameras, Floppy disks, Jaz Disks, Sony Memory Sticks, Compact Flash cards, Smart Media Cards, Secure Digital Cards, etc.)
Restores files from external ZIP drives, Firewire and USB Hard drives
It's fast, tiny and takes seconds to run!
To recover lost, deleted or be with Recuva Data recovery programs like we have to stop using the unit we want to retrieve data or use it as little as possible because the more we use it the harder it is to recover the data. In addition, we will never recover the data on the same drive where we are trying to recover these. It also has a portable version, in case you want to recover data from a hard drive is best to use the portable version of this application, installing this on a flash drive, to avoid using the disk where we want to recover the data.
How to recover your lost data with the Recuva tool

?
---
Recuva is a software developer Piriform programs like CCleaner or Defraggler.
When starting Recuva us a wizard appears, we leave unchecked the option "Do not show this wizard at startup", because if you do not want to use the wizard just press cancel and the next time you need to use Recuva may want to use the wizard.
How to Recover Deleted Files from Computer? In time we will learn to use the Recuva Wizard, later we will see how to recover deleted data without using the wizard.
Click on Next to begin the recovery wizard and this application will give us the option to choose the type of files to recover.
Select the type of file you want to recover and continue.
We choose where the files are to recover and continue (in this case I will retrieve a document from a USB flash drive).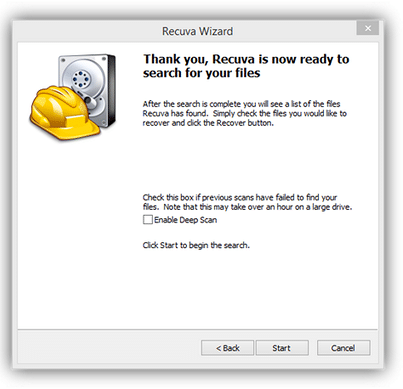 Once you have selected the file type and location Recuva is now ready to start looking at the place where you have indicated.
We start to begin the search Recuva. In a short time recuva it will show all files that have been found: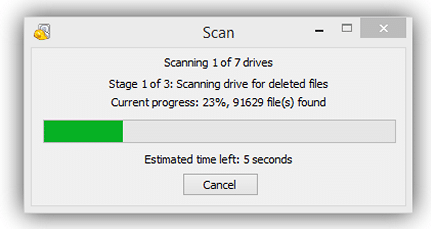 The red ball next to the file indicates that the file is difficult to recover, however, if you have a green ball the file has an easy recovery. While the ball is red we will try to retrieve it recuva, so select the file or files you want to recover and click retrieve.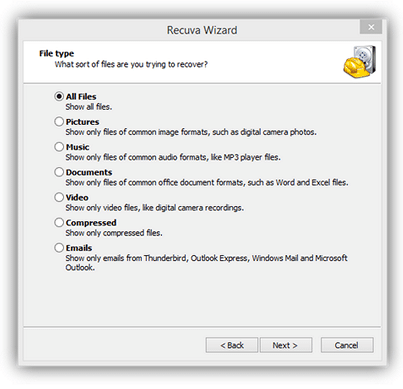 We choose where we want to recover these deleted or lost files and accept. Remember that we do not select the same drive where the files are deleted but must select a different unit.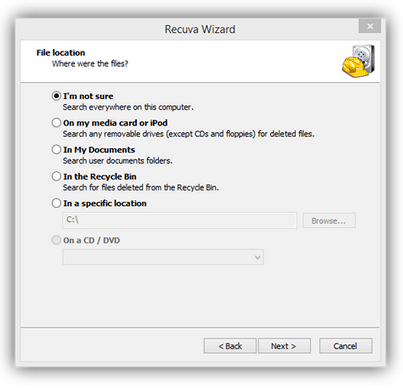 We have already seen how to use the wizard data recovery Recuva, now let's see how to recover data without using the wizard.
Recuva and we will start the wizard screen. To exit, the wizard simply presses the cancel button.
Once we leave the wizard we see the following screen:
To begin searching for deleted files where they are selected. Once you have selected the path where the duty to seek Recuva only has to click Scan.
On the left we see that we have an option button, if we click on it we can change different preference or program options (I miss explain the options that do not reverse any difficulty).
When you choose Scan Recuva to search and will show all files found and you can try to recover:
Select in the list the file or files to recover. Remember that if red is supposed to can not be recovered or is difficult to recover, but often these are recovered without problems. If it is green, the file is easily recovered. You can also see information about the file selected in the box on the right of the list.
Once we have put the file to retrieve press the button to recover
Select where you want to send us recuva recovered retrieved files and files!
We can download the tool at no cost from your main website. Once we have the installer we will begin installing the data recovery program.
This is a very effective Recovery Tool Windows 10.
Source: Simple Recovery Tool