RECUVA: How to Recover Your Lost Data with this Simple tool
Have you ever accidentally deleted important files from your computer or storage device? Don't panic! Recuva, a powerful file recovery software, can quickly and easily retrieve your lost data. Whether it's a deleted document, precious photos, or even files from a formatted drive, Recuva comes to the rescue.
Recuva means Recover, which is file recovery freeware windows utility, that restores accidentally deleted files like pictures, music, documents, videos, emails or any other file types you have lost. Basically Recuva Free Download tool. This recovery includes the recycle bin also. The Recuva tool helps to recover images from digital camera memory cards, MP3 Players and iPod.

There are many data recovery software on the market, most payment, but there are also free programs like this. This is a free data recovery software that can recover deleted data (documents, video, photos, music, etc.) from hard drives, memory cards, flash drive or any removable media.
In this article, we will explore the features of Recuva and how it works, and we will provide you with step-by-step instructions on using it effectively for file recovery.
Introduction to Recuva
Recuva is a reliable and user-friendly file recovery program developed by Piriform. It is designed to help users recover deleted files from various storage devices, including hard drives, USB drives, and memory cards.
It is available in free and professional versions, offering a wide range of features to cater to different user needs.
How Recuva Works
Recuva utilizes advanced algorithms to scan storage devices and locate deleted files. When a file is deleted, it is not immediately removed from the storage device. Instead, the file's reference is removed from the file system, marking the space as available for reuse.
The tool scans this unallocated space and identifies recoverable files based on their unique signatures.
Key Features of Recuva
a. Deep Scan
Recuva offers a deep scan option that thoroughly searches the entire storage device, including the unallocated space, for recoverable files. This feature is particularly useful when you can't find your files through a quick scan or when dealing with a formatted drive.
b. File Recovery Options
Recuva allows you to customize your file recovery by providing options to filter the results. You can recover files in specific formats or narrow down the search by selecting a particular location on the storage device.
c. Securely Delete Files
In addition to file recovery, Recuva also offers a secure deletion feature. It allows you to permanently delete sensitive files, ensuring they cannot be recovered. It provides different secure deletion methods, including overwriting files with random data multiple times.
Special Features of Recuva
Simple to use interface – just click 'Scan' and choose the files you want to recover
Easy to use a filter for results based on file name/type
Simple Windows like interface with List and Tree view
Can be run from a USB thumb drive
Restores all types of files, office documents, images, video, music, email, anything.
Supports FAT12, FAT16, FAT32, exFAT, NTFS, NTFS5 , NTFS + EFS file systems
Restores files from removable media (SmartMedia, Secure Digital, Memory Stick, Digital cameras, Floppy disks, Jaz Disks, Sony Memory Sticks, Compact Flash cards, Smart Media Cards, Secure Digital Cards, etc.)
Restores files from external ZIP drives, Firewire and USB Hard drives
It's fast, tiny and takes seconds to run!
To recover lost, deleted or be with Recuva Data recovery programs like we have to stop using the unit we want to retrieve data or use it as little as possible because the more we use it the harder it is to recover the data. In addition, we will never recover the data on the same drive where we are trying to recover these. It also has a portable version, in case you want to recover data from a hard drive is best to use the portable version of this application, installing this on a flash drive, to avoid using the disk where we want to recover the data.
System Requirements
To run Recuva, your computer should meet the following minimum requirements:
Operating System: Windows 10, 8, 7, Vista, or XP (32-bit or 64-bit)
Processor: Intel Pentium 4 or higher
Memory: 1 GB RAM
Storage: Sufficient space for recovered files
Downloading Recuva
Open your web browser and visit the official Recuva website.
Click on the "Download" button to start the download.
Once the download is complete, locate the setup file (recuva.exe) and double-click on it.
Installing Recuva
The Recuva setup wizard will appear. Click on "Next" to proceed.
Read the license agreement, select the "I agree" option, and click "Next."
Choose the installation location, keep the default setting, and click "Install."
Wait for the installation to complete and click on "Finish."
How to recover your lost data with the Recuva tool

?
---
Recuva is a software developer Piriform programs like CCleaner or Defraggler.
When starting Recuva us a wizard appears, we leave unchecked the option "Do not show this wizard at startup", because if you do not want to use the wizard just press cancel and the next time you need to use this tool may want to use the wizard.
We choose where the files are to recover and continue (in this case I will retrieve a document from a USB flash drive).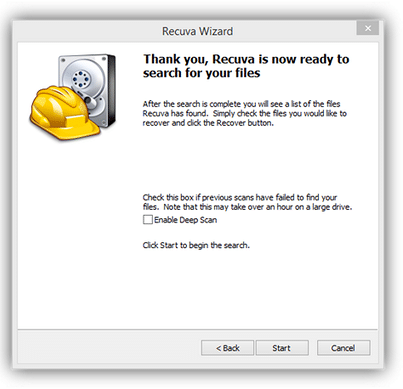 Once you have selected the file type and location and it is now ready to start looking at the place where you have indicated.
We start to begin the search Recuva. In a short time, it will show all files that have been found: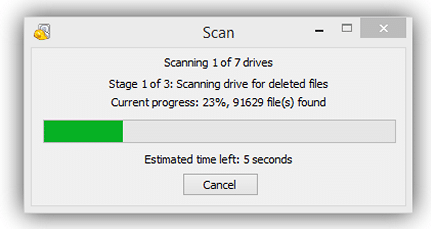 Choosing File Types to Recover
In the next step, you can choose the types of files you want Recuva to search for. If unsure, leave the default selection to recover all file types. Click on "Next" to proceed.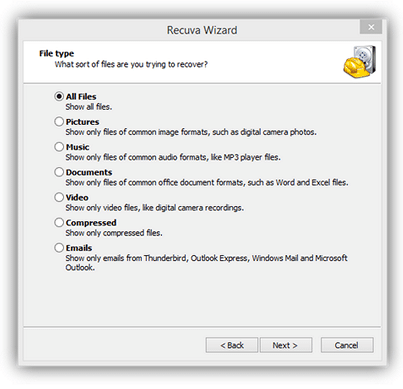 Initiating the Scan
Recuva will now begin scanning the selected drive for deleted files. The scanning process may take some time, depending on the size of the drive and the number of files.
You can monitor the scan's progress and see the files being found in real-time.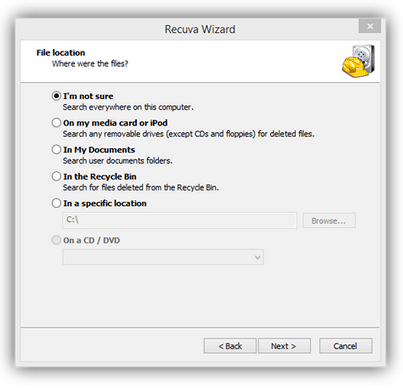 We have already seen how to use the wizard data recovery Recuva, now let's see how to recover data without using the wizard.
Recuva and we will start the wizard screen. To exit, the wizard simply presses the cancel button.
Previewing and Recovering Files
Once the scan is complete, Recuva will display a list of recoverable files. You can browse the files and folders to locate the ones you want to recover.
Select the files you wish to recover by checking the boxes next to them.
Choose a location on your computer or an external drive where you want to save the recovered files.
Click on the "Recover" button to initiate the file recovery process.
Recuva will restore the selected files to the specified location. Once the recovery is complete, you can access your files again.
Tips for Successful File Recovery with Recuva
To maximize the chances of successful file recovery using Recuva, consider the following tips:
Stop Using the Drive Immediately: When files are deleted, continued use can overwrite the space previously occupied by the deleted files. Avoid writing new data to the drive until you have completed the recovery process.
Use Deep Scan for Comprehensive Recovery: Try the deep scan option if a quick scan does not find your files. It takes longer but offers a more thorough search, especially for formatted drives or files with damaged systems.
Save Recovered Files to a Different Drive: To prevent overwriting the lost files accidentally, save the recovered files to a different drive or external storage device.
Using Recuva to Delete Files Securely
Recuva helps recover lost files and provides a secure deletion feature to erase sensitive information from your storage devices permanently. Here's how you can use it:
Selecting Files for Secure Deletion
Open Recuva and click the "Options" button at the top-right corner.
In the options menu, select "Secure Deletion."
Check the box next to "Enable secure file deletion."
Return to the main Recuva window and select the files or folders you want to delete securely.
Choosing the Overwrite Method
Click on the "Secure Overwrite" drop-down menu to choose the overwrite method. The more passes selected, the more secure the deletion. However, more passes also mean a longer deletion process.
Select the overwrite method that suits your needs. The "Simple Overwrite" method with one pass should be sufficient for most scenarios.
Permanently Deleting Files
After selecting the files for secure deletion and the overwrite method, click the "Secure Delete" button.
It will ask for confirmation. Click on "OK" to proceed.
It will securely delete the selected files, making them irrecoverable.
Recuva Professional vs. Recuva Free
Recuva is available in both free and professional versions. While the free version offers robust file recovery capabilities, the professional version includes additional features and benefits. Let's compare the two:
Additional Features in Professional version
Virtual hard drive support
Automatic updates
Premium customer support
Advanced file recovery options
Pricing and Licensing Options
Recuva Professional is available as a yearly subscription. The pricing may vary depending on your region and currency. Visit the official website to learn more about the pricing and licensing details.
Frequently Asked Questions (FAQs)
Can Recuva recover files from formatted drives?
Yes, Recuva can recover files from formatted drives. By utilizing its deep scan feature, It can search for and restore files even on drives that have been formatted.
Does Recuva work on macOS?
No, Recuva is designed specifically for Windows operating systems. However, similar file recovery programs are available for macOS, such as Disk Drill and Data Rescue.
Is Recuva safe to use?
Yes, Recuva is safe to use. It is developed by Piriform, a reputable software company known for creating reliable and secure applications. However, it's always recommended to download software from official sources to ensure authenticity and avoid potential security risks.
Can Recuva recover deleted emails?
Recuva primarily focuses on recovering files from storage devices, so it may not be ideal for recovering deleted emails. However, you can try using specialized email recovery software or contact your email service provider for assistance in recovering deleted emails.
What should I do if Recuva cannot find my deleted files?
If Recuva cannot find your deleted files, there could be several reasons, including overwriting the files or physical damage to the storage device. In such cases, consulting professional data recovery services for further assistance is advisable.
Conclusion
Losing important files can be a frustrating experience, but with Recuva, you have a reliable solution at your fingertips. Recuva's powerful features and user-friendly interface make the process easy and efficient, whether you need to recover deleted documents, precious photos, or files from a formatted drive.
Following the step-by-step instructions outlined in this article, you can confidently recover your lost files and regain access to valuable data.
Don't let data loss keep you down. Get Recuva today and ensure your files are always within your reach.
Hits: 3