15 Free Online virus scanners to Secure Your Computer and Mobiles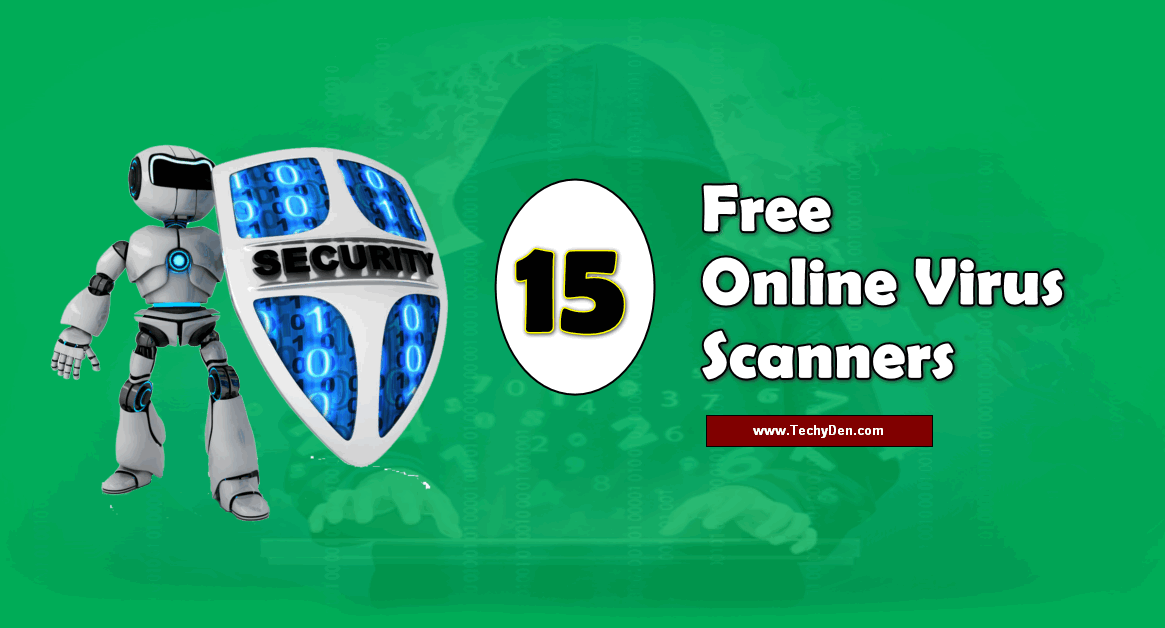 Most of the Antivirus providers are providing free online scanning tools. Few are working well by using their cloud-based server remotely without installing the required software.
But online virus checking does not replace real antivirus software. If I find any suspicious activity on my computer or servers, here is my favorite list of free online virus scanners, which I use in my regular work.
What is an Online Virus Scanner?
The online virus scanners are specially designed web services and they check on your device from a remote server. If they find any suspicious files on your computer, it detects and provides a quick and easy solution without downloading and installing big security software.
All virus scanners are not similar in their functions. Every tool is having different options with its accuracy, customization features and more.
How to scan my computer with free online virus scanners?
For a few years, online antivirus was reduced to a trickle. For a few years, it worked mostly with the Internet Explorer browser and we could scan our computers. Since then, the few online antivirus programs that remain require you to install a "module" to scan your PC for online viruses and remove them.
Therefore, rather than making an online PC analysis to use another antivirus, you prefer to use virus removal software available to you by the great names of antivirus vendors. They detect and remove viruses, Trojans, and other malware on your computer.
This type of virus scan is different from the regular and traditional virus scanning program.
What is the list of top-rated free online virus scanners?
However, if it is to analyze a suspicious URL or file before or after downloading, do not hesitate to use Virustotal, Dr.Web, or Jotti's virus scan below. The given list includes tested and top-rated free online virus scanners.
ESET offers the possibility to examine and clean the system of your PC without the need to install antivirus software. The ESET analysis module is a free online scanner.  The ESET Free Online Scanner is very good.
We strongly recommend that you not limit yourself to on-line analysis and install genuine antivirus software that constantly analyses your computer. The ESET Online Scanner is the most famous and dedicated to system security developments in that free online virus scanner is the most famous.
Start the Online Scan ESET Online Scanner. It works with most current browsers. ESET for Windows 10 antivirus is also available in the trial version.
Reminder: No online analysis module whatsoever can effectively protect your computer.
Pros:
It Scans your entire computer
Gives a 100% accuracy rate
Anti-stealth technology (anti-rootkit) are added
Scanning customization features are available
Comprehensive reports are available
Cons:
Downloadable add-on required
Only available for Windows version
To complete scan takes more than 30 minutes
---
It is an online antivirus to demand that integrates award-winning analysis engines to Bitdefender malware scans. Bitdefender Quick Scan is an online tool which uses in the cloud. Scanning to detect malware running on a PC very fast, usually in less than 60 seconds.
Bitdefender malware scan performs a flash analysis "in the cloud" in less than 60 seconds in general, to detect viruses and spyware and is an alternative to scanners antivirus traditional.
Quick Scan only detects viruses and spyware active in memory or present in files that run at system start-up. The bodies of inactive viruses are not searched and are therefore not detected
You can use it to scan your system's memory, all files, boot sectors of your hard disks, and automatically disinfect infected. It also allows the disinfection of spyware.
Pros
It is Available as Browser extensions for Explorer, Firefox, and Chrome users
It completes their scanning < 1 minute
Effective Adware removal tool added
Quick malware detection feature
Cons
Must download the tool
No detailed reporting after the scan
Some reports of interference with other apps
Very Limited accuracy
---
Norton security scan is the lightweight tool from Symantec Company. All Norton products are most popular and recommending from top-rated companies like Microsoft and Intel.
It does not run on mobile devices. You can go for premium versions if you really need to scan your mobiles.
The scanner scans your computer and informs you about viruses, malware and rescue your PC if it is present. The scanning very fast and secure. You can try this.
It is a simple and effective free virus scanner and virus removal tool.
Pros
Great Full system-scan
Awesome Suspicious cookies scanning
It Identifies system vulnerability effectively
Top-rated virus and malware detection
It is a more Trusted and well-established brand
Cons
It is not a true web-based service
We Can't clean the infections
Only available on Windows
---
Virusscan Jotti gives you the ability to analyze a suspicious file online with 22 antivirus, among which are: Ad-Aware, Agnitum, Arcabit, Avast, AVG, Avira, BitDefender, ClamAV, DrWeb, ESET, Fortinet, F-Secure, G-Data, Ikarus, Kaspersky, Panda, Quick Heal, Sophos, TrendMicro, and VBA32. This is one of the good malware virus scanners. If the Online virus scan file is large, it will not accept for upload. It accepts only 100MB as a maximum upload size.
Antivirus Engines: 20
Max Upload Size: 100 MB
Upload Method: Web
Upload Progress Meter: YES
Uploaded files shared with antivirus vendors: YES
---
5. HouseCall Free Online Virus Scan from TrendMicro
HouseCall is a free online virus scanner offered by Trend Micro, which checks whether a computer has been infected by viruses, spyware, or other malware.
It also performs additional safety tests to identify and fix vulnerabilities to prevent new infections. It analyzes the operating systems Windows64-bit and 32-bit which is selected by clicking the appropriate button.
HouseCall can quickly identify and fix a wide range of threats including viruses, worms, Trojans, and spyware. Includes:
Full scan and custom scan options, in addition to Quick Scan.
Support for 64-bit, Windows 7, Windows 7 SP1, Windows 8, Windows 8.1, and Windows 10.
Support housecall for Mac OS 10.7 or later.
Install HouseCall launcher from Trend Micro
---
You just upload a suspicious file; perform an online check of files and links (URLs) suspects with antivirus Dr.Web to search for possible viruses, malicious code or unwanted programs.
The files submitted are checked online by the latest version of Dr.Web Anti-Virus and the latest updates of our virus database.
At the end of the scan, a report corresponding to the analysis you will be automatically displayed.
---
7. VirusTotal – Check suspicious files or URLs
VirusTotal is one of the most popular multi-engine online virus scanners. It was acquired by Google in September 2012.
When compared to its competitors, VirusTotal wins in almost every aspect, such as speed (thanks to Google's infrastructure), having the most antivirus engines and features, including free public API usage.
This is the best online virus scanner in 2022.
With 46 antivirus engines, you can analyze a file or suspicious URL and power the expiring case quickly to detect viruses, worms, Trojans, and all types of malware. They are known as Avast! AVG, Avira, BitDefender, ClamAV, Comodo, DrWeb, Emsisoft, ESET, F-Secure, Kaspersky, Malwarebytes Anti-malware, McAfee, SUPERAntiSpyware, TrendMicro HouseCall, etc.
VirusTotal online file scan is one of the best scanners and it comes with top-rated virus scanning engines.
Antivirus engines: 70
Max Upload Size: 32MB
Upload Method: Web + SSL, Email Attachment, Windows Context Menu, Desktop Browser, Android
Upload Progress Meter: YES
Uploaded files shared with antivirus vendors: YES
VirusTotal is providing desktop tools to start scanning from your PC by uploading it into the cloud. Windows, Mac, and Linux versions are available.
You can use their browser extension for safe browsing. If you are a smartphone user, you can try the virustotal Android version also.
Pros
No download required
Free service
High level of accuracy
Performs quickly
Several scanning options
Comprehensive reporting
Cross-platform
Cons
Limited to one file/URL at a time
Unable to remove the infection
---
Kaspersky is one of the leading online security providers. It has a free online virus scanner. It supports both URL scanning and files. You can upload the suspicious file up to 50 MB for further analysis.
To do this scanning, just open the virus desk link, and enter the URL to scan or upload the file, then click the SCAN button to start an analysis. The results will be displayed on the same page after you complete the scan.
This is one of the best online document scanners.
If any threat is detected, the Kaspersky Virus desk displays the message like this, Threats detected in <file name> by showing the threat file name with details. If nothing is found, it shows the "No threats detected" message.
---
The f-secure online scanner is an online antivirus. It allows a free scan of your computer to check for the presence of malicious files.
Why not test your computer with antivirus online? When a computer is infected, it frequently happens that the resident antivirus software (the one you have yourself installed) no longer returns the necessary information or even works at all.
Test your computer with an online antivirus allows having an outside view with an updated antivirus.
Pros
Removes infected files
70% accuracy rate
Takes less than a minute to scan
Simple user interface
Regularly updated for new threats
Cons
Only available on Windows
No cloud-based scanner
No custom scan options
System-restart required
---
It is a smart website that permits you to upload a 140MB file to be scanned by nearly 43 different antivirus engines at once, including popular antivirus scanners like Microsoft, Kaspersky, McAfee, and AVG.
This scanning supports 7Z, EXE, Zip extensions, images, and document files as well.
In this scanning, the Meta scanner can also scan by IP address, hash value, and website URL.
The Metascan provides a chrome extension, an Android scanner, and one for windows and Mac that checks any folder for malware.
---
11. UnThreat Online Scanner
The UnThreat Online Scanner uses the Unthreat free antivirus scanning engine to identify Trojans, worms, and other malicious content.
You can upload one file up to 30 MB in size. URL scanning is also a great feature.
---
Comodo Free online scanner is another free tool to scan and detect all viruses, worms, Trojans, spyware, and other malware.
To conduct the scan, you have to download their tool from the official site and install it on your PC.
Comodo is the most popular and potential internet security provider in the online market. The detected infections will be removed by Microsoft certified experts. It is a completely free tool.
---
Panda Security is one of the online security providers since 1998. More than 30 million users are securing their systems with this awesome security suite.
The Panda Cloud Cleaner is a free version to scan your PC. Just download their simple tool, install it and scan the pc.  It has browser extensions for safe browsing for Chrome, Firefox, and IE users.
---
The Quick Heal online virus scan is one of the top-rated products from Quick Heal Technologies Ltd. It is one of the leading IT security solutions companies, which is an award-winning company.
It has a free online virus scanner. It offers two different types of online scanners. They are the Antivirus Scan (to detect known malware and other malicious programs hiding on your computer) and the DNA Scan (which detects malware threats).
To get this free online scanner, just fill in the details in the given form like your name and email address and download the offline installer to continue the scanning.
The company is providing great solutions for online antivirus scanning for mobile memory card users.
---
BullGuard is one of the cybersecurity giant companies. It is offering a free dedicated online virus checker.
If you suspect your computer with unwanted visitors, no need to worry. The Bullguard is the perfect tool to scan and control your computer and it detects the potential malware easily.
From the recent update, this tool added to the BullGuard internet security premium suite. Now it is available with 60 days free trial version.
By the result, after detecting the unwanted malware on your computer, the suite will remove all the party crashes.
Pros
It is available for all browsers
More advanced available
Great Premium quality
60 days Free trial
Cons
No dedicated online scanner
The installation process takes more time
---
Final Words
The Free online virus scanners are the great tools to scan your PC without downloading huge sized software and no need to pay anything.
The above listed top 15 great and Free Online Scanners are available around the clock means 24X7.
Please share this article with your friends through Social media like Facebook, Twitter, and Pinterest. Thank you