Are you searching for the best Zoom alternatives? Here are the best options for the Zoom Video Conferencing app.
As we all know, there has been a major gap in face-to-face interactions recently owing to significant lockdowns caused by the COVID-19 pandemic. Many businesses and even individuals began to use video conferencing apps at this time, making it easier for people and even commodities to communicate. As a result, the popularity of these video conferencing apps has grown day by day.

What is Zoom?
The Zoom Video Conferencing app is one central app that has recently acquired popularity as a result of the COVID-19 pandemic. Zoom is a peer-to-peer software platform used for teleconferencing and is a video conferencing app by Zoom Communications, Inc. This company is based in San Jose, California.
This software is free and allows up to 100 individuals to participate in a 40-minute conference. You can upgrade for $15 to $20 to get more features and time. Zoom also has the finest corporate conference room costs, ranging from $50 to $100.
But if this high popularity, there are few vulnerabilities to privacy concerns and warnings of hijackings from various authorities. The usage of this application has become a big question for many, and here is a quick video explaining how Zoom is causing these vulnerabilities.
As this has become the biggest question, whether Zoom is safe for our video conferences, many have started switching to alternatives to Zoom. At the request of many people, I am writing this article showing the best options for Zoom, which will help you avoid any vulnerabilities.
Zoom Alternatives: Limited Video Conferencing Platforms
Aside from Zoom, various video conferencing apps were popular prior to the launch of Zoom. Here are a few examples of what you can do with them. Only a small number of people can utilise the free video conferencing services, however anyone can download and use any of them for video conferencing. Here are a few options for limited video conferencing platforms.
Here are the few Zoom Alternatives for 2022.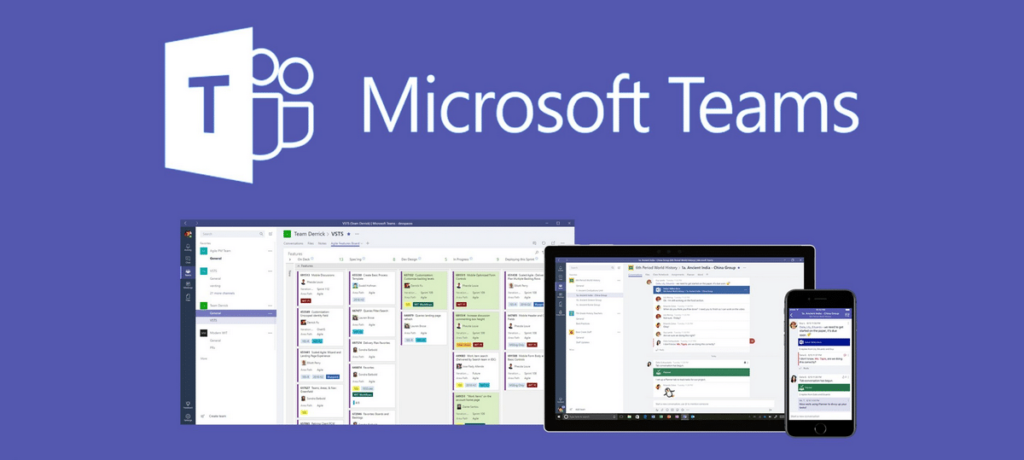 Microsoft Teams is an Office 365 product for video conferences. You can sign up for your Microsoft account using your Outlook ID or email to use Microsoft Teams.
In the free account of Microsoft Teams, you can invite up to 300 people who can join you at the conference. Within the free version itself, you will get all the primary features.
You can upgrade to premium for features like business office apps and scheduled messages, which cost $5 onwards.
Pros:
It can be used to connect more people to the team. This is a super-organized channel for team management.
Screen sharing can also be done using Microsoft Teams.
You can upload shared files up to 10 GB per team.
Cons:
It looks a bit similar to Slack.
---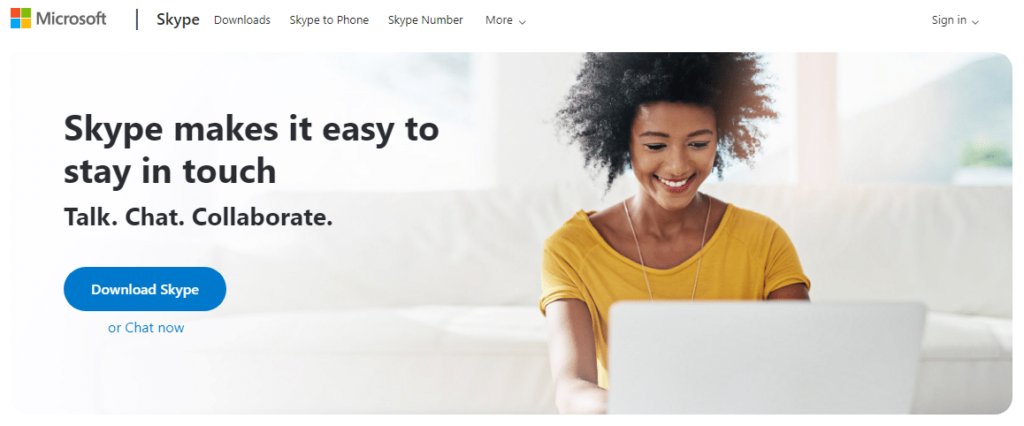 Skype is another Microsoft product that is much more popular than the Microsoft teams, and it is well known for business hangouts.
You can add up to 50 participants on Skype, and there is no time limit for calling. Most smaller companies still use Skype as the best free online platform for video conferencing, and this is another Zoom alternative.
The best feature of Skype is that you can even do your meetings without even logging into your account. One can generate a Meet Now video conferencing link and share it personally to invite friends into the conference.
Pros:
The free web app lets you use Skype without even having an app installed.
Screen sharing is available.
Cons
Call credits are a bit high compared to other apps.
---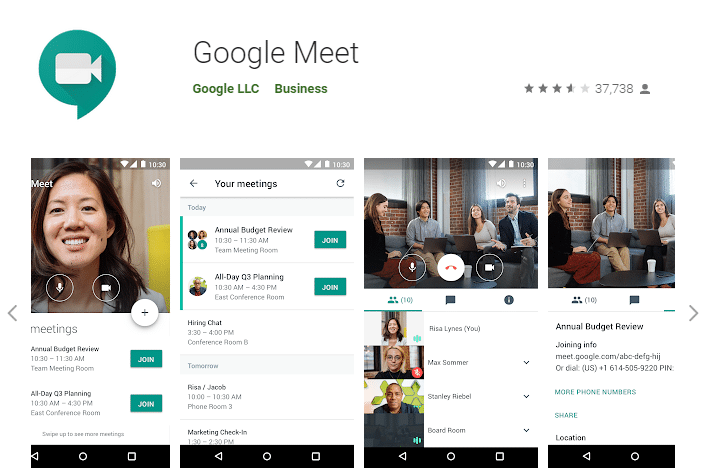 Google Hangouts Meet is a product of Google and is best for small-sized businesses for hangouts and video meetings. One can quickly start a hangout video chat in the Google Hangouts meeting.
In the Hangouts meet, you can add 150 people to a team. There is also a Chrome extension available which you can use across all devices.
---
The signal is a product of the Signal Foundation and Signal Messaging LLC. It is another application like Watsapp that has gained popularity in video conferences. The movement is best known for providing better privacy and security features to its customers.
This is a complete privacy solution for both mobile and desktop platforms. The app is entirely free of cost, and it does not charge the users. The Signal application is supported on all your devices, like Mac, Windows, Android, and iPhone.
Pros:
No in-app purchases in the app.(100% free)
Powered by Signal protocol
Cons:
The User Interface can be still simplified.
Like WhatsApp, you can only verify through Mobile number
The web application is not available for signal.
---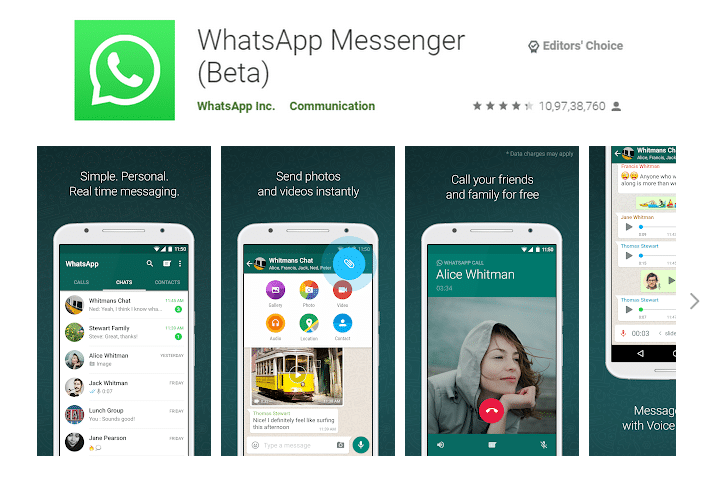 This is the most popular application most of us use right now, founded by Jan Koum and Brian Acton. This can also be used as a video conferencing app for small businesses, and the limit of WhatsApp video calls is four people at once.
This may change in the coming days as the discussion is going online to increase the video call limit for users. Facebook Inc. now owns this app. The WhatsApp messenger can share any media and can also make voice and video calls. Here are the Whatsapp Alternatives.
Pros:
Supported on all smart devices(Android and Apple)
Web Application is also available which acts as a clone of the original application
Cons:
The call limit is 4 which is less compared to other applications
---
Facebook Messenger is yet another excellent application for video conferencing over time. This is owned by Facebook Inc. and has many features included in it. The best thing about Messenger is that you can add up to 50 members in a group video conference, and the application is entirely free for anyone with a smartphone in hand.
Pros:
Free and no in-app purchases available in the application.
It Can be accessed on any device.
---
7. Houseparty (Group up together)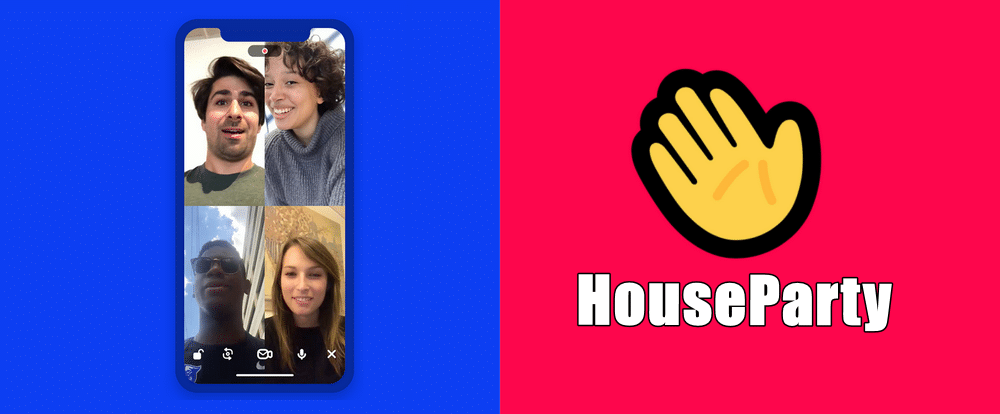 The House Party is another face-to-face social networking site that has become very popular recently. With HouseParty, you can throw a party, and your friends can join your party at any time using your invite link. You can add participants to the house party.
Install App
There is a version available for all of your devices. The app is entirely free for everyone, and if you want to increase the person's limit, you can purchase credits in the in-app purchase. This is the best free alternative to Zoom.
Pros
Privacy and Locking the Room
Available across all of your devices.
Can send side texts and photos in the group chat which will disappear in 24 hours.
Cons
Video Chatting with up to Eight People
---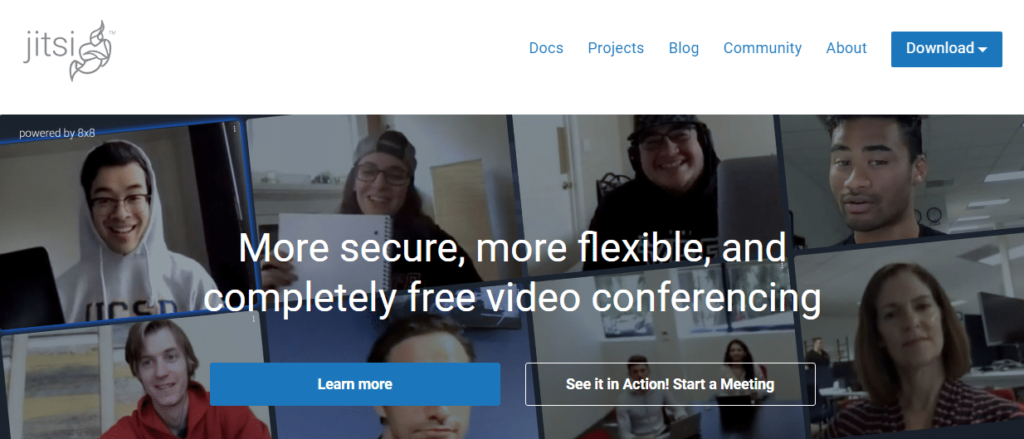 Jitsi is a free Zoom alternative, with open-source projects, free instant messaging, and a video conferencing platform. This is available for Android, macOS, iOS, and Windows users. With instant video conference features, you can stay in touch with your family members, team, and colleagues. This is a free Zoom alternative.
Pros:
Unlimited users
New account not needed
Lock protected rooms
High-quality audio and video delivery
It is a web browser ready
You can invite your friends with pretty URLs
open-source video conferencing
Cons:
Limited space for 50 people
Need to spend some time to know the Interface options
Warning: when using a Jitsi Meet instance, your stream is encrypted on the network but decrypted on the machine that hosts the bridge.
Video Conferencing Platforms for large events online
Video Conferencing Platforms for significant events online
While the limited video conferencing apps work fine for individuals and tiny businesses, there is also a need for large Video Conferencing platforms due to this COVID-19 Pandemic. If you are one of those looking for Large video conferencing platforms, any one of the below is the best choice for yours, and you can go through and pick the best one from below.
9. Go-to-Meeting

Go to the meeting is a well-known video conferencing app for businesses. The free version of the Go To meeting can be used for conferences of up to 50 members.
In the free version, you will get limited features where you have no privilege of sharing slides at conferences. You can choose the premium version for all the additional features in three different packs.
Pros
The user interface is straightforward to understand.
It can create URLs to share with friends who can easily access the room.
Cons
Some advanced features can be only availed in the premium version
---
10. Join.me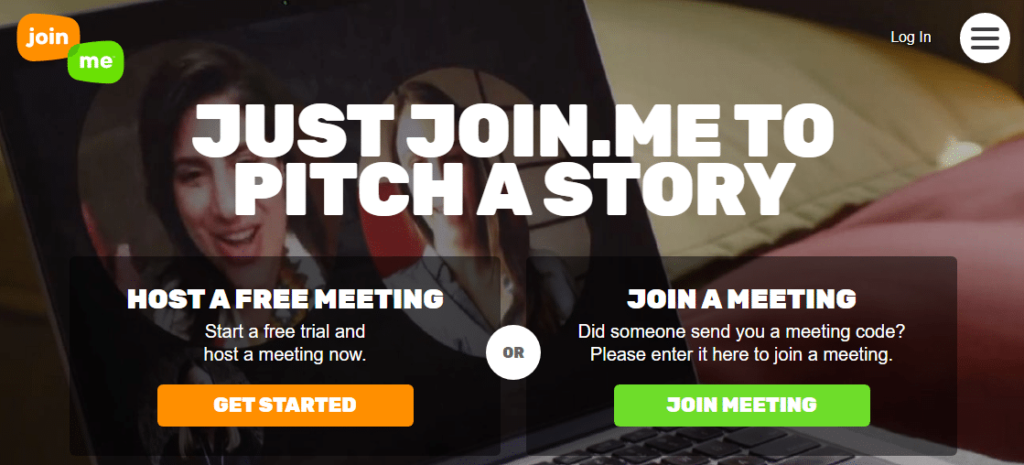 Join.me is an app for online meetings, screen sharing, and team conferences. You can create your own room and share it with a link to let others access it. The free version of Join.me lets you invite 10 members to join the room. The free plan itself includes all the best features. To increase the participant's limit, you can opt for higher plans.
Pros
Advanced features are available in the free plan itself
Premium plans are very cost-efficient
Screen Sharing feature and Real-time chat are available
Cons
Whiteboard feature is only limited to the iPad.
---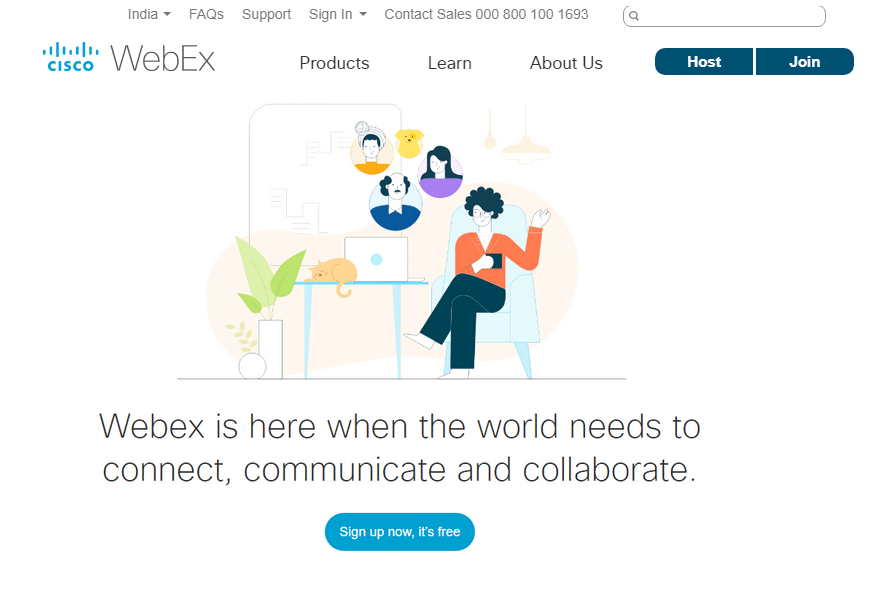 While GoToMeeting stands first in the line, Cisco Webex is also far better than many video conferencing applications. This is most suitable for large companies who choose the enterprise version of the WebEx conferences. You can create a meeting of up to 50 participants in the free version itself, and for additional participants, you can upgrade to higher versions.
Pros:
A most popular application for online webinars and meetings
Support and advanced features available
Cons
The interface is a bit complicated for beginners
Browser-based
---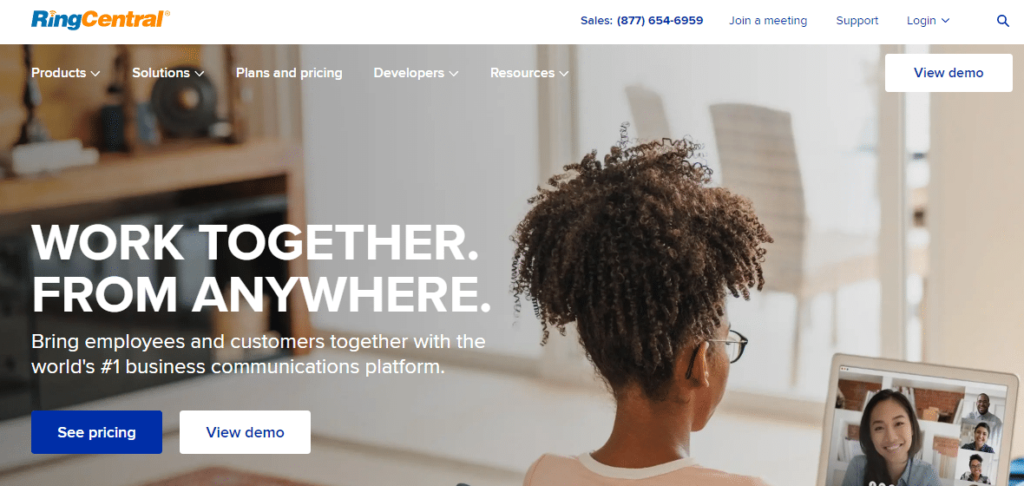 For large businesses, RingCentral is the best solution. This provides credits to each consumer, which are used when they make a call. Even though it is expensive for ordinary users, large organizations can benefit from it due to its advanced features and services, as well as privacy issues.
RingCentral's premium edition allows you to video conference with up to 100 people. The bigger the features of RingCentral, the higher the package you choose.
Pros
Easy to configure and customization
Wide range of pricings for better options
Cons
The basic plan has very limited features.
---
Is Zoom an alternative to Skype?
Zoom is a video conferencing and online meeting app released in early 2010. It is available on Windows, Mac, iOS, Android, the Web, and other devices. Zoom has many features which make it an alternative to Skype.
For high-quality video calls, it has an extensive range of video formats, including H.264, VP8, VP9, and AVC-SVC.
It has an extensive range of audio formats, including AAC-LC, G711u, and G711a for high-quality audio calls.
It supports up to 100 people in one meeting.
Zoom offers whiteboard tools with text annotation tools that allow you to draw on your screen during the meeting
Zoom provides screen sharing so that you can share your desktop or laptop screen with the meeting.
Zoom has many plugins, such as an app for online meetings.
Zoom has a plugin for Google Hangouts.
Zoom also includes conferencing tools such as file-sharing, chat room, and whiteboard.
Frequently Asked Questions (FAQs)
What are the features of Zoom?

Zoom is a tool that enables users to have video conferencing sessions, and it is a top-rated tool for remote work and meetings.
The features of Zoom include the following:
– Video conferencing
– Screen sharing
– Whiteboard
– Chatting
– Recording and uploading meeting videos

Is Zoom supported on Windows, Mac, Android, iPhone, and iPad?

a. Zoom is a video conferencing system available on Windows, Mac, Android, iPhone, and iPad.
b. Zoom is available on Windows, Mac, Android, iPhone, and iPad.
c. Zoom has been designed so that you can use it with any device.

What are the features of Zoom?

A zoom is a tool that enables users to have video conferencing sessions, and it is a top-rated tool for remote work and meetings.
The features of Zoom include the following:
– Video conferencing
– Screen sharing
– Whiteboard
– Chatting
– Recording and uploading meeting videos

What are the plans and pricing for Zoom?

Zoom is a video conferencing software that is an excellent alternative to Skype. Zoom has been around for ten years, and it has become one of the most popular video conferencing apps in the world. The plans for Zoom are based on usage, and there are three different pricing tiers. Basic, Plus, and Pro. The basic plan is $14 per month for up to 60 minutes of video calls per month, and it includes up to 15 participants on a call. The Plus plan is $25 per month for up to 120 minutes of video calls per month, and it includes up to 25 participants on a call. The Pro plan is $37 per month for unlimited video calling time and unlimited conference room hosting with 100 participants on a call.

Does Google company own Zoom?

Zoom is a video conferencing company based in Palo Alto, California. It was founded in 2007 by Eric Yuan and Jonathan Boutelle. The company makes video conferencing and online collaboration tools for businesses.

Is Zoom a Chinese company?

Zoom is an American company, but it does have offices in China. Zoom was founded in 2005 in San Francisco by Eric Yuan and Peter Shen.

Is Zoom blocked in China until 2022?

Could Zoom be blocked in China in 2022? In 2022, a study by Harvard University's Berkman Center for Internet and Society showed that China's internet censorship system grew increasingly sophisticated. The study found that China has blocked an average of 1,800 websites per day since this year.

What is the best Zoom alternative?

Zoom is the best alternative for video conferencing, and it has the most reliable and easy-to-use interface. It also has excellent screen sharing, file sharing, and chat collaboration features.
Zoom is a video conferencing software that offers a wide range of features. It is excellent for small businesses because it provides free plans for up to 10 participants. Zoom also has an affordable paid plan with unlimited participants, HD video quality, and other premium features.
Zoom's interface is very user-friendly, and you can easily find what you need in no time. You can share your screen or upload files without any problems too. Zoom's chat feature lets you collaborate with others on the same call, so you don't have to switch between programs to talk or share your screen.

What are the benefits of the Zoom alternative?

The Zoom alternative is a video conferencing tool that provides an easy way to connect with your team members.
It is an excellent alternative for those who want to avoid setting up a Zoom account or don't have access to the internet.
It offers all the benefits of Zoom and more, such as being able to share files and screens, recording video conferences, and much more.

Is there any disadvantage to using the Zoom alternative?

a. The Zoom alternative is not the best option in terms of pricing, and it has a high price point for the features it offers.
b. There are many disadvantages to using the Zoom alternative.
c. One of them is that it has a high price point for its features.
d. Another disadvantage is that there are no tools to help you manage your meetings, which can cause a lot of stress and frustration.
Conclusion
When using any third-party software like this, you need to go through all the application functions, especially when the application is free.
Privacy is the biggest concern for everyone, and for businesses, privacy is one major factor that needs to be protected.
Before using these applications, too, it is well-advised on our behalf to thoroughly check out all the terms and conditions. Is Zoom safe to use?