USB safely remove freeware is a USB device manager for Windows. It allows users to safely remove their external disk drives that are connected through USB ports.
It will save you time and gives you more power on active work with any kind of USB or eSATA device. Here are free alternatives to USB Safely Remove that provide some of the similar features.

USB Safely remove is a great utility that replaces windows safely remove hardware and gives a much easier and better experience when handling USB drives and card readers.
USB safely remove freeware
1. ProEject
ProEject is the best free alternative to USB Safely Remove freeware. ProEject is easy to use application for safely removing disk drives from systems. The software can safely dismount a removable drive by closing all running applications and open windows.
---
2.USB Disk Ejector
USB Disk Ejector is another good free alternative to USB Safely Remove freeware. USB Disk Ejector is a free open source application program developed for quickly removing USB devices in Windows.
The software can safely eject the connected USB drives, without affecting other running programs. The software can be run as a non-visual command line program or a normal GUI program.
This is the most popular utility to remove USB safely from the PC. It works with windows.
---
3. Hotswap
Hotswap! is a good replacement for USB Safely Remove. Hotswap! is another free utility program for Windows.
It allows users to safely remove the device from Device Manager.
It also ensures that all data are written and flushed to the disk before the external device will be hot-swapped. It works with Windows.
---
4. USB Safely Remove
offers an original and multifunctional stopping menu, which displays actual device names with icons. Using this menu you can find and stop a device in a snap!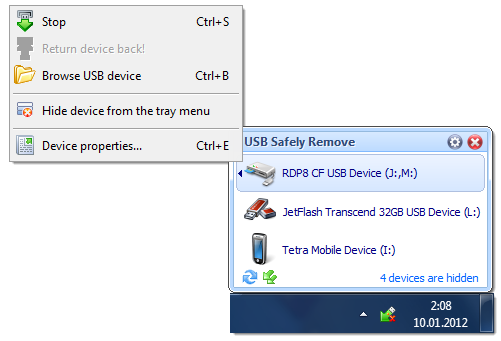 We can Rename a device
We can change a device image
Special hiding option to Hide a device from the menu
Easy Scan for hardware changes
Stop all devices at once