Webinar software is one of the essential tools for any B2B business. It can use a webinar for training purposes or group meetings, and even product promotions. Webinars will give good interest to the users in your service or a product you are promoting.
With the best Webinar, you can convert your customers or leads into sales by creating good connections through the Webinar. If you are looking for the best webinar software 2021 for your company or business, we brought some of the tools you will definitely like. 
What is Webinar?
The word Webinar comes from a combination of two foreign words – seminar and web. The derivative term is "Web Seminar," which is abbreviated to "Webinar." The meaning of this term adheres to the function, which means – meeting two or more people in real-time through the network.

A webinar is a live video conference that uses the Internet to connect the individual (or several individuals) hosting the webinar to an audience of viewers and listeners worldwide. Hosts can show up to talk, switch on their computer screens for slideshows or demonstrations, and even invite guests from other places to host a webinar with them.
Webinar platforms also offer interactive features that the audience can use to ask questions and talk to the host. Many people who host seminars include Q&A sessions to answer viewers' questions about the content of the presentation. Most of the companies are using web seminar software to interact with customers.
What is the best Webinar Software?
The good thing about the best webinar software is that helps you to record, share, and work well with your requirement without showing difficulties.
The perfect webinar tool for small businesses helps you to deliver better and HD quality video. It can help you to get better sales through the automation process.
This webinar software comes with very helpful features like Live streaming, live chat support, automated webinar sequence, email marketing software, polls, and special built-in surveys. Most of these tools are providing live webinar streaming software features.
Before we go any further, we need to have some basic details to decide on software.
Before you choose webinar software, you need to know the audience that will attend your webinar event.
How many users you are expecting in the future
The budget you would like to put on a software
Yes, before you choose a product, you need to have a clear vision of using your software. You need to know your audience size, and along with that, you should also know how many people you are going to increase in a time.
We listed the best small business webinar software list in this article.
You need to keep in mind is how much you are willing to pay for your software. You can use the free software version with limited features for your webinar, or you can choose a premium one with integrated premium features. You can optimize your marketing strategy to increase the visibility of your business.
How to choose the best webinar software?
Even though yours is a small startup or an established company, you need to choose webinar software based on the different features listed below.
1. Security
While you need the best software for your webinar, you should also check the security features provided by the software. For example, four software should provide encryption security to limit data threats. Most of the webinar software will give an end to end encryption as security.
2. The number of users
Your software should let you choose your audience on your budget. It comes to sense because the number of users you add, the more resources you will consume. Some software will charge higher rates for a fewer number of users. It would help if you chose software that allows you to choose the number of audiences based on your budget.
3. Audience privacy
Most of the time, audience privacy is ignored in many software. Sometimes you need to keep your audience and its details in private with other audiences. In such conditions, you need a tool that provides all these features.
4. Screen sharing and recording
The features like screen sharing and recording are the most necessary things any webinar conductor should have. A shared screen is very necessary to explain your presentation about any product or service. In the same way, It can use a recorded webinar to share with those users who missed the actual webinar event. It is important to choose software with these features for better engagement.
5. Analytics and technical support
Knowing the analytics and user count of your webinars is also important to improve further webinars. Your chosen software should also provide such data. And technical support is also necessary for any issues related to the software for video conferencing solutions.
These are some of the features of many that you should know before taking service. Keeping all of these major technical factors in mind, we have sorted some of the best webinar software.
List of best webinar software
Here are the best webinar softwares list 2021. Most the listed best webinar softwares comes with webinar software freeware. You can test it and pick the best software for webinars as per your requirements.
1. Facebook Live
Even though Facebook isn't an official webinar app, you can use this Facebook live feature as webinar software.
To use Facebook Live as a webinar, you can go to your account's profile page and start broadcasting by clicking on the go-live button. If you want to restrict life to your page likers, you can also go live on your page.
Once you go live on Facebook, your page audience or your list of friends will be able to watch it live. The best thing about Facebook live is that you can use it for free and for unlimited members. Once your live broadcast is completed, you can publish the video to your wall.
Pros
Completely free for anyone
Unlimited number of users
Cons
You can not control the users individually
Statistics of viewers is limited even though the number of live viewers is displayed
2. Youtube Live
YouTube is one of the free and best webinar platforms like Facebook. It is also not intended to be a webinar software, but you can host webinars by going live through YouTube.
Many professional webinar software uses Youtube in the background for the stream.
To use YouTube live, you can go into your channel and click on the live button in the left sidebar. After filling in a few details, you can go live for free. You can restrict your subscribers' lives alone, or you can also set it free for anyone.
Pros
Completely free for anyone
Unlimited number of users
Cons
You will not have control over all the users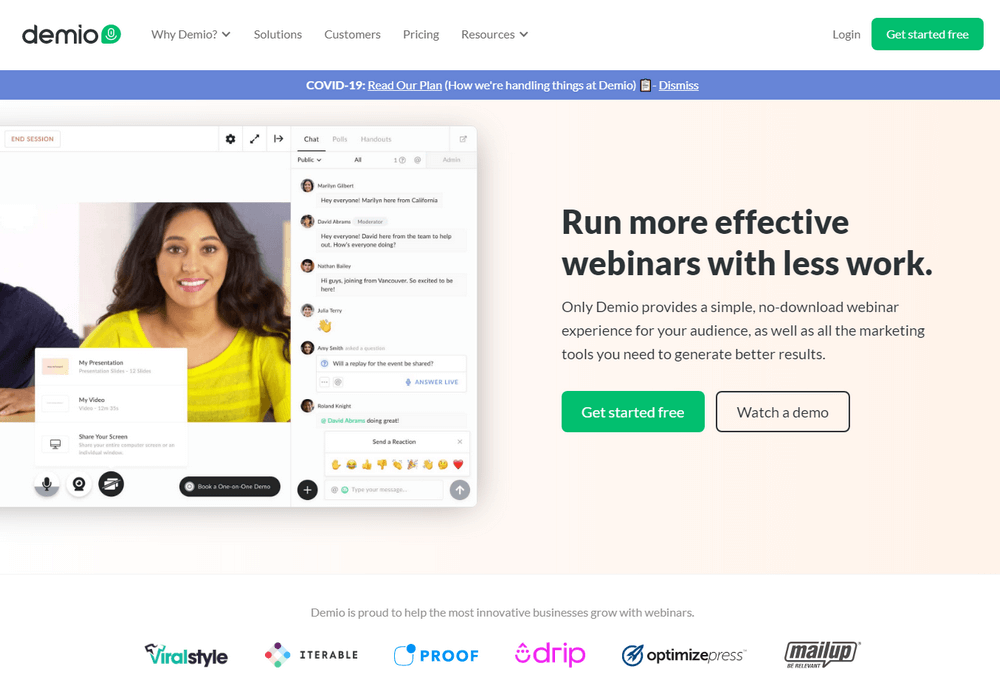 Demio is a smart webinar platform because of its smart and powerful tracking system. It is one of the Hassle-free Webinar Software for Marketers. You can add pixels on different pages for better tracking. The webinar room itself can add pixels for conversion tracking.
The best thing about Demio is it is very simple for any user. The Demio adds automation rules to the webinar rules, which makes real-time actions easy.
Even professionals appreciate this tool for its easy usage features. This is the cheapest webinar software.
The pricing of the Demio starts at $49/m. There is also a free demo available.
Pros
It is very easy to set up and use
Your users do not need to download any software to attend the webinar.
You can also offer fine to download through the dashboard
Cons
The pricing is a bit high if you choose to have more than 50 users.
4. EasyWebinar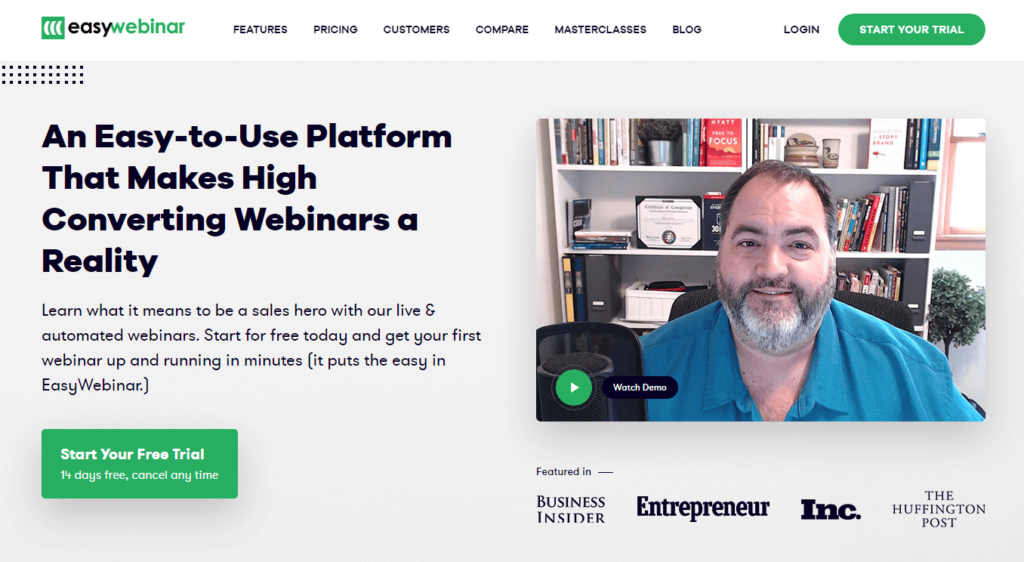 An easy webinar is another all-in-one software for webinars. It offers many premium features for you, including HD video, live webinars, sale funnels, chat features, analytics suite, and many more. This list also includes a mobile app and multi presenter option, which are worth talking about.
The pricing of an easy webinar starts at $59/m.
Pros
 with an automated webinar, you can use sales funnels and Analytics to make it a great selling machine 
In the basic version of Excel, you can have 100 users. 
 You can integrate this software In integration with other software like Mailchimp, GetResponse, and stripe.
The mobile app is also available.
Cons
Prices are a bit high than other software
5. Webex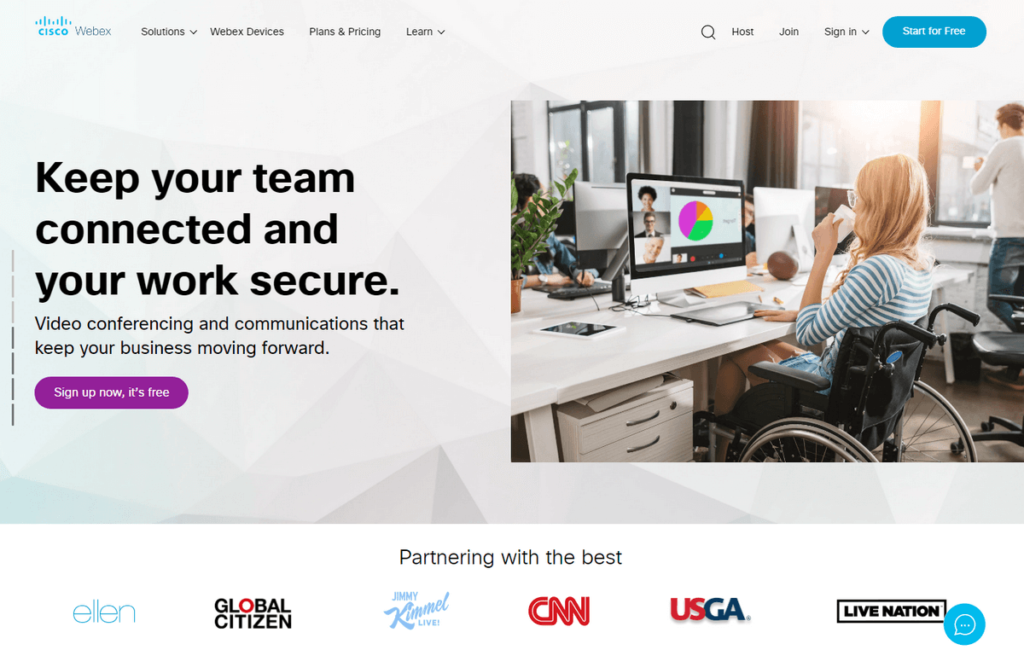 Webex from Cisco is one of the premium software many companies prefer. It is very simple to use and also has many premium features. Using the Webex toll, you can create webinars or do professional meetings and even video or voice calls. To install the cisco webex app for chrome is so easy.
The pricing of Webex is also cheaper when compared to other software. The basic plan comes at a price of just $13.50, which can hold up to 50 members.
Pros
Best and easy tool for team collaborations.
Also provides a mobile software
good support for those who buy large plans.
Cons
Not very suitable for consumer webinars.
Only perfect for team collaborations.
6. ClickMeeting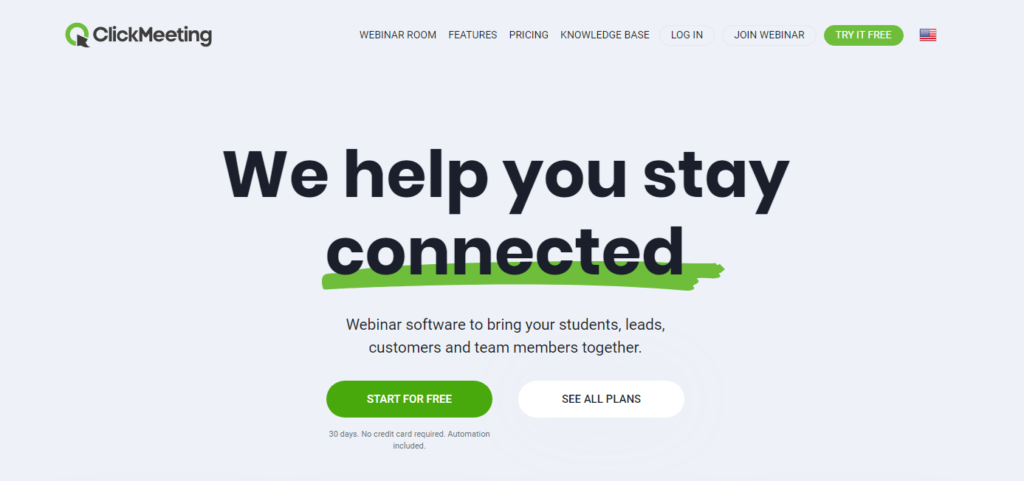 If you are looking for user-friendly software with a clean user interface, you can go with ClickMeeting. It is the perfect software for any customer, whether a small business or a large company.
It is the best webinar software for small businesses and trustworthy webinar software 2021.
You can use ClickMeeting to create polls and surveys, and also you can use chat features and share your screen.
7. GoToWebinar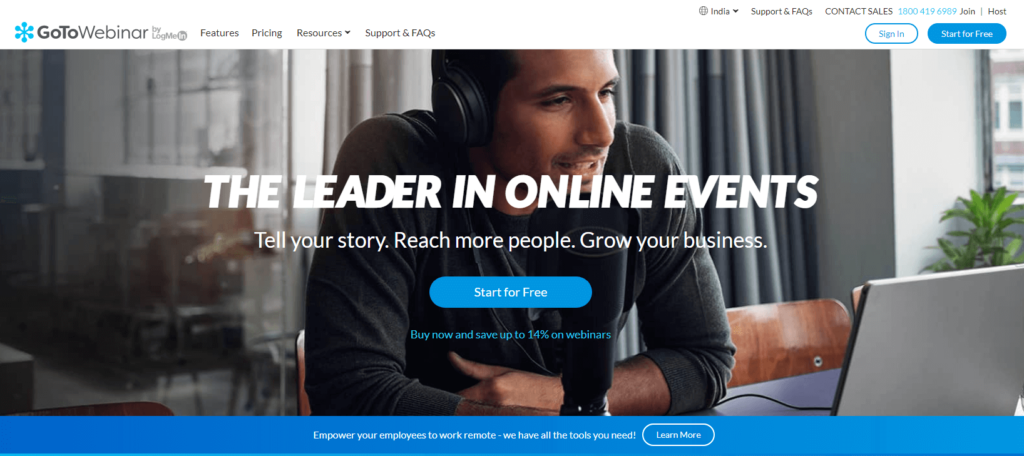 GoToWebinar has been in the industry for a long time and is used by many companies and individuals. The basic plan itself allows you to have participants up to 100. It offers a free trial of 7 days for any user. It is allowing for hassle-free virtual meetings anytime. This is one of the best large webinar software 2021.
The pricing is GotoWebinar starts at $89/m, and you can go live for up to 100 participants in this plan.
Pros
Host for up to 5000 users in a single room.
Screen sharing and other premium feature available.
High-quality video and audio.
Cons
Very expensive compared to any other software.
Customer service is not that efficient
Need to download different software to run the software
8. Livestream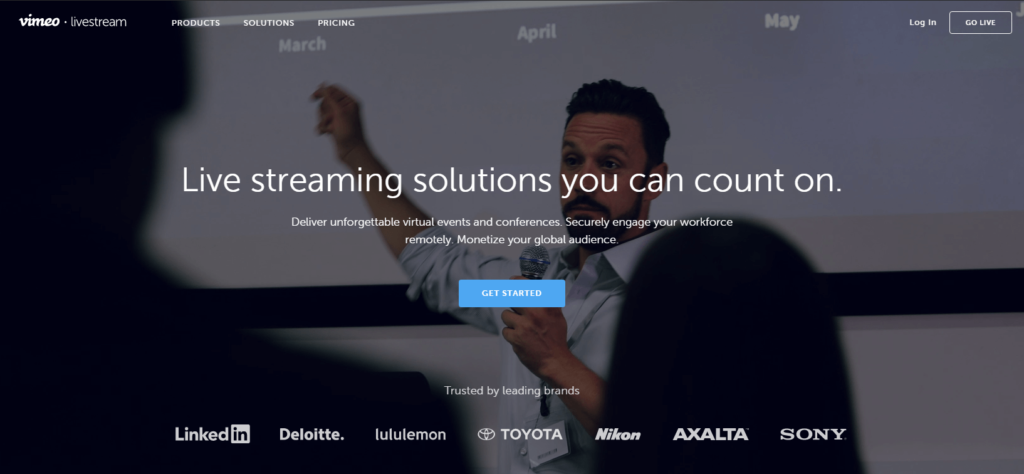 If you want to choose software that does not limit your audience, you can choose Livestream for your webinars. The live stream is using the Vimeo platform.
The best thing is that Livestream does not limit your audience in any way. Every plan has its unique features but does not limit the audience.
The pricing of Livestream starts at $42/m. You can go for higher plans for better features.
Pros
Unlimited viewers
Streat to FaceBook live and YouTube live
Can embed into websites
Cons
You can not create surveys and polls.
No live chat feature available
9. WebinarJam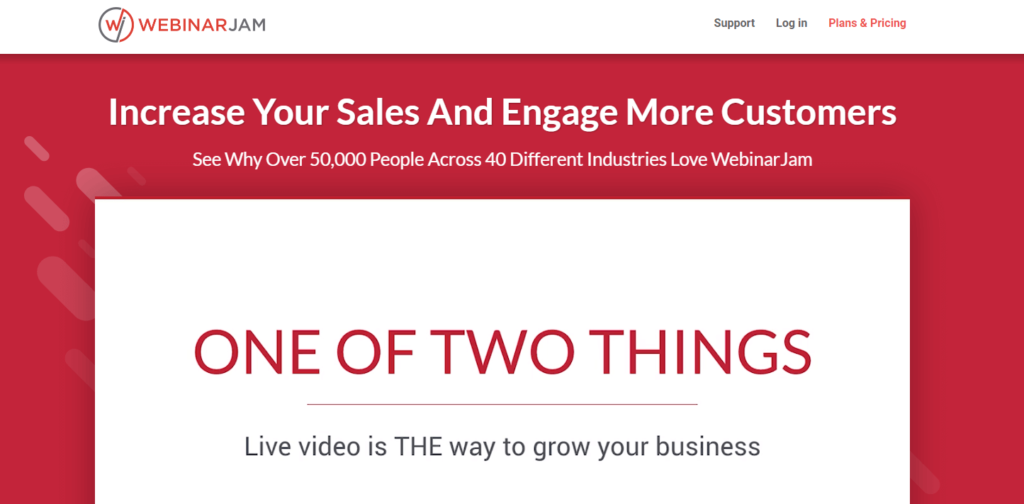 WebinarJam is a perfect plan if you have a high amount of participants. In this software, you can host up to 500 users in the basic plan itself that too at a cheaper price. The best thing about this software is that you will get premium support with all the plans. WebinarJam is the best webinar software for small businesses. The presentation will provide the attendee to join the meetings …
Price: The pricing starts at $41.58per month, which gives you up to 500 participants and their registration. You can choose higher plans for more participants.
Pros
Easy to set up and use
Advanced chatting features with presenters
Up to 6 presenters shown on a single screen.
Can host to YouTube or Facebook
Popup features the middle of the webinars.
Cons
Some reviews show the bad user experience
Lack of integrity with 3rd party AVI tools.
10. EverWebinar

Many companies most like EverWebinar. It is an automated webinar software that makes it easy to use and customize. You can also set up autoresponders that are built into the software. You can enable video streaming on-demand for the web or mobile …
Analytics and tracking are built in the software itself too. You will also get premium support with all the plans.
Price: The pricing of EverWebinar starts at $199 per 3 months
Pros
The number of attendees can be faked to impress the audience
Three features: live, prerecorded, and automated.
Statistics features
Cons
Streaming issues are faced by users in mobile
11. Zoho Meeting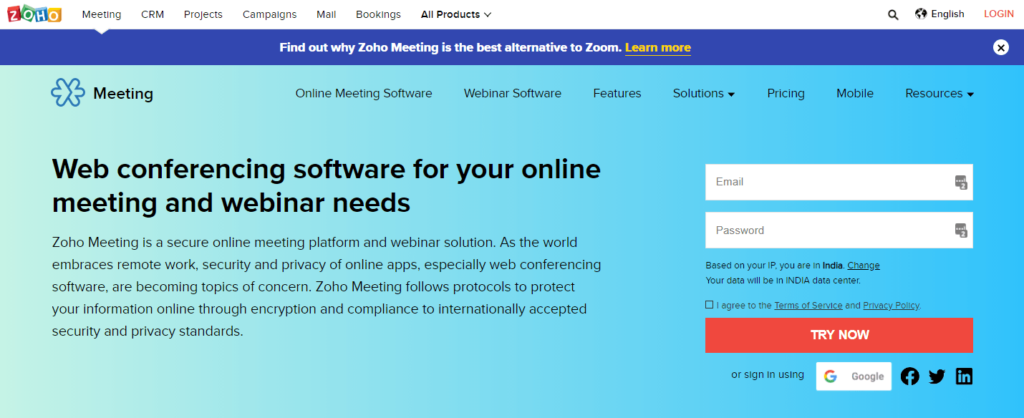 The Zoho meeting is another easy software for video conferences and live webinars. Many small to large businesses choose this software for live conferencing.  This tool is best for team collaboration. It is one of the best Zoom Alternatives. You can integrate your favorite web conferencing tool that enables and integrate audio and video inputs to your desktop. Of course, You can really enjoy the zoom video conferencing software like experience with Zoho meetings. This is the best free software for webinars.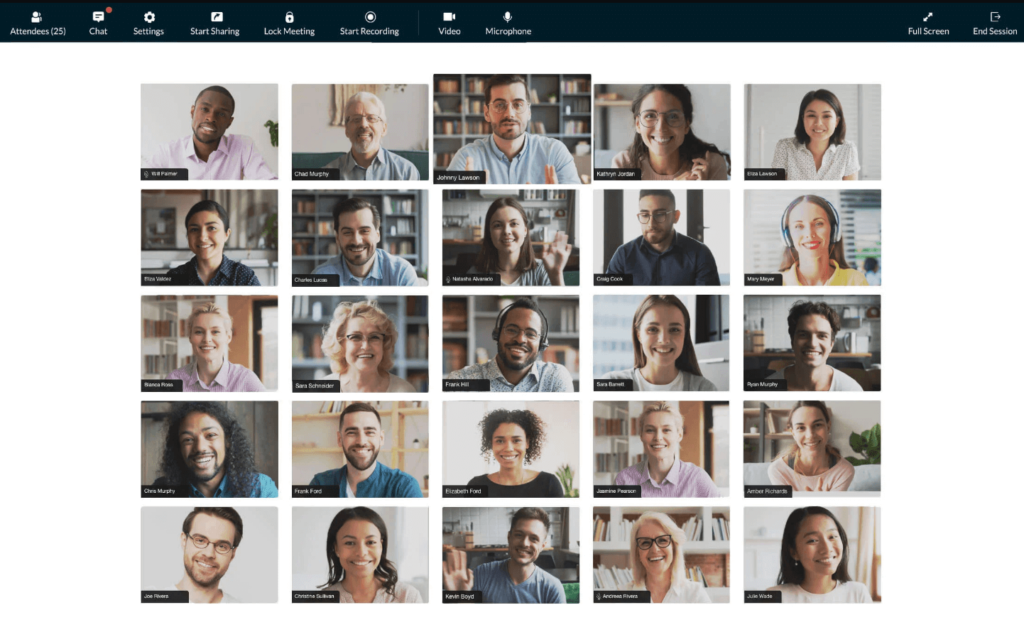 Price: The pricing of the Zoho meeting starts at $10 per month and can handle up to 100 users. You will also get a 14-day free trial.
Pros
No need to install additional software. It runs directly on the browser.
Screen sharing and live chat features are available.
Polling features are available. Users can raise a hand and speak during webinars.
Cons
Poor screen-sharing experience
Need Extension download to run and watch the webinar on pc
12. LiveWebinar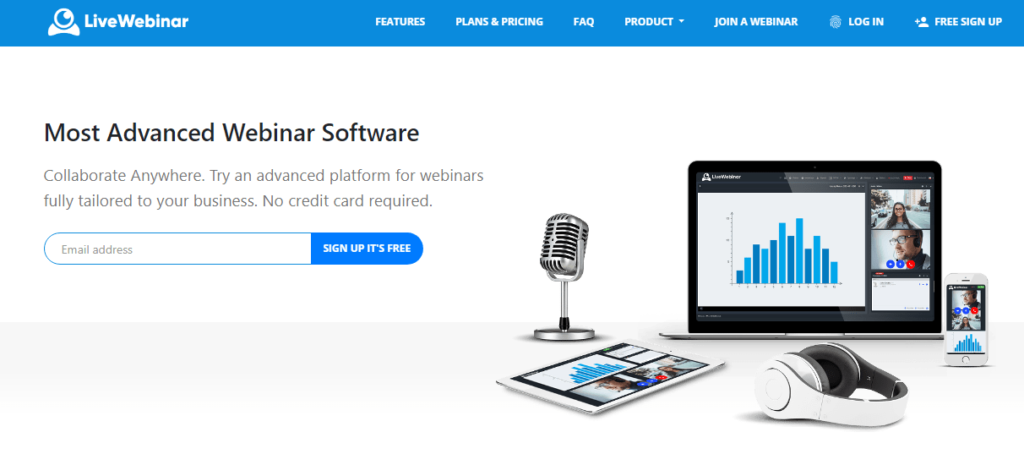 LiveWebinar is another cloud-based platform for webinars. It is best suitable for both companies and individuals. It works on all browsers and devices. It includes different features like polls, screen sharing, and live broadcasts.  This is the best online platform for webinars to interact with clients and customers to introduce your products online with limited attendees.
Price: Free to $11.99 per month (from 5 to 100 attendees)

Pros
It provides a high level of security to the users and also presenters.
Easy to use.
It shows in-depth reports of users.
Cons
Regular plans don't provide landing page creators.
The screen sharing feature is not available for safari users.
13. GetResponse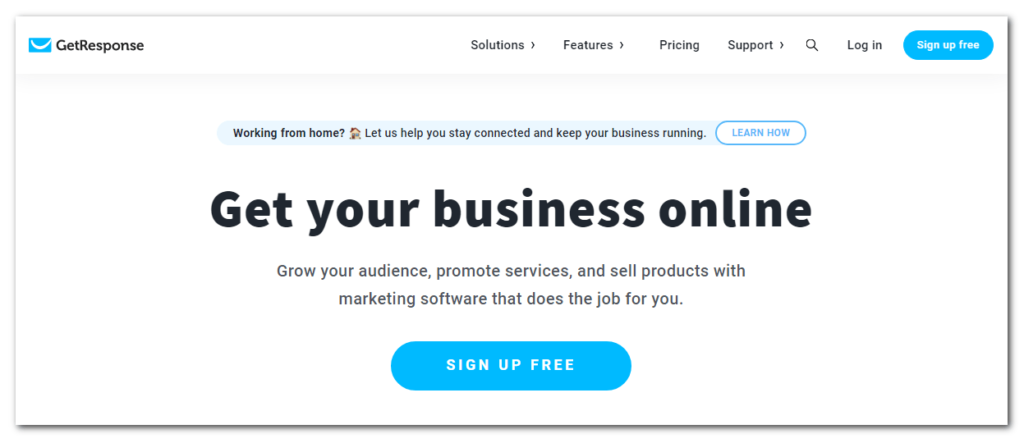 The GetResponse is another premium software that is an all-in-one software. It is used by all businesses, from small to large. This tool, along with all other marketing tools, will also provide a webinar platform. It is one of the trustworthy webinar software.
Feasibility for email database and webinars and can also schedule webinars through email campaigns.
Price: The pricing of the GetResponse starts at $15/m and has up to 100 users with a free trial.
Pros
Can integrate with YouTube.
Screensharing is available.
Can share polls and surveys in the webinar.
Cons
The phone super is not available.
14. WebinarsOnAir
The WebinarsOnAir Is another software that comes at a lower price. Many freelancers and small business owners use this tool for meetings and webinars.
You can also use webinar page customization. You can also collect customer emails through webinars. It is one of the affordable webinar platforms.
Price: The pricing starts from $19.97 for unlimited webinars with 25 attendees
Pros
Cheap and Affordable
Users can easily Join webinars
You can customize the webinar page easily
Recording and publishing to YouTube features are also available.
Cons
Depends on Google hangouts and becomes inaccessible sometimes due to software changes.
Frequently Asked Questions (FAQs)
What Is A Webinar Platform?

Webinar platforms are very helpful to educate, teach, and interact with your audience in a proper way through live presentations. In this, the people are adding slides and videos about their products along with polls, chats, and exclusive offers.

What is the best online webinar service?

There is plenty of webinar software available on the web. You have to choose the perfect software as per your needs. According to my opinion, one is providing the most and simple, most intuitive webinar solution on the market that service gives the best results.
I listed a few of the best webinar platforms in the article. Read and choose carefully according to your needs to pick the best webinar hosting.

What equipment do I need for a webinar?

Basic equipment to conduct webinar is Good working condition Desktop with a high-speed internet connection, High-Quality Webcam, and Good conditioned Headset with a microphone. If you have Laptop everything is inbuilt. So you can use a laptop directly without adding additional devices.

Do webinars make money?

Yes. After the end of the webinar, you can introduce your products with a proper explanation. People are able to buy your product to go to the next level. If you do this process in a proper way, the people will buy your product in the live.

Which webinar software is the best?

We can not stick with one webinar software. Because every webinar streaming software comes with unique features. So you have to choose the best best webinar softwares as per your requirement. Personally i am using GotoMeeting, ClickMeeting, and Zoom.
Final Words
Based on the user-friendly interface and attractive design, the above-given webinar tools are available on the online market right now. Here is the basic question that blinks in everyone's mind – which webinar software platform is best for your online meetings.
The above-listed secure webinar platforms are more popular and used by companies to interact with their clients and customers every time.
Before getting the answer, you have to consider a few of the factors as per your requirement. If you are a starter, you have to check your budget limitations. Then decide and take into consideration the number of audiences to engage with these tools.
Do you understand your final goal? If your goal is to boost your conversion rates or conduct surveys or polls to your attendees, this is the toughest part of the tool selection that fulfills your needs.
If you decide to use the webinar tools, they come with attractive features like a free trial option and a money-back guarantee. First, use the trial version before buying the tool. If you like the tool, you may upgrade to a paid plan to complete the final purchase.
The choosing of the best webinar software platforms is very important for better conversions. Using any one of the tools from the above list helps you to your marketing and business growth.