Are you searching for how to delete Amazon account? Here is the complete tutorial on figuring out how to close. Before going to discuss this, you have to read about amazon.

Amazon is one of the biggest online shopping sites for American multinational companies, and it focuses on e-commerce, cloud computing, digital streaming, and artificial intelligence. One of the top 5 tech companies, including Apple, Google, Facebook, and Microsoft. The purchase and browsing experience is very good, and they provide generous offers on products and lists for the readers and buyers. So every day millions of people visit these stores.
What are the basic reasons to cancel your amazon account?
To cancel an account if your email address is connected to your account. If you lose access, you can not close your account. Of course, there are no benefits to multiple reports. So this is not difficult to cancel
The basic reasons to close the Amazon account are given below.
Using the same email and mobile number in multiple accounts.
Unsatisfactory with the store goods delivery
To completely erase your purchasing records, you comfort to erase your history. Here is the how-to guide to complete the closing of your amazon account.
Remember these points before closing
You should know these before deleting your amazon account. If you cancel amazon's account, you will lose a few more accounts from its international stores like Amazon.co.uk and Amazon-owned sites like Audible.com. You will lose access to any website you use the primary account for and Amazon payments.
Your open orders and Amazon gift card balance will be removed automatically. It will erase digital content, prime videos, kindle ebooks, Digital software, Games, and music, everything. It is an unusual action to take. If you use Prime video access (get 30 days free trial), you will also lose that access.
If you are a prime member, do you know how to download a show or movie from the Prime videos to watch offline?
If you want to erase your purchase records and cancel your membership or personal images, you can easily do this. If you plan to start your shopping with a new account, you have to close the old one.
A few days back, I faced a little problem with my old amazon account. I failed to log in with my old credentials, and the associated email and Mobile number were deactivated. So I planned to eliminate my amazon account from web services. Ok, let us see How to delete your amazon service permanently.
How to delete Amazon account?
When I submitted the closing form, the amazon closing features are a little bit changed. So I started writing this article on how I submitted the form to stop. It is not difficult for this deletion.
Note: Amazon is providing three different supports to deactivate.
They are E-mail, Phone, and Chat. Here is the step-by-step process and instructions to check the recommended steps on how to close your Amazon account from the web.
Step 1: Sign into Your Account
Open Amazon.com from your web browser. Then log in to your account from the Your Account tab. Scroll down to the bottom of the main page.

Step 2: Choose Help
Now select the Help option from the Let Us Help You menu from the bottom right.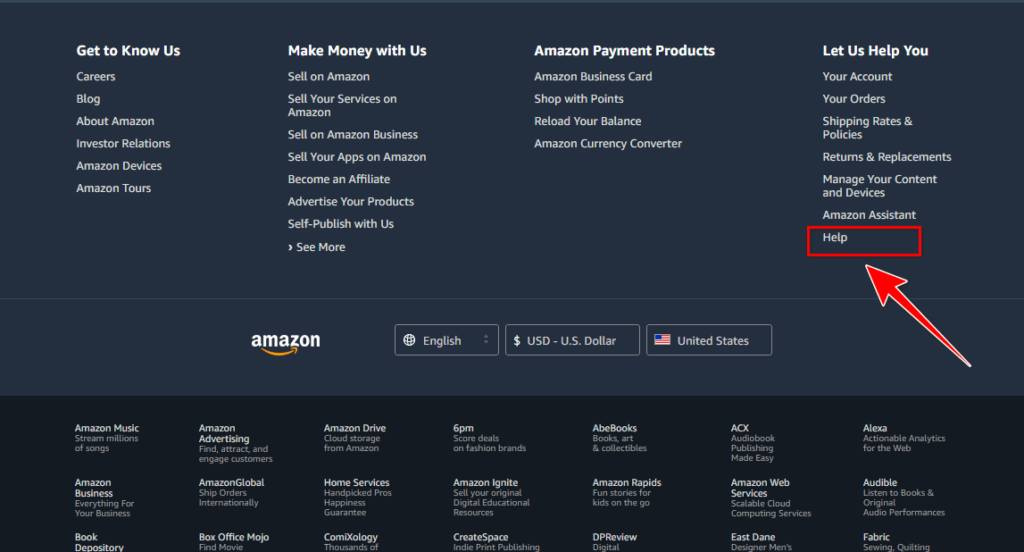 Step 3: Go for Help topics
on the next page, it was suggested Help topics. Just move the cursor over to the Need More Help then click on Contact Us to connect with a representative.
On the contact, us page, press the button on Prime, or something else from the tabs. Then choose the Login and Security option from the drop-down menu of the Tell us more section.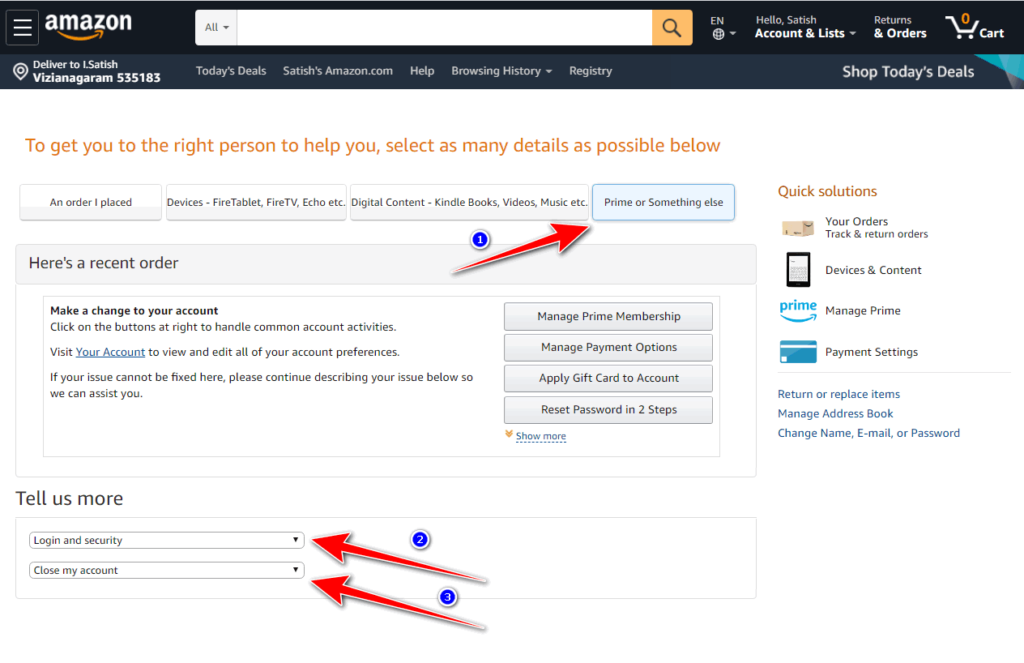 Then choose "Close my account" from the second drop-down list. Here are the two ways to inform about closing your account or deleting your amazon account. They are
a. By changing your settings
If you need to change your email address or remove payment methods from your account, you don't need to close your account. You can go to your account settings and change the details. That's it
b. By talking to someone
This is another final method to remove your amazon account. Here are the three options to choose to request your deactivate the account. They are the Email, Phone, and Chat sections. These three sections are working well, and I opted first one – the mail section for the deactivation.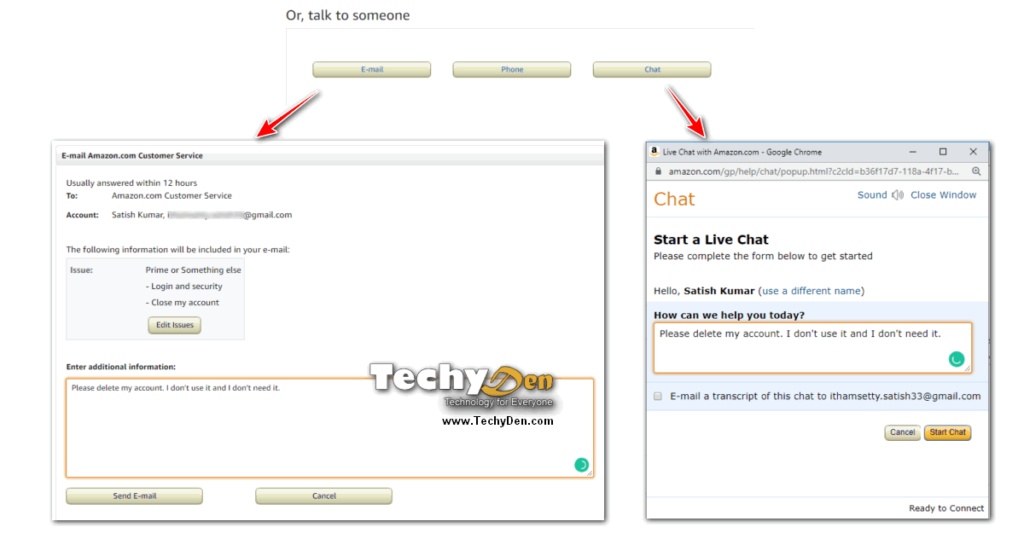 Just open any of the options, then type the lines which are given below.
Please delete my account. I don't use it and I don't need it.
Within 24 hours customer support will contact you via Email by informing the disadvantages of closing your amazon account.
The staff will try to figure out what problem you are having and will try to solve the issues which you are facing the account.
If you are sure to close your account, they will do everything for you. Your account will be deactivated within 24 hours by confirming the email. You will receive the email as "account is closed"
After 24 you are free to create a new one to start online shopping without any problems and you can start with fresh purchase history.
Share this how-to guide on How to delete an Amazon account within 24 hours with your friends on social media.