Top 8 Best useful and must have Apps for Foodies (Android and iOS apps)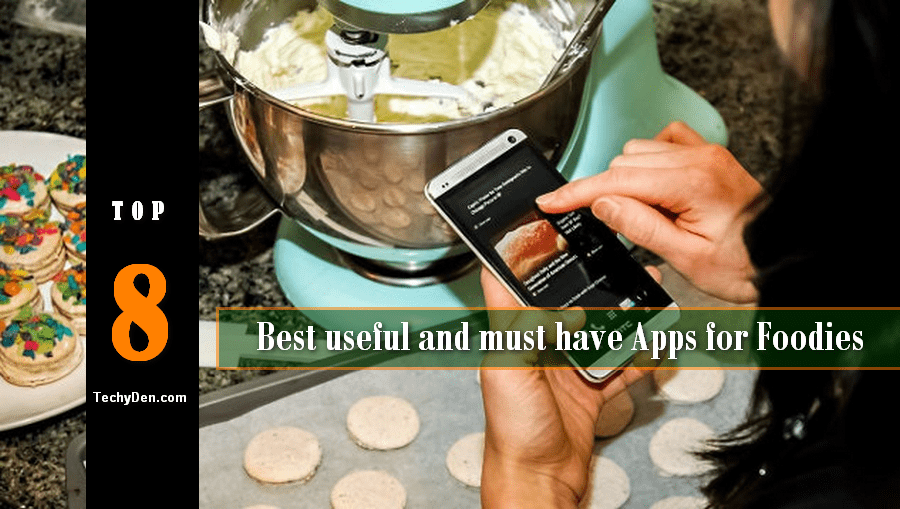 Fine dining is an art for sure.  But you don't have to hit up the five-star restaurants to enjoy a good meal.  With the technology that's available on your smartphone, you can transform any meal into a five-star experience. Here we added the best apps for Foodies. 
Think about it.  There are hundreds of different kinds of cuisine: French, Indian, American, Fusion, etc. Then there are different diets and restrictions built on top of that including paleo, carb-free, gluten-free, locavore, allergen-free, pescatarian, kosher. Taking a picture of your plate before you dig in is no longer wildly peculiar behavior. With all of the "do"s and "don't"s, people are obsessed with food.
Food trends and diets lead to restaurants and grocery stores all over the globe that cater to specific audiences and adventurous eaters.  Apps, in turn, have popped up to fill a variety of food-related needs.
They are there to help you find the exact thing you might be craving at the moment- or help you weed out any place that might tempt you to go over your caloric budget.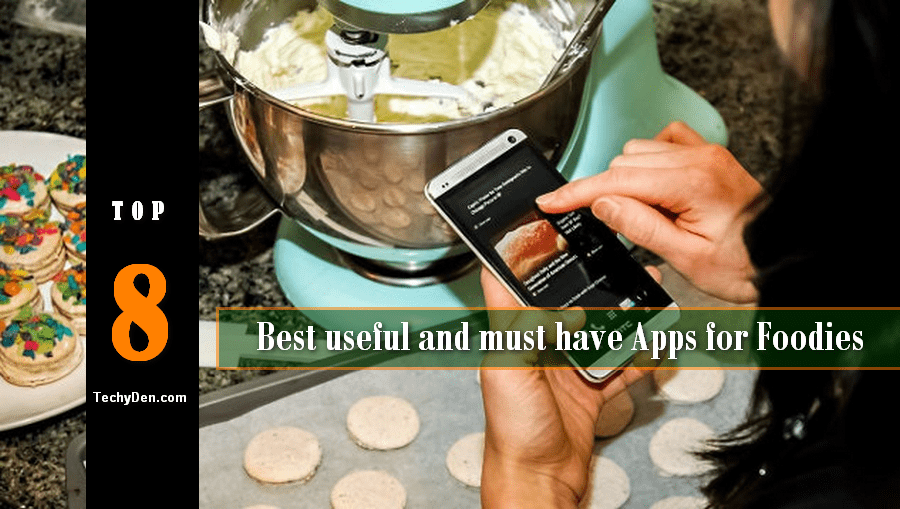 Best Apps for Foodies
The most popular food apps fall into one of four basic categories: app for a particular restaurant or eatery, apps that help you find a restaurant or food experience, recipe keeping apps and meal planners, shopping apps.
1. Gif Recipes
Need to find a new recipe now? Want it to be easy to follow from your smartphone and use a minimal amount of data and space? Say hello to Gif Recipes.
It might be on the newer side, but with 1200 foolproof recipes of favorite dishes in an easy-to-use format they show promise. The draw of Gif Recipes is that they show a condensed video .gif above each recipe. It's a simple feature but also incredibly helpful and better than previous options. Available on Android.
2. Yummly
Though Yummly advertises itself as a recipe finder, this app is much more. You can make grocery lists, sync them to recipes, find more recipes with those ingredients, and even come up with menus for special diets.
It's easy to use and comes with an ever-expanding set of features. Available on iOS, Android, and the web. It is one of the good apps for foodies.
3. Open Table
If you need to make a reservation, this should be your go-to app. However, Open Table really shines in larger cities and tourist areas- places you might be hard-pressed to find an open reservation otherwise. Available on iOS, Android, and Windows.
4. Yelp
Yelp has been around for a long time. It's relevant in just about every area. It even includes restaurants before they open to the general public.
With easy-to-read reviews from actual customers that are hard to fake, Yelp is undoubtedly the best "General Restaurant Finder" and looks to stay there for the foreseeable future. Available on iOS, Android, and the web.
The locavore movement is gaining ground but is still fairly underserved. Finding fresh locally grown foods becomes a lot easier with Farmstand, an app that helps you locate the best Farmer's Markets in your area. Only available on iOS.
6. Foodspotting
If you ever find yourself in an area that you are unfamiliar with, food spotting is like tinder for foodies. Foodspotting locates restaurants and uses real pictures of dishes taken from other food spotting users within a certain radius of where you are.
If you're hungry and want something other than fast food, this app will get your mouth drooling for the secret gem dishes in your current area.
If you just like to look at food, think about food, and watch people prepare food on television, then Food Gawker is your food anonymous safe haven. It's a place where you can imagine yourself taking a bath in a tub filled with caponata and no one will judge you for it.
It also will inspire you on making the dishes you cook from the heart. Yes, go ahead and gawk away. The app is available for iPhone users.
For an illustrated version of getting your food porn fix in, this app offers a rewarding Match 3 gameplay. Set with a soundtrack of amazing music and the ability to compete with your friends this game is pure fun for the foodie.
The app is found on iOS and has also been created as a Facebook app. Stand by for a future update that will offer free food vouchers to restaurants.
Conclusion
Here are the best foodie apps for food lovers. Now that you see how many different ways people have achieved success in this market you might have a few ideas of your own.
In the app world, you don't always have to be a best-seller to succeed, and having an app can help boost or supplement any income you have from your current business.
If food is your passion, why not try to make a career out of it? You can share these Best food apps with your friends on social media.